As soon as the air is getting chillier and you start dreaming about warm cozy dishes and you can find pumpkins and winter squash in all shapes and sizes everywhere. You can't miss them among the colorful Autumn bounty at the farmers markets stalls, with their prominent size and lovely rich colors, from the palest yellow to vibrant burnt orange and to dark forest green.
We do not pass by the winter squash either, and every time we go to the Santa Barbara Farmer's Market or to a small grocery store we are bound to bring a couple of these beauties home. We sure hope that you do the same because these fleshy fruits are rich in nutrients and numerous vitamins, and are very good for you! From the popular large orange Pumpkin (the one we all love to carve spooky faces into for Halloween) to Butternut Squash, Acorn, Delicata, Spaghetti Squash or to the Kabocha (Japanese) Squash, they are all super healthy so it is no wonder that pumpkins are considered a SUPER FOOD. Some of the squash varieties are harder to find but well worth the effort. We got this assortment of pumpkins and squash at the Santa Barbara Farmer's Market. You can find many of the varieties at your local markets or even in grocery stores during the Fall season.
Each type of winter squash has amazing health benefits and because of their different texture and taste you can enjoy the flesh and the seeds in endless ways. By the way do not toss the  "Pepitas" (as the seeds are called) out, they are mini powerhouses with a good source of protein. Who would not love roasted pumpkin seeds? Because there are so many different varietals we thought to make a little Winter Squash and Pumpkin Guide for you so you can explore the world of squash and pumpkins.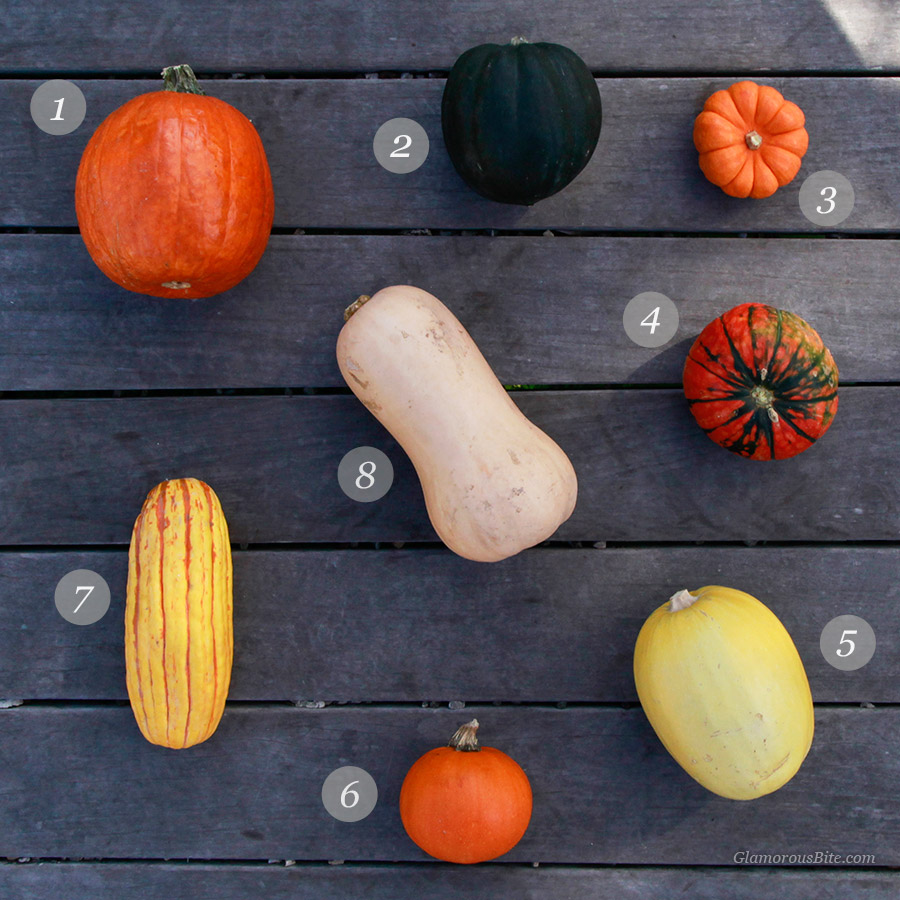 Winter Squash and Pumpkin Guide
1) Pumpkin
The classic pumpkin with dark orange skin and soft orange flesh has a slight nutty and earthy taste with touch of sweetness. This is the pumpkin that you carve spooky faces into for Halloween, but you can also use it in savory or sweet dishes.
Recipes to make: Pumpkin Soup, Pumpkin Turkey Chili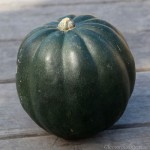 2) Acorn Squash
Small acorn shaped squash with dark green in color ( if the color turns orange, the flesh will be less tender). These small globes have sweet flesh and best cooked with the skin on, since it is harder to peel when raw. The sweeter flesh is perfect for salads or simply stuffed and baked.
Recipes to make: Roasted Acorn Squash
3) Mini Pumpkins
They are not only look lovely as table decoration, they make fabulous serving dishes. Use baked mini pumpkins to serve risotto or custards to impress your guests.
Recipes to make: Baked Mini Pumpkins with Spiced Rice Pudding
4) Red Kabocha Squash
One of the prettiest among the squash family and the name "Kabocha" is the Japanese word for squash. It's nutty but earthy flesh has a little sweetness and is wonderful for soups, risotto or even dessert.
Recipes to make: Spicy Kabocha Soup, Pumpkin Soup
5) Spaghetti Squash
Under the pale yellow skin you will find a big surprise once you take your fork to the cooked flesh of the spaghetti squash. By scraping the flesh you can separate the spaghetti like strands. Perfect substitution for pasta lovers who have diabetes or to live a healthier low-carb life.
Recipes to make: Spaghetti Squash Italiano
6) Sugar or Pie Pumpkin
Smaller in stature than its bigger brother and as you guessed this pumpkin is perfect for pies and desserts. If you are looking for classic pumpkin flavors the fleshy sugar pumpkin is an excellent choice for homemade purée.
Recipes to make: Pumpkin Soup, Pumpkin Cupcakes
7) Delicata Squash
Also known as sweet potato squash. The lovely yellow striped squash does resemble in shape and in taste to a sweet potato. With its edible skin and soft creamy flesh makes a very versatile dish. If you slice it cross-wise into small discs it looks very decorative with the scalloped edge. Perfect for salads and side dishes or cut into half and it can replace the eggplant in the eggplant parmesan recipe.
Recipes to make: Roasted Delicata Squash with Herbs and Goat cheese
8) Butternut Squash
Light cream-colored and with a slim neck and fat bottom shaped almost like a bell. With vibrant orange flesh and nutty sweet taste is very similar to the sweet potato. For easier preparation cut first in the middle and peel and slice each piece separately. The roasted and seasoned sweet flesh is delicious for puree, risotto, soups or even by itself as a side dish.
Recipes to make: Butternut Squash Cream Soup, Butternut Chili, Butternut Squash Risotto
There are plenty more squash varieties as well and each has a unique texture and flavor. What is your favorite type of squash?