Wine Words Grape Varietals. Learn more about what the different grape varietals are, where they came from, and their individual personality styles.
White Wine Varietals
Chardonnay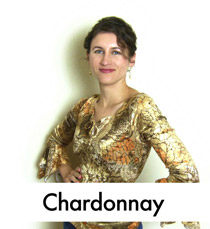 This is one of the worlds most celebrated white wines and stems from Burgundy, France. It's the Sharon Stone or the Scarlett Johansson of wines and is Stainless steel fermented or aged in oak barrels.

Riesling
(REESE-ling)
Riesling is a German grape varietal of the Rhine and Mosel region. Pairs well with global cuisine such as Indian and Thai foods. It is also found in Australia, China, and Canada. Flowery aromas and honey, apricot. The Heidi Klum of wine grape varietals.
Viognier
A rare aromatic and complex grape widely used from Rhone to Provence in France. Flavors include Orange Blossom, Apricot, Kiwi, Pineapple, Honey and Butter. We dedicate this wine varietal to Kate Winslet.
Red Wine Varietals
Merlot
(Mare-low)
Merlot is a red wine grape and one of the primary grapes in Bordeaux wine. It is used as a varietal and also as a blending grape. From Frances Bordeaux region and is popular in California. The Ving Rhames among grape varietals.

Cabernet Sauvignon
(Cab-air-nay So-veen-yawN)
One of the most widely-planted and noblest red wine grapes, used in many Bordeaux wines and wine regions over the world. As a pure varietal or in red blends in the U.S., Australia, Chile, Argentina, South Africa and wherever wine grapes grow. Cabernet Sauvignon is a perfect wine for a wine collection and only gets better and better with age.
Zinfandel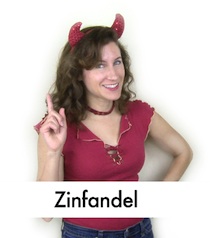 Zinfandel is a red wine grape also known as Primitivo and has aromas of berries and bright fruit. It can be followed back in time to Croatia, where it was called Crljenak kaštelanski. In California Zinfandel is quite popular.