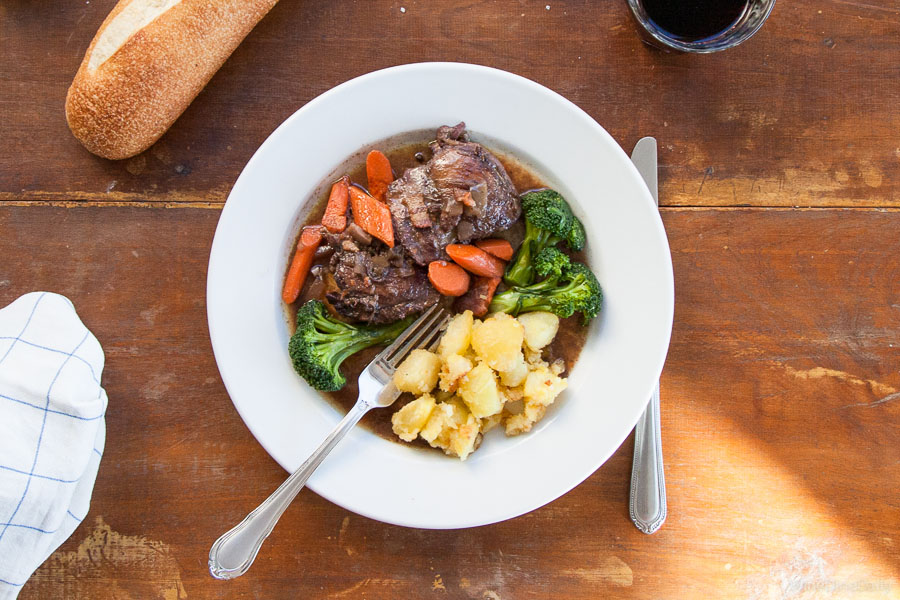 The last week when our Norwegian family friends came to visit from out of town we were planning to go for the 45 minutes car ride to the beautiful Santa Ynez wine country. Instead we decided to go for a short walk right in downtown Santa Barbara and sip a few new vintages at the popular Urban Trail. There are close to 20 tasting rooms tucked between surf shops and restaurants within a few blocks from the ocean. With our friends, who are more like family since we have known each other for over two decades, Eli Gro and Gun (and lets not forget Bruno the guard dog Chihuahua) we were looking forward to enjoy a few sips in two or three tasting rooms. What is better than spending a cloudy afternoon with friends in a cozy tasting room, sipping delicious champagnes and wines and sharing good memories? We can't think of anything else, besides perhaps enjoying a delicious meal and more laughter afterwards.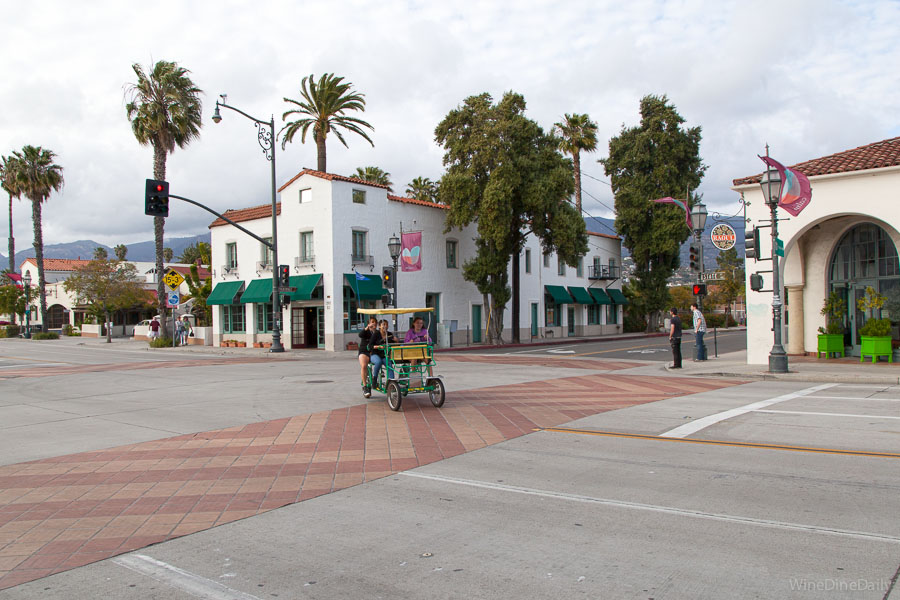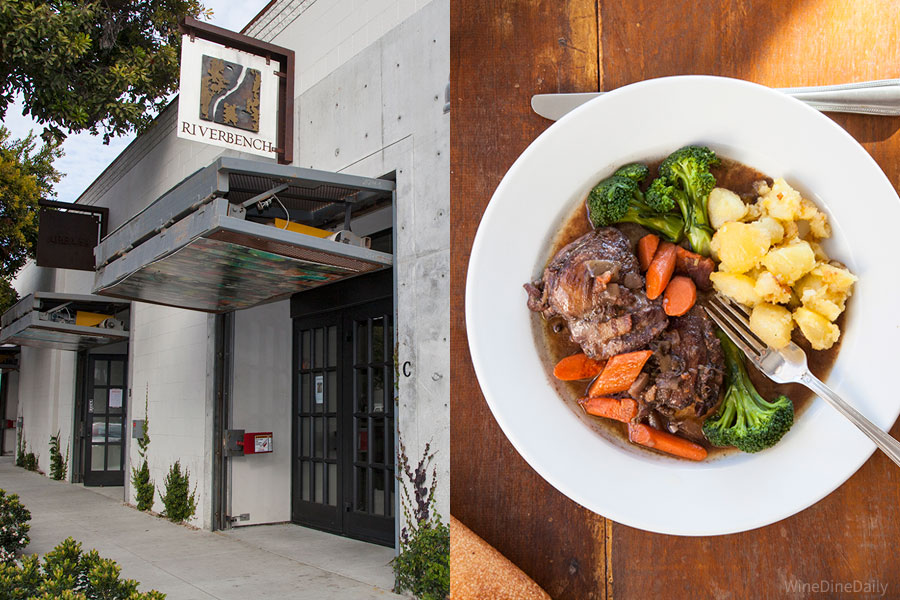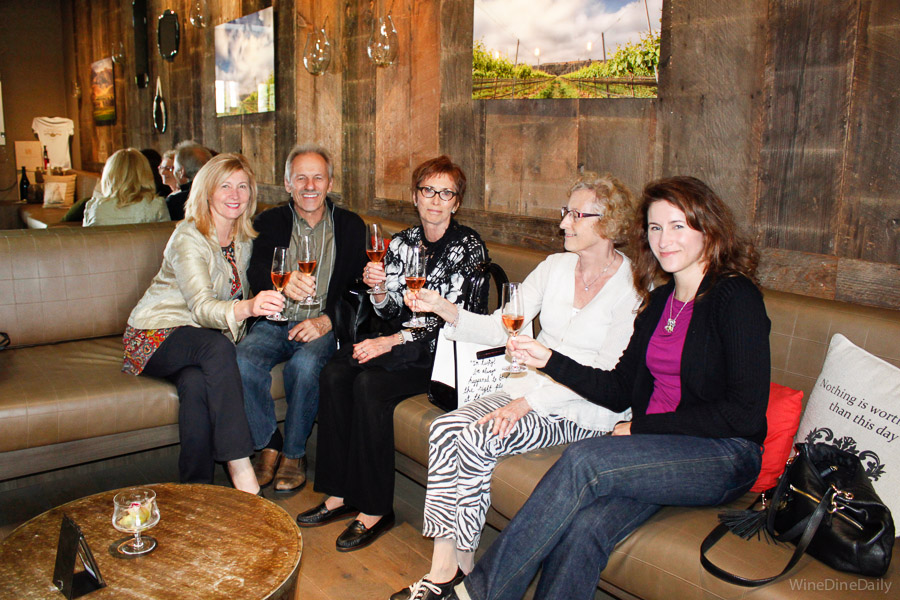 Eli and Gun are the honorary sisters of Judit and additional moms for Corina, you can't have enough of those. We were so happy to spend the day together and had such a good time conversing. First we stepped into the super chic downtown tasting room of Riverbench Vineyard & Winery. The young man working in the tasting room with his pleasing enthusiastic attitude made our visit even more memorable. Did you notice if you get served with warm friendliness in a restaurant or winery somehow the food and wine tastes so much better. When we arrived in the early afternoon there were only a few people who enjoyed a perfect afternoon sipping wine just like us. The time seemed to stop as we enjoyed talking about happy times, what should we make for dinner, and the young man kept faithfully appearing at our table offering different Riverbench vintages to sample.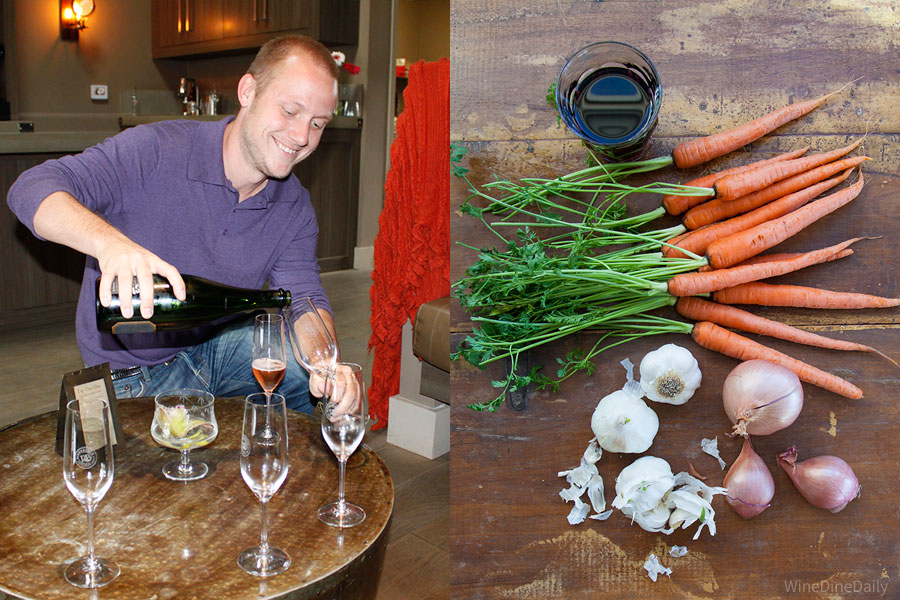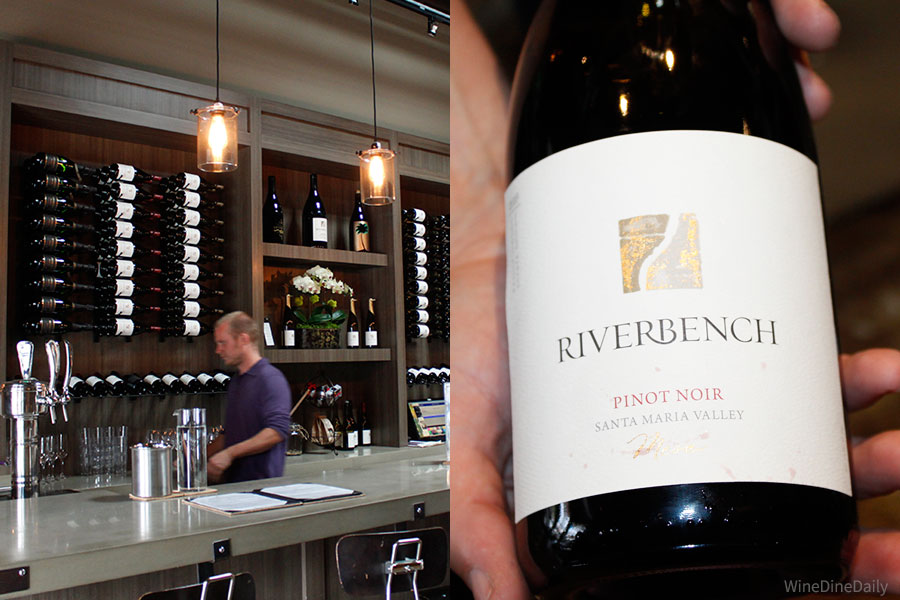 First came the flight of bubblies starting with a Blanc de Blancs "Cork Jumper" that had floral aromas and would be divine with a savory crepe, for which we will post the recipe soon. Next up was the Sparkling Rose, with flavors of delicate rose petals then we moved on to the wines starting with the Estate Chardonnay that had vibrant fruit notes and was such a classic elegant Chardonnay. We also sampled red wines and the Pinot Noir really stood out. Now let us say that we are all very partial to a smooth intense Pinot Noir and after the first sip the ideas came immediately as to how to enjoy this bottle with a scrumptious meal. As you know we have already praised the virtues of cooking meat in wine and this Pinot made us think of all the various recipes we could make to compliment this wine.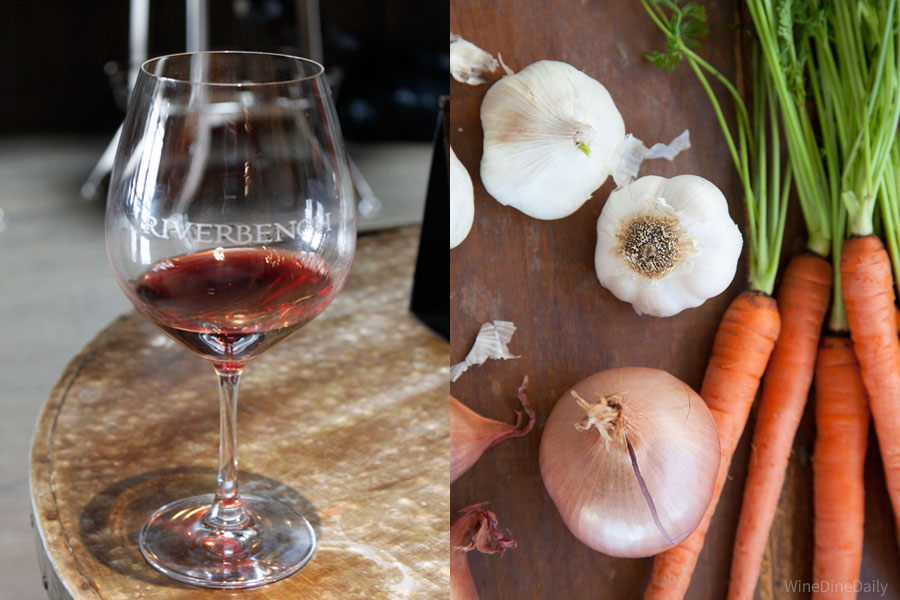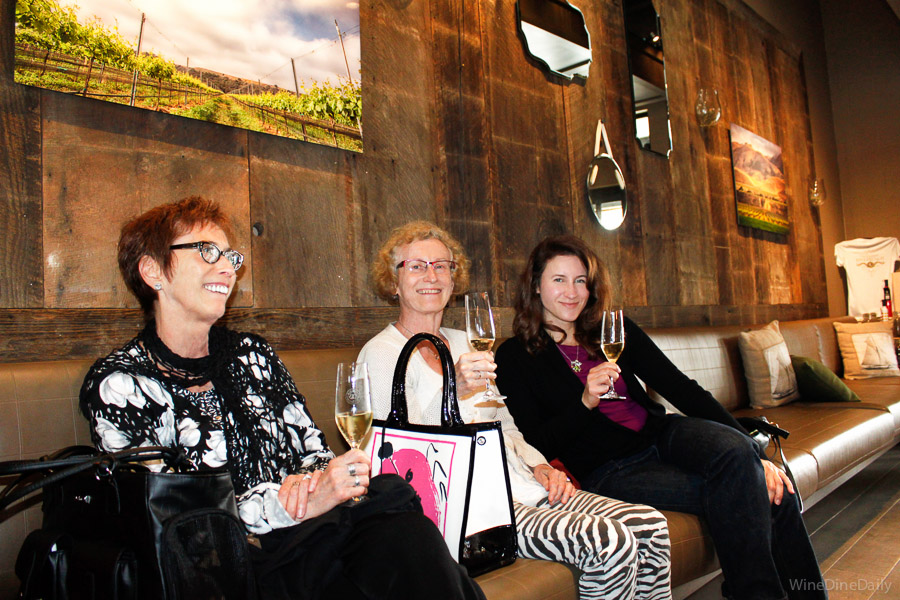 By the time we left the Riverbench Tasting Roomm it was filled by locals and a few tourists who came in for a little taste just before dinnertime. We would have gladly have spent more time on the Santa Barbara Urban Wine Trail, but alas the relaxing afternoon had to come to an end, but not without a promise to return soon and of course we will take you along too! As the saying goes for the Urban Wine Trail, "do your shopping, take your hike, see the sights and work on your tan, but don't miss the opportunity to sip your way through the wineries of downtown Santa Barbara." We have absolutely no problem with that!
As for our dinner we wanted to make sautéed chicken thighs with an herb wine reduction sauce and pair that with a smooth fruity Pinot Noir. We all agreed that this meal would be a perfect conclusion for our lovely day. Because the sun came out by the time we left the blissful tasting room and the walk on State Street felt so good that on the way we talked about Norwegian delicacies like pâtés and what goes well with Nordic salmon, perhaps the Pinot we still fondly talked about or the equally delicious flowery Chardonnay?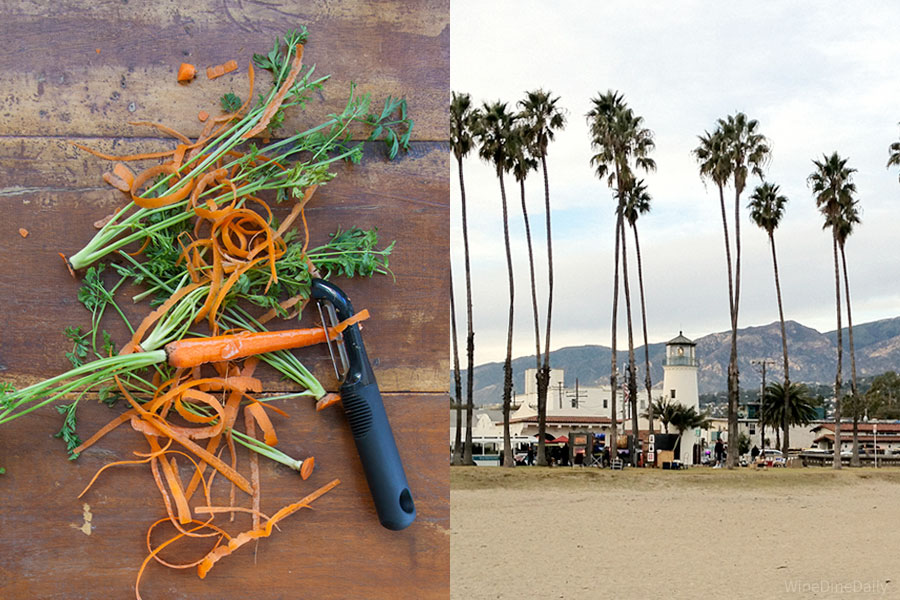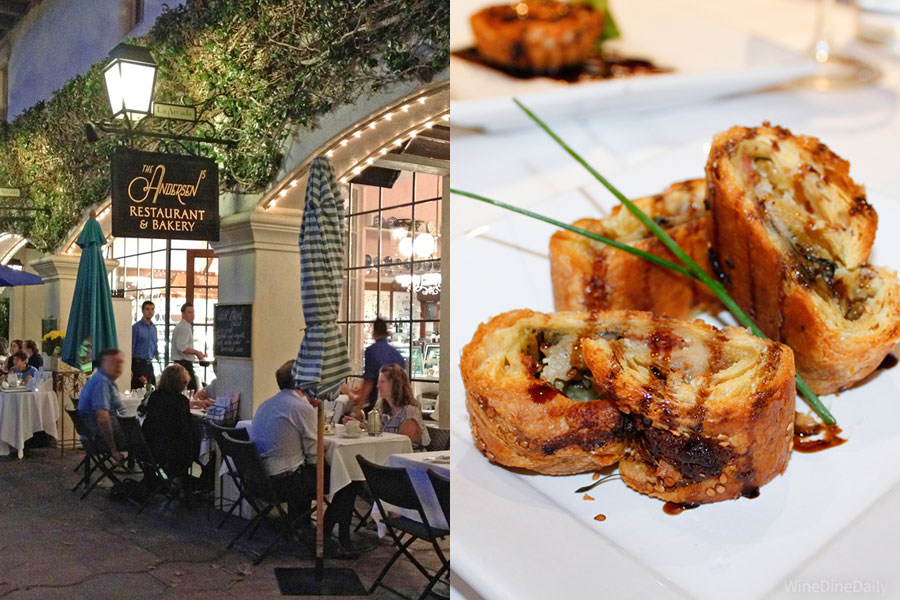 Leave it to a group of hungry Norwegian, German, Hungarians to find a little decadence in Santa Barbara, namely at the Andersen's Restaurant & Bakery on State Street. There we indulged in the Happy Hour fare of Danish chicken liverpâté, Brie Soufflé, and Culinary Puff Paste (which we called Viking Bites) with cured ham, Havarti, and balsamic reduction.
After all this feasting we only had room for little pizza bites when we got back in the evening instead of our planned chicken dinner. Sadly our friends had to leave before they could take part in our next day dinner so we got busy in the kitchen marinating the chicken.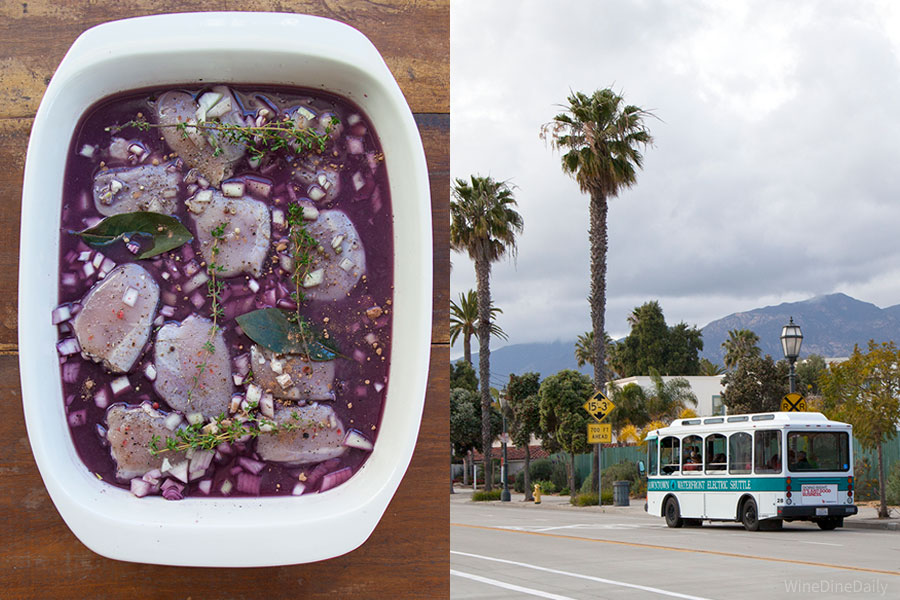 As we ended up taking a bottle of Pinot Noir home from the Riverbench Winery for our chicken dinner, we used it to make a light Wine Braised Chicken Pinot Noir for the next day, inspired by Julia Child's classic Coq au Vin. Coq au Vin is simply chicken (rooster) cooked in red wine. As much as we like to cook with chicken breasts, and the countless recipes you can find in cookbooks say we are not alone in that endeavor, there is something special about juicy chicken thighs slow cooked in wine and herbs. The thigh meat has a slightly higher fat content, which translates to more luscious melt in your mouth flavors. This is a very simple and beautiful way to cook chicken because the thighs are always succulent and they are pretty hard to overcook. You will love the result of marinating the meat in wine overnight so do open a nice bottle of fruity Pinot Noir and let the purple Pinot magic begin! You don not have to use your Estate grown Pinot just for cooking, there are many great bottles for under $15 that will do the job as well.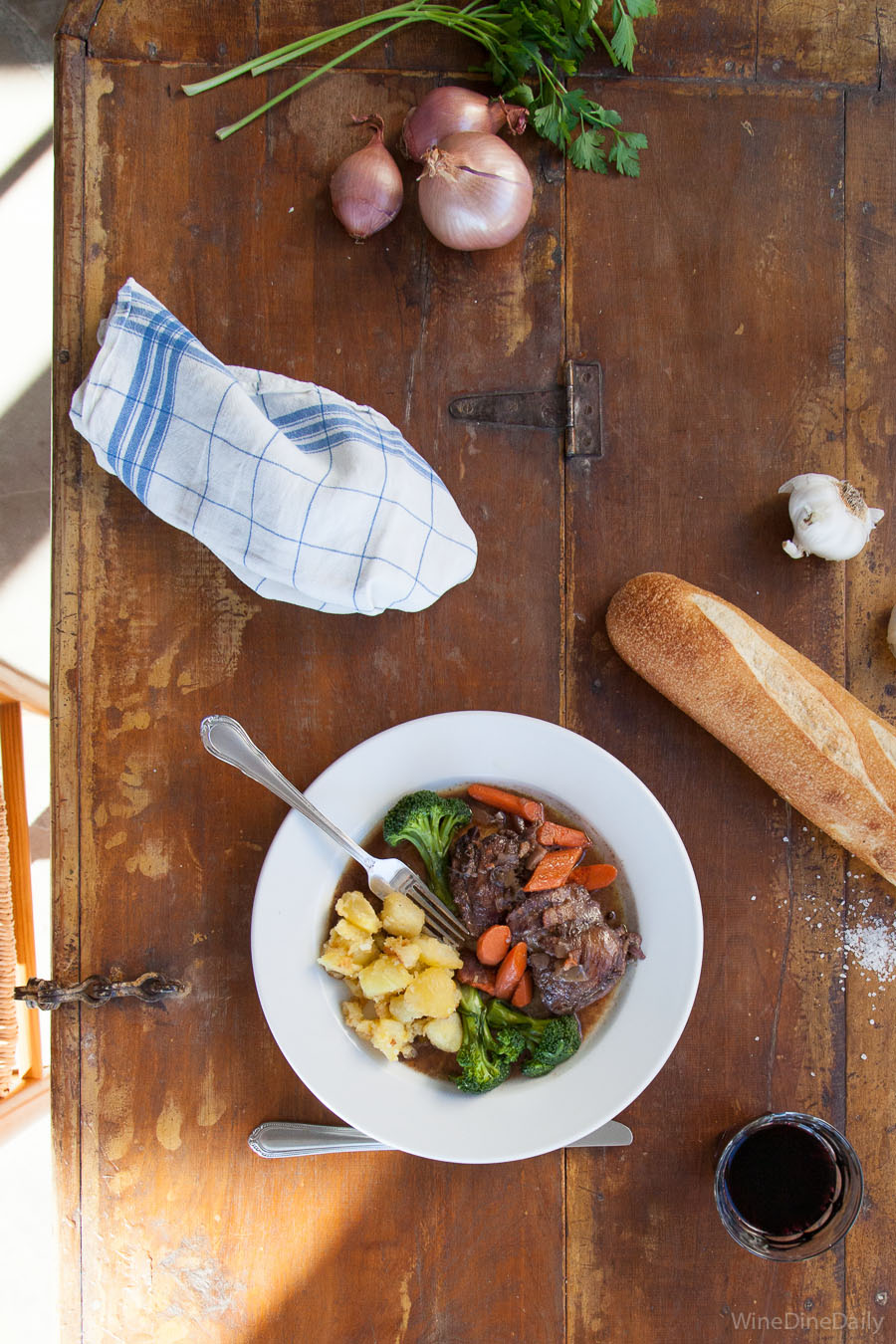 We would like to give you one tiny advice when cooking with wine, please be gentle with your garlic cloves. If you smack them too hard (and isn't it so tempting to smack them good) they become distinctly bitter, where even a small amount can add a touch of bitterness to your lovely wine sauce and make your wine braised chicken Pinot Noir not as divine as it could be.
As all good things take time to do, this dish will taste even better the next day, as the flavors will have more time to mingle. Since we didn't use flour this is a lighter gluten-free version of most braised chicken recipes out there. The chicken was juicy and tender bathed in the luscious sauce and we could have just eaten the sauce alone with a spoon. We served this dish with a side of butter roasted potatoes, but you can have it with polenta or even mashed potatoes and fresh steamed broccoli. The carrots added a slight sweetness, which complimented the flavors nicely. Combined with a glass of Pinot Noir this was a meal to remember and we can't wait to make it again when our friends return for a visit.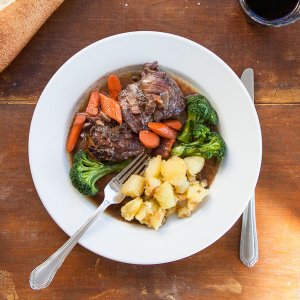 Wine Braised Chicken Pinot Noir
Ingredients
8

Chicken Thighs

3

Shallots - peeled and finely chopped

3

Garlic Cloves - peeled and minced

2

Tsp

Sea Salt

1/2

Tsp

Multi-Colored Peppercorns - crushed

4 - 5

Thyme Sprig

2

Bay Leaves

2

cups

Pinot Noir

2

tbsp

Olive Oil

2

slice

of Smoked Bacon – thinly diced

1

cup

Vegetable Broth - room temperature

4

Carrots – peeled and sliced diagonally
Instructions
In a large shallow glass bowl place chicken with chopped shallots, minced garlic, salt and pepper. Place bay leaves and thyme over the top and gently pour the red wine over. Cover with a cling film. Marinate in the refrigerator at least for 8 hours or over night.

Remove chicken from the marinade and place it on a platter and let it come to room temperature.

Heat olive oil in a large Dutch oven or heavy sauté pan over medium-high heat. Add the diced bacon and fry until golden brown and crisp. With a slotted spoon transfer to a plate.

To the same pot add the chicken thighs (do not crowd the meat in the pan, rather do it in 2 batches) and brown the meat on all sides about 7-10 minutes. Turn the heat to medium-low. Remove the chicken pieces with tongs from the pot and transfer to a large plate. Cover with foil.

Turn the heat back to medium-high and gently add marinade to the pot. With a wooden spoon scrape the bottom of the pot to remove all the good bits.

Pour in the vegetable broth, stir well and bring to a boil. Turn the heat lower and let it simmer until the liquid reduced by half, for approximate 15 to 20 minutes.

Add to the marinade the browned chicken pieces and sliced carrots, cover the pot and braise for another 25 - 30 minutes.

Season more with sea salt and crushed pepper if needed.

You can serve with butter roasted potatoes or just with a slice of baguette. Bon Appétit!
Notes
This French inspired comforting dish with wine calls for a quick celebration with friends and family or just to make a simple midweek dinner more fabulous. It is so easy to make and you can prepare it ahead of time since the taste will only get better once you reheat it. We love to drizzle two or three spoonful of tipsy goodness (just kidding, because the wine looses most of the alcohol after 30 minutes of) over the top of the meat and potatoes.
Nutrition
Wine Pairing: Riverbench Pinot Noir, Santa Maria Valley Estate Grown. Aromas of deep ripe fruit, violets, with a touch of smoke. Purple in color with glints of ruby red. Rich berry flavors and smooth silky tannins. Raspberry and light spice with an earthy aura and medium-full body. Grown in the Santa Maria Valley, which is located in the northern Santa Barbara County in California.
During dinner, as we sipped this lovely wine we thought of Amy Adams in the movie "Leap Year." If you have seen this movie then you may remember a scene where Anna (Amy Adams) and Declan (Matthew Goode) cook together, creating a tasty Coq au Vin for guests to enjoy. This wine is spirited and determined with a touch of sweetness, just like Amy Adams character in Leap Year. This film does get our sentiments across that a meal is so much better when enjoyed with friends and cooked with a splash of wine!