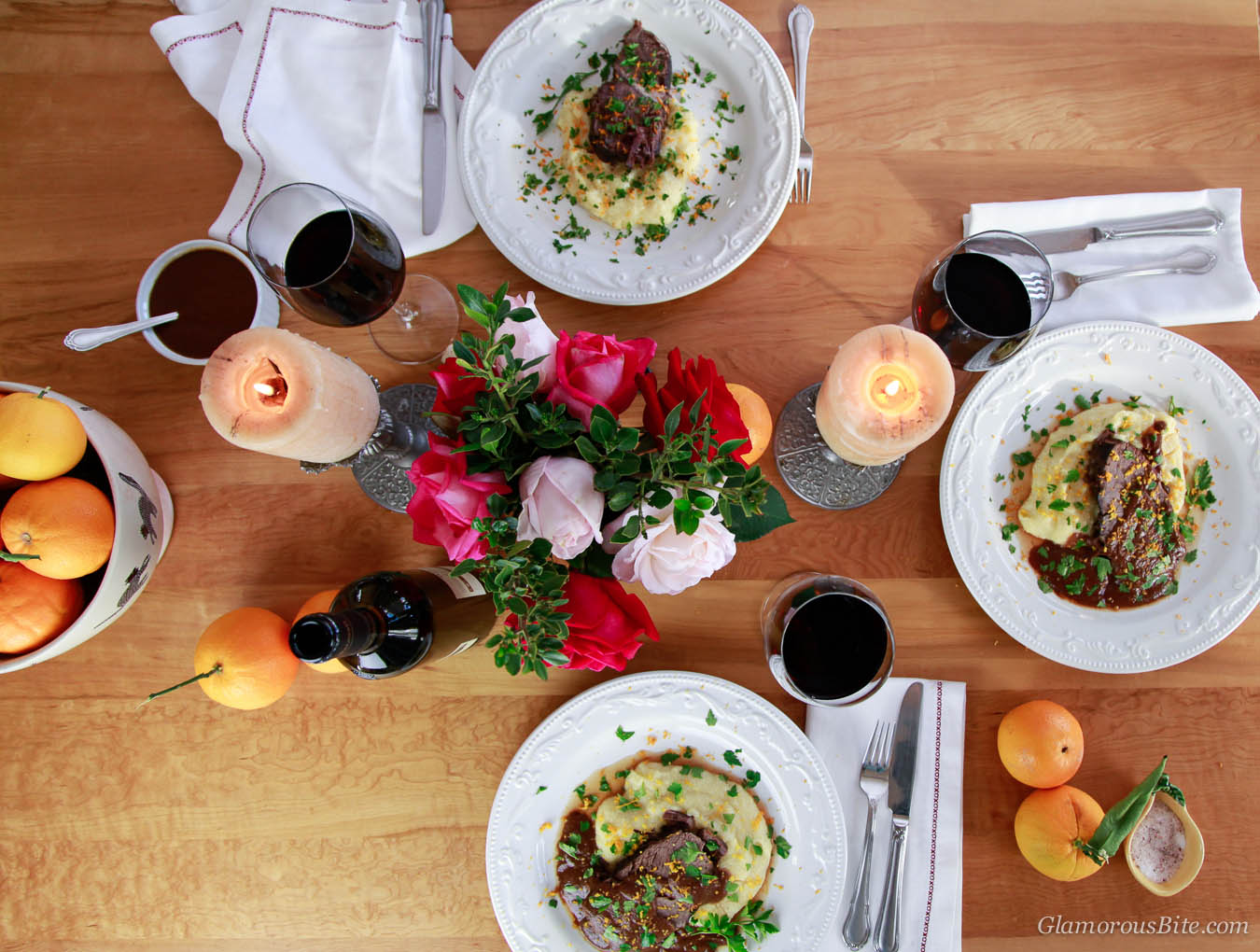 We all know that patience is a virtue, but in this case you will see (or better taste) that it's pure deliciousness. There are many different ways to oven braise a nice hunk of beef with vegetables and serve them as a simple meal, however when you puree the tender carrots, onions, and celery just before serving this Wine Braised Beef Shoulder with Root Vegetables, the result is a silky tangy sauce that we could eat with a spoon on its own. When the sauce is generously ladled over the tender meat and soft polenta it creates such a mouthwatering affair, the kind of meal that makes us say "now this is a dish you would want to slowly savor with friends and a nice glass of wine."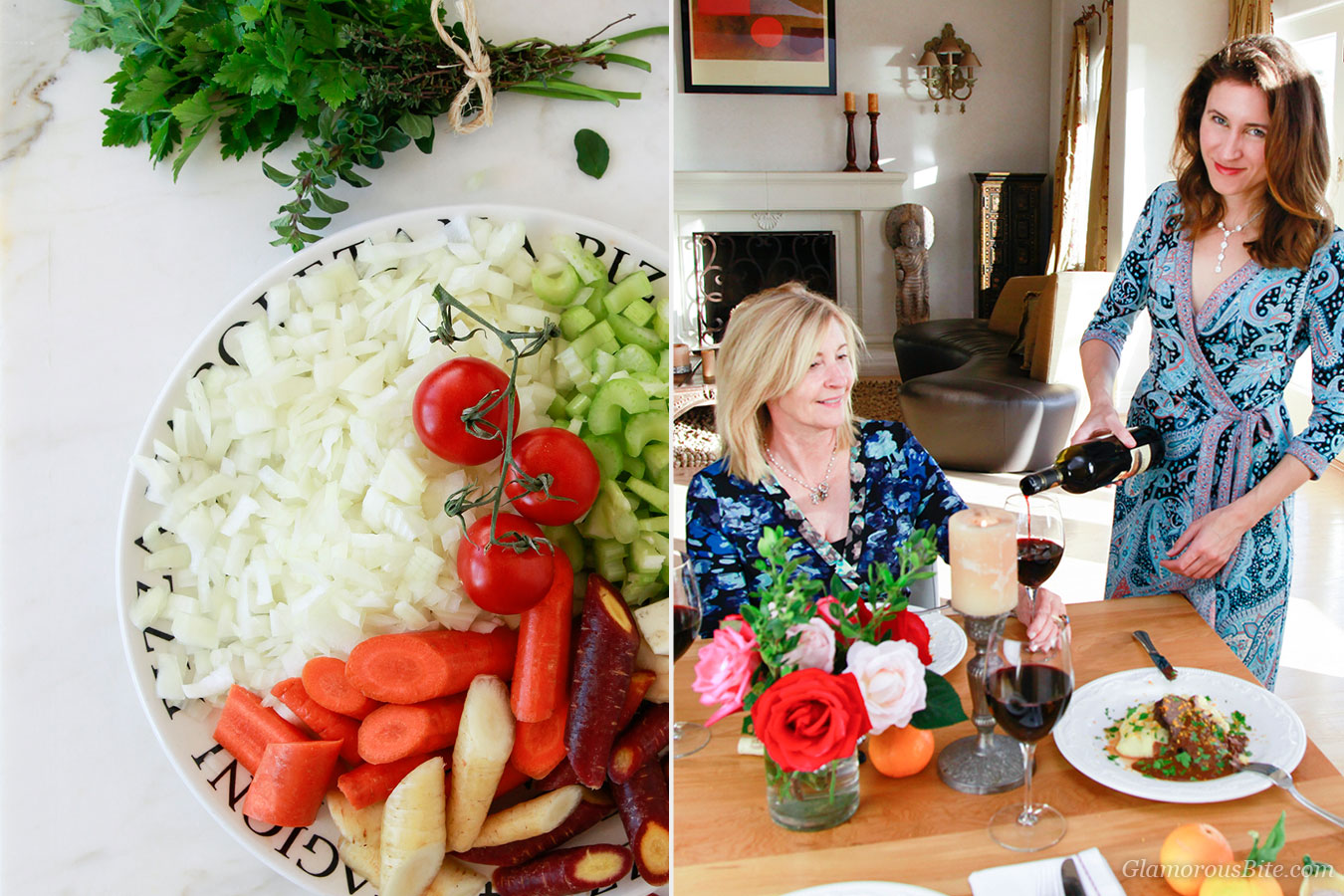 Last weekend we could not resist taking home a beautiful beef shoulder with perfect marbling from the Santa Barbara Fresh Market and when the butcher said this beef would be great for braising, we immediately knew we had the perfect wine waiting at home to play with it, a lovely Tuscan red blend called Castello Banfi Belnero Toscana from the hilltop town of Montalcino in Italy that we had received as a gift a little while ago.
As we opened one of the bottles of Castello Banfi Belnero, we breathed the air of Tuscan hills and it brought back a memory of dinner in the Italian countryside some years ago. It was a rather simple meal of beef and vegetables, but the flavors were so earthy and encompassing that it remains in memory years since. To make our own Tuscan memory here in California we thought to pair the Banfi Belnero with a Wine Braised Beef Shoulder with Root Vegetables and polenta. Simple, hearty, yet a meal that has a touch of elegance.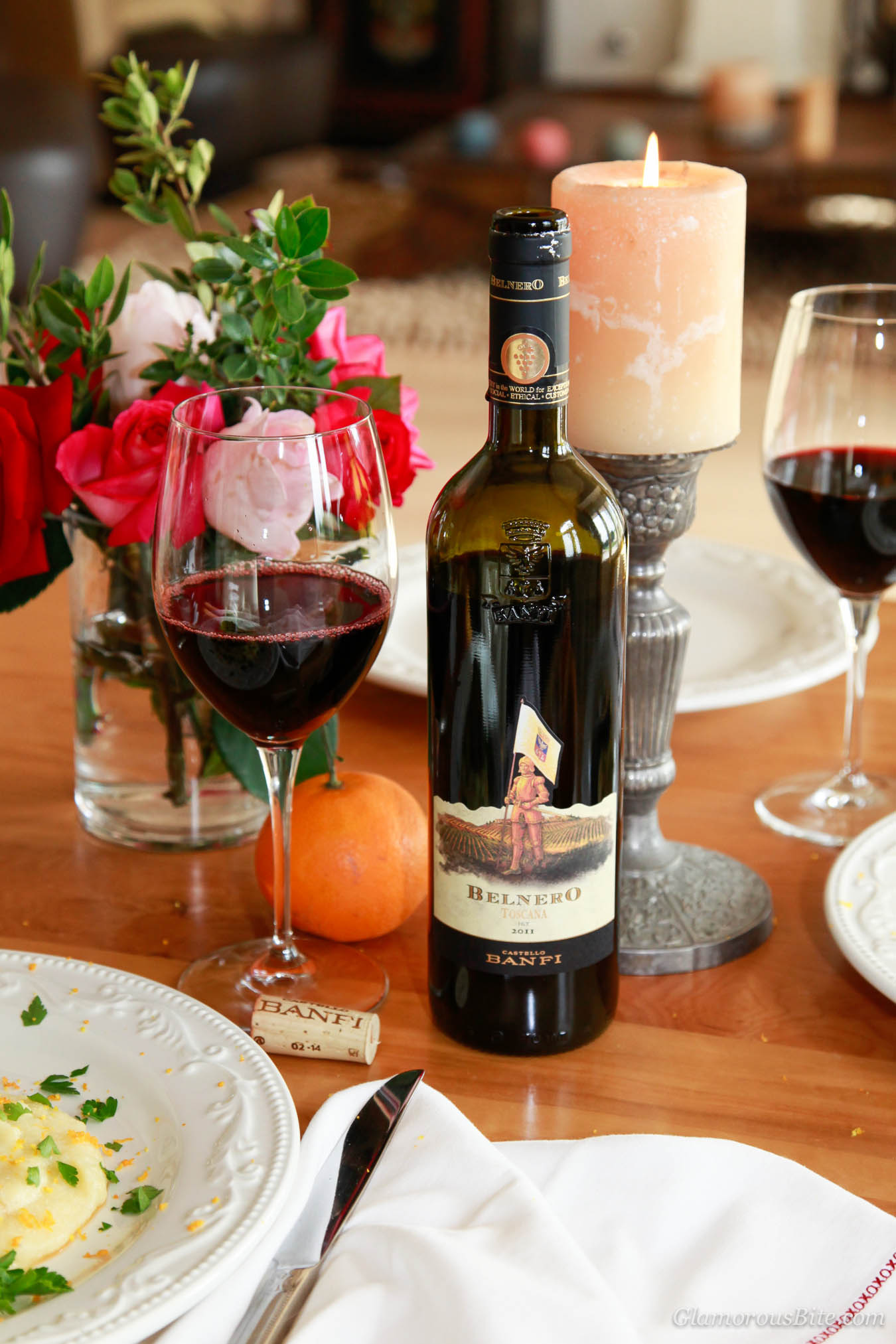 This Wine Braised Beef Shoulder with Root Vegetables recipe has it's original inspiration from an Austro-Hungarian dish that Judi't grandmother (Corina's great-grandmother) made. It has been passed down through the generations and the Hungarian version is a little different since the wine was only used to marinade the beef shoulder and is not added during the cooking process as it is in ours. Our version more healthy and Gluten-Free since used onions instead of traditional flour to bind the sauce.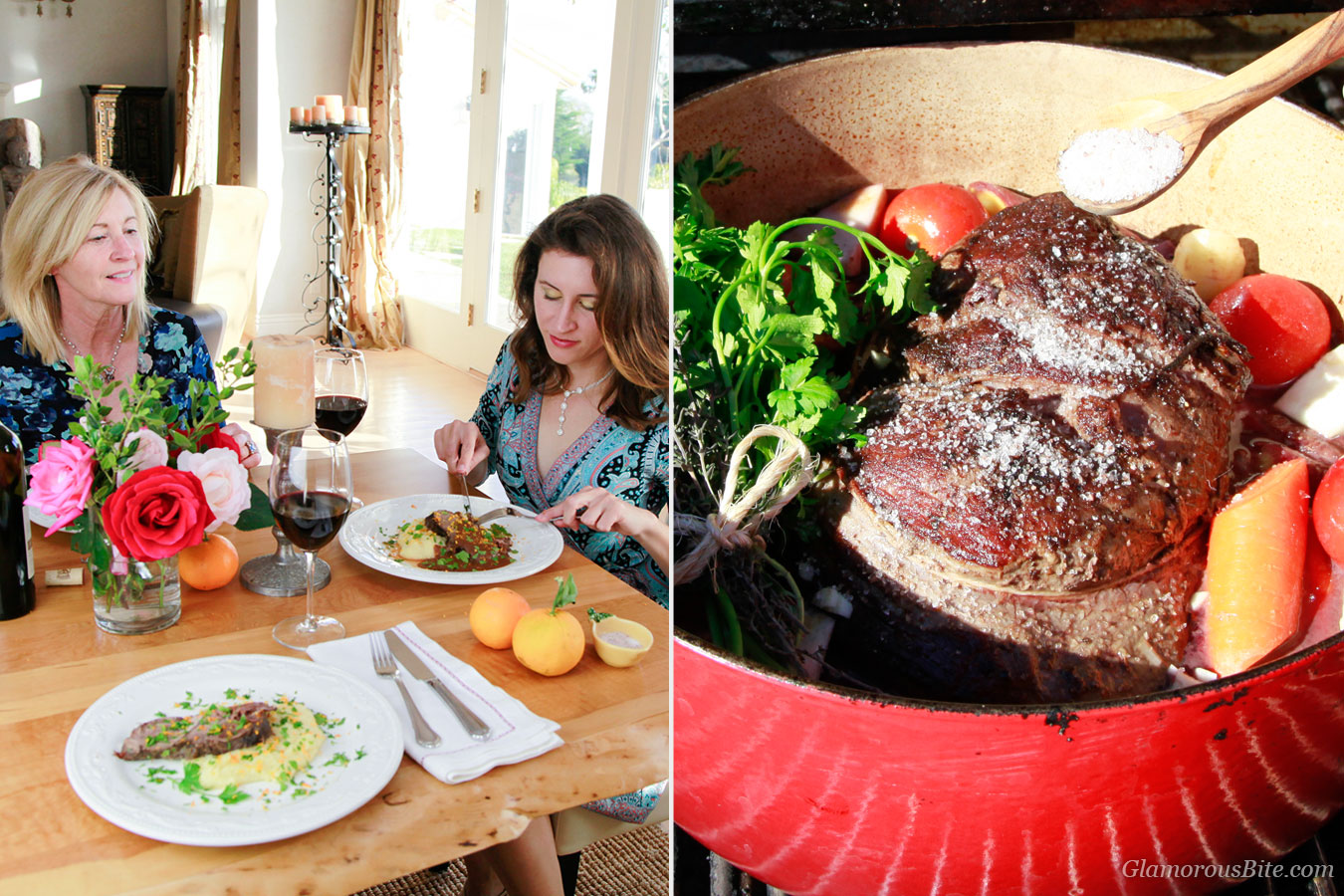 You can find wine braised beef in many restaurants in Santa Barbara's wine country where the chefs are like country cooks and passionate about the local terrors and flavors. This Wine Braised Beef Shoulder with Root Vegetables is a tremendously comforting beef dish, it does not need to be intimidating or fussy, with a few basic techniques and well planed steps you can generously indulge your dinner guests. The soul of this recipe is a well marbled piece of beef shoulder, lean with just a little necessary marbling for more flavor. Remember the essence of the flavor lies in the marbling, so make sure not to trim off too much of the fat. A good searing also is vital for the optimal taste and a lot of patience.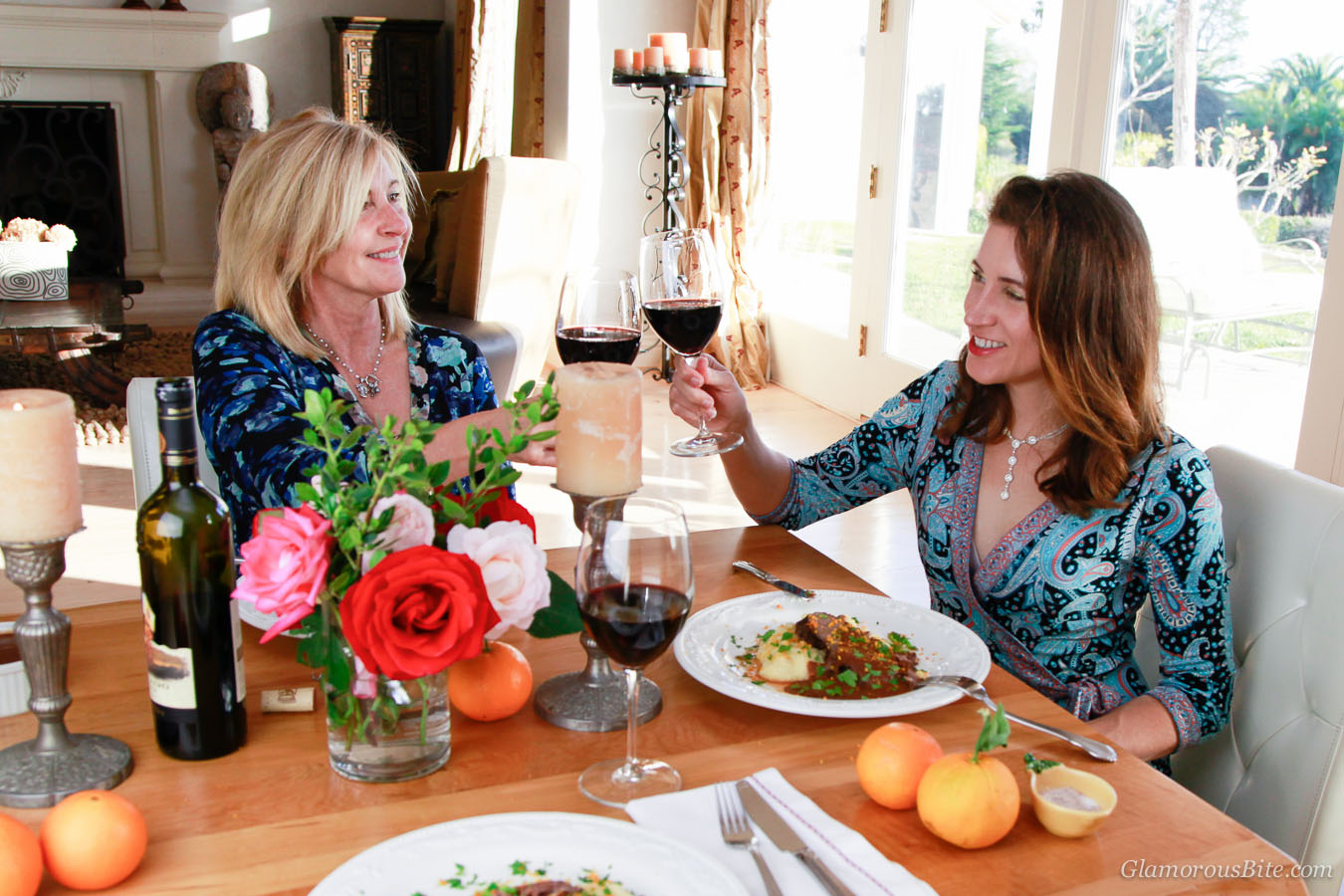 For the most intense flavors and succulent meat, marinade the beef shoulder in a red wine, such as a Sangiovese, Merlot or a red blend, with the vegetables overnight or for at least for four hours. Then let it come to room temperature and season the beef with salt and pepper. Preheat the oven and sear the meat on all sides in a large Dutch oven, we used a well weathered cherry red 5.5 quart Le Creuset cast iron Dutch oven. Pour the marinade with vegetables over the meat and add the tomatoes, celery root and Bouquet garni and cook it in the oven for three hours. Once the meat is done we let it rest and then we pureed the root vegetables into a creamy sauce that reminds us of the rich Tuscan earth and dappled with golden specks of orange rind. We served it with a simple creamy polenta with cornmeal, water, butter and seas salt to let this beef shine so we don't miss any gluttonous drop of the sauce.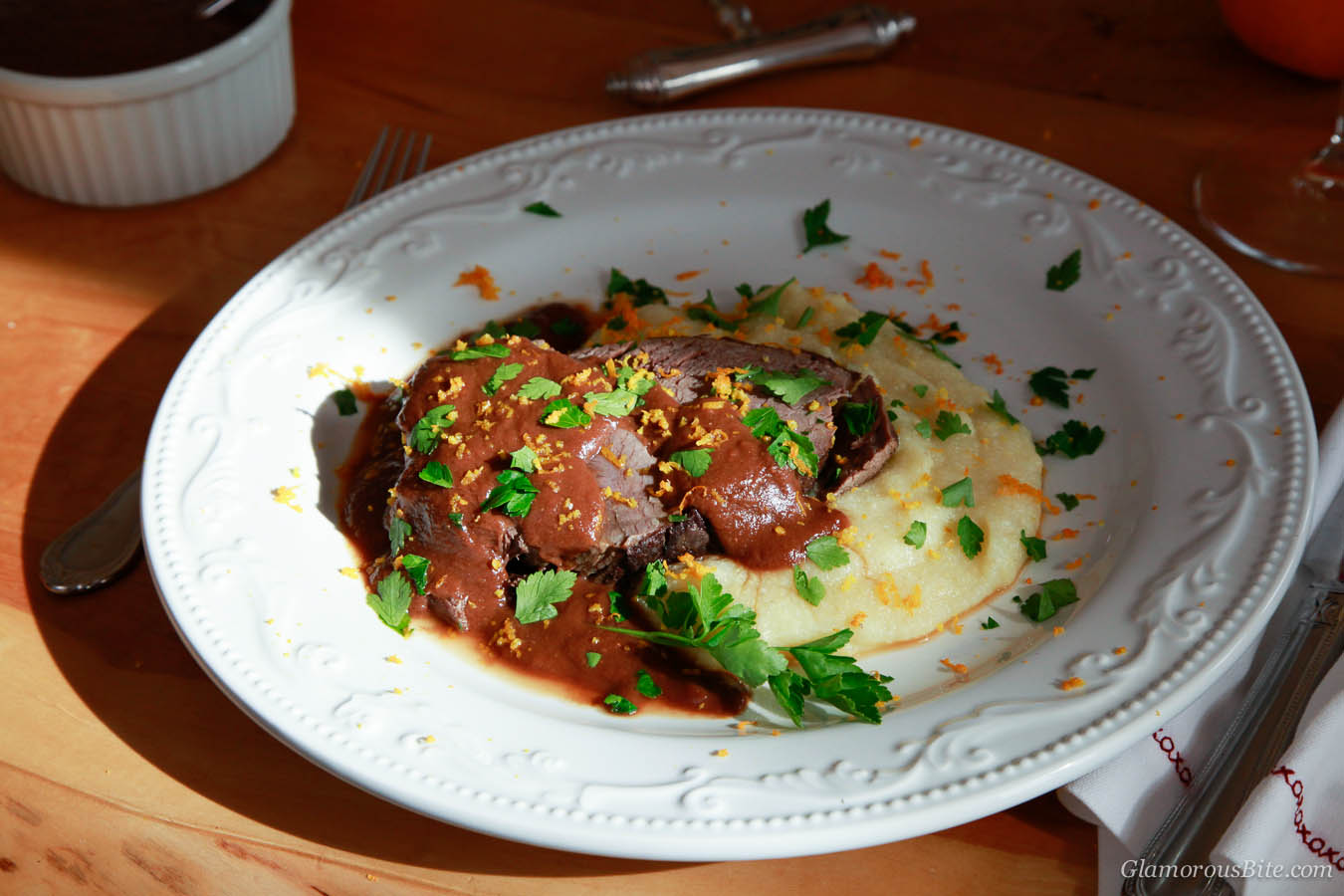 A big juicy beef shoulder, seasoned with salt and black pepper and doused with a generous glass of red wine then slowly braised in the oven was alway a very desirable meal in Europe as well. In Hungary we added "Egri Bikaver" a spicy red wine from Eger wine region in Austria and Germany the "Blue Frankish" was the goto wine. But this time we paired it with a Banfi Belnero from Tuscany, Italy and it has enough spicy and deep fruity flavors to compliment this handsome hunk of braised beef shoulder. You get the most wondrous and comforting feelings as you take a bite of this simple and hearty meal.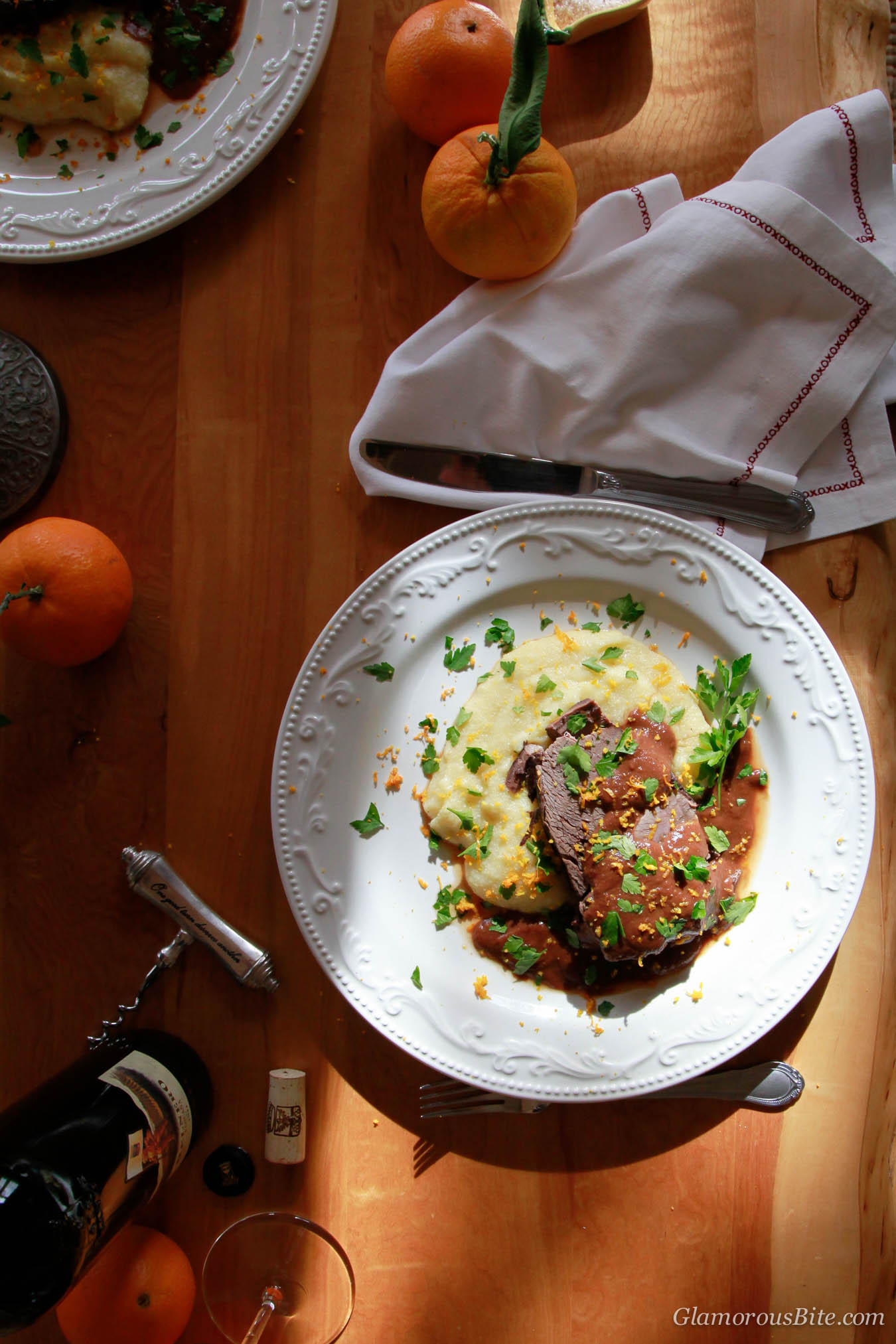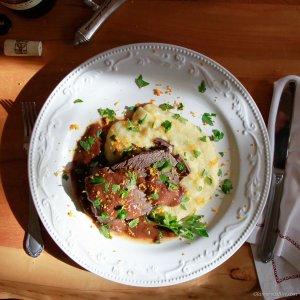 Wine Braised Beef Shoulder with Root Vegetables
Ingredients
3 to 4

Pounds

Beef Shoulder

2

cups

Red Wine - Sangiovese

Merlot or a Blend

1

Orange - zest and juice. Save the zest for serving

1

Large Onion - chopped

2

Garlic - minced

6 to 8

Rainbow Carrots - washed and sliced diagonally

3

stalks Celery - washed

trimmed and thinly sliced

Sea Salt

Freshly ground Pepper

3

Tbsp

Olive Oil

1

cup

Beef Broth

3

small Vine Ripe Tomatoes

1/2

Celery Root - peeled and cut into chunks

1

Bouquet Garni from fresh Thyme

Coriander, Parsley and dried Bay leaves
Instructions
This recipe will require at least 4 hours or even better overnight to marinade the beef. In a small bowl blend the wine with the orange juice. Remember to save the zest for serving. Place the beef in a large glass dish and gently pour the wine and orange juice over. Add the onions, garlic, carrots, celery to the dish and cover with a glass lid or plastic wrap. Do not use aluminum foil. Marinade the meat at least 4 hours, or overnight in the refrigerator for richer flavor.

Remove meat from the refrigerator and let it come to room temperature for about 30 to 45 minutes. Transfer beef only to a large paper towel lined platter and pat it dry. We will use the marinade later. Season the meat with salt and freshly ground pepper.

Preheat oven to 325°Farenheit.

Heat Olive oil in a large Dutch oven or a heavy bottomed pot over medium-high heat and sear the beef on all sides for about 10 minutes or until it becomes nice brown. Pour the beef broth and the reserved marinade with the vegetables over the meat and add the vine ripe tomatoes, celery root and the Bouquet garni. Cover the pot and place in the oven and cook for about 3 hours or until the beef is tender by turning and basting the meat every hour. Remove from the oven and let it rest for 10 minutes.

Transfer the meat to a platter and cover firmly with aluminum foil and kitchen towel to keep it warm.

Remove the Bouquet garni and pour the liquid with the vegetables into a blender (you can also use an immersion blender if you have one) and blitz for a few seconds until the sauce has a silky consistency. Now is a good time to adjust seasoning if need it.

Pour the vegetable sauce back to the now empty pot and cook by stirring often, over medium-high for 3 to 4 minutes or more if the sauce is not thick enough.

Cut the meat into slices and serve over polenta or mashed sweet potatoes with a generous amount of the vegetable sauce.

Sprinkle the orange zest over the top.
Tip: You can save the leftover sliced meat in the sauce and heat it up on low heat the next day. If the sauce thickens too much, you can add a little beef broth.
Diet: Gluten-Free, Paleo, Diabetic Friendly, Low-carb, No sugar added.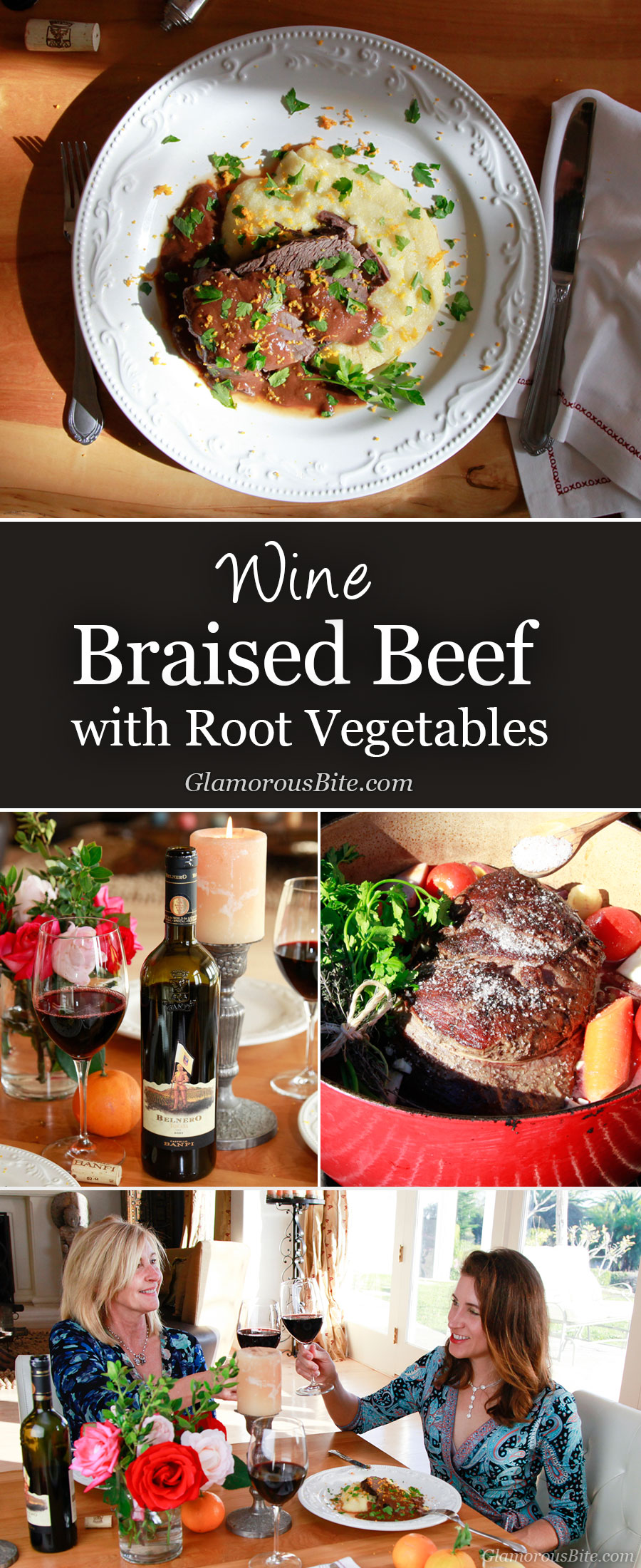 Wine & Food Pairing: Castello Banfi Belnero Toscana from Montalcino in Tuscany, Italy. This red blend of Sangiovese, Cabernet Sauvignon and Merlot with aromas of vanilla and deep fruit and flavors of cherry, plum, leather, and tobacco pairs perfectly with grilled and brasied meats like our Wine Braised Beef Shoulder with Root Vegetables. We noticed a hint of orange blossom on the nose and exit which complimented the orange zest that topped the braised beef. Banfi Belnero had a lovely smooth and velvety finish that added a touch of elegance to this simple dinner. It has a good price point so we can even cook with it and enjoy it alongside the food as well. For something local, we usually grab a bottle of Stolpman Vineyards La Croce from the Ballard Canyon in Santa Barbara County. La Croce is a Sangiovese and Syrah blend with deep berry and cherry notes, leather, warm earth and cocoa. This once is a little pricier so we suggest cooking with a different wine and sipping this red blend along with the food.