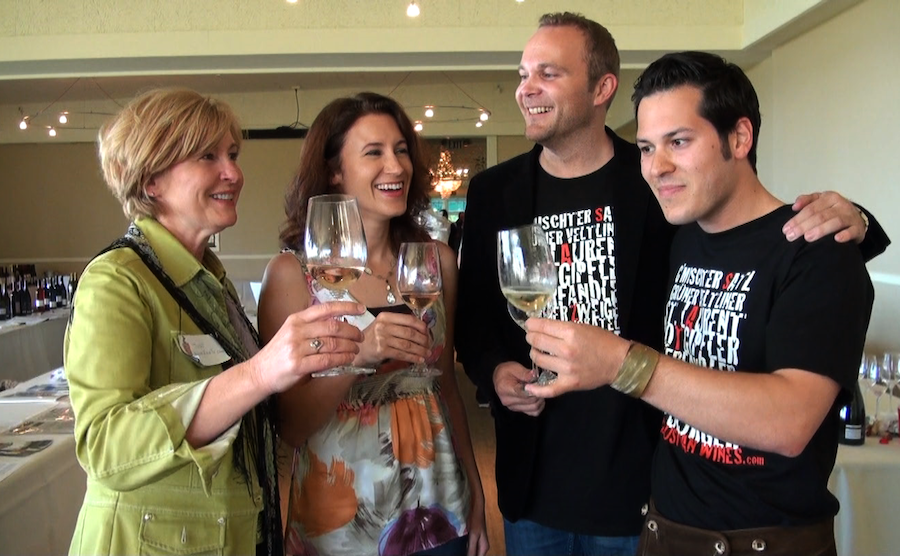 We meet Rainer Christ of Weingut Christ in San Francisco at the "Austria Uncorked Event" where we had a chance to taste several of his new wines and talk about his wine making philosophy. Rainer Christ succeeded his father as head of the winery Christ in 2004, his goal was to breathe new life into the over 400 year old farm/vineyard complex. Enlisting the help of local architects, Rainer added new features such as a wine store, an outdoor area and winter garden, whilst fine-tuning the old heurigen taproom with the result now showcasing Christ as a shining example of the new Viennese school of wineries.
Christ is fully organic and follows biodynamic principles, however the winery is not certified biodynamic. The first biodynamic cuvée was the 1997 Weissburgunger Vollmondwein (Full Moon Pinot Blanc), which is harvested during the full moon.  The terroir in the Bisamberg district is an iron and manganese mix. Most wines are vinified in stainless steel and some see a judicious amount of used French oak.  Christ uses indigenous yeasts found on the grape skins for spontaneous fermentation.  We highly recommend their Wiener gemischte Satz, a "Field Blend" whose technic involves pressing and fermenting different grape varieties regardless of the ripeness, at the same time.
Christ produces two types of wines, a fresh young for everyday enjoyment and aged premium blend, harvested from over 70 years old vines.
Winemaker
Rainer Christ
What to Taste
Gemischter Satz: This classic Austrian "field blend" is made from the grapes of the famous Bisamberg appellation:Grüner Veltliner, Neuburger, Riesling, Weissburgunder, Welschriesling, Traminer, Roter Veltliner, Silvaner, Zierfandler- Vibrant floral bouqet aroma with zippy citrusy mid-palet and a touch of creaminess and vanilla on the long finish.
Mephisto: 55% Zweigelt, 10% Merlot, 35% Cabernet Sauvignon – Dark ruby-red garnet wit a touch of purple reflex. Hints of plum and tobacco on the nose. Full bodied on the palate with extra-sweet spicy notes and long lasting harmonies finish.
Address
Street: Amtsstraße 10-14
City: Jedlersdorf
State,Zip: A-1210 Wien
Contact
Telephone: +43 (01) 292 51 52
Fax: +43 (01) 292 51 52
E-Mail: info@weingut-christ.at
Website: http://www.weingut-christ.at
Tasting Room Hours
Please call for Appointment
Restaurant: As of January by-monthly, DAILY from 3pm