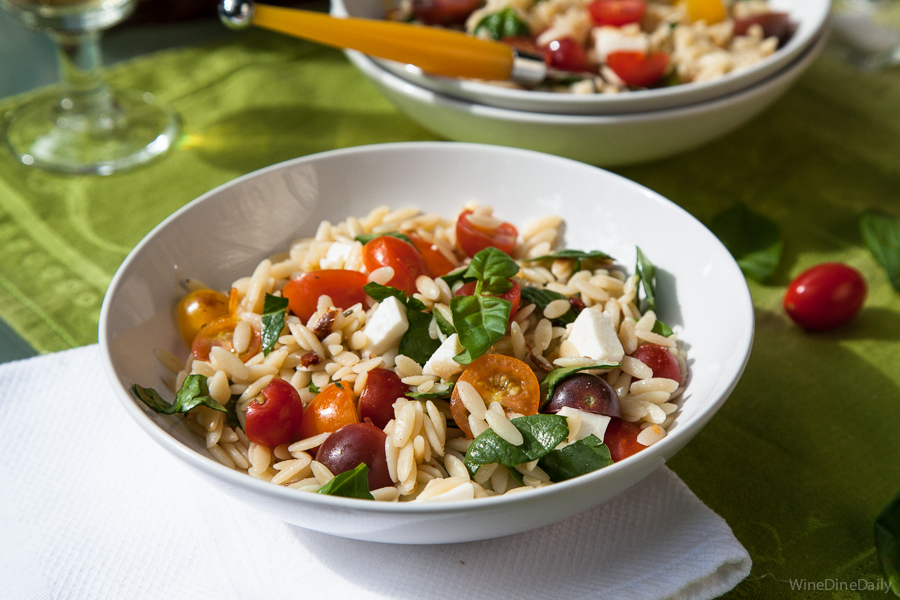 It is beautiful to live so close to the ocean but once in a while we look forward to breathing fresh sweet mountain air high above the town. Oh how we love the glorious Spring time since the charm of the Santa Barbara country side is never so alive and vibrant as it is now. With temperatures reaching in the high 70 degrees Fahrenheit on some days, everybody seems to be gravitating to the outdoors. Even thought this is the way of life here the whole year around, we still are amazed how one can enjoy a beach walk in the sand and within 15 minutes a hike in the mountains.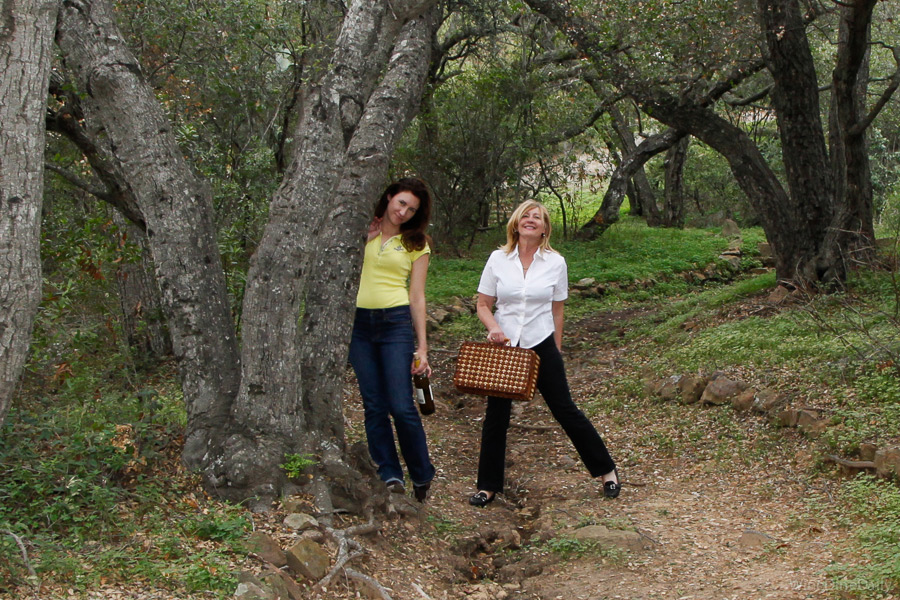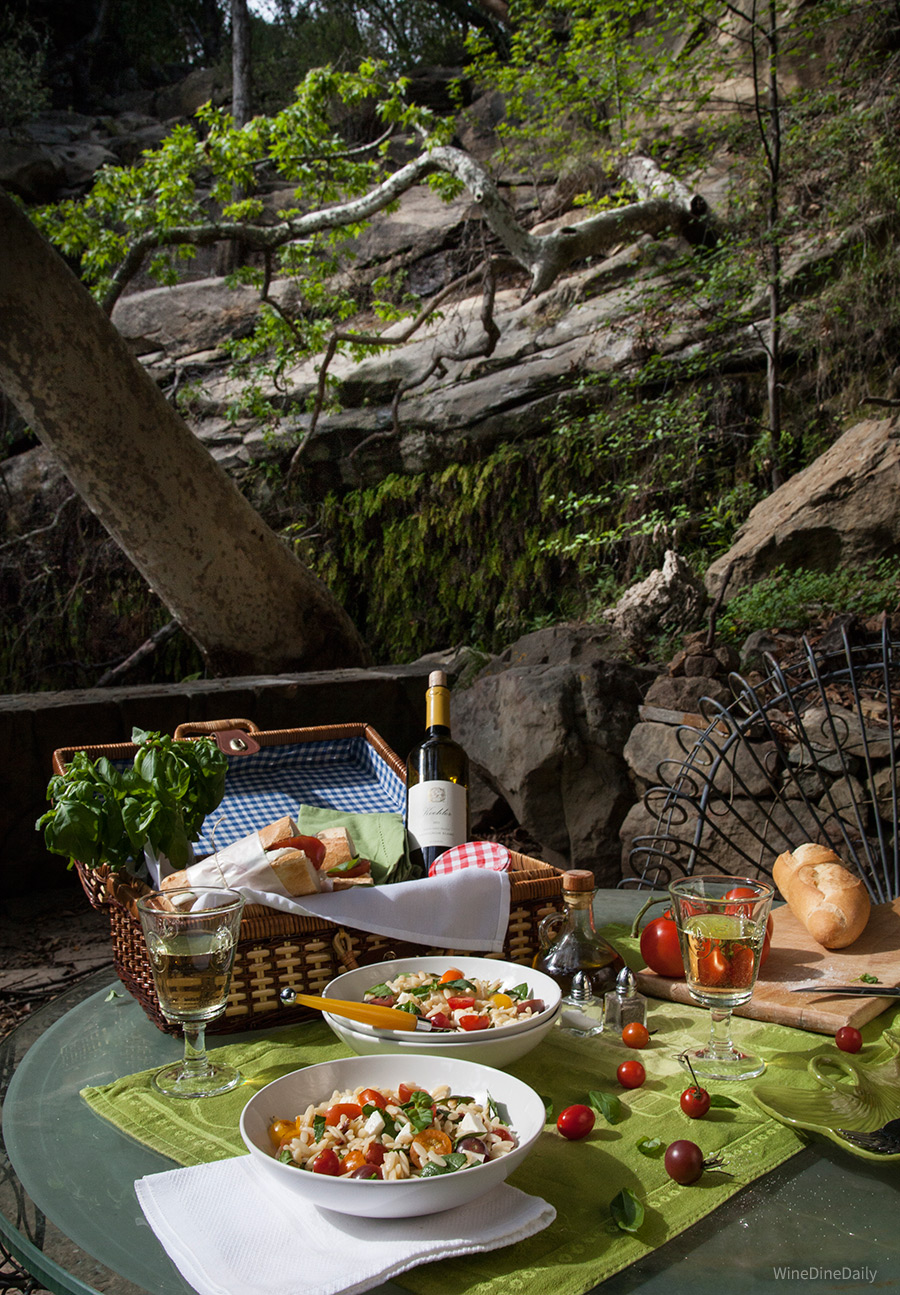 When we were asked to take a few spring photos from the famous Hidden Valley Ranch (and yes, as you guessed it was also the home in the 1950's of the iconic "Hidden Valley Ranch Salad Dressing", created by Steve & Gayle Henson and now this incredible sanctuary is listed with Terry Ryken from Sotheby's International Realty who showed us this charming property) we both immediately felt excited and formed a quick plan not to go without a little respite to this magical place. Hiking makes one hungry and Hidden Valley has miles and miles of gorgeous trails through the enchanted forest. How about a healthy vegetarian Tomato Basil Mozzarella Orzo Salad and Caprese Sandwiches for a picnic lunch?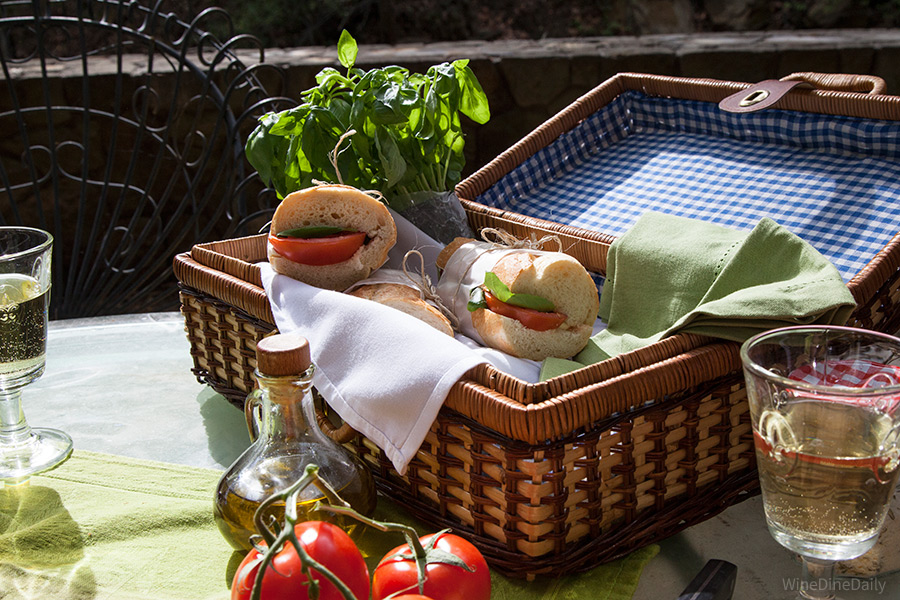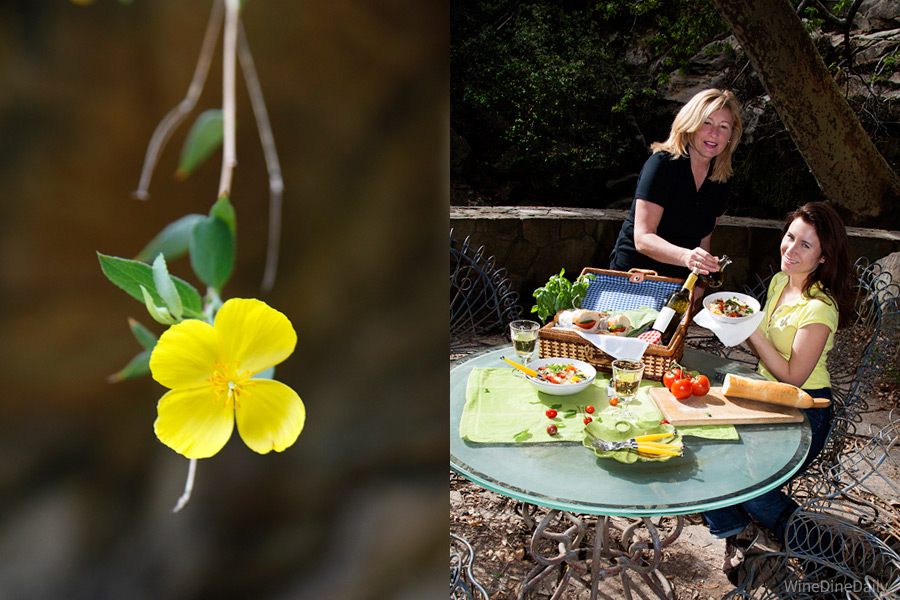 Luckily we had irresistible dark red, orange and yellow petite heirloom tomatoes, a small fresh green basil plant and a crisp baguette from our morning visit to the local farmers market. Now we all think about what our next tasty meal will be, don't you? You might know that we have a habit to keep the fridge stocked with fresh Mozzarella and are ashamed to admit we just can't live without it. By these ingredients you can tell we had a strong craving for something fresh like a Caprese salad for our next lunch or dinner.
Usually we like to take a homemade gourmet sandwich with fresh or roasted vegetables salad alongside to a picnic and with not much time to hand we had to think quick. And so in the next 5 minutes the orzo pasta was bubbling happily in the vegetable broth. We do like to use orzo because this fabulous rice shaped pasta cooks fast and we can add healthy way heartiness to any soup or salad.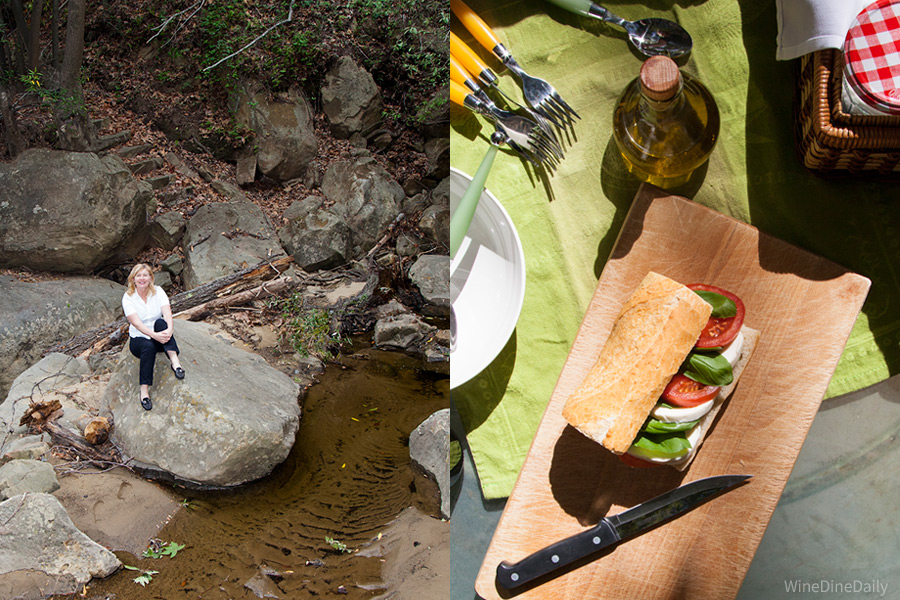 When you cook pasta in wine or broth make sure that you stir the pot more frequently so you don't end up with the pasta stuck to the bottom. If you do not have broth handy, just add 1 or 2 cubes of Knorr Vegetable Bouillon to the pasta water and it will do the trick. In case you wish to forgo the broth altogether, then add more of the seasonings to balance all the lovely layers of flavors. The orzo has a tendency to overcook easily so we remove it 1-2 minutes earlier than the package instructions and immediately douse it in cold water.
We add the sun-dried tomatoes while the orzo is still a little warm so that the flavor can really get absorbed. When cooled we add the vibrant petite heirloom tomatoes, mozzarella, and the fresh basil leaves. So with the salad ready we quickly packed a little picnic basket with the necessary items for a happy late lunch. The baguette we took whole so the bread would stay crisp and we planned to make the sandwiches right on the ranch.
The day was splendidly warm as we drove up into the hills to the Hidden Valley retreat, which is aptly named "A Shangri-La of Santa Barbara." The ranch has a historic lodge dating back to around 1927 and was once the old stagecoach stop on the journey up to Santa Ynez Valley. Magnificent oak trees and miles of trails awaited us and we hoped to glimpse the seasonal waterfalls since it had rained the last weekend.
We were greeted by the little dogs that reside on the property and then with picnic goods and wine in hand we headed down a the forest trails past the masonry stone walls in the direction of a stone path that leads to the waterfall. And we walked and walked until we worked up an even greater hunger and could not wait to start lunch. It felt as if the elves from "Lord of the Rings" should appear any moment on the trails and ask for a bowl of orzo salad, which we would be reluctant to share after carrying it through the woods.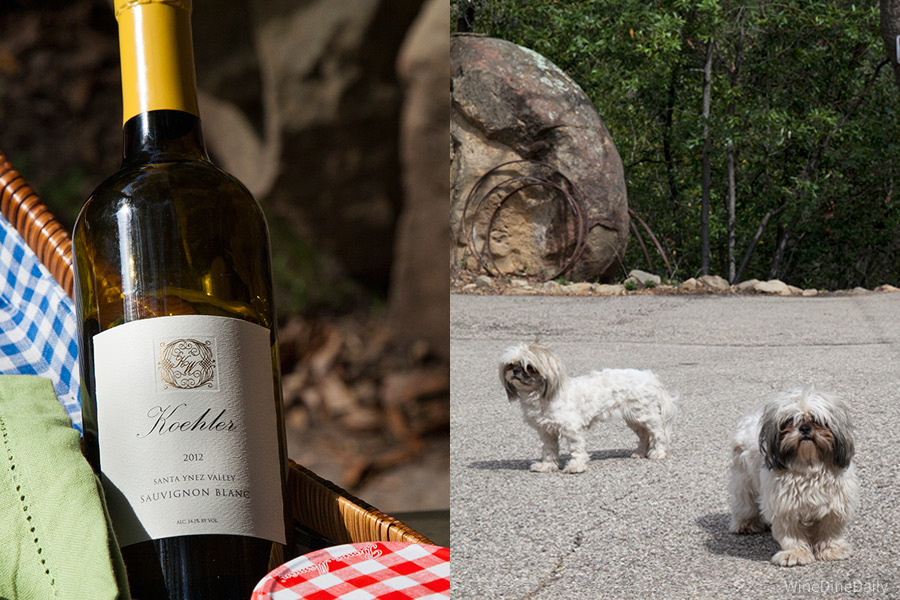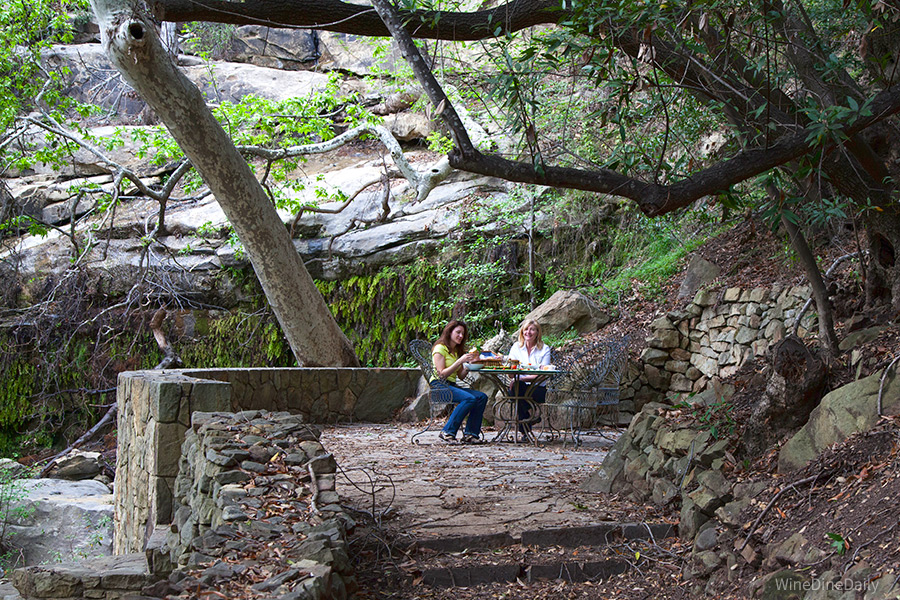 There was still a little bit of water dripping down the glorious rocks and we set up our picnic at a rustic iron table on a stone terrace in view of the waterfall. Caprese sandwiches were made and tomato basil mozzarella orzo salad was ladled out into bowls and the wine poured. The golden medium bodied Koehler Sauvignon Blanc had an aroma like the wildflowers in the area and the taste was crisp and citrusy laced with a touch of honey. As we sipped on the wine we felt blessed to experience such a beautiful day together as mother and daughter.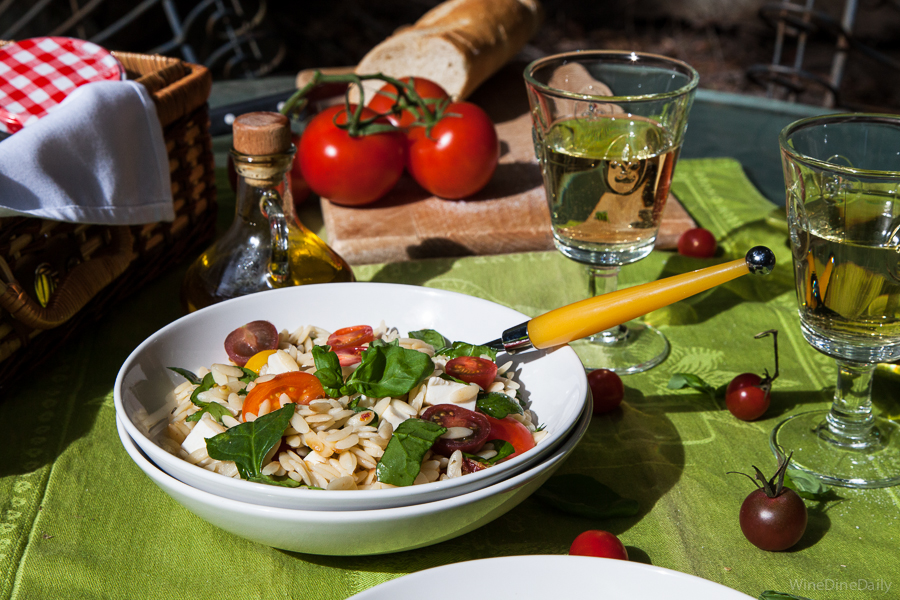 The first time we tasted a tomato, basil and mozzarella salad with sun-dried tomatoes was in Sienna Italy and the deep sun kissed flavors were unforgettable. This simple healthy orzo salad evoked the memory of that time and we gleefully consumed it in the forest with the sounds of birds and hawks creating the background music with the soft flow of water on the rocks as the accompanying instrument.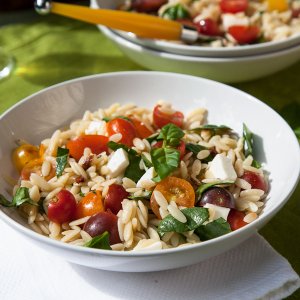 Tomato Basil Mozzarella Orzo Salad Picnic
Ingredients
1

Lb

Orzo Pasta

2

cups

of Vegetable Broth

Citrus Sea Salt

2

Tbsp

Olive Oil

2

Tbsp

Sun-Dried Tomatoes - finely chopped and the oils

1

Tbsp

Lemon Juice

2

Tbsp

Chardonnay

Freshly ground Pepper

Cherry Tomatoes  - halved

4

oz

Fresh Mozzarella - cut into small cubes

Basil Leaves – thorn to pieces - Set a few pretty leaves aside for decoration
Instructions
In a large pot bring 4 cups water and 2 cups of vegetable broth to boil. Add the orzo pasta, citrus sea salt and a little of the olive oil to the water. Stirring a few times cook until al dente for about 8 minutes or 1 to 2 minutes less than your package directions.

Pour the orzo in a strainer with small wholes and run briefly under cold water to stop from getting to soft.

Transfer the warm orzo pasta to a large salad bowl add the finely chopped sun-dried tomatoes and toss well together.

Drizzle in the leftover olive oil, lemon, Chardonnay and season with citrus sea salt and freshly ground pepper. Toss well together so that the pasta can absorb all that good flavor.

You can prepare a day ahead until this point, just cover and refrigerate.

Add the Mozzarella cubes, the cherry tomatoes and the torn basil and gently toss the salad. Season with salt and pepper if needed.
Notes
We love how a little sun-dried tomato adds burst of flavor to this healthy and simple pasta salad recipe. This bowl of goodness makes a perfect side dish along a BBQ or to take for picnics, and you can serve it warm or cold.
Nutrition
This quick to make sandwich tastes even better when eaten in an enchanted forest by a stream.
Caprese Baguette Sandwich
Ingredients:
1 French Baguette or 4 small rolls
2 Large Vine Ripe Tomatoes – sliced
8 Slices of Mozzarella
12 fresh Basil Leaves
White Balsamic Vinegar
Organic Olive Oil with Lemon
Citrus Sea Salt and Pepper to taste
Instructions:
Cut Baguette into 3 to 4 inch portions and slice in lengthwise through. Drizzle each half with olive oil and with a little White Balsamic Vinegar. Layer alternatively with tomato and mozzarella slices and a few basil leaves between. Season with citrus sea salt on top of the layers. If you do not have citrus flavored salt then simply squeeze a little lemon on top.
Food & Wine Pairing: Koehler Sauvignon Blanc, Santa Ynez Valley, Santa Barbara County with citrus notes and nice acidity. This drier white wine is perfect to take along on a picnic.
This day made us think of the Robert Frost poem:
"The woods are lovely, dark and deep,
But I have promises to keep,
And miles to go before I sleep,
And miles to go before I sleep."
The woods really were lovely and we enjoyed the serene picnic and exploring the many paths. We can't wait to go back for another delightful lunch.