Get your Bellini ready! We did, because we just pulled out the "The Tourist" movie to watch (again) tonight. It features Angelina Jolie and Johnny Depp. By the way this movie is from both of our 'Favorites' list and that is a difficult feat since being mother and daughter we don't always agree on movies.
If you don't feel like sipping a Bellini along with this move, then we suggest you try a lovely Pinot Grigio from the Veneto region or a fruity and hip Suave. For red wine choose a lighter Chianti.
Every time we watch this movie we remember having Bellinis (Judit had peach and Corina had strawberry) on the rooftop of the Hotel Danieli overlooking the Venice lagoon, the island of San Giorgio and the majestic Grand Canal. The Tourist Movie and Bellini are just an inspiring combination.
Besides the obviously dynamic cast of Johnny Depp and Angelina Jolie, the locations Paris and Venice are exquisite. This movie is a classical suspense thriller from director Florian Henckel von Donnersmarck. We do recommend that you to watch on a big screen instead of on your mobile phone because of the spectacular Venice scenes.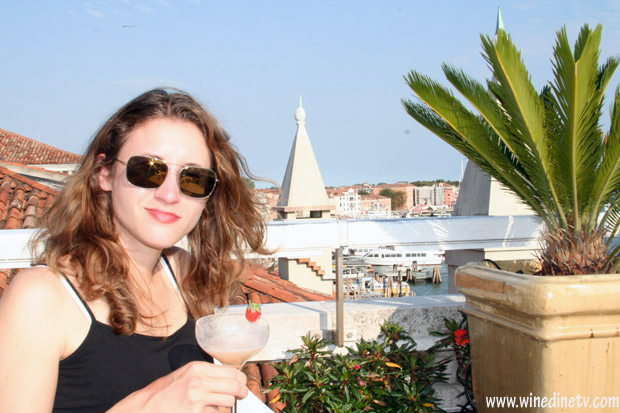 Corina with her Bellini on the rooftop of the hotel where Angelina Jolie and Johnny Depp filmed.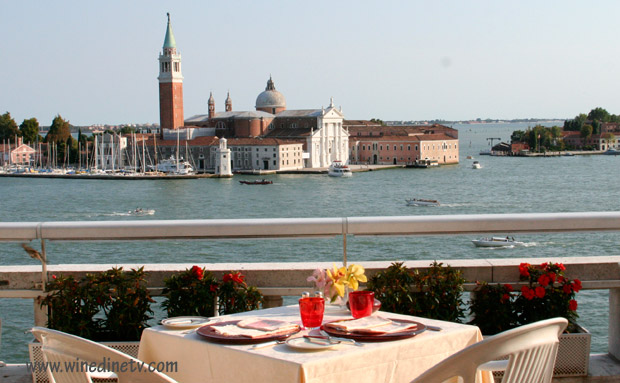 Our view from the hotel rooftop. One of the most majestic views in Venice to enjoy during lunch. Isn't this a fabulous view!
Movie Synopsis: Johnny Depp stars as an American tourist who meets a beautiful stranger on a train in Europe. This meeting leads to a web of intrigue, romance and danger. During a spur of the moment trip to Europe to mend a broken heart, Frank (Depp) is approached by a mysterious woman  Elise (Angelina Jolie), who intrigues him and has him spellbound. Traveling from the beautiful locations of Paris to Venice, Elise has a secret to hide and gets Frank involved in her web of deception. Frank is in real danger as he is mistaken for another man.
Also in the movie is Paul Bettany (we enjoyed his cheeky humor in A Knight's Tale) and Timothy Dalton (who has been James Bond twice). Upon some research we found that it is a remake of the French film Anthony Zimmer (2005) starring Sophie Marceau.

In this opulent, luxury hotel where much of the movie action took place. And what a picturesque location is indeed with only a few steps away from the Piazza San Marco, the Basilica and the Doge's Palace. We must admit to you that the scenes in the hotel made us wish that we would be sipping our cocktails on the roof top Restaurant Terrazza instead of our living room sofa.

And here is Judit after a few Bellinis…and she even believed that Paul turned into Johnny Depp 🙂  (Thanks to a little photoshop help from Corina)
A bit of very exciting news is that Raoul Bova appears briefly in the film. He is one of Corina's all-time favorites since the movie "Under the Tuscan Sun" (which we have seen more times than we can count).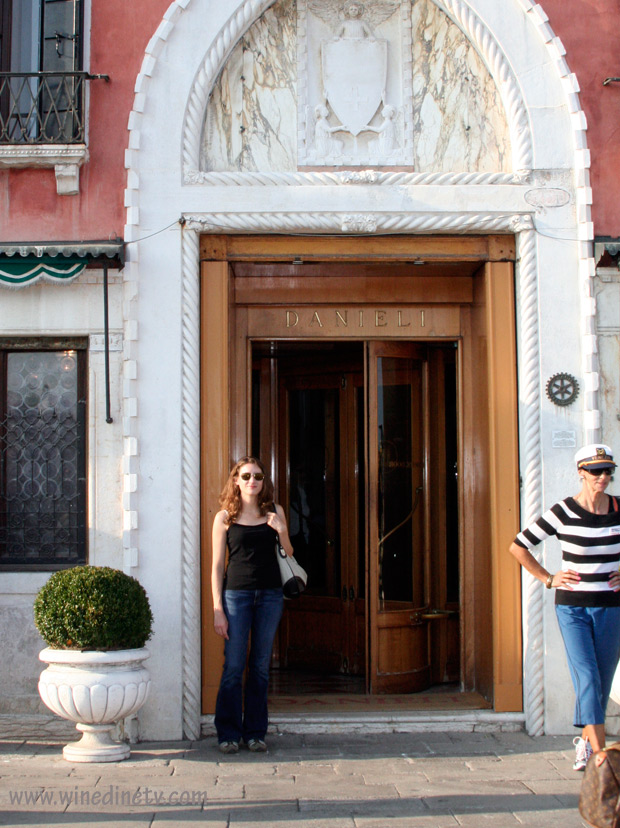 Corina is still waiting in front of Hotel Danieli in Venice for Raoul Bova to show up. She looks like she needs another Bellini…
Here is a delicious Bellini recipes for you to try: Peach Bellini recipe.
If you don't have Prosecco you can use a sweeter sparkling wine and if you are not of legal drinking age then substitute sparkling water for the alcohol.
We will have another post coming up about our personal Venice experiences from hotels to ice cream parlors.
Let us know what your favorite movie destination is!