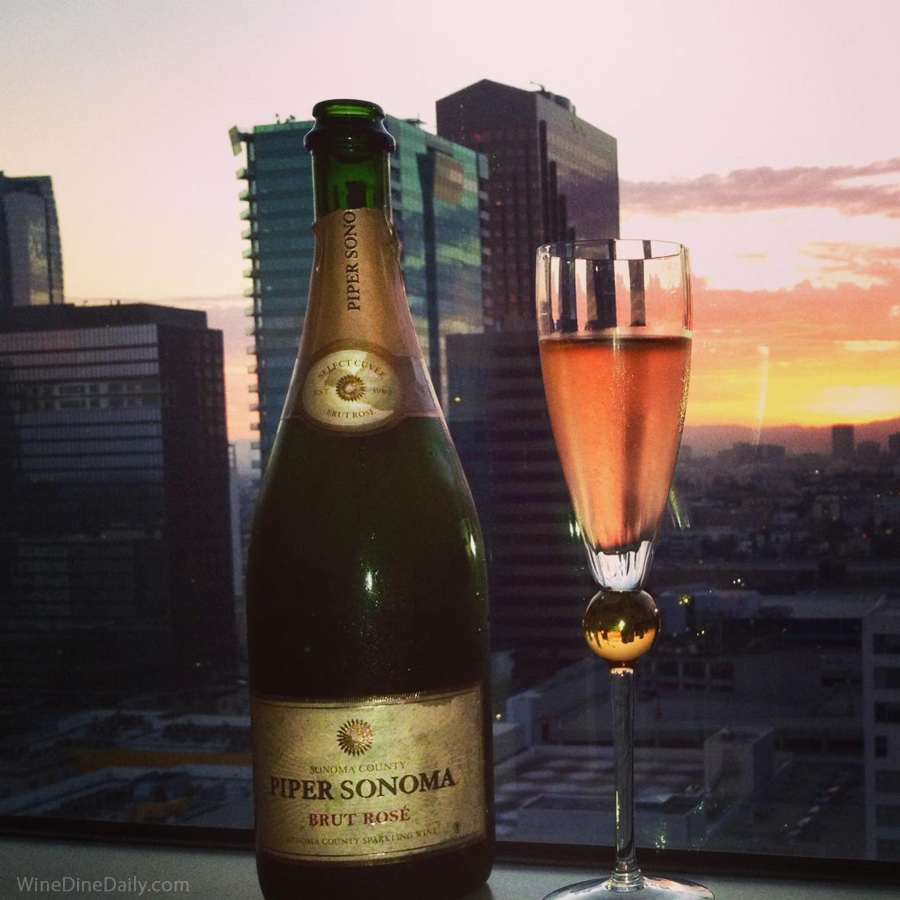 Sunset in the City with Piper Sonoma
We have to admit we are both very partial to rosé wines and champagnes, especially the dry French styles. A little sweetness in a summer rosé wine doesn't hurt, but one with sugary cotton candy notes can override the delicate floral flavors. For a few weeks we are spending time in downtown
Los Angeles
to focus on our book project and to try all the hip restaurants that have emerged over the last few years in the heart of town.
During the day the city is alive with an energetic pulse and the restaurants, wine bars and coffee shops are filled with stylish happy people. When the heat is trapped between the skyscrapers and radiates from the cement it seems like everybody's thought go to a cooling beverage such as a cocktail or a glass of wine.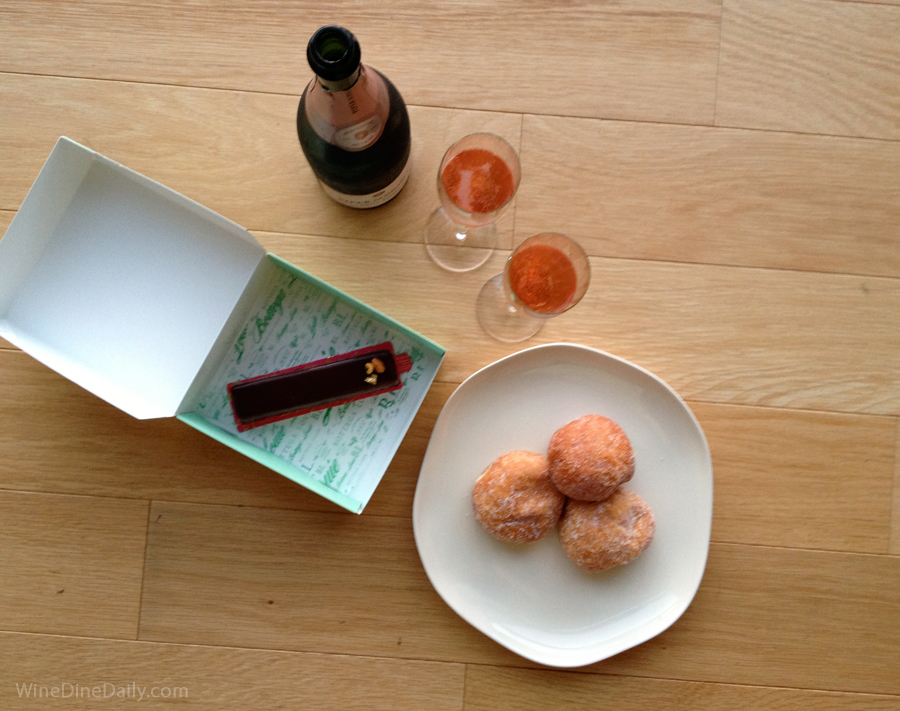 As much as we enjoy our days which are filled with writing, taking more photos, eating ice cream (we are still looking for a real Gelato in a sugar cone) and lots of iced coffee from 'Cafe Primo,' the one part of the day we look forward to most here in downtown LA are the spectacular sunsets that you just wanted to capture in your champagne glass Judit style or write a poem for as Corina did after she ate the decadent Chocolate Terrine and Raspberry filled Beignets from Bottega Louie patisserie. These Beignets were airy and fluffy with a not so sweet raspberry jam filling and it seemed to in perfect balance with this delcious Rosé. The Chocolate Terrine was an alright pairing, but it did not completely enhance the champagne so we would not recommend it unless you really need chocolate at the moment then try it with chocolate that has a raspberry or orang flavor. Next time we will try it with a fruit tart!
Sunset in the City
The sunset washes the horizon of the city, like the iridescent scales of a salmon swimming upstream.
He glitters in the depths of mystery, revealing but shallow glimpses of all that he has seen.
Like pinpoints of copper that illuminate the skyline this night.
The evening starts softly treading in pastels of light, and as time progresses those take vivid flight.
Soft petals touch your lips, as you take another sip of the evening ambrosia.
It isn't too much, yet more satisfying than a summer day mimosa.
With the burnt umber of dawn sinking into the slate gray.
One can only watch as night takes hold and wait for the coming day.
~ Poem by Corina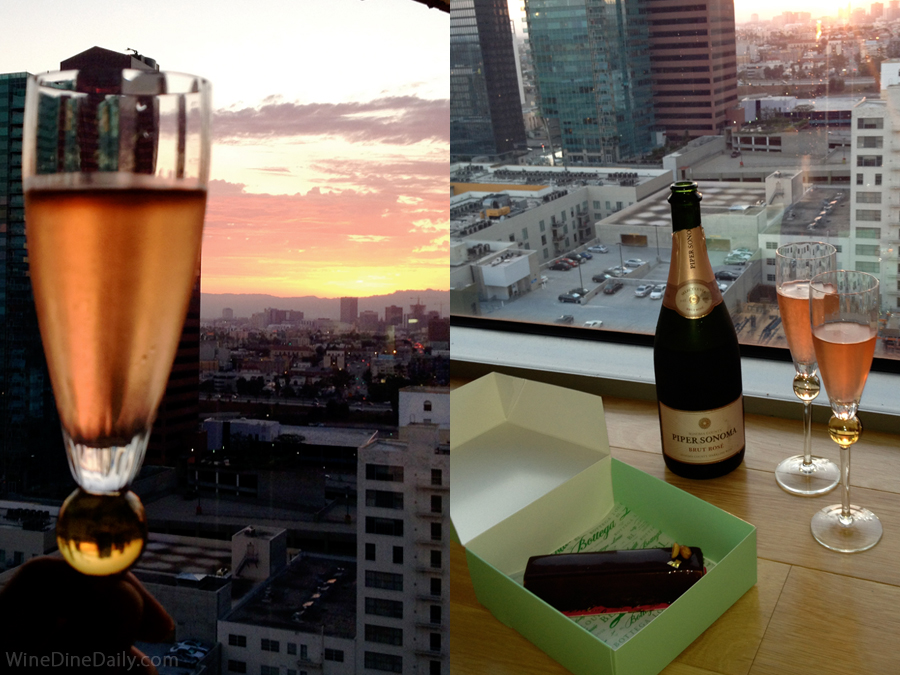 When the sunset first starts to set it has soft hues of pastel yellow and pink, and these colors make us think of the pink tint of rosé wine.  A few days ago as the show in the sky started its evening ritual we popped the cork of a chilled Piper Sonoma Brut Rosé. It is a "blend", which in the Champagne world means it could be Chardonnay, Pinot Noir and Pinot Meunier.
Our Tasting Notes:
Wine: Piper Sonoma Brut Rosé
Region: Califronia – Sonoma County
Winery: Piper Sonoma, Founded by the Champagne House Piper-Heidsieck in 1980. Vineyards and purchased grapes from Dry Creek, Russian River and Alexander Valley.
Varietal: Blend of Chardonnay, Pinot Noir and Pinot Meunier
Color: Pale Salmon (orange pink) color
Nose: Soft floral and berry and touch of Vanilla
Taste: Made in the Traditional Method, this Rosé is fresh and fragrant with romantic summer raspberry aromas and flavors. Hints of peach, sweet mandarine orange, and nectarine with a medium body. Refreshing with a slight creamy note.
Pairing suggestions: Grilled fish or chicken light on the spices, summer salads with fruits.
J & C Points: 4.6 and 4.7 of 5
Cheers to you too and hope you have a refreshing summer with lots of beautiful sunsets!