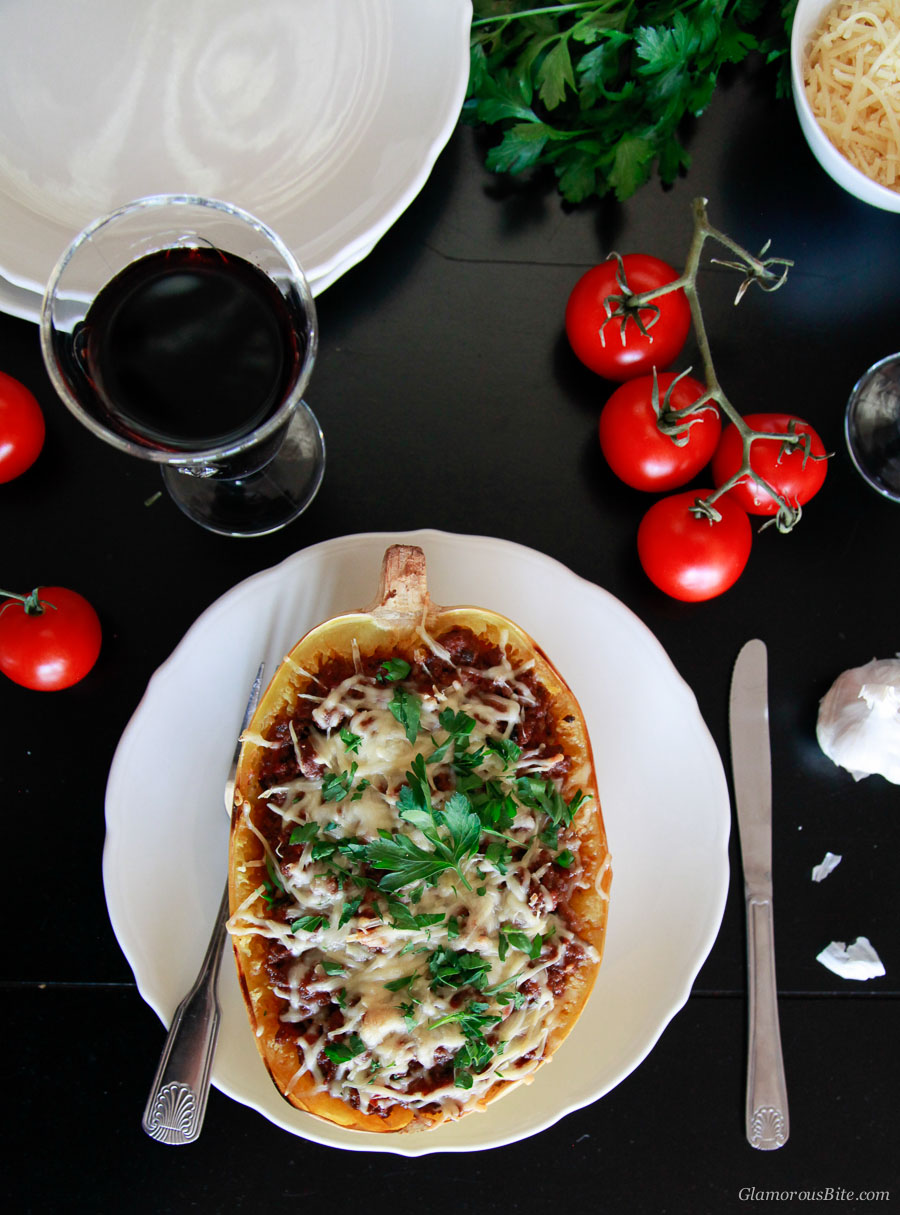 You know the feeling when you are looking for some specifically sized vegetable, but you find everything else except the exact thing you are looking for. When you make up your mind to find a few petite sized spaghetti squashes because you imagine to serve the darling little half globes as a Stuffed Spaghetti Squash Italiano filled with your favorite Italian meat sauce and topped with gooey Parmesan cheese…well lets just dream on because there was no petite squash in sight. Yes we went to not just one store, but at least four stores where we know they have the best produce in town and we could only find large oversized squash. It seemed like the vegetable trolls were against us and were laughing about our sizable dilemma. In this case bigger squash is not better, unless you are very, very hungry.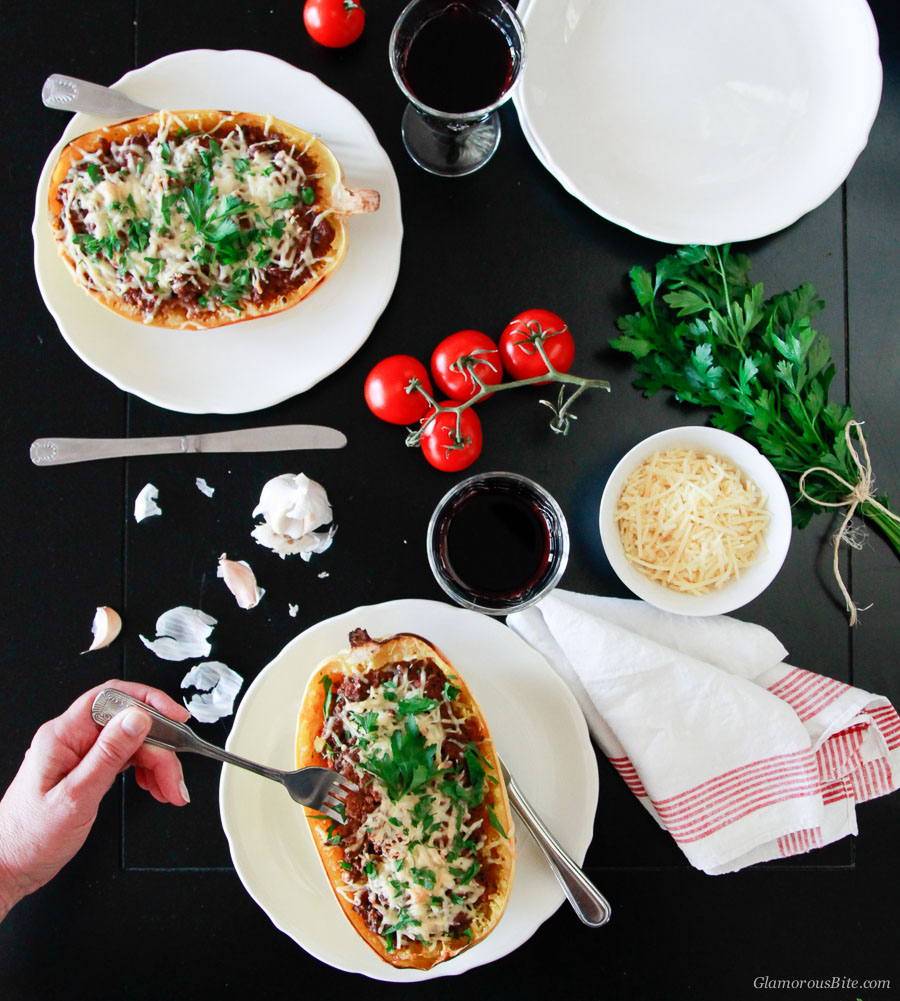 As it happened to us on Friday morning, the day started with lovely Autumn like temperatures, and you have to agree our dear friends, is a call for celebration. Which meant that we can finally turn on the oven and bake something without melting the kitchen decor. The lovely crisp air evoked in us such a craving for fragrant oven roasted vegetables or baked pumpkin, that we immediately perused our fall recipes and thought that with spaghetti squash we could smoothly ease our way into the baking madness.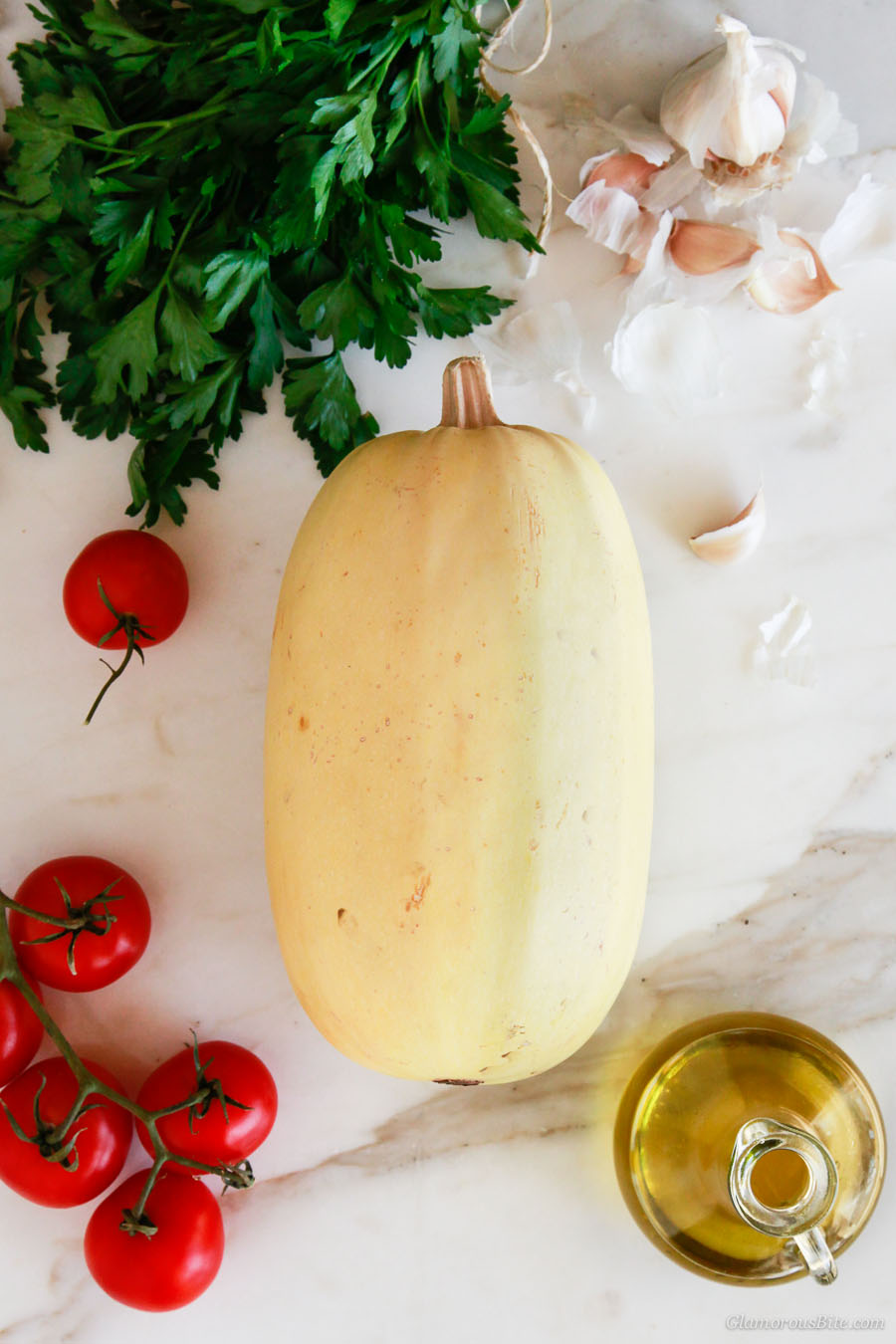 So once we made up our minds there was no turning back and so in just a little over an hour we dreamily feasted on our ridiculously delicious result "Stuffed Spaghetti Squash Italiano." It tasted wonderfully comforting, nothing could ruin our enjoyment even that we had to cut each bowl in half. This recipe came about when we had leftover meat sauce and we decided to put a healthy spin to our favorite  dish "Spaghetti Bolognese." We still occasionally indulge on whole wheat pasta but we could not resist trying the sauce this time with a delicious pasta replacement such as the nutty, sweet flavored spaghetti squash.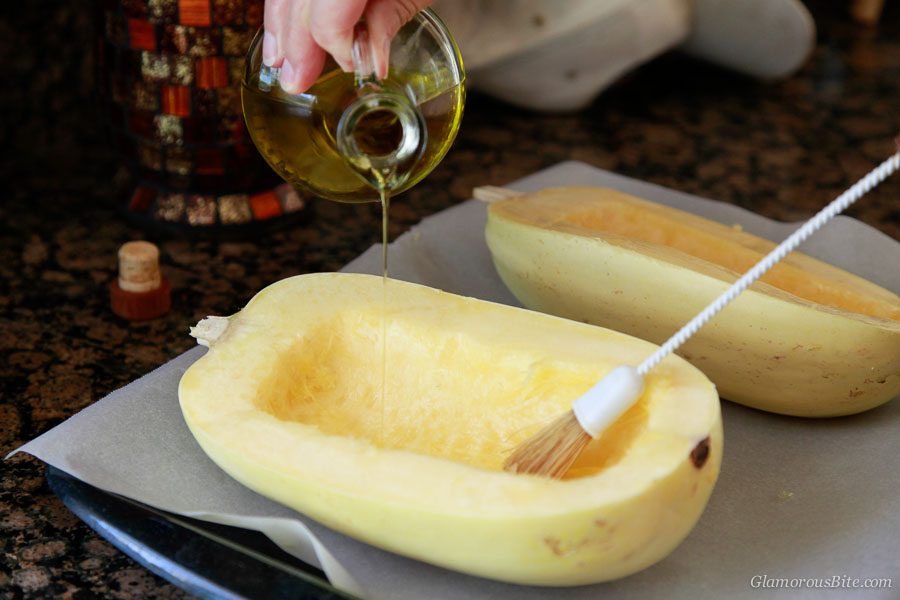 This pale yellow oblong globed winter squash reveals lovely flesh after baking that you can separate with a fork and fluff into spaghetti like strands. Perfect substitution for pasta lovers who have diabetes, need to eat Gluten-Free, or wish to live a healthier low-carb life. Be adventurous and do try one if you have not already. It also makes a cute dish for Halloween night since it looks like a little spooky pumpkin.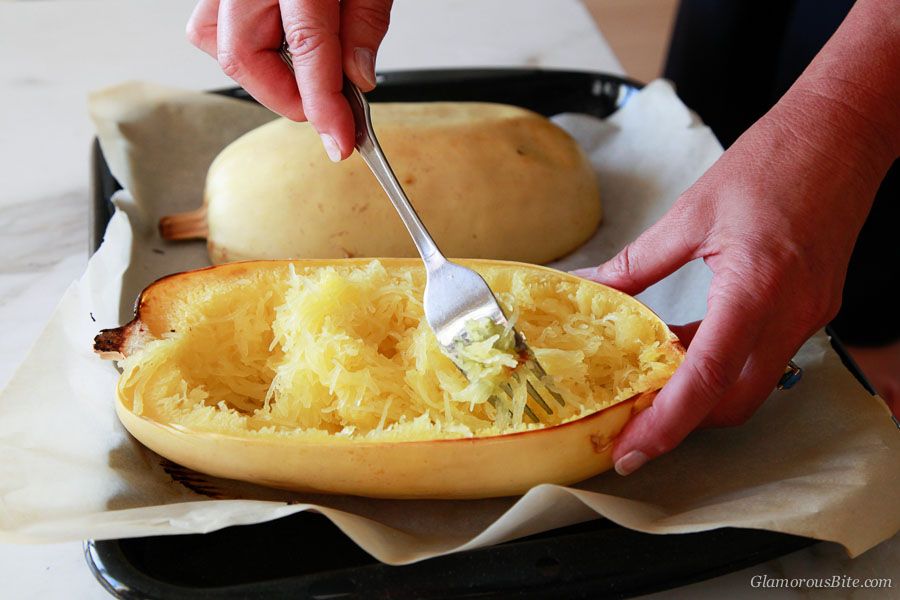 If you are in the hurry you could cook your spaghetti squash in the microwave (we did it too a few times) however we love the sweet caramelized flavor when baked in the oven. We like to bake the squash upside down because the flesh caramelizes deeper. Feel free to bake an extra spaghetti squash we know you will love it.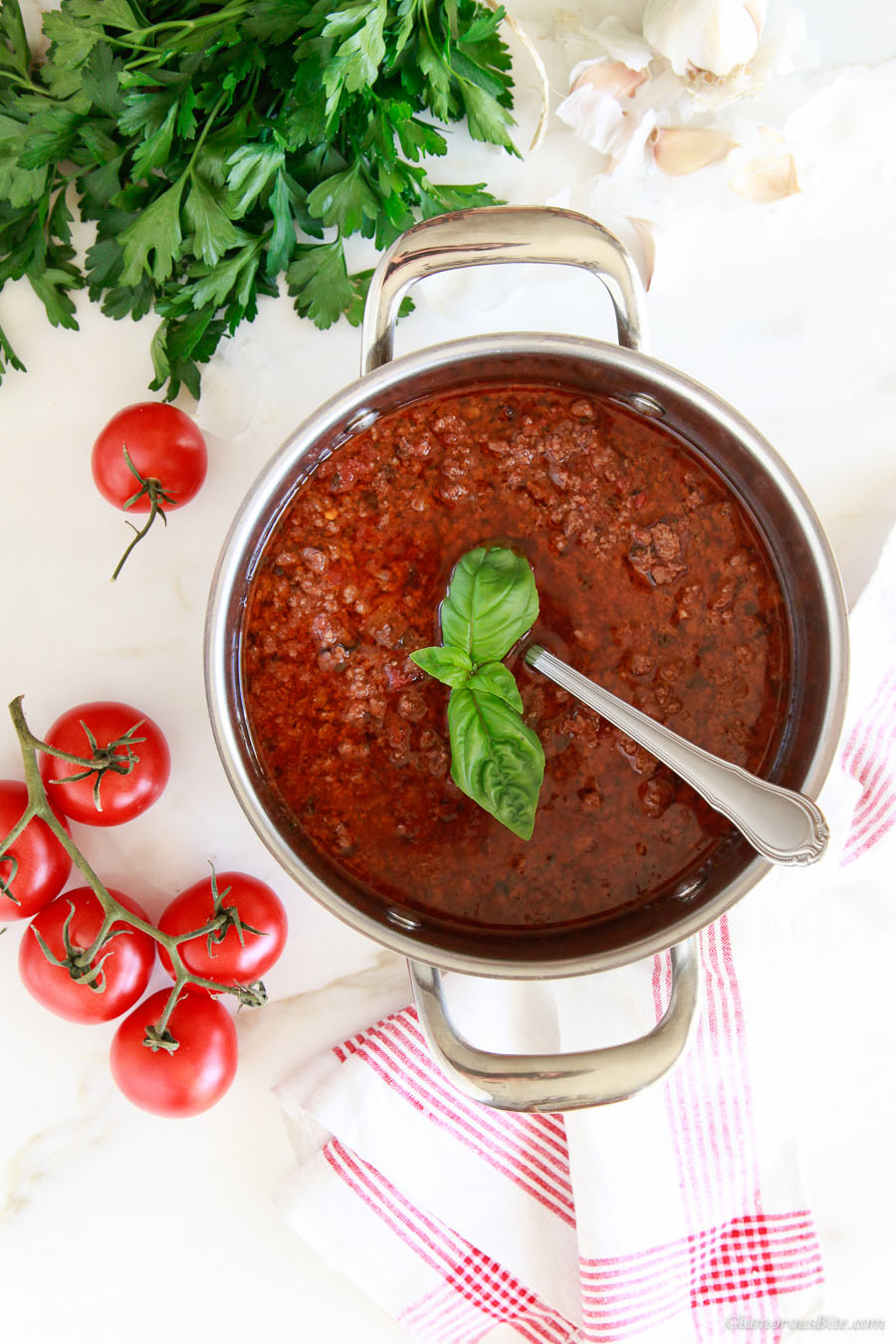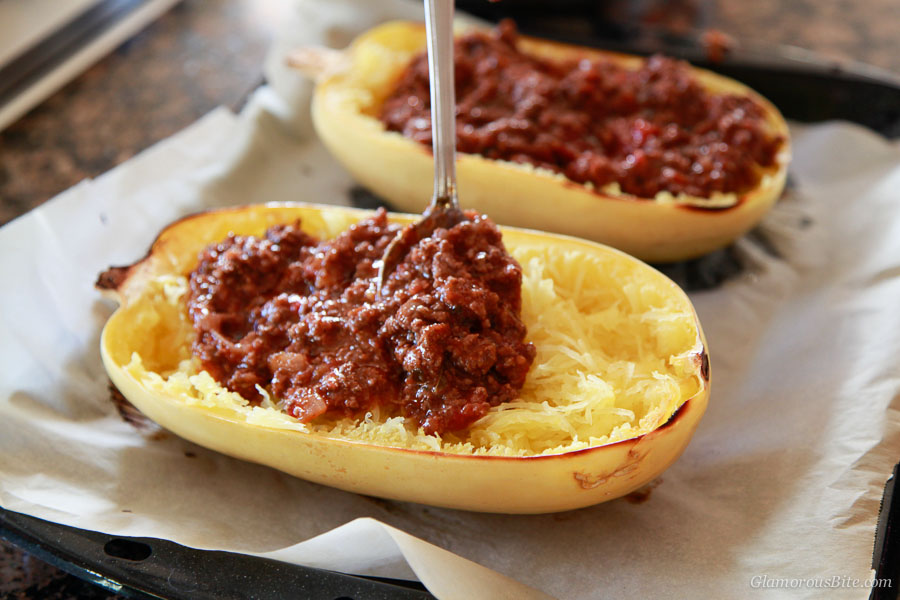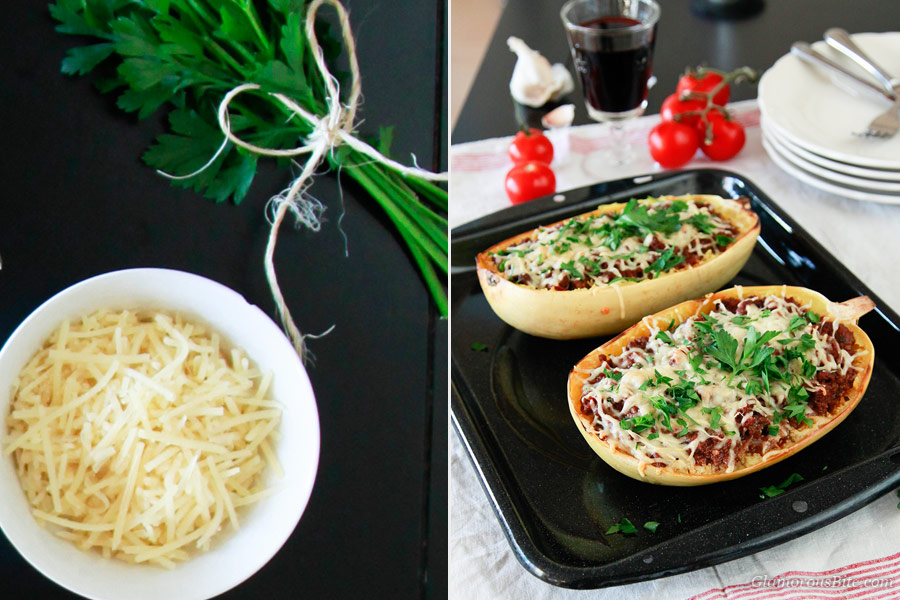 The last time when we made this lovely stuffed Spaghetti Squash Italiano we had a friend over who said he would only eat the meat sauce over real pasta and for sure not in a squash bowl. We told him he can have a glass of wine if he will try a little of our Stuffed Spaghetti Squash Italiano. With a wine glass in hand he watched very carefully what we were putting into the sauce pot and oven, and pretty much said it that he does not like any kind of squash but will stay if we pour him another glass of wine and then will even try it. So much for our friends resolution no to have squash! He ended up liking the spaghetti squash so much that he even enjoyed a second helping of it. He said "what a delicious dish" and kept repeating "who would have thought, squash could taste so good." Now you see how a good wine can make everything taste better!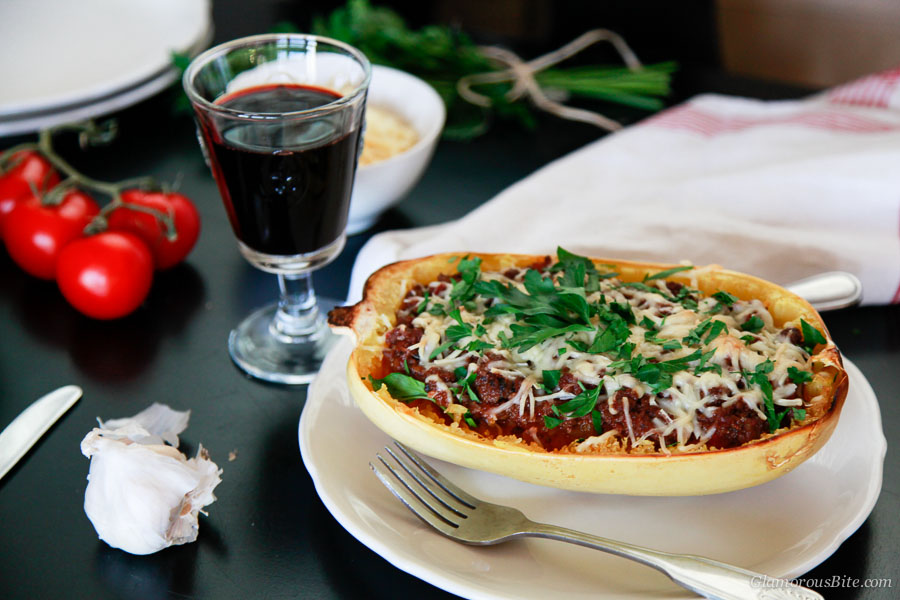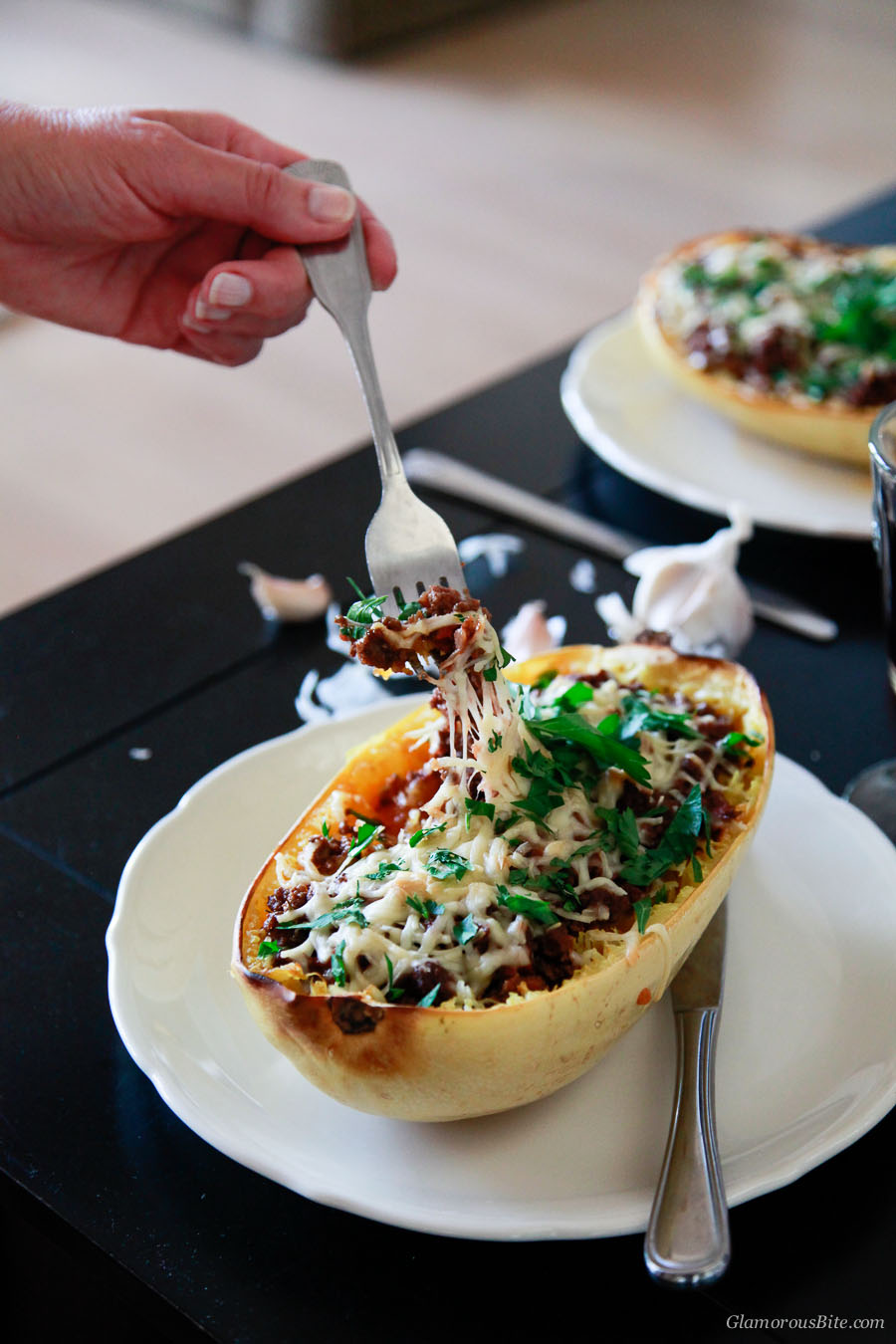 Stuffed Spaghetti Squash Italiano is so easy to prepare and beside being healthy it is much faster to make then you think. For us this is what simple cooking and enjoying traditional flavors with healthy alternative is all about. We can't even describe how satisfying the flavors are in this lovely Italian dish served in its own edible bowl (just don't eat the shale). From the warm Parmesan cheese topping and the very tasty spicy tomato – meat sauce to the nutty butternut squash, it is so cozy and comforting just like a large warm wool shall.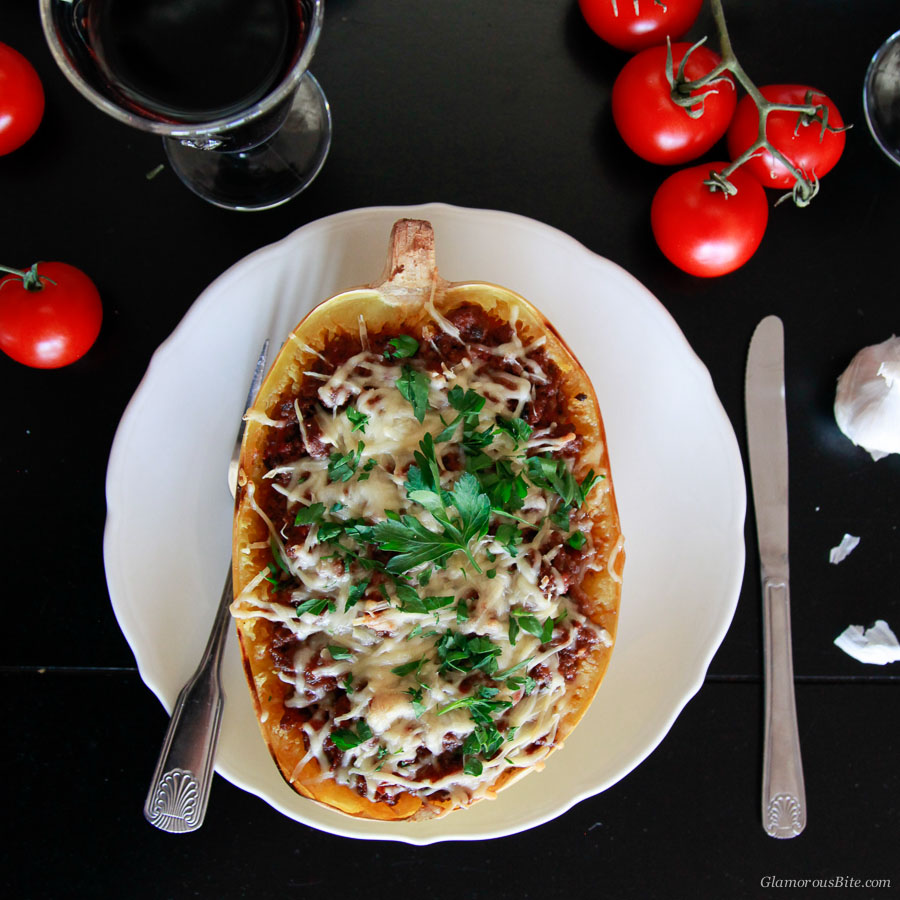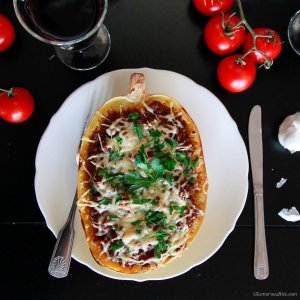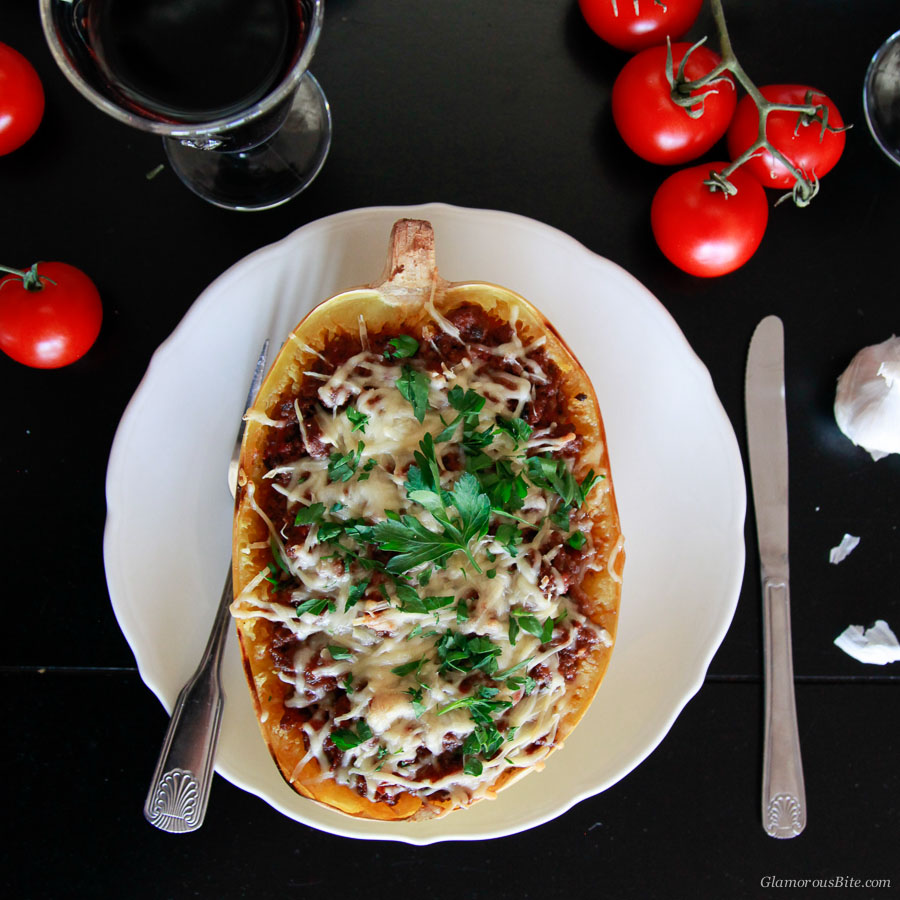 Stuffed Spaghetti Squash Italiano
Ingredients
2

small or 1 large Spaghetti Squash - halved lengthwise and seeded

1

Tbsp

Olive Oil

pinch

of Himalayan Salt

1

small Yellow Onion - finely chopped

2

clove

Garlic - minced

1

pound

Italian Chicken Sausage - casings removed

1/4

cup

Italian red Wine like Sangiovese

Chianti

1 1/2

cups

Tomato or Marinara Sauce

1/4

tsp

Himalayan Salt

Black Pepper to taste

Good pinch of Pepper Flakes

1

tsp

dried Oregano

1

tsp

dried or 4 fresh Basil leaves

4

Vine Ripe Tomatoes - cut into pieces

1/2

cup

grated Parmesan Cheese

1/4

cup

fresh Parsley - chopped
Instructions
Preheat oven to 375 degrees F

Wash squash and pat it dry. Place it on a Cutting board, and with a sharp large knife cut lengthwise. With a spoon remove seeds. Brush flesh with a little olive oil ( about 1/4 Tbsp) and sprinkle with Himalayan salt.

Bake squash halves cut side down on a parchment lined baking sheet for about 30 minutes, or until tender. Let it cool for about 10 minutes. With a fork scrape and fluff the flesh into spaghetti like strands.
For the Tomato Meat Sauce
In the meantime heat the rest of the olive oil in a sauce pan over medium high heat. Add the onions, garlic and sautee for a few minutes until onions become translucent.

Add the sausage and with the wooden spoon break up the meat into small pieces and cook for 10 minutes

Pour in the wine and tomato sauce. Season with salt, pepper, pepper flakes, oregano, basil and stir well. Continue to simmer for 15 more minutes.

Place the squash halves onto a parchment paper lined baking tray or in a fireproof glass dish and spoon meat filling evenly into the shells. Sprinkle with Parmesan cheese and bake uncovered for 20 minutes or until the top is lightly browned. To serve sprinkle with fresh chopped parsley.
Nutrition
Diet: Gluten-Free, Diabetic Friendly, Low-carb
Glamorous Pairing: 2012 Rusack Sangiovese – from the hillsides of Santa Barbara County's Ballard Canyon vineyard. Smooth well balanced wine, with lovely berry and spice aromas. Ripe fruit flavors of plum, raspberries and dark cocoa make you wish to asking for more. Sangiovese is the main grape in Italy's Chianti region and if you can find a nice bottle of Chianti it would be a delicious pairing with the Stuffed Spaghetti Squash Italiano too.