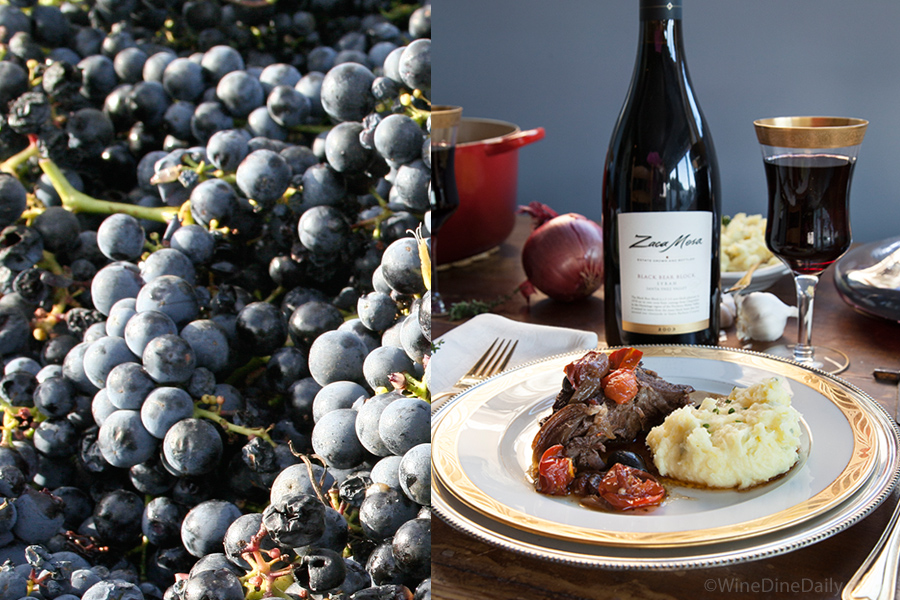 No more FOG please! We are not in London, we are in Southern California (the land of eternal sunshine). Where did the sunshine go this month? Probably on vacation since like clockwork on June 1st the fog pulled in and the sun went into hiding. This is the famous "June Gloom" and even though there are many fortunate days when the sun dashes out to warm us up to summer heat, several days has been in fog along the coast…and yes we know, we are extremely spoiled here! Oh well at least it is a good excuse to heat up the oven and get busy in the kitchen. At this time our thoughts turn to warm and cozy foods, like our Santa Barbara Slow Cooked Beef with Mediterranean herb notes, and of taking little day trips to the neighboring wine country. This Beef stew is rugged and sophisticated, just like the Santa Ynez Valley wine country.
This wine braised beef with a myriad of fresh vine ripe tomatoes, salty black olives and fresh herbs takes a while to cook, but in exchange the house is filled with a wealth of spicy wine aromas. Make sure you make enough so there are leftovers for the next day. It tastes even better as the flavors have more time to get acquainted longer. As for the foggy morning, we made this Slow Cooked Beef right after breakfast and put only half of the tomatoes in the beginning and the rest in last 30 minutes of braising so they give a fresher taste and keep their shape a little. We had planned to keep the beef for dinner with friends that night. With the beef waiting patiently for our return, we decided to go on a fabulous girls day out at the wineries along with the lovely ladies of Andersen's restaurant and another European mother-daughter team, since they were looking for some new vintages to expand their growing wine list. One thing you can count on is that it will be sunnier across the hills when the Santa Barbara coast is shrouded in fog, and to our joy it was. And by the time we returned the beautiful sun was warming the coast. Brilliant planning don't you think?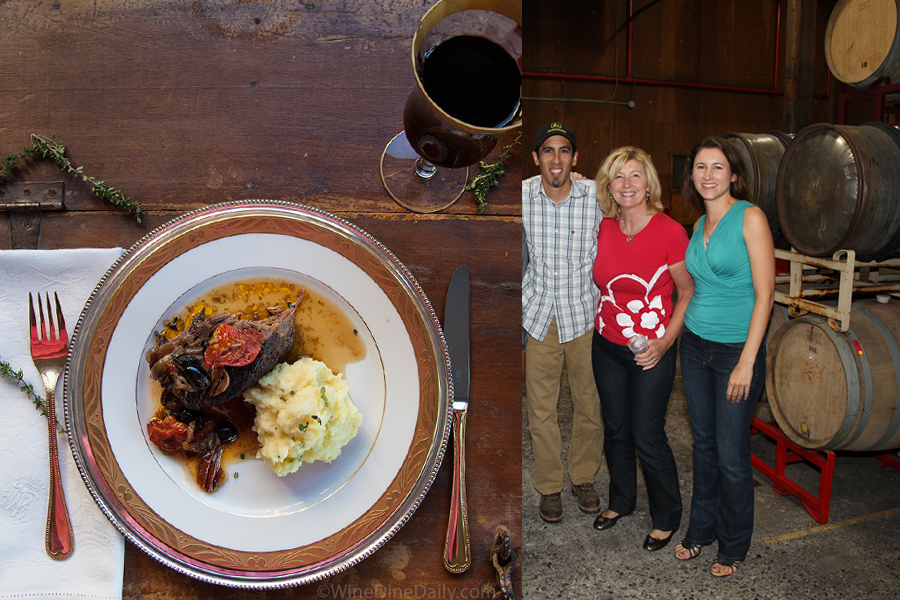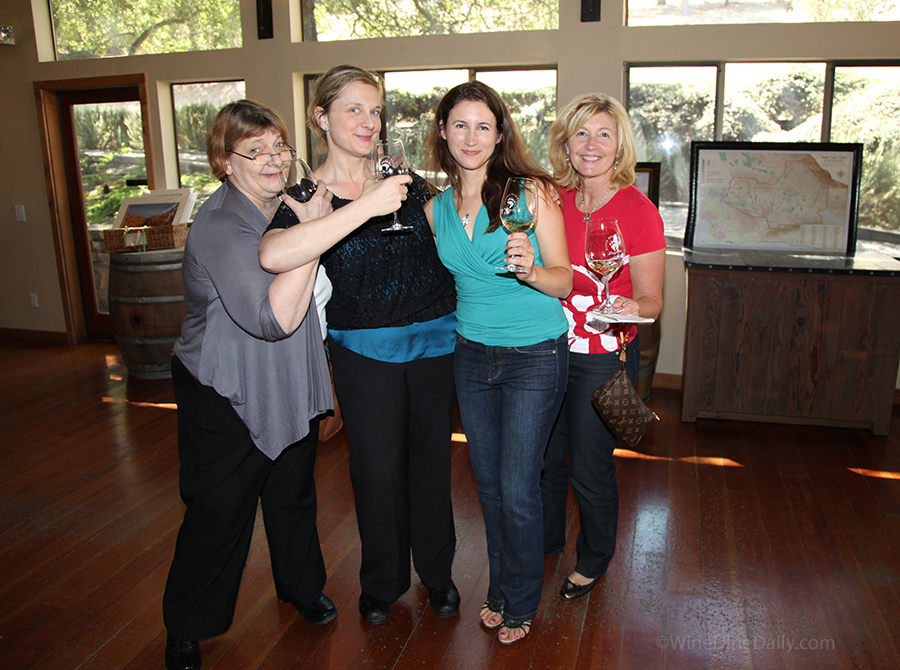 Our first stop was at Zaca Mesa located on the picturesque Foxen Canyon Road. It's vineyard started in 1973 and the first Syrah of the Santa Barbara County was planted in 1978 and has beed family owned.  We have been visiting Zaca for many years now and as always look forward to trying our old favorites and the new releases. Today the winery focuses on Rhône varieties, namely Syrah, Mourvèdre, Grenache, Roussanne, and Viognier those varietals are just perfect for the Foxen Canyon Terroir. Cheers!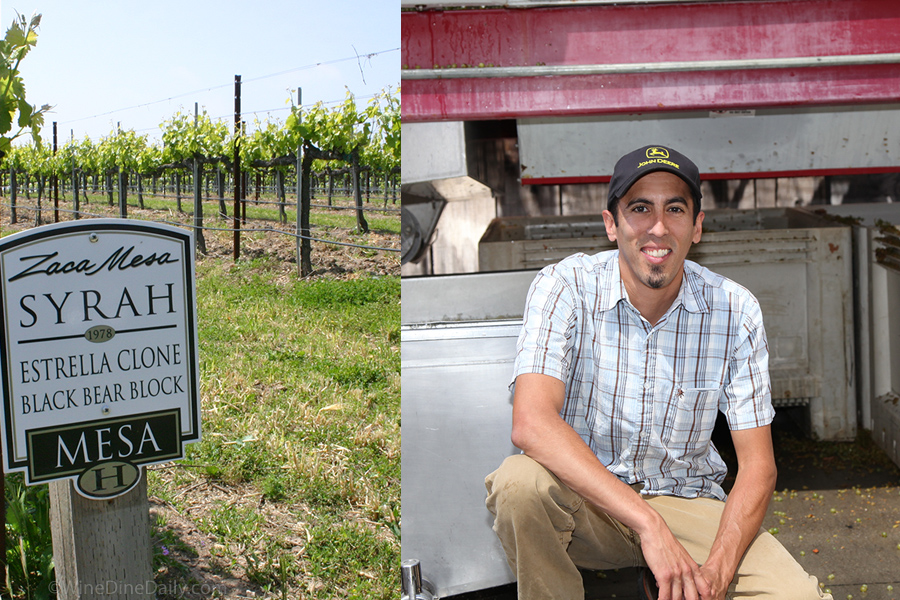 We were looking forward to seeing the friendly tasting room team, especially April and winemaker Eric Mohseni, whom we know from years back when he was still the assistant winemaker at Zaca Mesa. Eric gave us a tour of the winery and we love to listen to him because his passion for winemaking is clearly evident in the way he explains the process of making wine. He always has a friendly open smile, we would too if we would be surrounded by so much good wine.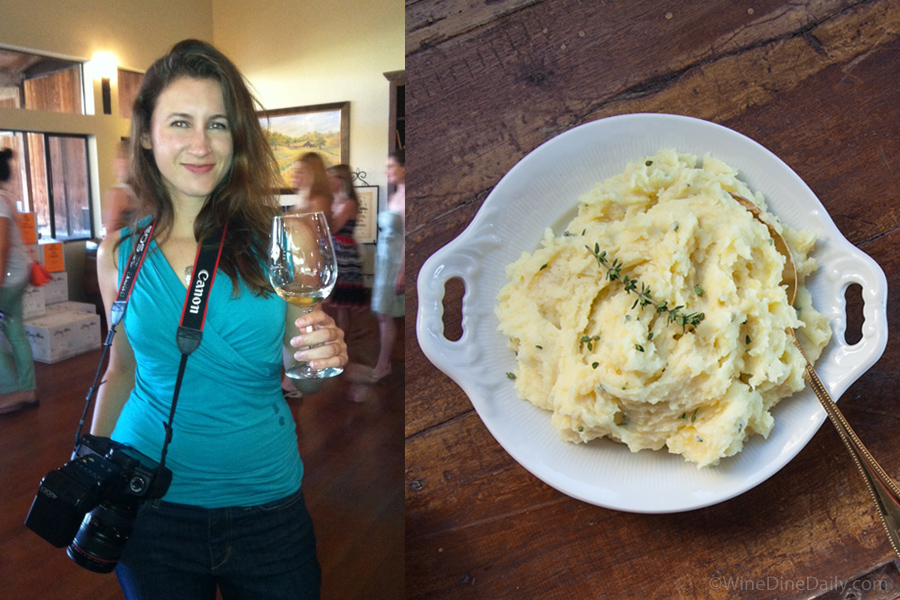 During the tour all of us fondly inhaled the heady vapors of wine as we neared the steel fermenting tanks and then the earthy aromas of in the barrel room. In the tasting room we sipped a few wines, Judit adores the Viognier with notes of stone fruit and citrus and Corina likes the Z Cuvée with cherry, raspberry, and slight smokey notes. We decided that the Black Bear Block Syrah with deep blackberry, cocoa, and spices would indeed be perfect for the Slow Cooked Beef.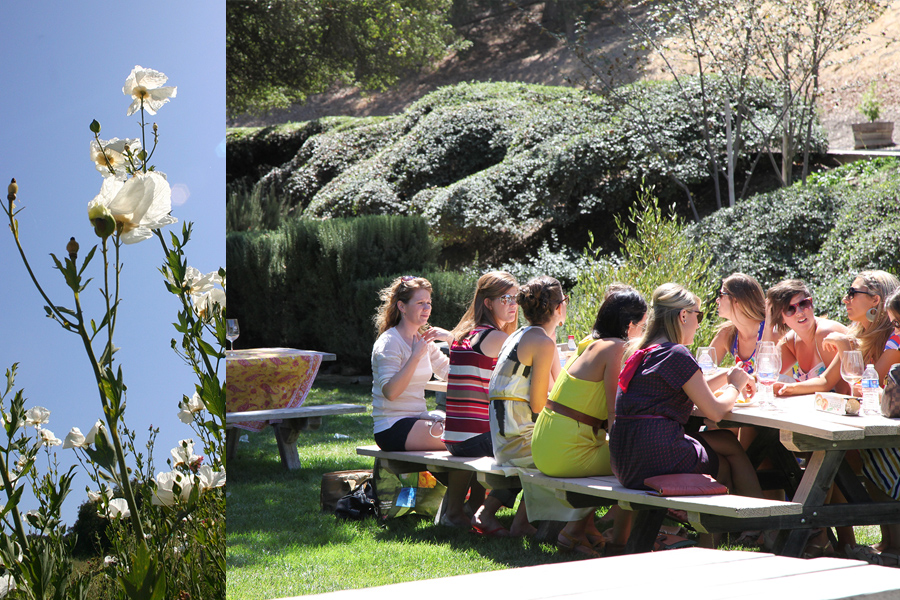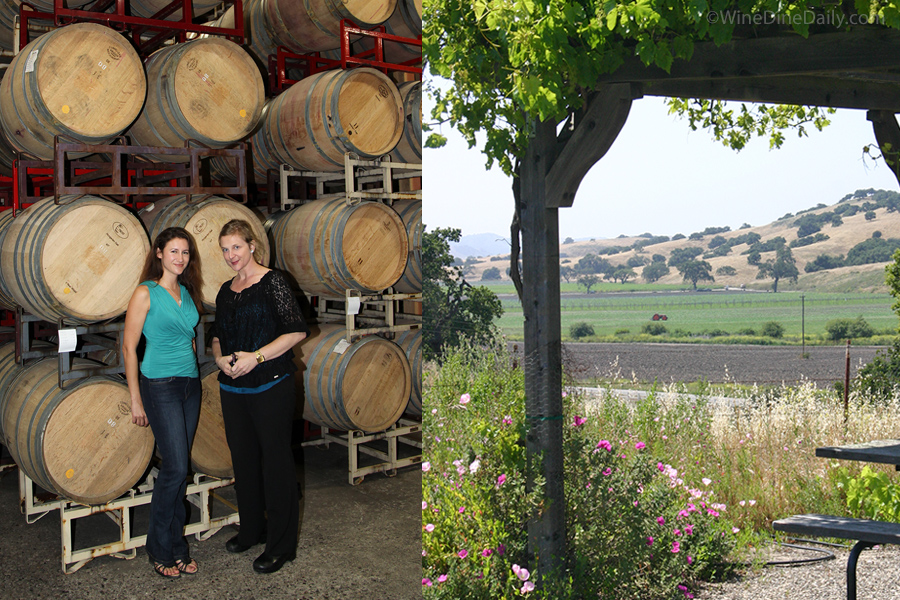 What a beautiful day! We tasted great wines and enjoyed the rolling hills and oak trees bathed in sunshine. Returning home from the winery tour we heated up the beef whipped up creamy mashed potatoes with goat cheese and found a Black Bear Block Syrah from 2003 resting in the cellar. This was the fitting occasion to get out this bottle of wine as it would compliment the beef stew and herbs nicely.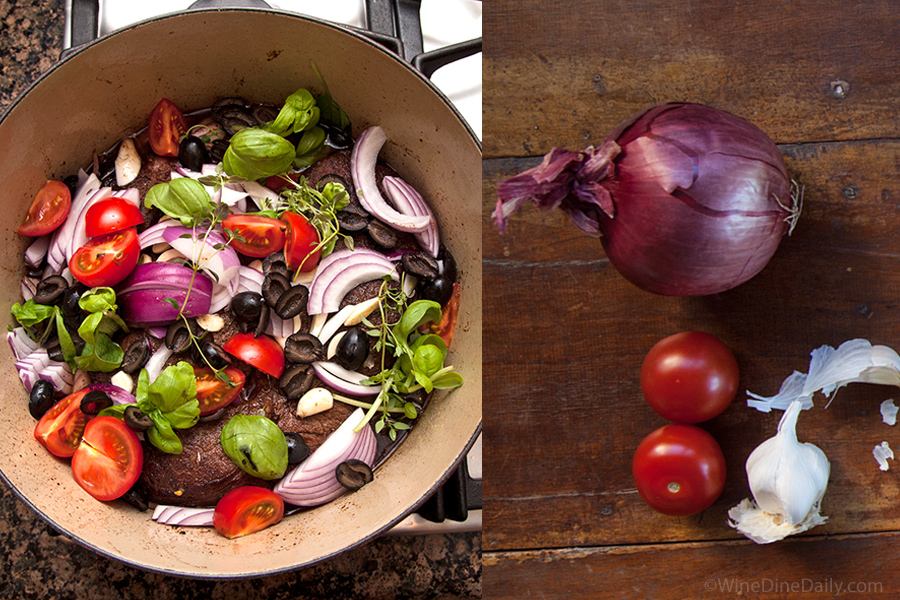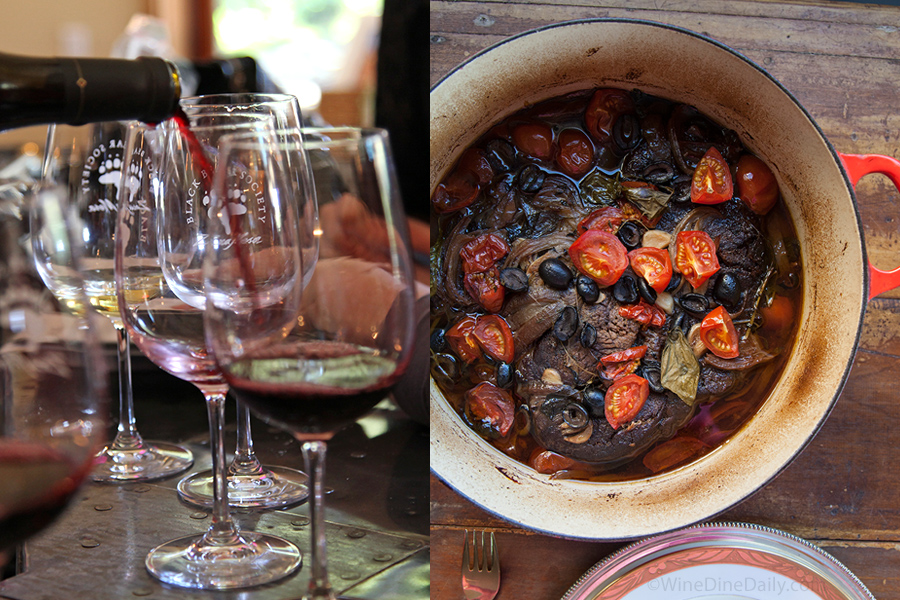 The warm beef melted in our mouths and the mashed potatoes greedily soaked up the wine infused sauce. The Syrah was superb with this meal and the deep blackberry flavors set off the herb nuances of the meat while the hint of tobacco and spice in the wine allowed it to stand up to the hearty beef. Our friends loved it as well and are looking forward to our next winery tour and dinner.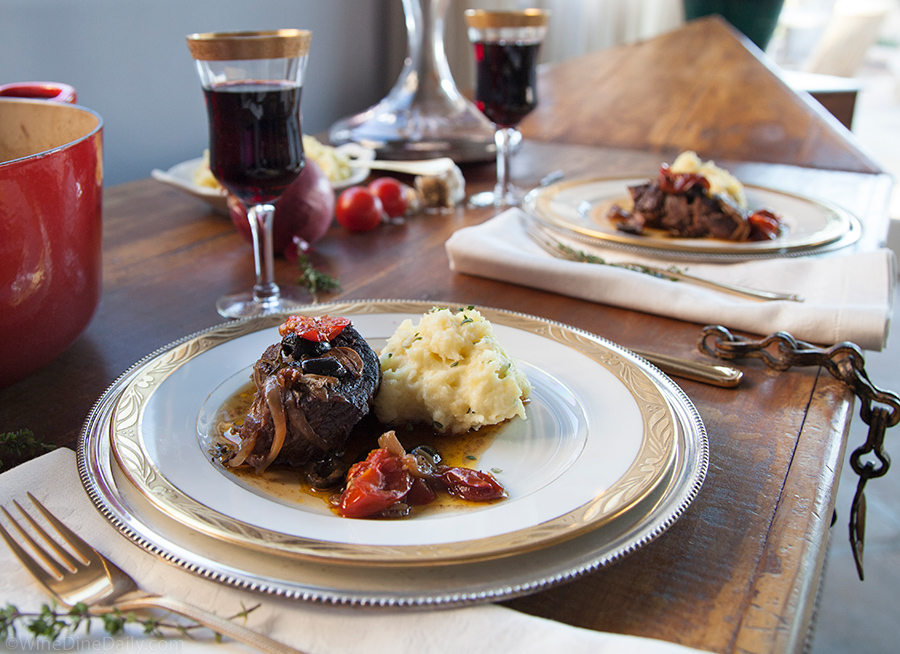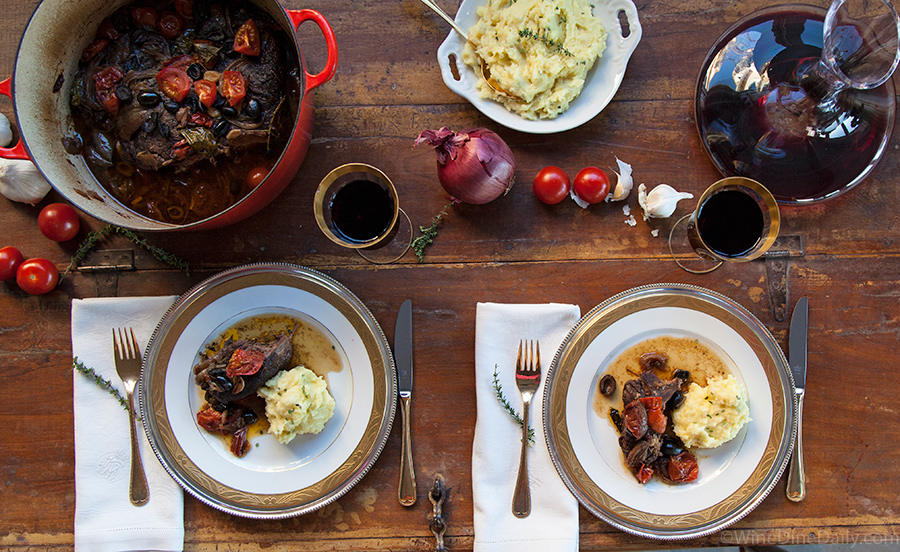 Santa Barbara Beef Stew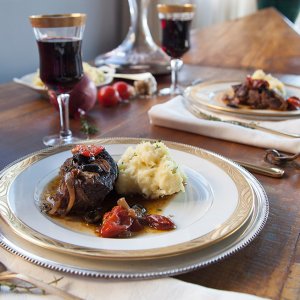 Santa Barbara Slow Cooked Beef
Ingredients
3

pounds

Beef Chuck Roast or Beef Brisket

1

tsp

Coarse Sea Salt

1/2

tsp

Black Pepper - freshly ground

2

tbsp

Olive Oil

2

tbsp

Santa Barbara Spice Mix

1

tbsp

Sun-dried Tomato in oil

1 1/2

cups

 Wine - Syrah or other dry red wine

1

cup

Beef Broth

1

Large Red Onion - sliced

4

Garlic Cloves - sliced

1/2

cup

Black Olives - sliced

8

small Tomatoes - quartered

3

Thyme Sprigs

12

Basil Leaves
Santa Barbara Spice Mix
2

tsp

Sea Salt

1

tsp

Garlic Powder

1

tsp

Black Pepper

1/2

tsp

Paprika

1/2

tsp

Red Pepper Flakes

1/2

tsp

Ground Cumin

1/2

tsp

Dried Oregano
Instructions
Preheat oven to 325°F.

Generously season meat with salt and pepper on both sides. Heat olive oil in a heavy casserole pan (we love to use our old Le Creuset). Over medium high heat sear the beef for about 3-5 minutes on each side, until the meat has a nice caramelized brown coat.

Sprinkle the Santa Barbara Spice Mix over the meat and add the sun-dried tomatoes.

Pour wine and beef broth over the meat. Add onions, garlic, olives, half of the sliced tomatoes, thyme sprigs and basil leaves.

Cover the casserole pan with a lid and braise in oven for about 2 1/2 hours.

Add the remaining tomatoes and braise for another 30 minutes or until beef is very tender. 

Let it rest for 10 minutes so the flavors of the pan juice can intensify before serving. You can use a slow cooker instead of cooking in the oven.
Serve over Mashed Potatoes with Wine & Goat Cheese

Mashed Potatoes with Wine & Goat Cheese for recipe click here
Wine Notes:
Zaca Mesa Black Bear Block Syrah 2003 – gorgeous deep red velvety color, serious berry and spice aromas, with flavors of ripe juicy blackberry, plum, dark cherry, hint of tobacco and cocoa.