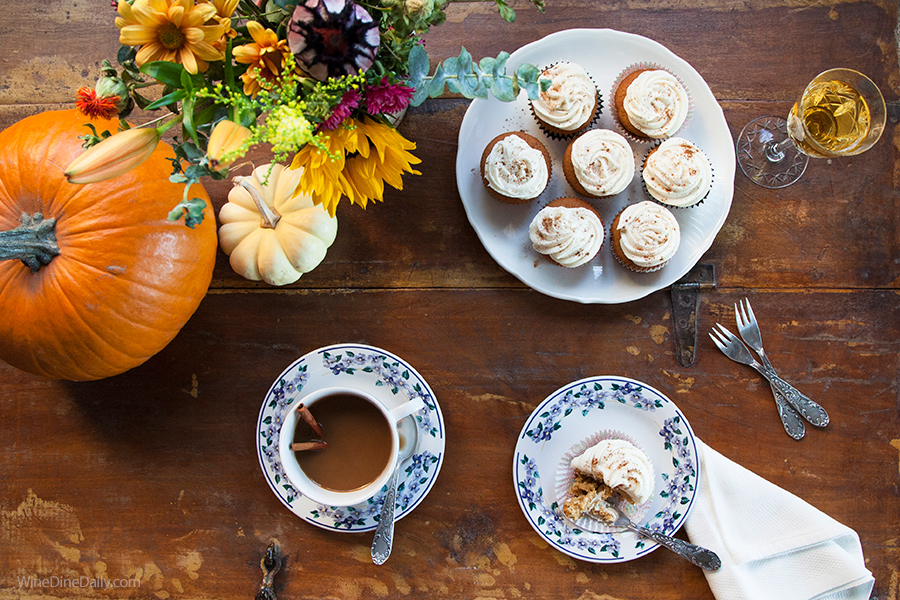 Pumpkin Cupcakes with Orange Muscat Frosting recipe.
So close to Thanksgiving we are getting to the second part of our Pumpkin Revelry with adorable Pumpkin Cupcakes with Orange Muscat Frosting. We started out the revelry with 13 pumpkins that Corina brought home and made festive Pumpkin Crostini and healthy Pumpkin Chili. So many pumpkins also meant lots of seeds and spiced and roasted seeds have become a tasty quick snack.
From these orange globes we roasted eight and gave away five. We thought about turning one into a coach perfect for Cinderella but the fairy godmother was out on a tropical vacation so we had to make do without. Oh would that not be splendid if we could just wave a magic wand and the Thanksgiving Feast would appear. But then we all would miss the fun and joy that goes along with choosing the menu, preparing and tasting each dish and the glorious Holiday aromas that perfume the air with sweet and spicy notes….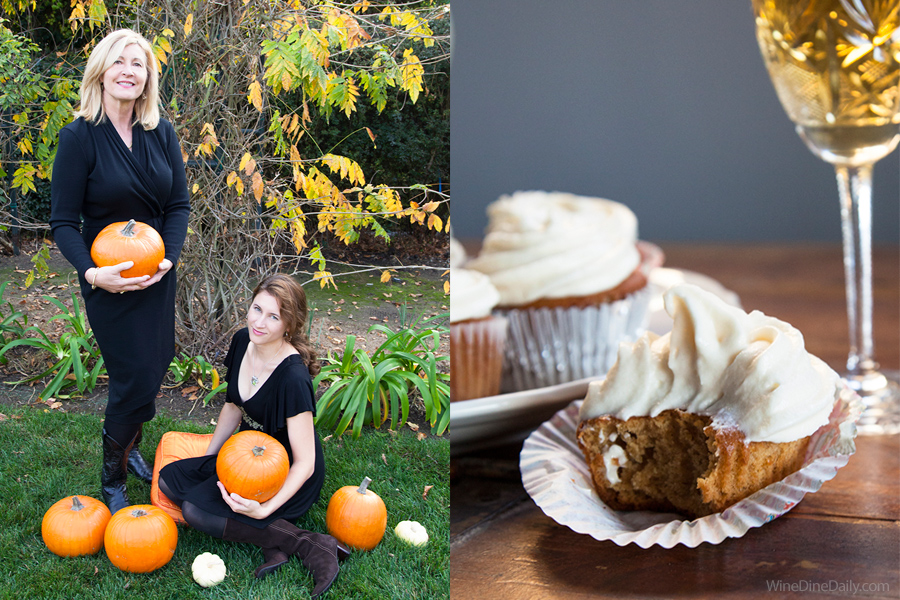 Beginning this week the weather has started cooling down at night, yet we still get a few hours each day of glorious sun competing with the slight chill of the air. Our life here in Santa Barbara does feel like living in a tropical paradise most days and so hard to imagine the volatile snow storms on the East Coast, and wish we could send a little sunshine and warmth to their way!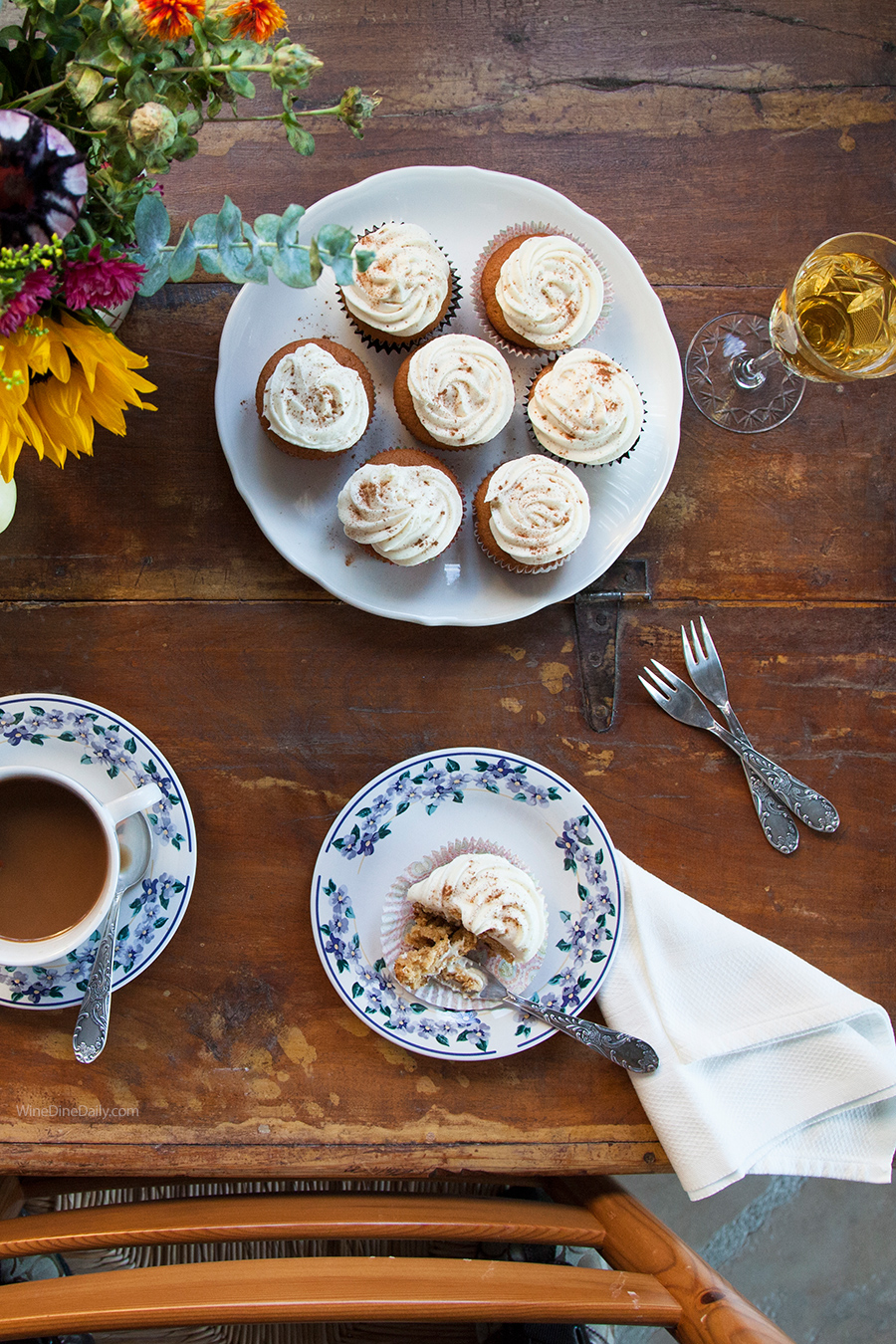 Yesterday by mid-morning the luscious smells of pumpkin filled the air in the kitchen, and as we were perusing our holiday family recipes Corina suddenly exclaimed "we have not had cupcakes for such a long time!" Because we have been meaning to make cupcakes for some time now, we thought why not make some with our freshly oven roasted pumpkin puree this instant. The batter came together swiftly and as for the topping we wanted something special, something creamy but not too heavy and of course with a splash of wine. A little bottle of the sweet Orange Muscat from Kalyra Winery was patiently waiting in the wine shelf for this exact moment.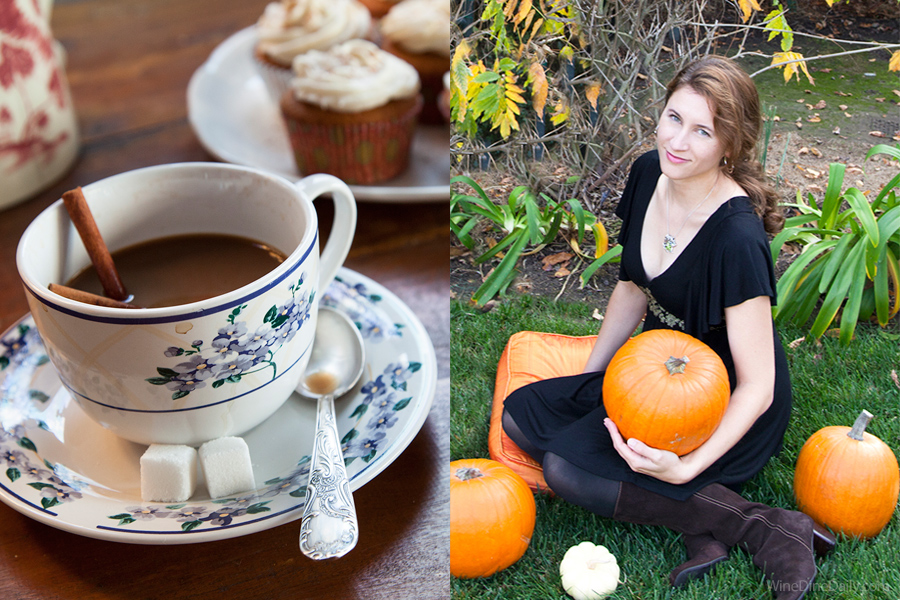 "At midnight, I'll turn into a pumpkin and drive away in my glass slipper." ~ Princess Ann in Roman Holiday (Audrey Hepburn)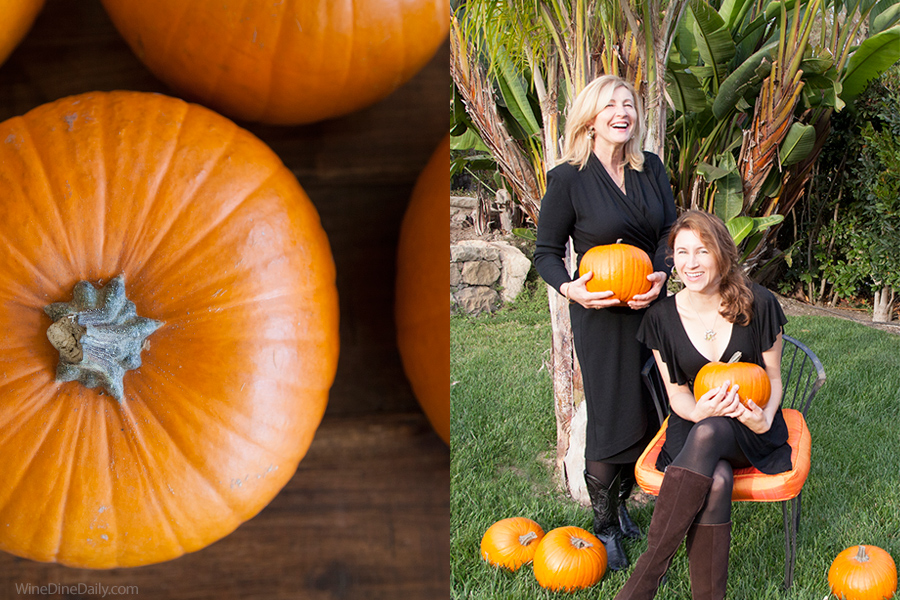 Now we are looking forward to Thanksgiving, which will be celebrated with family and friends in a combined American-European tradition of the traditional Turkey with a side of Lingonberries instead of cranberries, Stuffing with Italian Sausage, Apple Pie and Pumpkin Cupcakes. These cupcakes are so easy to make you wont need to call your fairy godmother to assist in the kitchen.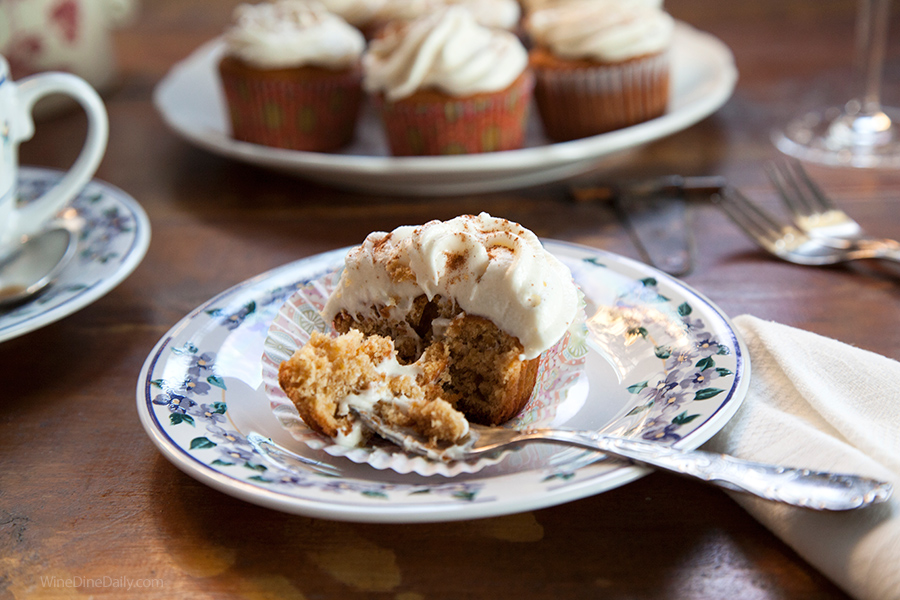 They turned out quite tasty with the creamy Orange Muscat Frosting and remind us of carrot cake with simply good earthy flavors. You can pair them with a sweet dessert wine like Kalyra Orange Muscat or Prossecco or have them with a steaming cup of coffee. We sure will!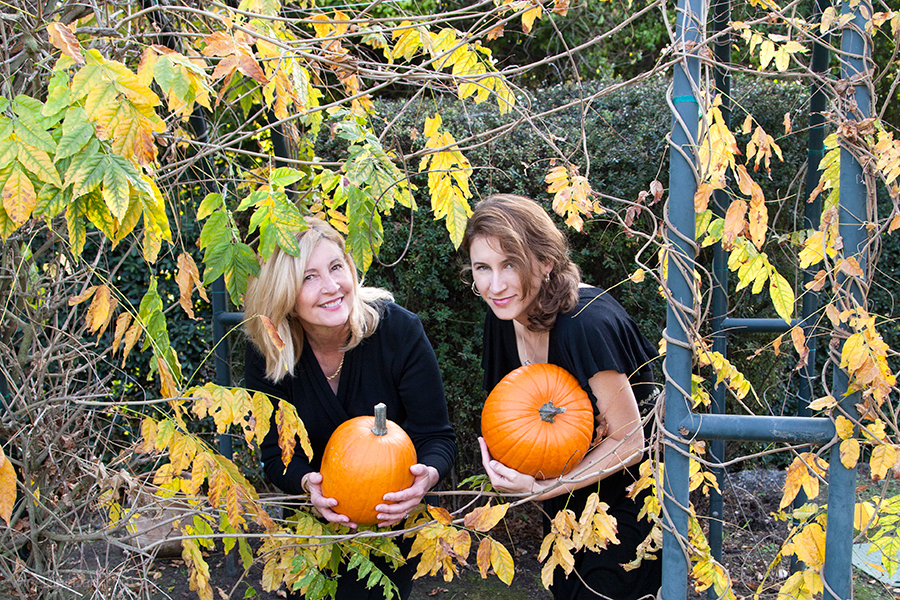 Wishing you all a very Happy Thanksgiving with your family and friends, filled with delicious food, spectacular wines and warm laughter.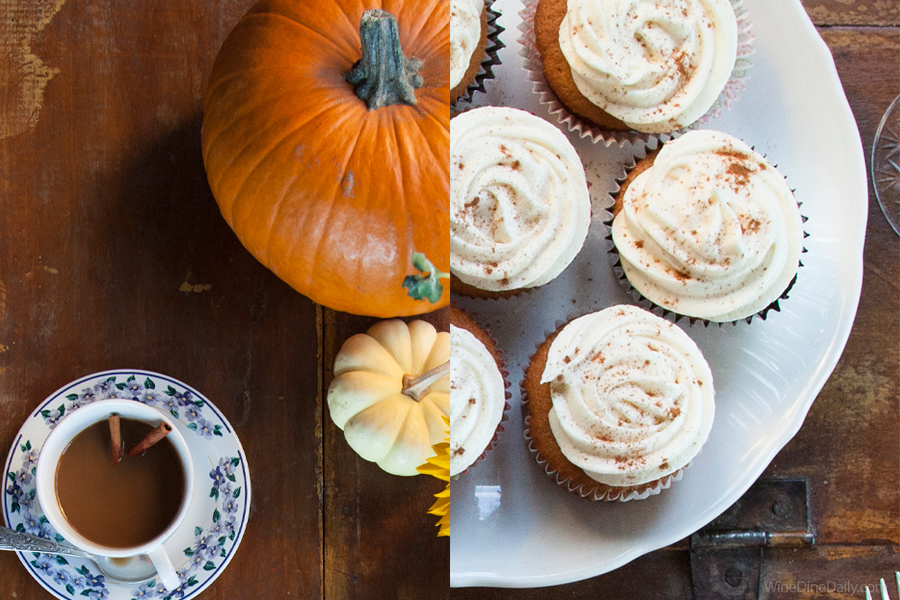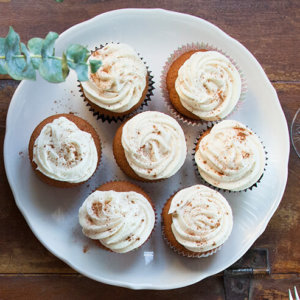 Pumpkin Cupcakes with Orange Muscat Frosting
Ingredients
1/2

cup

Coconut Sugar

1/3

cup

Stevia

2

Eggs

1

stick unsalted Butter

1/2 cup - room temperature

1

tsp

Pure Vanilla

1 1/2

cups

Whole Wheat Flour

1

tsp

Baking Powder

1/2

Tsp

Salt

2

tsp

Cinnamon

1

tsp

Ginger

1

cup

Organic Pumpkin Puree
Instructions
Preheat the oven 375 degrees.

Whisk together the coconut sugar, eggs, and the soft butter in a large bowl. Then add the vanilla and pumpkin puree. Make sure that you do not over mix. In another bowl sift together the whole wheat flour, baking powder, salt, cinnamon, and ginger. Slowly add the dry ingredients to the pumpkin mixture and combine well. With a large spoon or an ice cream scooper spoon into a cupcake tin, lined with cupcake cups or into 12 cupcake cups placed on a baking sheet.

Bake for 20-25 minutes. We like to do the wooden skewer test, if you poke the cupcake the skewer end shall come out clean. Set aside to cool.
Orange Muscat Frosting
INGREDIENTS
3/4 cup Sweet White Wine (we used Orange Muscat) – reduced to 1/4 cup
8oz Cream Cheese – room temperature
1 stick unsalted Butter – room temperature, cut into 6 pieces
1/3 cup Natural Stevia Extract or 1 cup Confectioner's Sugar
INSTRUCTIONS
In a small sauce pan over medium high heat reduce the sweet white wine into 1/4 cup. Set aside.
Beat cream cheese with butter in a medium bowl until creamy. Gently pour in the wine and mix some more. Slowly  add the Stevia or (confectioner's sugar) and beat together until nice smooth. Refrigerate 15 minutes. Spoon into a pastry bag quipped with #1M star tip. Swirl on top of cooled cupcakes.
Enjoy!
Wine Pairing:
2008 Kalyra Orange Muscat – California Sweet orange blossom and citrusy aromas with beautifully balanced flavors. Taste the luscious notes of orange blossom, apricot, stone fruit, citrus and touch of honey.
Serve this wine chilled and pair with creamy cheeses, Pumpkin or Chocolate desserts or with any other non-fruit dessert.