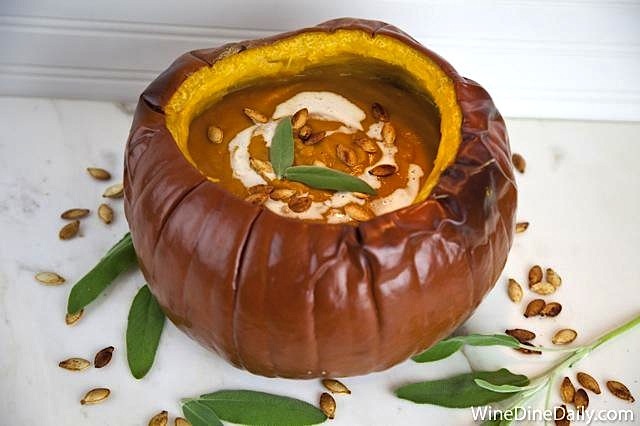 We hope you will enjoy our silky smooth and oh so delicious and healthy Pumpkin Butternut squash Soup with Chardonnay. It seems like we end up making this lovely soup every year on Thanksgiving and top of it we serve it every year in a large pumpkin as a terrine. We tried to skip terrine part, yes we did try, but one of us always brought just the perfect pumpkin and there was no turning back. Over the years our friends who were gracing our Thanksgiving table were every time truly delighted when we glamorously ladled the gorgeous soup from its decorative natural dish. To make it more simple you can prepare it in steps, like clean and roast the butternut squash on one day, roast the pumpkin the next and finish the soup the day you wish to serve it. We just adore this creamy soup and always hope we will have some leftover for lunch the next day but sadly there is never any leftovers. This gluten free soup has so much flavor that you will crave it year around. It also makes a nice start to other winter holiday meals or simply enjoy with a slice of crusty bread.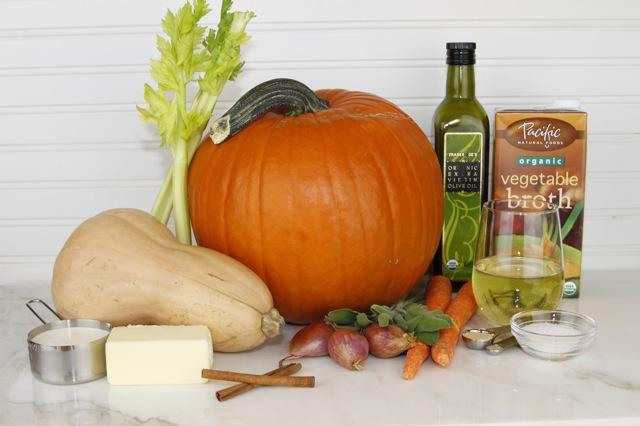 Here are the your cast of characters…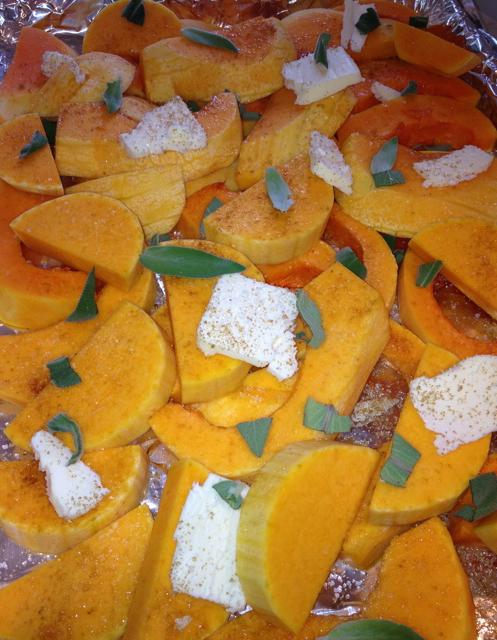 First roast the Butternut Squash – you can do this 2 days ahead.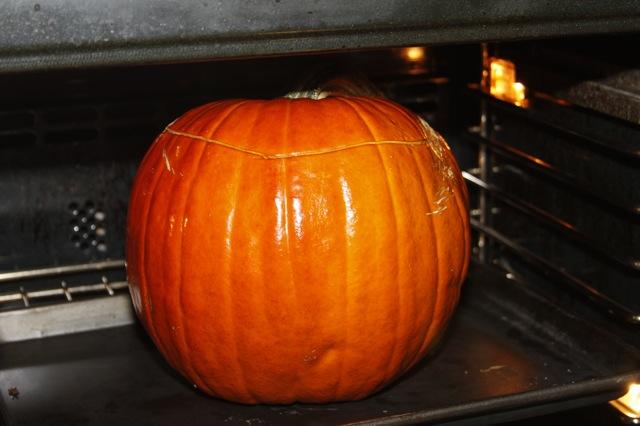 Roast the entire pumpkin (you can omit this step if you don't wish to serve the soup in a pumpkin, but you would be disappointed if you missed this step, because it does looks impressive. Please just take our word for it. 🙂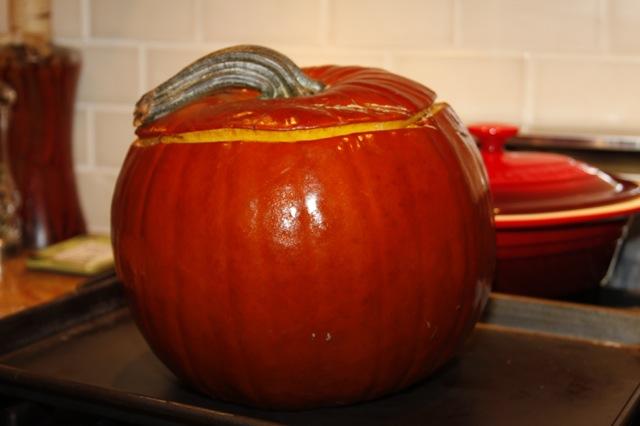 Let it cool carefully. Love this pumpkin, it looks almost like pumpkin pottery!!!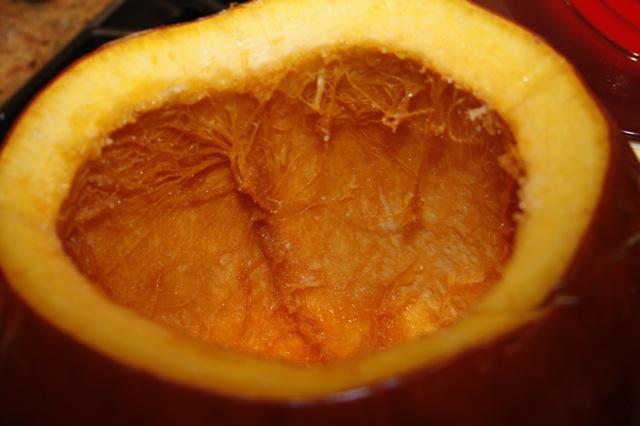 With a large spoon take out the pumpkin seeds and some of the flesh.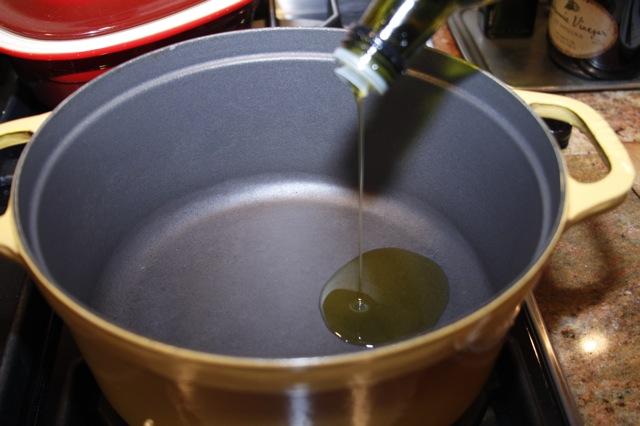 Now for making the soup. Heat a the olive oil in a large soup pot or Dutch Oven. Then add the butter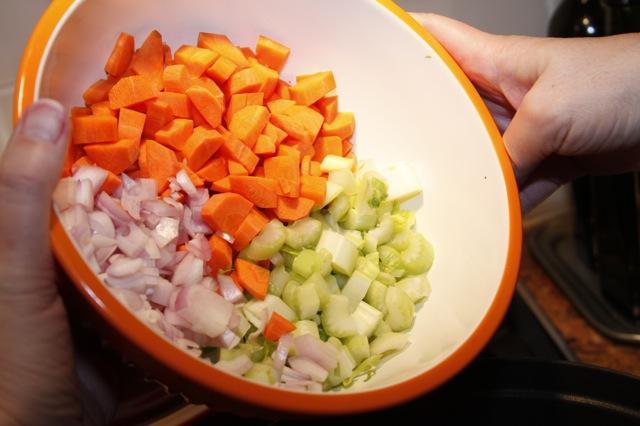 Add carrots, celery, shalots.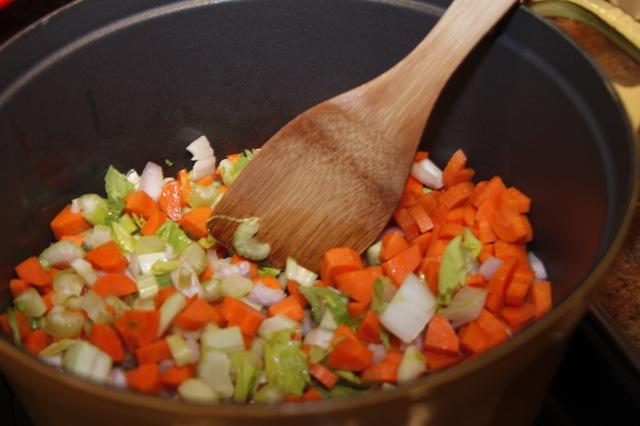 Stir together.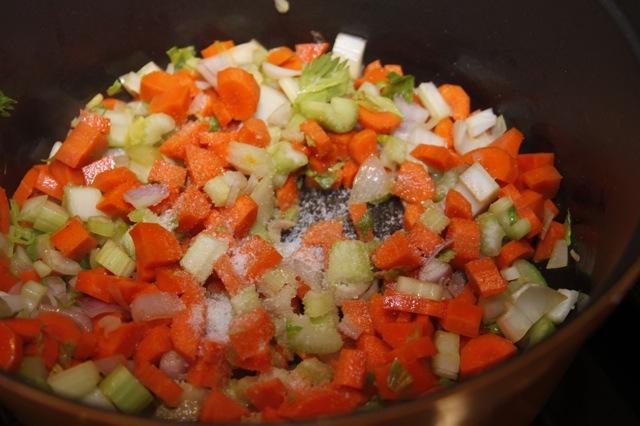 Season with salt, pepper and use ground or fresh ginger, finely minced. Cook over medium high heat for 5 to 8 minutes or until vegetables become tender.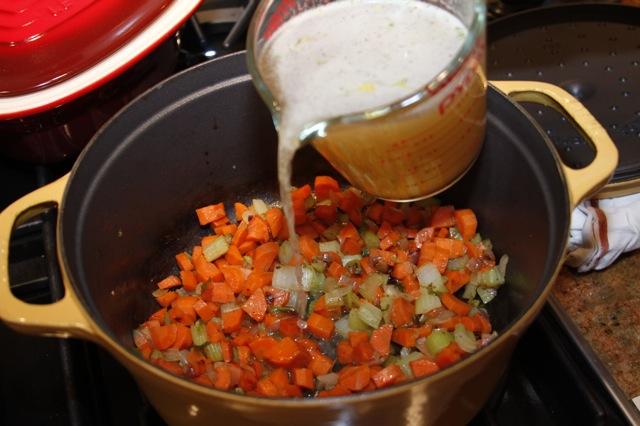 Pour in the organic vegetable broth.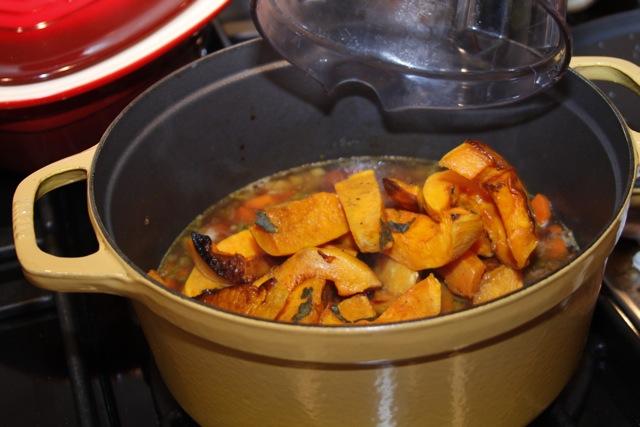 Add the cinnamon sticks and the roasted Butternut squash.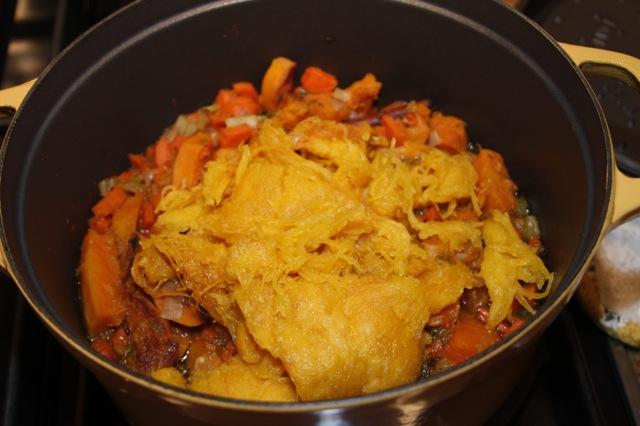 Add about 1 cup of the pumpkin flesh (minus the seeds) or one can of pumpkin puree.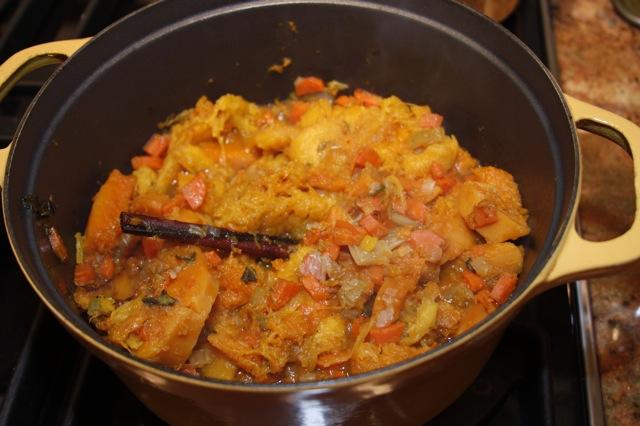 Stir well together…we know it's not pretty now, but it will taste delcious. Trust us 🙂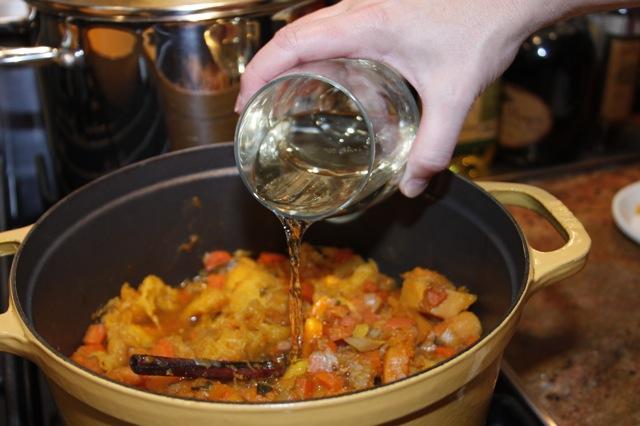 Add the wine and then simmer for another 20 minutes.
Remove cinnamon sticks and place in a large blender or use an immersion blender to mix it smooth.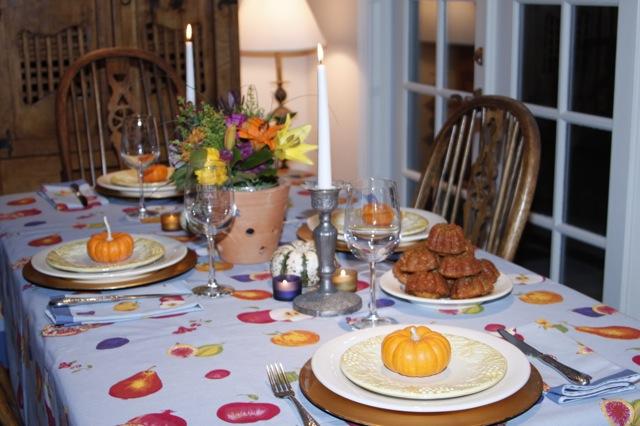 It's wonderful alongside of warm rosemary corn bread.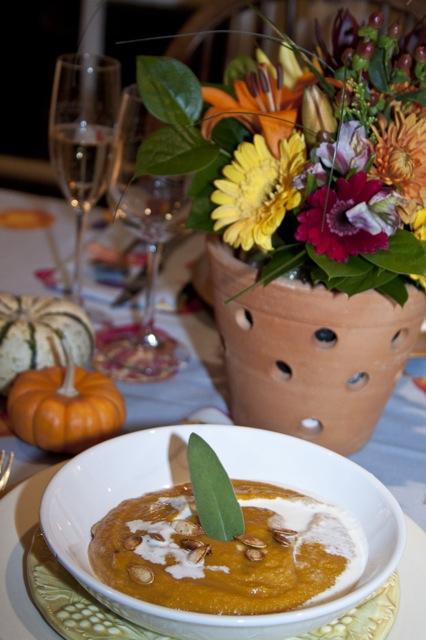 To serve ladle the soup in a soup bowl and drizzle with heavy cream and toasted pumpkin seeds. Enjoy!
For the ROASTED BUTTERNUT SQUASH
1 large Butternut Squash – peeled, seeded & cut into 3/4 inch slices
1 Tbsp Sea Salt
1/4 tsp  freshly ground pepper
1/2 stick of unsalted cold butter – thinly sliced
1/2 bunch of fresh Sage Leaves
Directions:
Preheat the oven to 400 F.
1 – Wipe the squash clean and peel with a vegetable peeler. Carefully cut lengthwise and with a large spoon discard the seeds. Then slice into 3/4-inch slices.
2 – Transfer the squash pieces in a single layer onto a baking sheet. Season with sea salt and Pepper. Place the butter slices and sage on top and bake in the preheated oven for about 45 min to 1 hour or until soft. Turning the pieces a few times to make sure the edges will not burn. Set a side. You can make this 1 to 2 days ahead.
For the PUMPKIN SERVING BOWL
(If you are in the hurry you can omit the pumpkin and add one can of pumpkin puree to the soup instead.)
1 Pumpkin (about 5-6 pounds)
Directions
Preheat oven 375F.
1 – Cut around the top and with a large spoon scoop out the seeds.
2 – Place the pumpkin with the lid on top on a parchment paper lined baking sheet and bake in the oven for about 45 minutes.
3 – Remove from the oven and place the lid over an upside down bowl to make sure it will keep it's shape.
4 – Gently scoop out the pumpkin flesh but make sure you leave the flesh on the bottom and be careful not to make any wholes.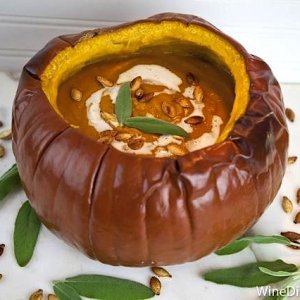 Pumpkin Butternut squash Soup with Chardonnay
Ingredients
2

Tbsp

Olive Oil

2

Tbsp

Butter

3

Shallots - diced

2

large Carrots - peeled

diced

2

Celery Stalks - diced

3

cups

Organic Vegetable Broth

2

Cinnamon Sticks

2

Tbsp

Sea Salt

1

Tbsp

Ground or minced fresh Ginger

1/2

Tsp

White Pepper

1

cup

Chardonnay or Sauvignon Blanc

2

cups

Roasted Butternut Squash

1

cup

Pumpkin flesh

1/2

cup

Heavy Cream

3

tablespoons

toasted pumpkin seeds
Instructions
Heat olive oil and butter in a large soup pot or Dutch Oven and add the shallots, carrot and celery. Saute for about 8 - 10 minutes until tender but not brown.

Season with salt, ginger, pepper and add the cinnamon sticks. Pour in the vegetable broth and the wine . Add the butternut squash slices, pumpkin flesh and cover and simmer for about 20 more minutes.

Turn off the heat  and discard the cinnamon sticks and let it cool for a few minutes.

In a blender puree the soup until smooth. and creamy. Return the beautiful creamy mixture to the soup pot and over medium heat reheat the soup. Add half of the heavy cream and season if need it.

Serve in the pumpkin drizzled with heavy cream and topped with roasted Pumpkin seeds.

WINE SUGGESTION: A buttery Chardonnay or Sauvignon Blanc