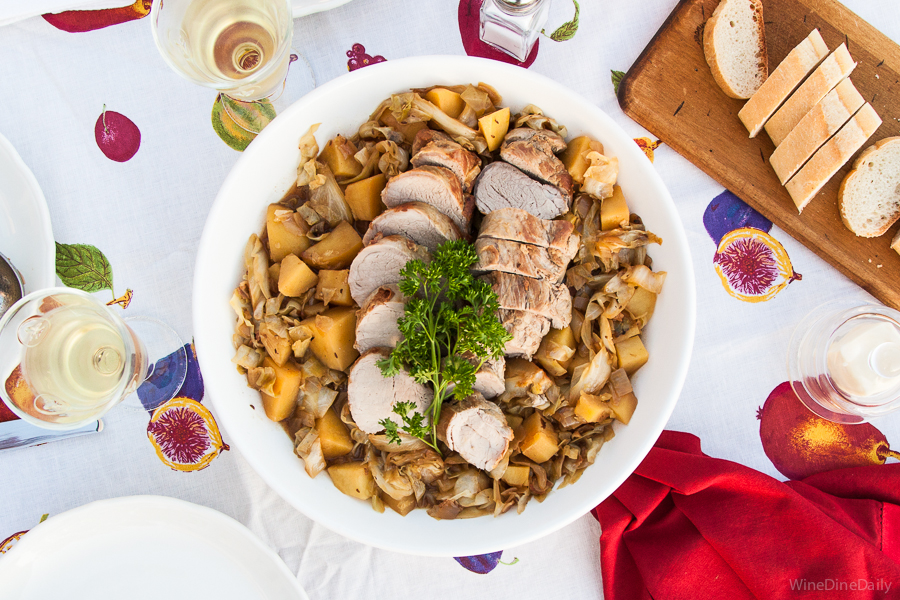 Over the years we happily succumbed to the old Irish tradition of Saint Patrick's Day with corned beef and cabbage and green beer. By Sunday morning the leprechauns must have woven their mischievous magic on us because we were in the mood for tender pork instead of the traditional beef and thought about making a Pork and Cabbage with Riesling.  We hoped it would taste as good as we remembered from our German kitchen where grandma often made her family favorite pork and cabbage with dumplings "Kassler mit Kraut und Knödel."
You could smell the smoky and tangy notes of this dish the moment you entered her house and it made us incredibly hungry for dinner even if we just had lunch. She slow cooked the meat and kraut then served it with a little sweet Riesling from the Mosel Saar Ruwer region, the cradle of German Riesling. Mmm… it was so good! Don't memories taste good?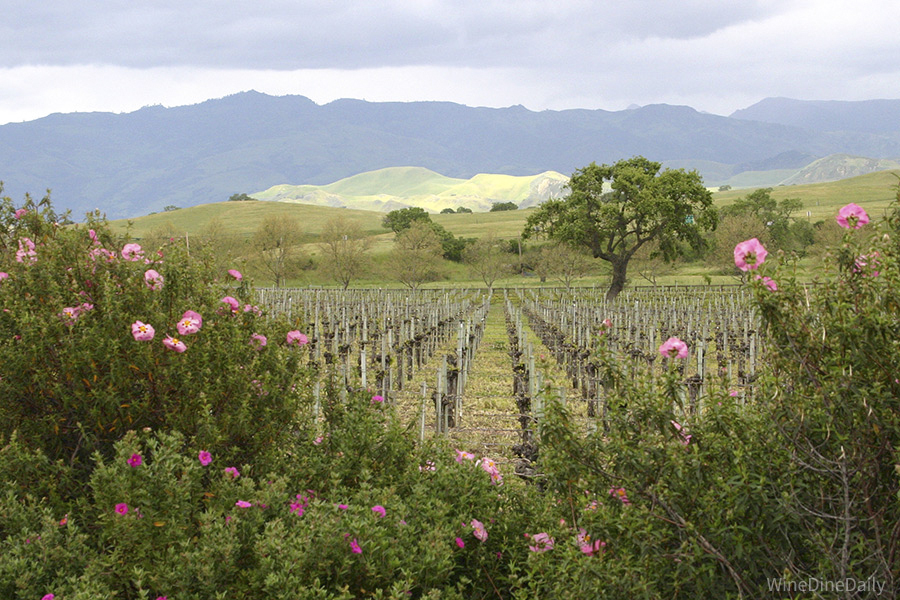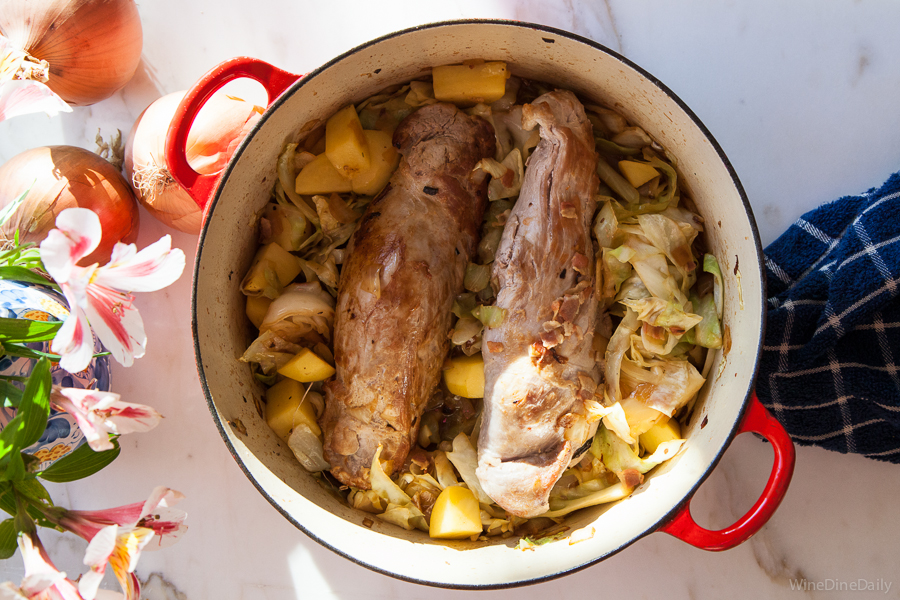 This time we could hold the Heat wave responsible for not wanting to warm up the house too much with slow cooking, but still wanting to savor the slow braised taste of the cabbage. Let's just say that we did not plan this pork and cabbage dish this way and were quite pleased with the tasty results. If grandma would know we cooked the meat around 25 minutes in the oven she would say "this is not a real Pork and Cabbage." To make it more special we marinated the seasoned meat in olive oil and garlic over night so that the flavors can infuse the tender pork. During cooking we already knew this meal would be quite delicious even for a leprechaun. The pork had a slightly garlicky flavor and the cabbage and potatoes were so tender they melted in your mouth, yet still retained a little crispness to please the palate.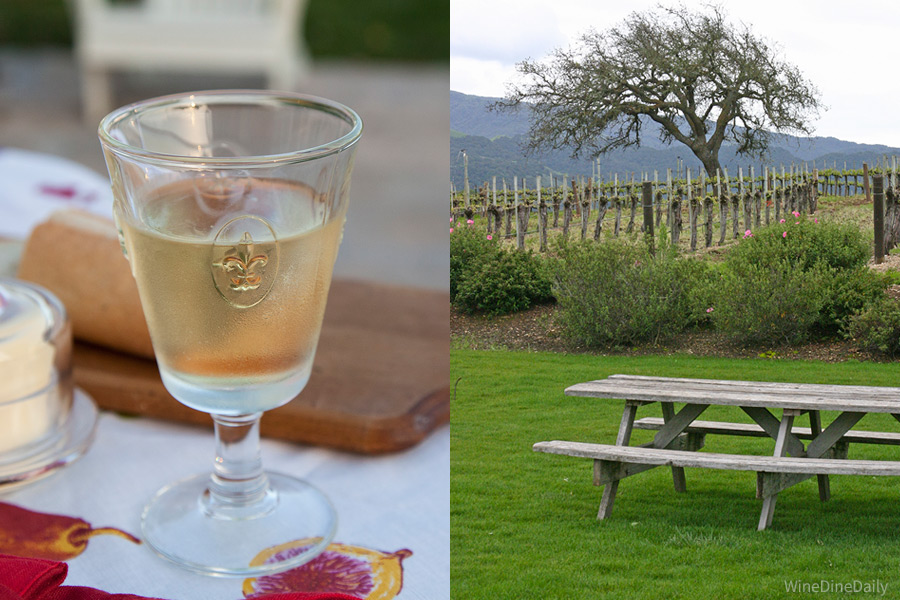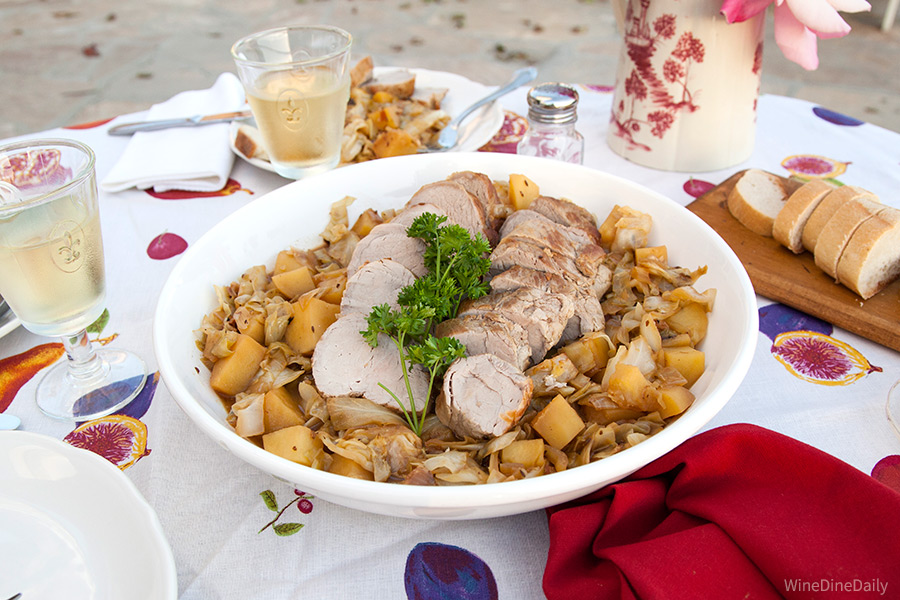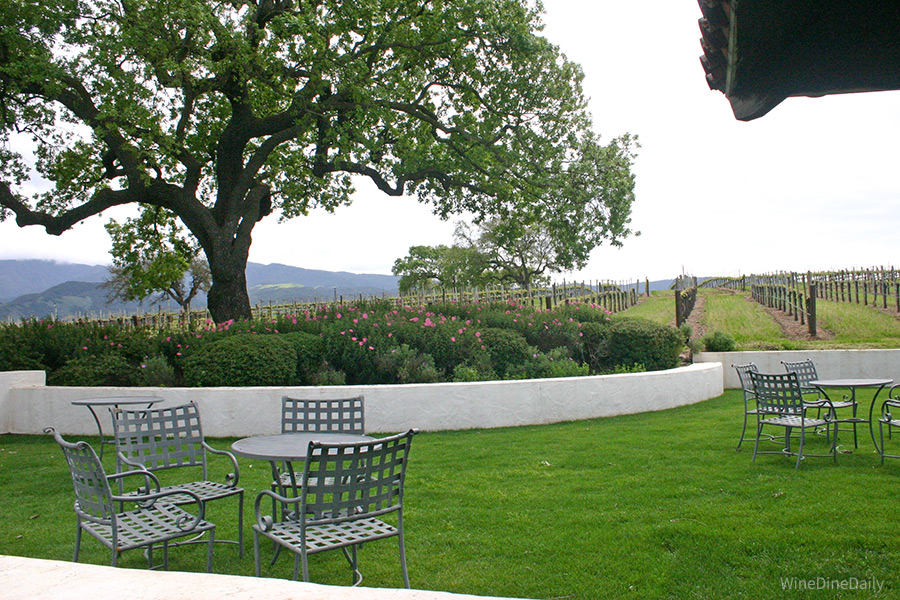 This hearty dish can be enjoyed with beer or a crisp white wine and we paired ours with a Riesling that had the aromas of Spring. A few days before, on Thursday, we drove to the California wine country to watch the vines bud break, breathe in the drier inland air, and last but not least to pick up a few bottles of wine, among them a Gainey Riesling from the Home Ranch Vineyard in Santa Ynez. As far as Central Coast Riesling goes Gainey is one of our favorites with notes of stone fruit and honeysuckle and a mellow mouth feel. The well-balanced acidity complimented the tangy cabbage.
There was a heat wave predicted for this weekend and we thought that a chilled Riesling would come in handy with dinner on one of those smoldering days. In the last week we had some lovely meals outdoors on the patio, under the umbrella during the day, and in the evening with the sun slanting low in the horizon watching as the sunset colors playing upon the clouds drifting over the ocean.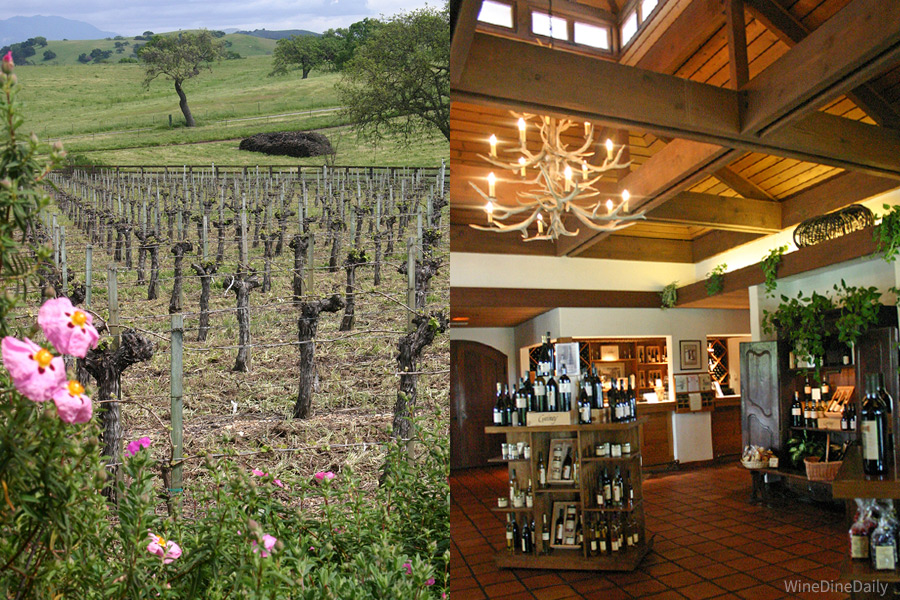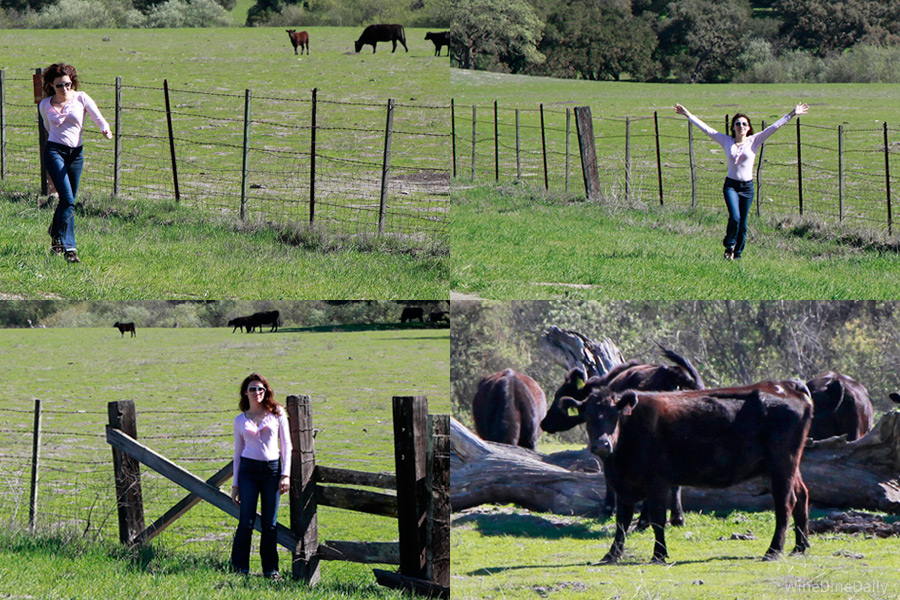 Our Thursday visit to the wineries was balm to the soul as we looked over the rows of vineyards each in it's own Spring blossoming pace depending on the micro climate. The warm air gently welcomed us when we stopped to photograph cows and deer along the way. We are very fortunate to be so close to such a picturesque wine country. There are over 100 tasting rooms nestled along gently rolling hills studded with ancient oak trees and neat rows of beautiful vines that lend this romantic landscape a comforting order. Lovely grassy areas sprinkled with wildflowers perfect for a picnic and greeting spring in wine country style. Perhaps upon our next visit we will take a picnic basket and do just that!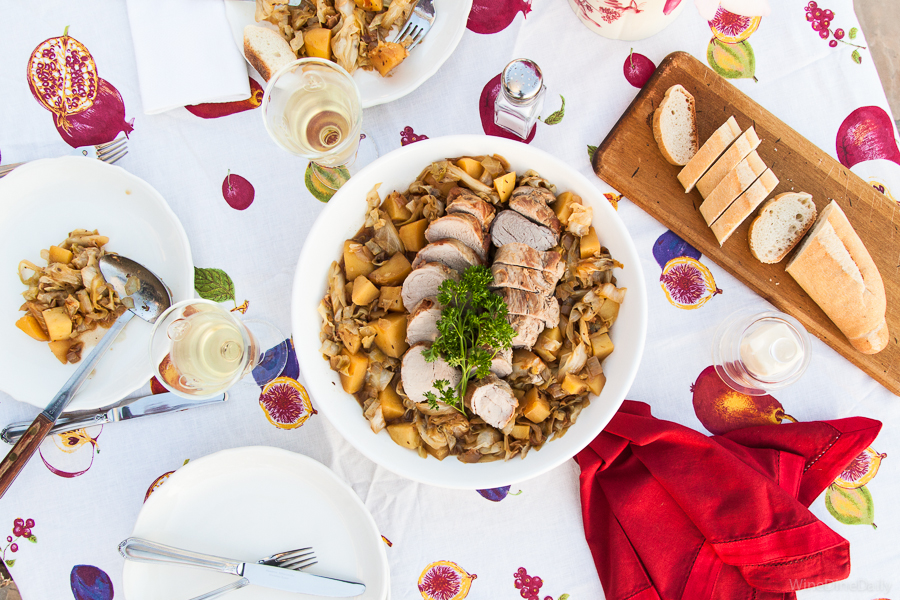 So now that we had the perfect wine selected, we enjoyed the not quite traditional St. Patrick's Day dinner of Pork and Cabbage with Riesling. We may not have found the pot of gold tonight, but this meal certainly makes you feel like you found the end of a tasty rainbow.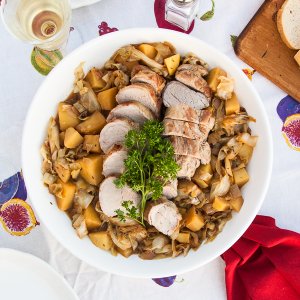 Pork and Cabbage with Riesling
Ingredients
2  1 -11/2

Lb

Pork Tenderloin

1

Tsp

Sea Salt

1/2

Tsp

Black Pepper - freshly ground

4

Garlic Cloves - chopped

2

Extra-Virgin Olive Oil

4

Slice

of Bacon - cut into 1/4 inch pieces

1

Onion - chopped

1

Tbsp

Coconut Sugar

2

Tsp

Caraway Seeds

1

Large Cabbage - quartered and sliced

1

cup

Riesling or White Wine

1/2

cup

Organic Chicken Stock

2

medium Sweet Potatoes - peeled and cut into cubes
Instructions
Preheat oven to 400°F

Place the pork into a glass pan and season well salt and pepper. Add the garlic and 1 tablespoon of the olive oil and marinate for at least 4 hours or overnight in the fridge. Let the meat rest at room temperature for 1 hour before cooking.

Heat the rest of the olive oil over medium high in a large cast iron pan or sauté pan and fry the bacon until it becomes brown and crisp. With a spatula transfer to a plate and set a side.

In the same pot brown the pork tenderloins for about 2 -3 minutes on each side. Remove meat from pan and set aside.

Sauté the onions in the same pan for about 3 minutes or until they become translucent. Then add caraway seeds, coconut sugar, and wine and scrape the goodness from the bottom of the pan.

Add the sliced cabbage and continue to cook for a few more minutes by stirring occasionally. Add the sweet potatoes and combine all really well.

Place the meat on the bed of cabbage and roast in the oven for 25 minutes or until the internal temperature reaches of 145 degrees F. Turn the meat a few times.

Transfer meat to a cutting board, cover with aluminum foil and let it rest for about 10 minutes before serving. Slice pork tenderloin into 1/2 inch slices and serve over the cabbage with the cooking juice drizzled over and with a thin slice of French baguette or crusty whole wheat country bread.
Nutrition
Food & Wine Pairing: Gainey Vineyard Riesling, Santa Ynez Valley California with floral and stone fruit aromas and a hint of pear.