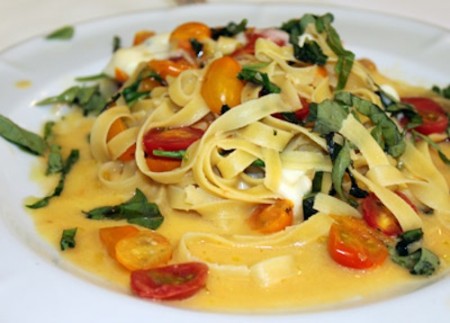 Chef Mollie showed us how to make this delicious Pasta with Tomatoes and Mozzarella which is traditionally called Pasta alla Checca. A local favorite to Hollywood stars, Chef Mollie has been featured on the Oprah's Show and in "O" magazine and we had the pleasure to cook with Mollie in her Montecito restaurant kitchen.
This light and quick pasta became or favorite and we have been making it when we are running late with dinner. There is always time to cook pasta and saute a little onions with garlic and toss a few tomatoes and spinach in the pan. Mollie teached us to transfer the pasta with a little liquid directly into the saute pan and mix with the vegetables. This saucy dish is superb with fresh mozzarella cubes and we love to sprinkle some Parmesan on top for added goodness. Over the time we made several variations and all were very good. You can use kale instead of spinach and spaghetti or any other pasta which you may have handy.
Thank you Mollie, it was a pleasure to be in your kitchen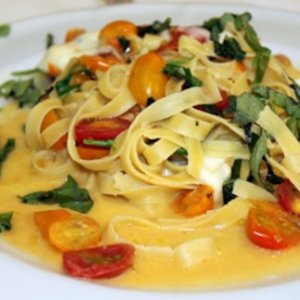 Pasta alla Checca
Ingredients
8

oz

Tagliatelle or Fettuccine

2

Tbsp

Salt

2

Tbsp

Extra Virgin Olive Oil

1

Shallot - finely chopped

2

Garlic Cloves - minced

1

Tbsp

Brandy

8

oz

Cherry Tomatoes - cut in half

Salt and Black Pepper to taste

8

oz

fresh Arugula

6

oz

fresh Mozzarella - cut into small cubes

1/2

cup

fresh Basil Leaves - thorn

Parmesan Cheese - freshly grated- optional

Sprigs of Fresh Basil for garnish - optional
Instructions
Bring a large pot of water to boil. Add the salt and the pasta. Cook the fettuccine al dente, according to package directions.

Heat 1 tablespoon of the olive oil in a large skillet. Add the shallots and cook for a few minutes. Add the minced garlic and the Brandy.

Tilt the skillet away from you so that your Brandy can ignite.

Add the tomatoes, stir and cook for a few minutes. Add the Arugula.

Stir in the pasta and add about a tablespoon of pasta water. Add the fresh Mozzarella cubes and toss to combine all ingredients.

Serve with basil leaves, drizzle with a little extar virgin Olive Oil and if you prefer you can shave Parmesan cheese on top.
Wine Pairing: Castello Banfi Pinot Grigio –  Tuscany, Italy.