2Hello Spring! We love you glorious Spring!
Early Saturday morning after an open air yoga class we rushed over to the Santa Barbara Farmers Market for organic leafy greens and local farm fresh eggs that came from well fed chickens.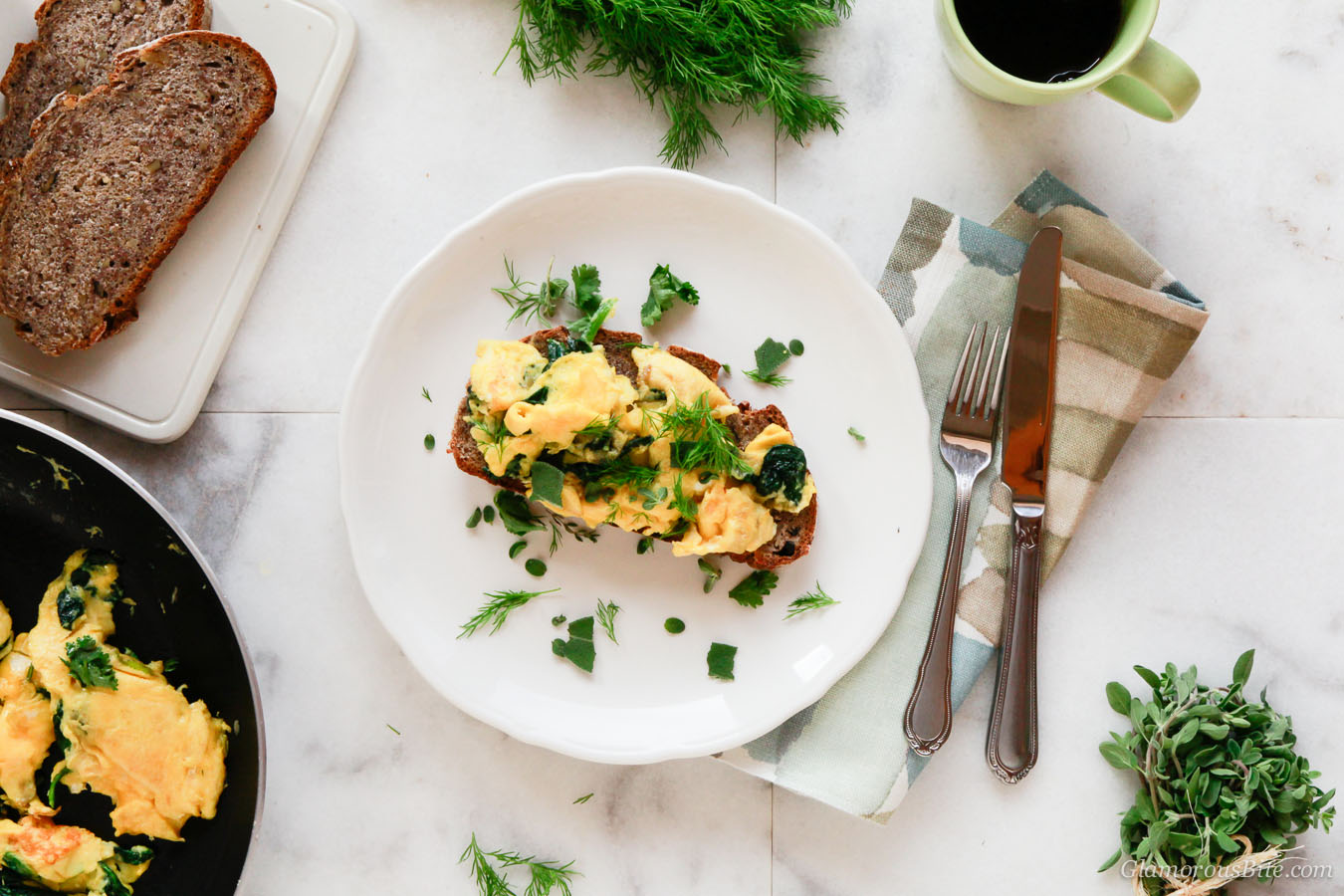 As we headed home with our bounty we talked about what to make with these lovely little eggs and all the fresh herbs which were perfuming the air. So the decision came swiftly to make Paleo Scrambled Eggs with Herbs for breakfast to bring a little burst of Spring into your mouth.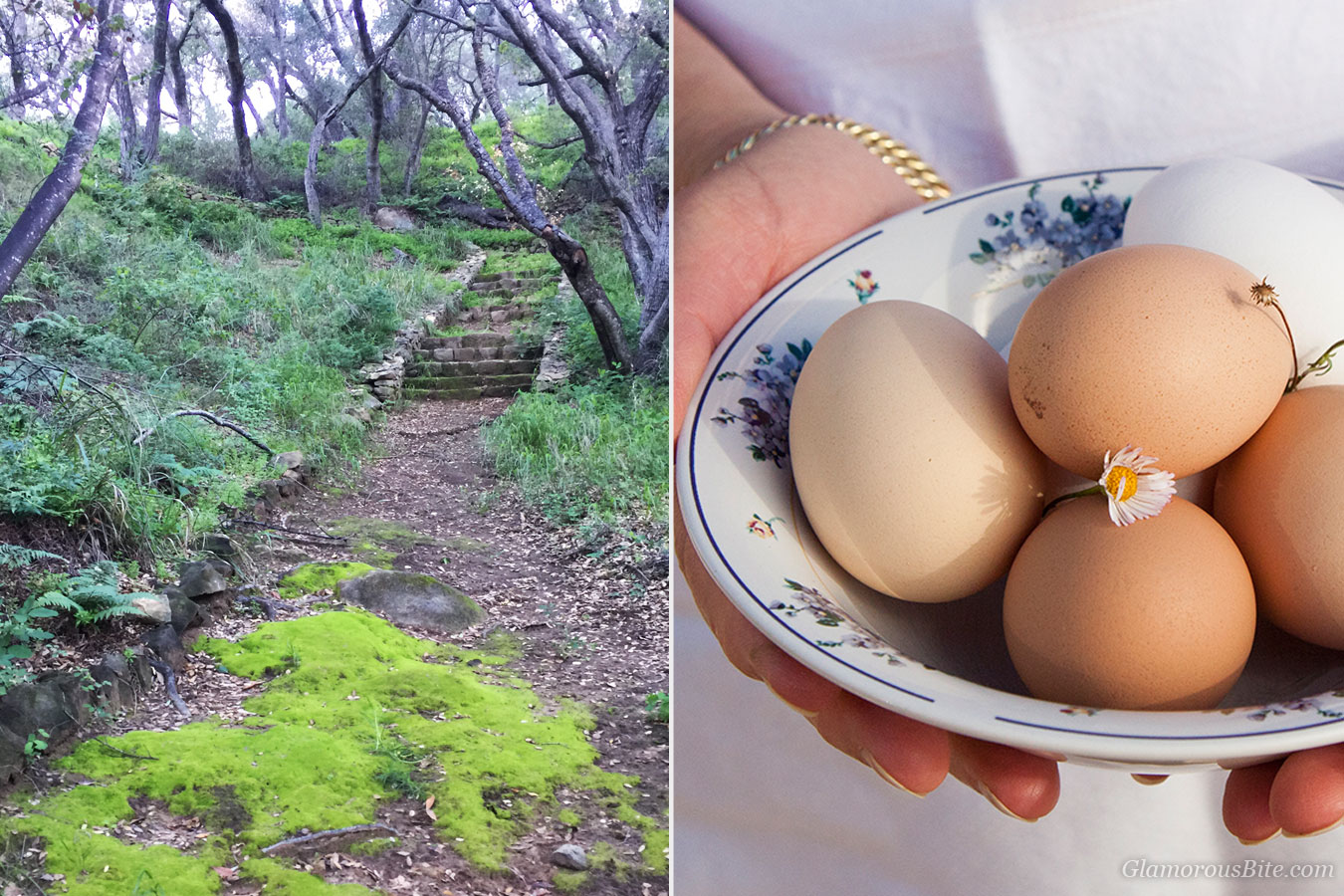 Local eggs are one of the finest with glorious yellow yolks that paint your batter to a rich golden color. We fondly refer to them as happy eggs, and they really are from beautiful and happy cage free chickens. Do you know how marvelous a farm fresh egg can taste from hens that were fed with care?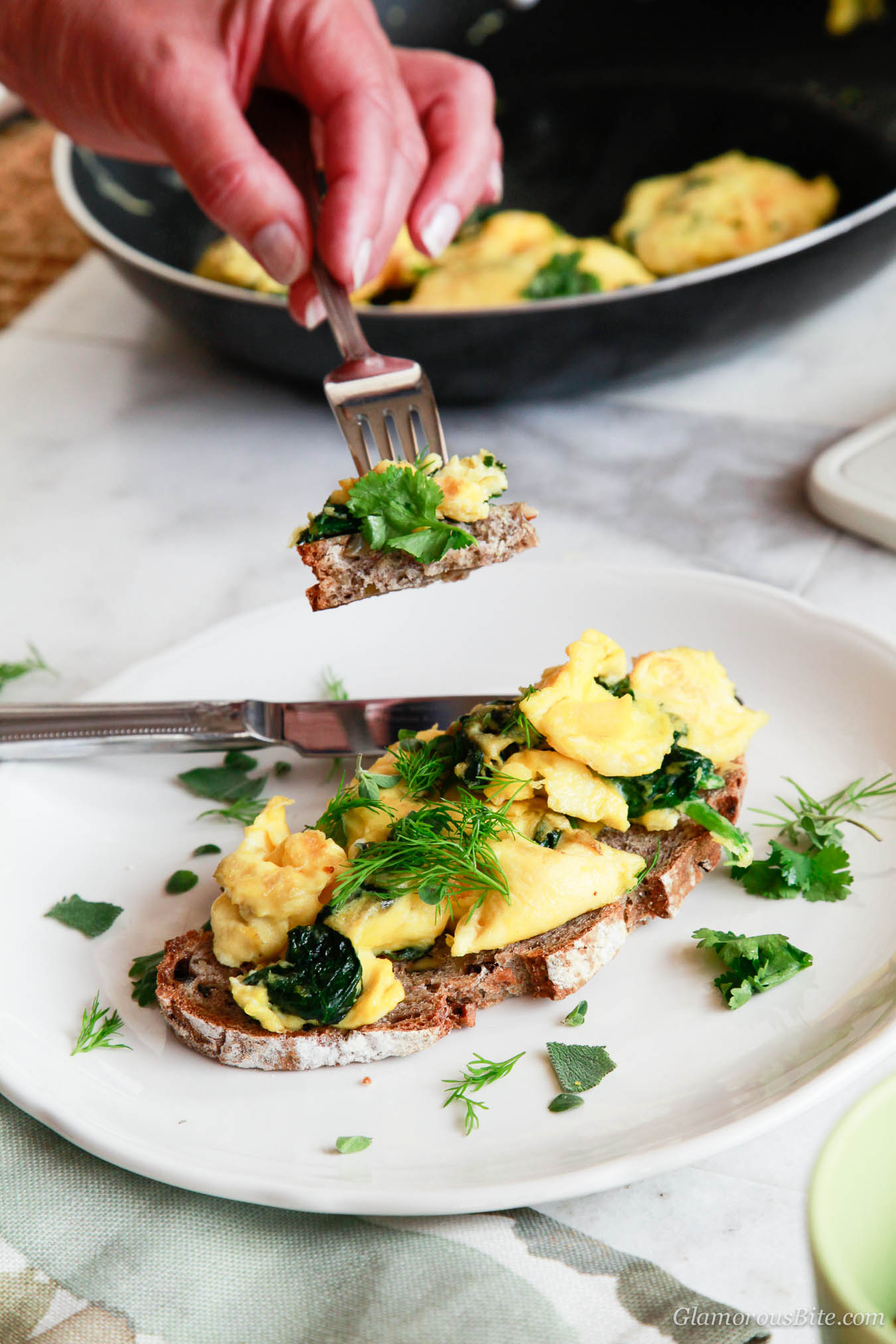 Eggs became very important part in our low-carb high-protein healthy clean diet and not just because you can whip up a delightful dish in no time at all, also since they have so many health benefits. By the way, any egg dish (without flour and sugar of course) is wonderful when you are watching your carbohydrate intake and makes them an ideal and nutritious breakfast.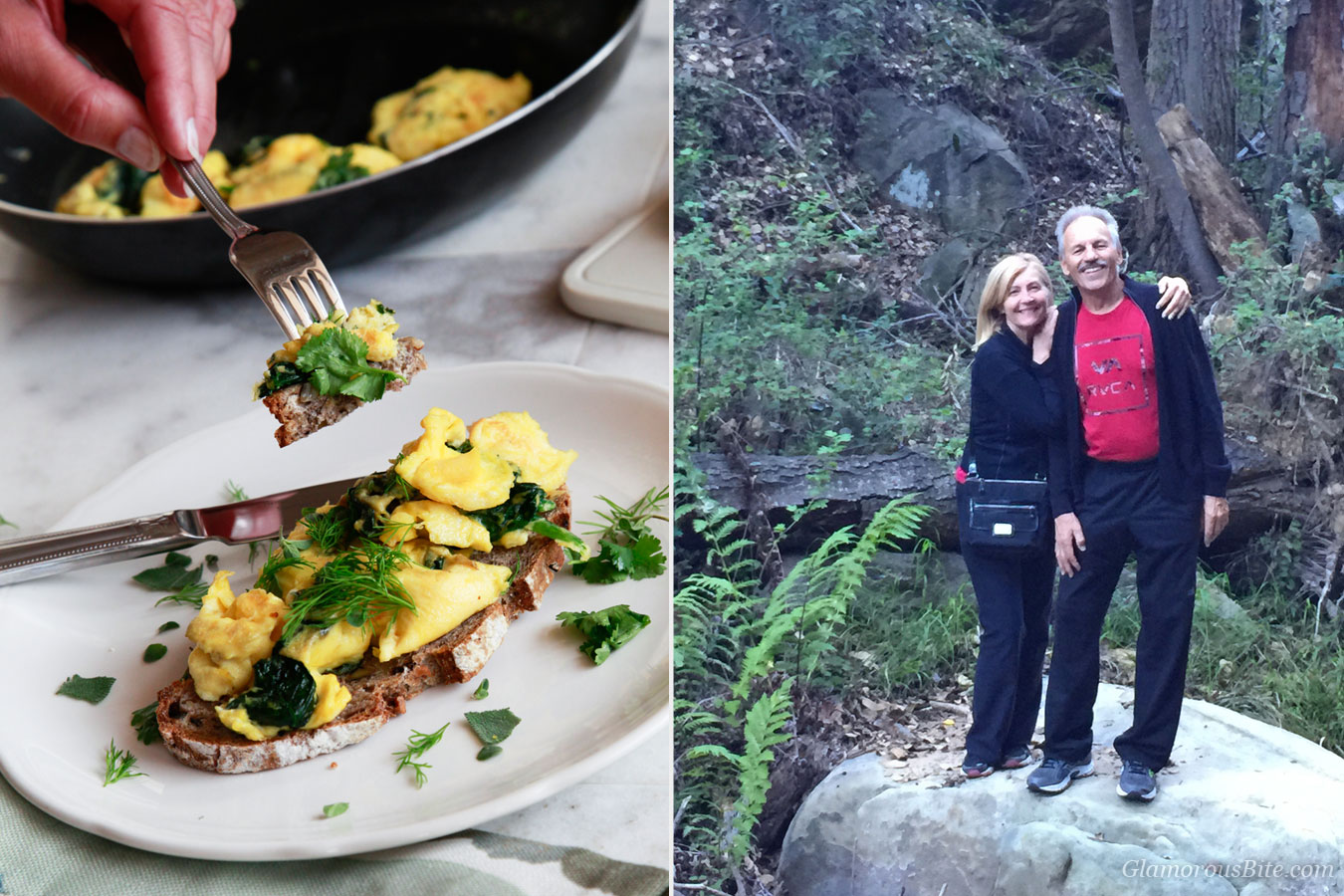 Eggs are utterly simple and quick to cook and if you are in the mood you can fancy them up with a few freshly chopped herbs and serve them up even for Easter Brunch. The trick to fluffy scrambled eggs is to keep the non-stick skillet temperature low and then gently stir and fold with a spatula or wooden spoon. We started ours with wilted baby spinach and a pinch of curry, salt and pepper, then decorated with oregano leaves, dill and parsley. If you feel adventurous you can even add mushrooms to this dish. The more veggies the merrier.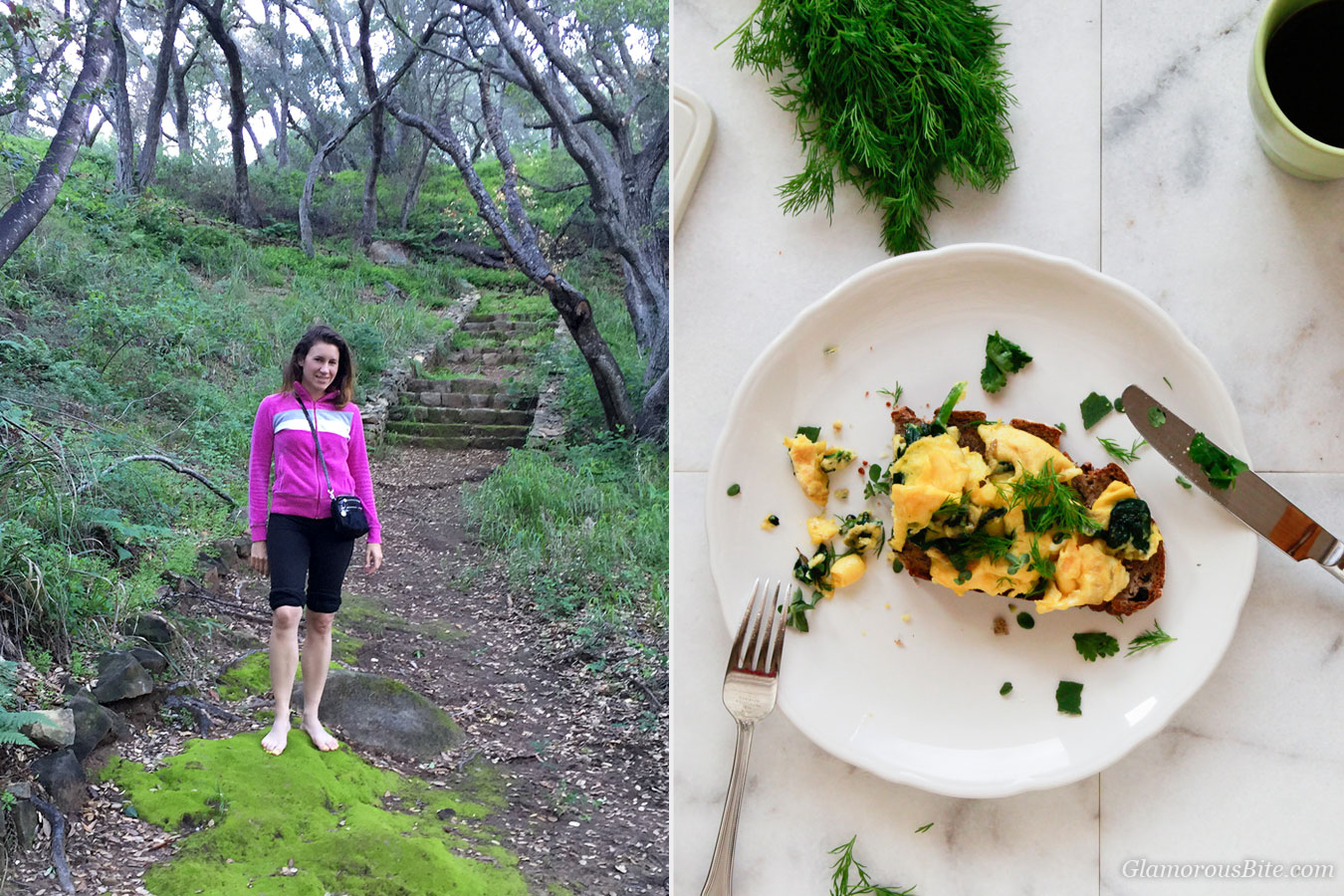 So now back to our Saturday agenda. After we finished gathering vegetables at the Farmer's Market, we returned home and whipped up those delightful Paleo Scrambled Eggs with Herbs in no time at all. It is such a fortifying breakfast recipe that you can face the rest of the day with renewed energy. We had an errand up in the Santa Ynez Valley so drove up the 154 Highway and took a break for a hike in the mountains along the way. There is an enchanting hillside forest with meandering creeks and even glimpses of the ocean.
The moss on the path was so plush green we could not resist taking off our shoes to feel the soft verdant ground squish between our toes and marvel at the bright green shades of lush green. Don't you recall when you were just a young kid you simple had to step on a patch of fresh moss barefoot.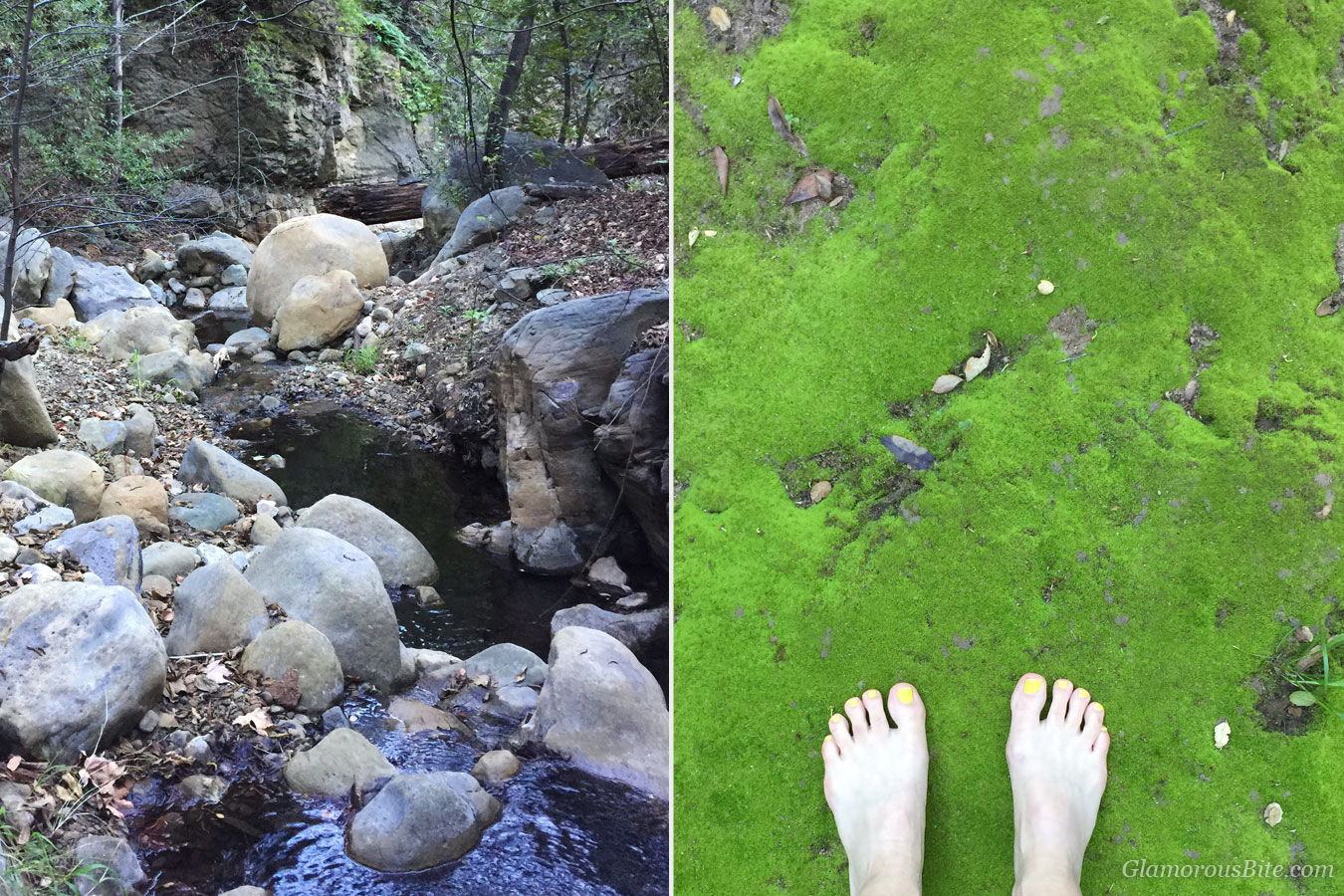 You can imagine meeting an Elf Fairy (or Hobbit if you look at those feet) in this magical forest and it would be quite a location for a challenging Easter Egg Hunt.
With the heatwave we are having this Spring the foliage and ground would soon turn yellow and dry so we soaked in as much of the green landscape as we could. It was so peaceful and quiet, you could hear the splashing music of stream bubbling through the hills as it danced between the boulders through twists and bends.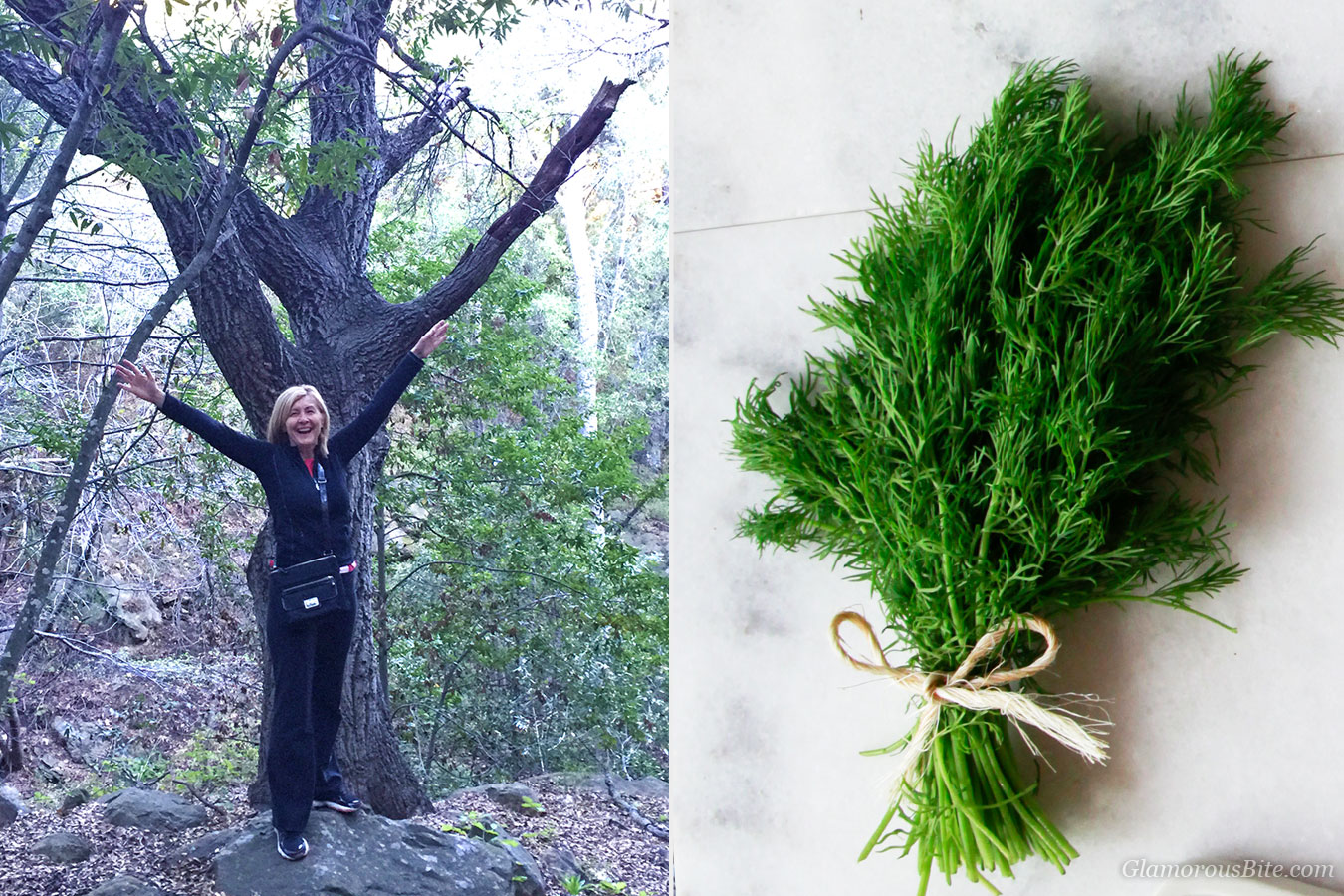 Eggs contain Calcium, Vitamin A and D and are a high quality Protein. They are a staple in our meals and perfect for Paul's Diabetic friendly diet because they have such low calories (only 70) and high protein with many antioxidants. In Germany we used to eat a soft boiled egg almost every morning and scrambled eggs or omelets were served mostly at lunch. In Europe a simple scrambled eggs with lardons or mushrooms was often enjoyed for lunch or dinner, with a salad or just with a slice of fresh crusty bread.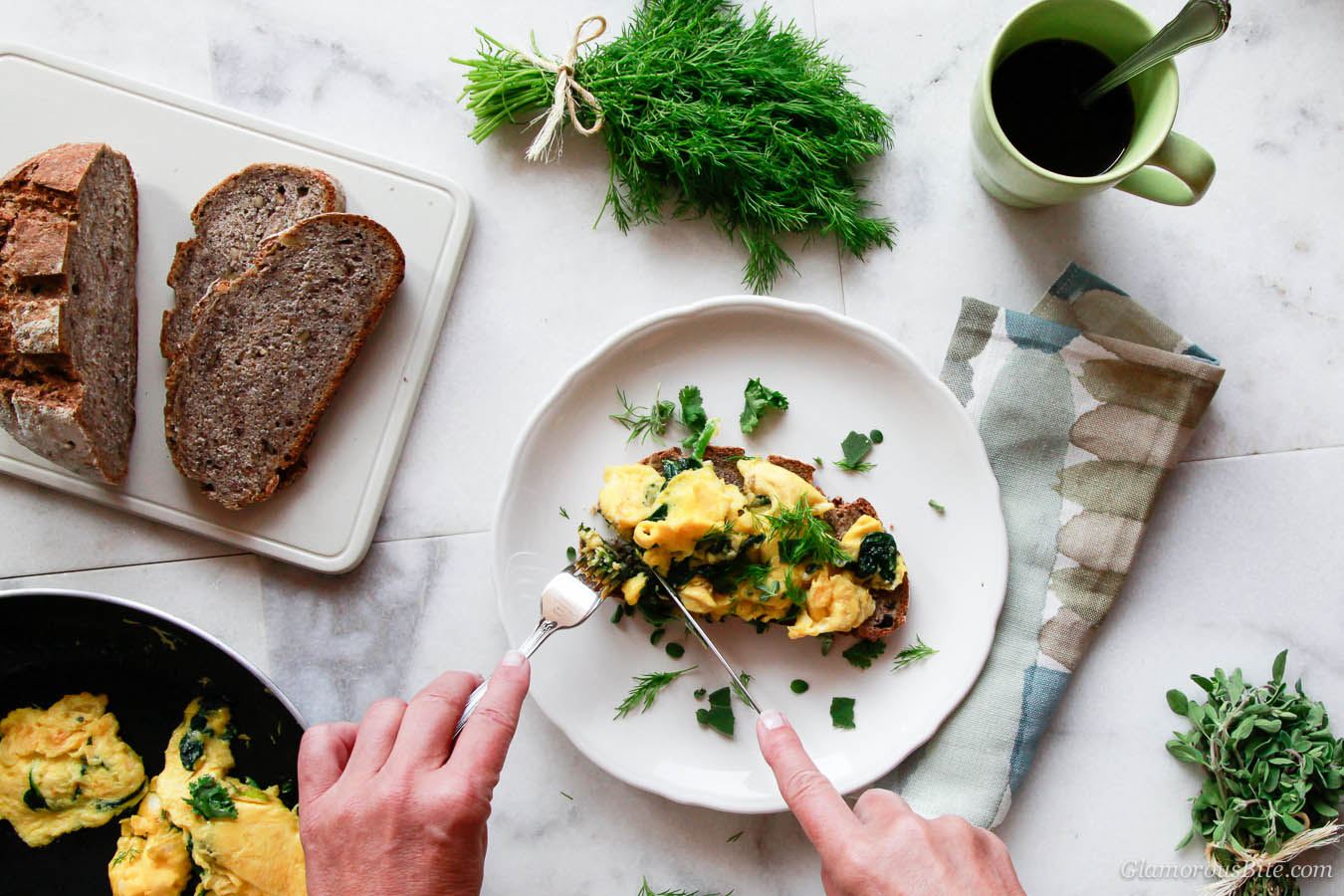 On the weekends there is so much to do in Santa Barbara and we definitely wanted to spend more time outdoors and less time in the kitchen so Scrambled Eggs are just the thing for a satisfyingly balanced yet quick breakfast. For the full breakfast experience, serve these healthy Paleo Scrambled Eggs with Herbs on Paleo Bread or Gluten-Free Whole Wheat Walnut Olive Bread. We think the cavemen would have jumped for joy to have such a wonderful meal with buttery fluffy eggs, wilted spinach, and fresh herbs!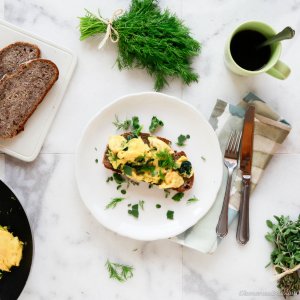 Paleo Scrambled Eggs with Herbs
Ingredients
6

Large Organic Eggs - room temperature

Pinch

of Himalayan Salt

Dash of White Pepper - Freshly ground

Pinch

of Curry Powder

1

Tbsp

Organic Grass-fed Butter

2

oz

Baby Spinach - washed and dried

Fresh Oregano Leaves - finely chopped

Fresh Dill - roughly chopped

Italian Parsley - roughly chopped
Instructions
Crack the eggs into a medium glass bowl and sprinkle in the Himalayan salt, white pepper and Curry powder. (you can omit the curry or substitute with a pinch of mild Hungarian Paprika powder). Gently whisk together.

In a large nonstick saute pan heat half of the butter over medium-high and add the baby spinach leaves. Wilt the spinach leaves for one minute then lower the heat to low.

Add the leftover butter, let it melt and pour in the egg mixture.

Cook eggs by stirring constantly with a spatula, until the mixture begins to set. Gently stir and fold several more times until the eggs thicken and form large curds for about 3 to 4 minutes.

Serve immediately over a thin slice of Paleo Bread and garnish with plenty of fresh herbs. Or you can use Gluten-Free Whole Wheat Walnut Olive Bread if you prefer.
Diet: Paleo, Low-carb, Gluten-Free, Sugar Free, Diabetic Friendly
Tips: Usually we cook  2 eggs as main dish per person, however if you are planing this delightful light meal for your Sunday Brunch table as aside dish then 1 egg will be sufficient.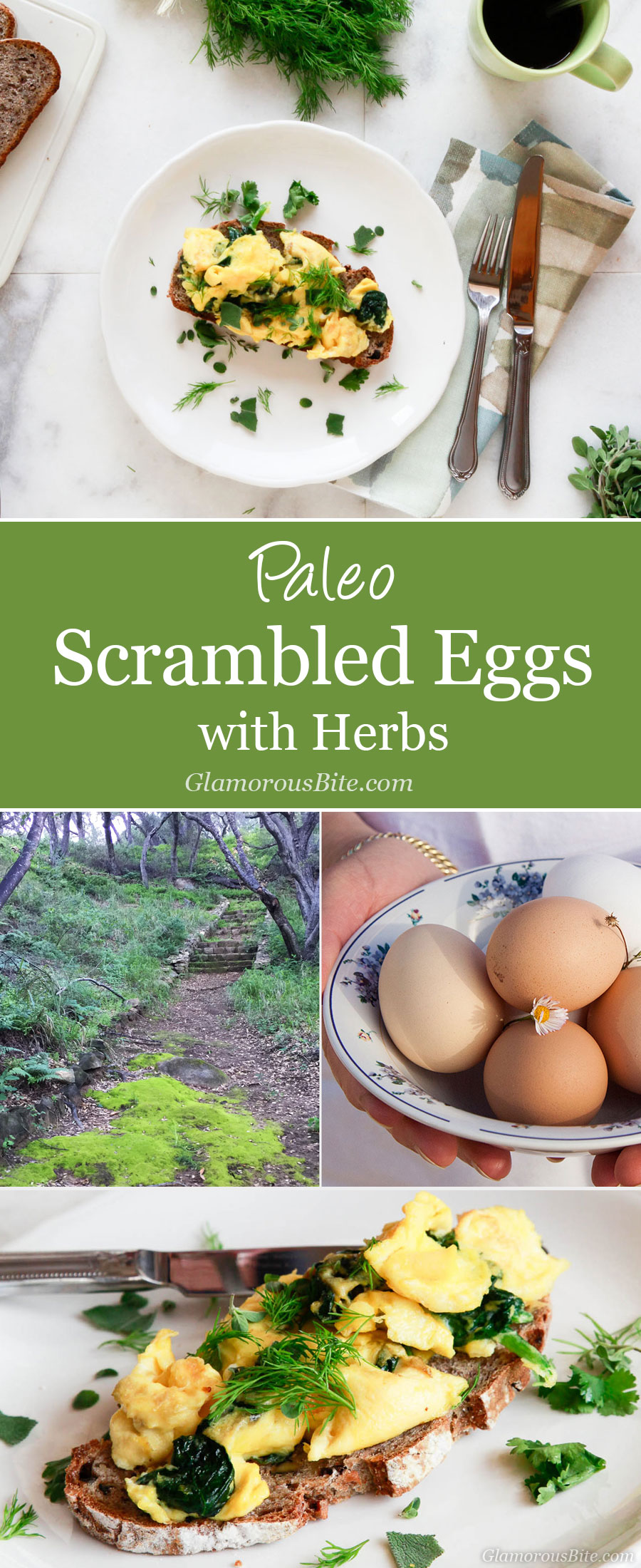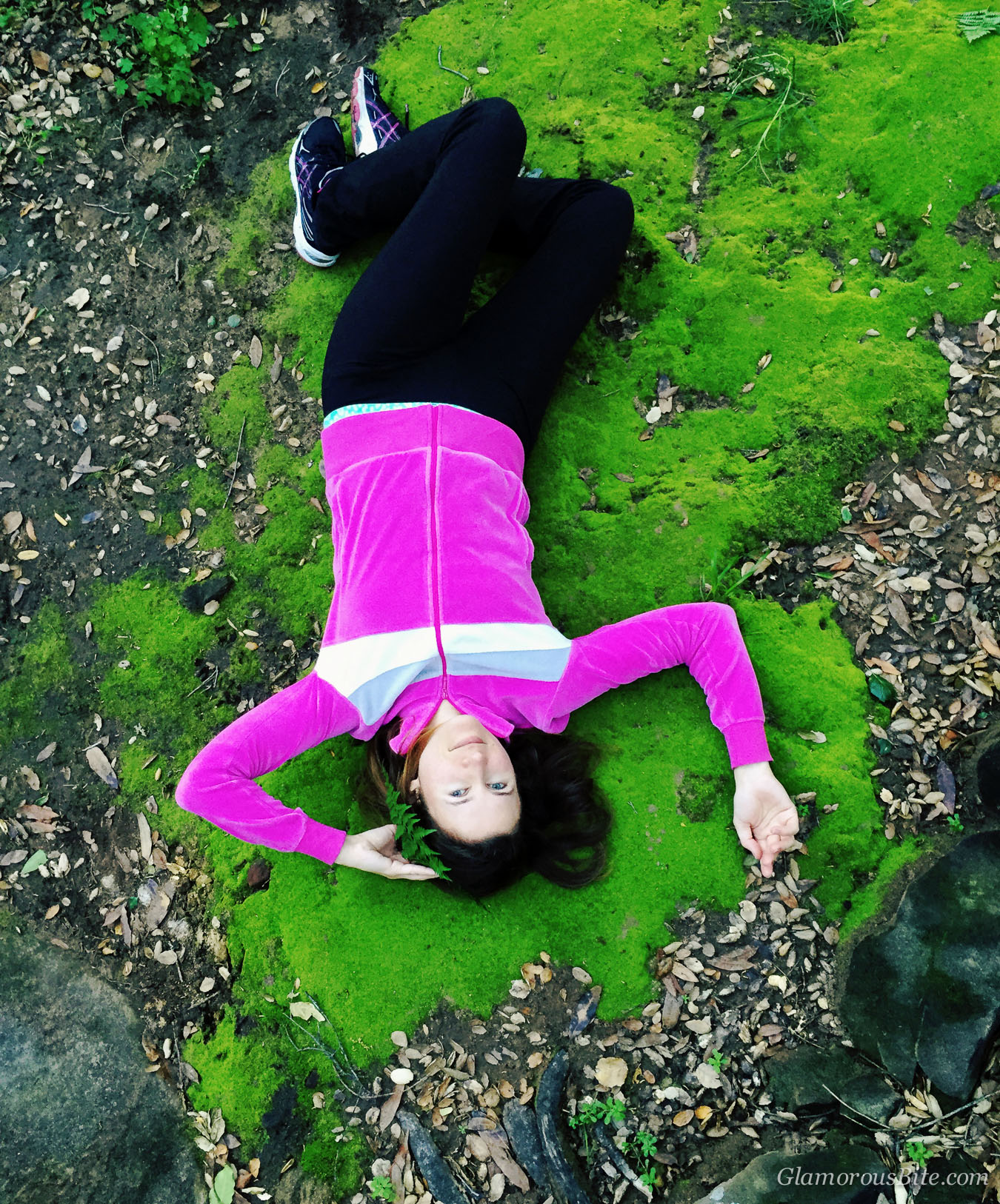 There are so many scrumptious egg dishes – what are your favorites?