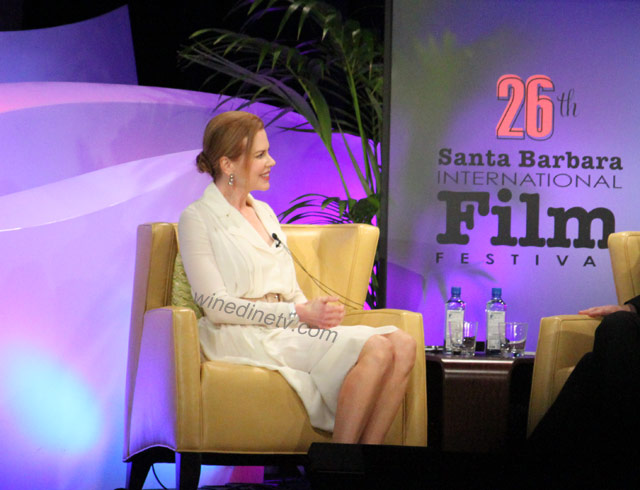 I went to the Nicole Kidman Vanguard Awards ceremony and interview. Nicole arrived in style in a limo in front of the Arlington Theater. She was in an elegant, yet simple cream colored dress and had a big smile for her fans. The area around her was fenced, but she did sign some autographs before heading to her official media interviews. I snapped several photos, which wasn't easy in the dark with many bobbing heads milling about. My friend and I had been waiting with out tickets to the event – decked out in our elegant black dresses and new glitter eyeliner. She in gold and I in blue sparkles. We were thrilled to have a reason to wear all that eyeshadow!
During her media interviews we were ushered into the theater and tried to find a seat, which was difficult with everyone saving 5 seats each. Finally seated we anxiously waited for the interview to start while watching the guy in front of us curse at a woman who sat in a seat he was saving. Gee people relax and be nice! Then Nicole was introduced and her interview began. I remember being surprised that she loved to read (as much as I do) and had spent much of her youth indoors due to her fair skin reading books. She seemed very down to earth and like one of my girlfriends I would be having a coffee chat with. The interview went over-time, but we didn't mind since it was so pleasant. Hearing about how it was to work with James Franco perked us up also 🙂
Roger Durling was excited about honoring Nicole Kidman at SBIFF and said that "Her work is immensely diverse and with this year's…brilliant performance in 'Rabbit Hole'…it is exactly who we should be celebrating with the 2011 Cinema Vanguard Award."
Nicole Kidman has so many talents and has been in a variety of roles that range from dramatic, to horror, to romance and even comedy. Kidman has been in many award films such as The Hours, Moulin Rouge!, Austrialia (which starred Hugh Jackman) The Others, Nine, Cold Mountain, The Stepford Wives (which was spooky), and recently Rabbit Hole, Just Go with It, and Trespass.
Kidman won the Best Actress Academy Award for the character Virginia Woolf in The Hours film and won a Golden Globe Award for Moulin Rouge! The Cinema Vanguard Award is awarded to those actors that have made an impact in their own unique way.
Previous winners of the award include Peter Sarsgaard, Stanley Tucci, Christoph Waltz, Kristin Scott Thomas, Vera Farmiga and Ryan Gosling. It was presented at the Santa Barbara International Film Festival and when Nicole Kidman received the award she said, "I suppose that's in my blood. I don't even see it as taking a risk, I just see it as staying true to my heart and instinct." She said that her family is where she feels especially happy, with husband Keith Urban, two-year-old daughter Sunday Rose and new daughter Faith Margaret.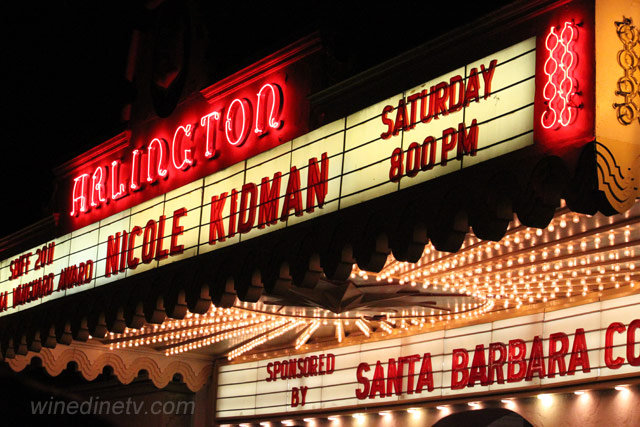 Just after starring in "The Rabbit Hole," Nicole is in comedy called "Just Go With It" co-starring Adam Sandler, Brooklyn Decker and Jennifer Aniston plus the 2011 film "Trespass" with actor Nicolas Cage. Besides all those movies she is in a Broadway revival of "Sweet Bird of Youth" with James Franco.
Her future film project is called "The Danish Girl" which is inspired by painter David Ebershoff's novel.The novel is about the first personknown to undergo sex reassignment surgery and is a fictionalized account of Danish artist Einar Wegener who was known as Lili Elbe. Rachel Weisz may play the role of Lili's wife and Nicole is Lili. Other actors who were said to be previously involved with the movie are Charlize Theron and Gwyneth Paltrow, but as of now it is Nicole who will be playing Lili.
Nicole Kidman is a very talented and versatile actress. I really enjoyed her interview and learned so much about her. She is extremely intelligent and I would love to talk to her more over a cup of coffee or nice dinner one day. After the event I did go to dinner with my friend at Opal's Restaurant & Bar next door and had the Lemon Grass Crusted Fresh Salmon Filet served with a sweet Thai Curry Sauce and Basmati Rice. It was a delicious and entertaining evening!