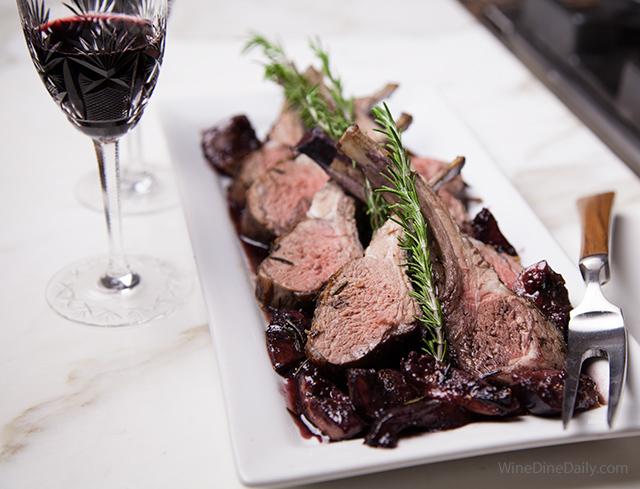 Since we have been living in Santa Barbara, we have taken frequent stints to the nearby wine country of Santa Ynez to visit the friends who make wine, check on new releases, and of course sample wine at the wineries. Picture smooth rolling hills with docile sheep and cows grazing lazily throughout the day while now in the rainy winter season the vines are resting and the cows are sleeping. Winter doesn't usually bring snow in Santa Barbara, just on the mountain tops in the distance and in the Santa Ynez Valley there can be frost on winter mornings. Do to the moderate climate in California, you can visit the wineries in winter too. When the weather has a bit of a chill to it we start thinking of warm hearty dishes that of course entail a splash of red wine.
Judit suggested an Herb Lamb and after Corina was not looking too thrilled we decided to sweeten it up with a Fig and Port wine sauce. Mmmm now that made it it so delicious! A rack of lamb is bolder but sweeter than beef and less gamy then a leg of lamb and has a natural infinity to rosemary and thyme and luckily we have both in the garden, but not a lamb. Santa Ynez has many noteworthy Syrahs and ever since we have talked to winemakers about their favorite pairings, which mostly lead to lamb, we had a lamb recipe on our mind (more on Judit's than on Corina's).
For the fig sauce in this lamb recipe we used a fruity Californian port wine from Robert Hall that our friend had brought to dinner one evening, local honey from the Farmer's Market, and fresh herbs form our garden.
To enjoy with our meal, we opened a rich textured jammy Reserve Syrah that we had personally picked up from Bridlewood Estate Winery when our Norwegian friends were in town. Now that trip was a story on it's own! Towards the end of our tasting tour, we were lingering at Brander Vineyards trying new wines with the winemaker Fabian and chatting to two young men from England that were writing about a Sideways tour for a U.K. magazine while the rest of our group got impatient and drove off around the corner to Bridlewood Winery. After we finished the tasting we started walking down the dusty dirt road road to Bridlewood. A car passed us then stopped and started backing up. It was the boys from Britain and they asked if we needed a lift. Well we took the lift around the corner to the next winery and surprised our friends. From that trip we had this gorgeous bottle of Syrah that did make it home and were anxious to try it with something satisfying. This Herb Lamb in Fig Port Wine Sauce is so elegant that it makes a fabulous birthday dinner or holiday meal. Just be warned if you have a fig addiction like us to purchase enough because this sauce does need all of these lovely juicy figs and as you will be tempted (guaranteed that you will, we speak from experience here…) to spoon into your mouth a few succulent fig morsels right before serving and have no remorse about it at all.
Fresh figs and herbs from the garden.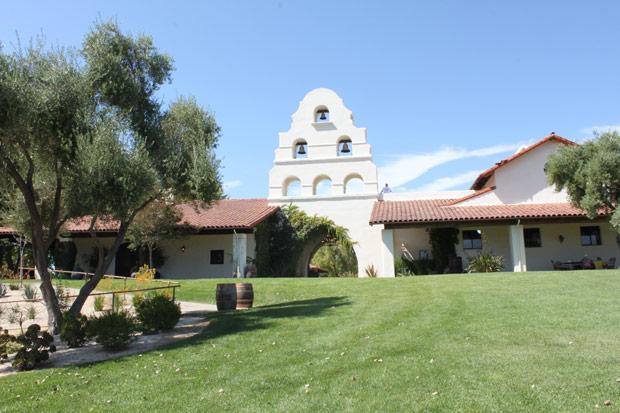 The bell tower in Bridlewood Estate Winery.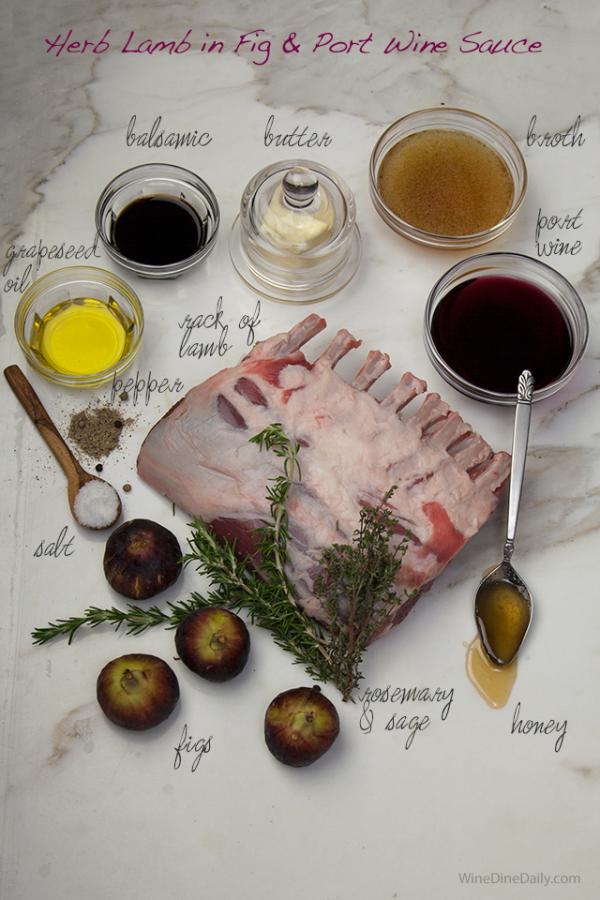 The divine participants for this meal. You don't have to use a very expensive Port in the sauce a good quality non-vintage will do just fine.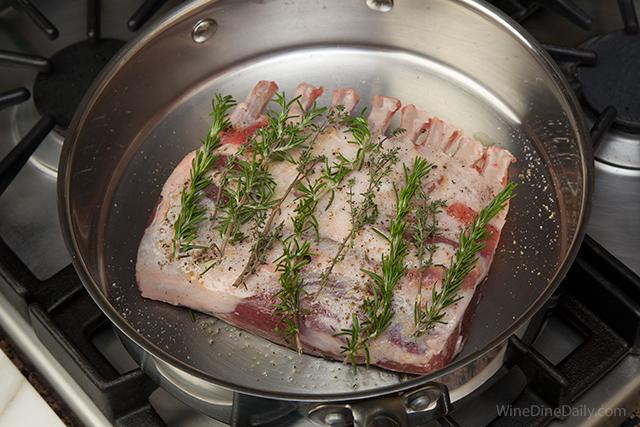 Place the seasoned lamb into a heated pan with olive oil.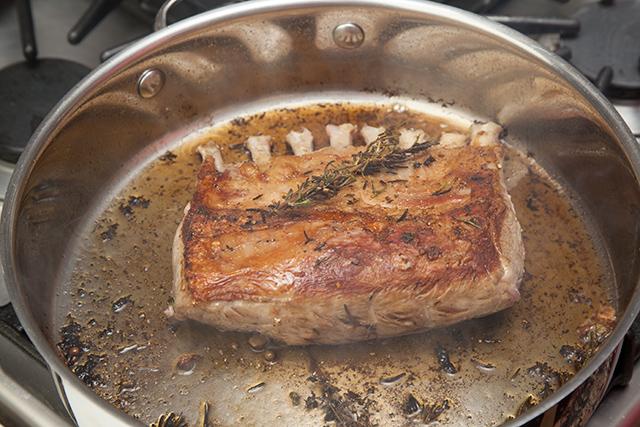 Sear it good on both sides until it is a lovely golden color. Watch those fire alarms since is may cause a little smoke!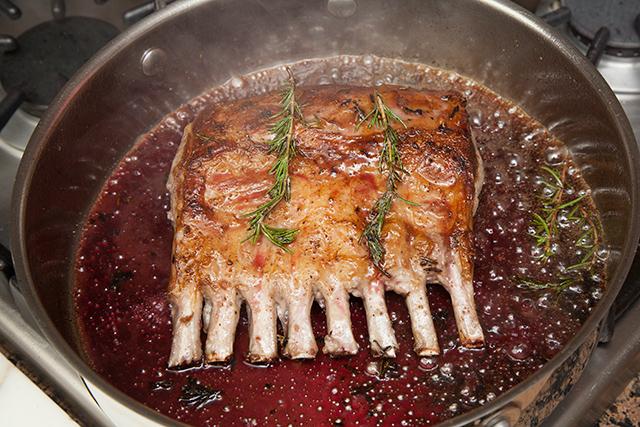 We are ready for the port wine! Pour it in gently around the lamb.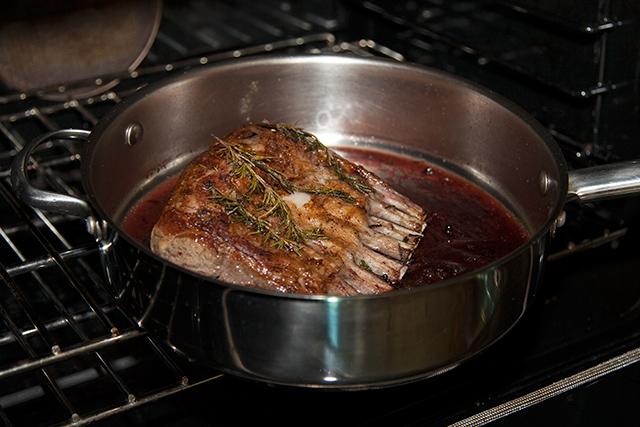 Place the pan into a preheated oven and roast for about 15 to 18 minutes.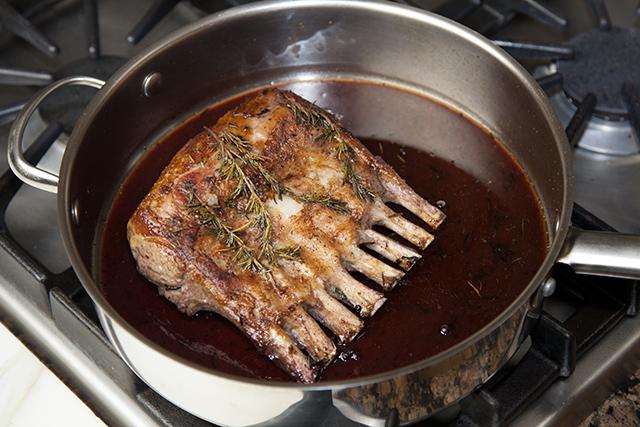 Take it out of the oven.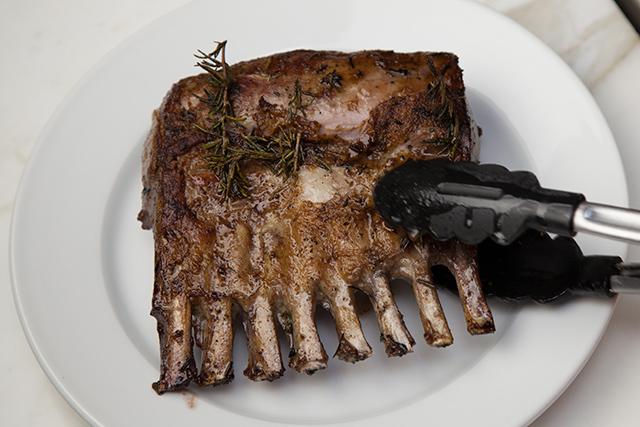 Transfer to a large plate.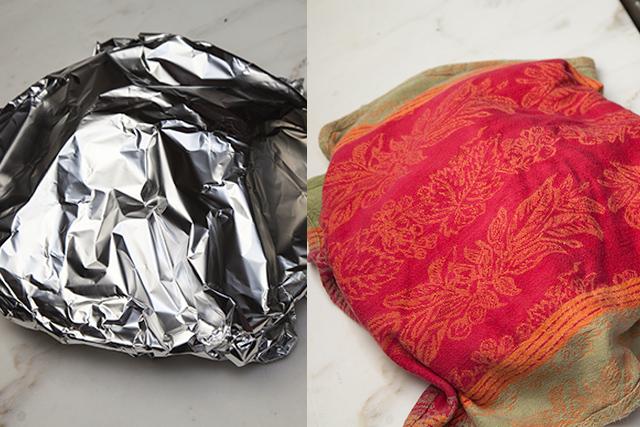 Cover first with aluminum foil and then with a kitchen towel.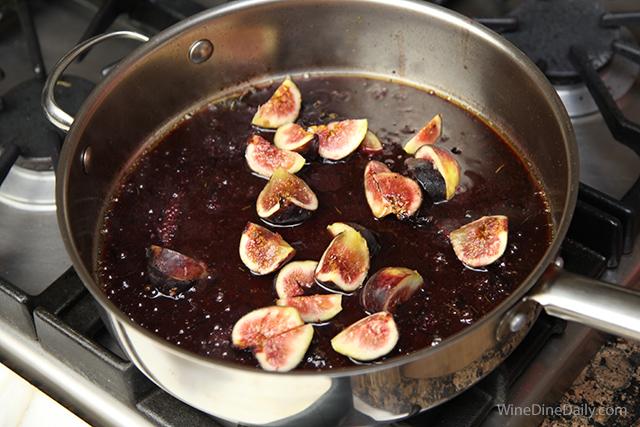 Now for the port fig sauce add sliced figs to the port remaining in the pan.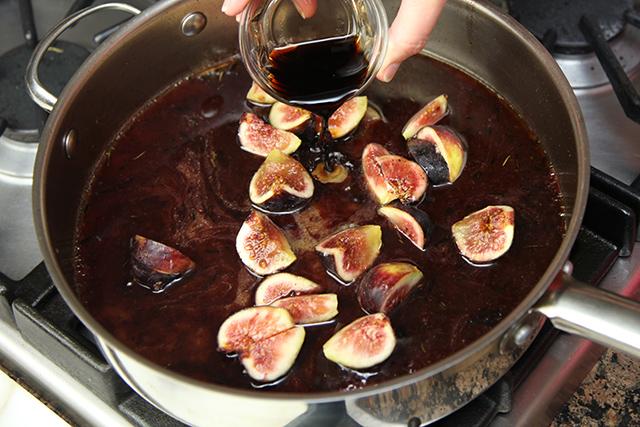 Pour in the balsamic vinegar.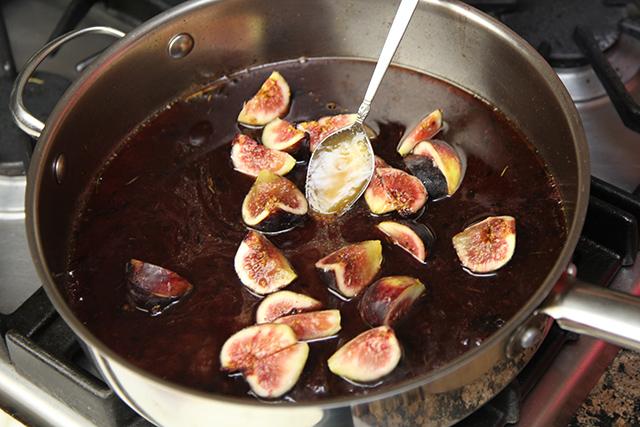 Add the honey.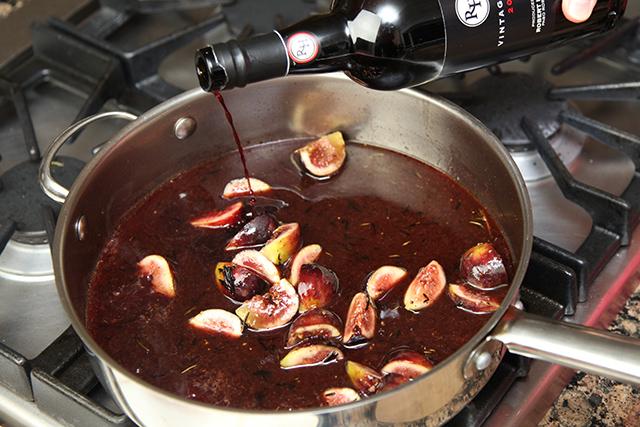 Pour in the remaining half cup of port wine.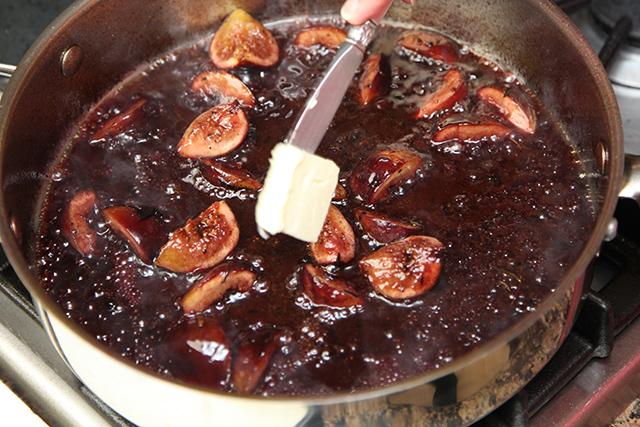 Add a dab of butter. Ooo we can smell that intoxicating aroma of the wine and figs.
Simmer vigorously over medium-high heat for about 5-8 min or until sauce thickens.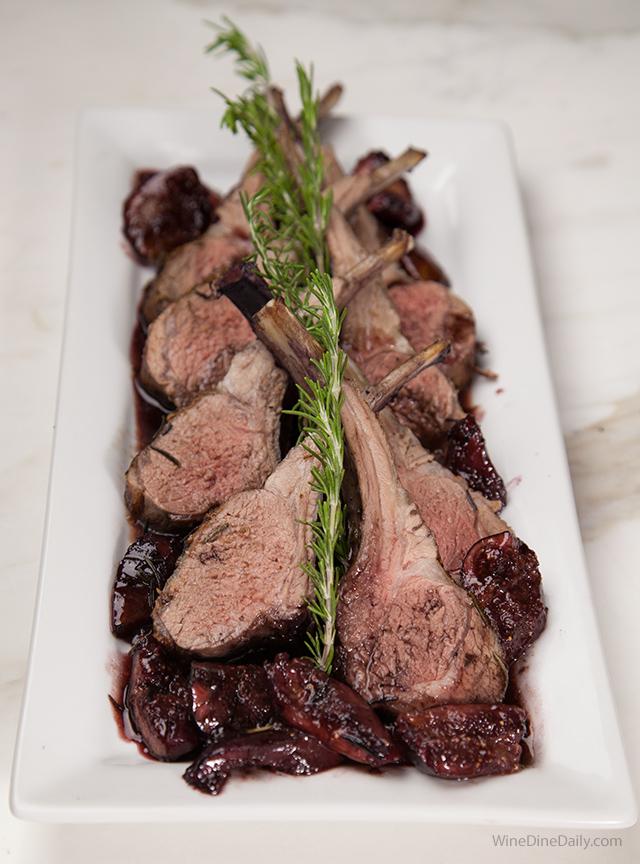 If you like to be fancy, cut the rack of lamb between the ribs and place it on a large platter just like we did. Ladle the warm port fig sauce around and garnish with rosemary.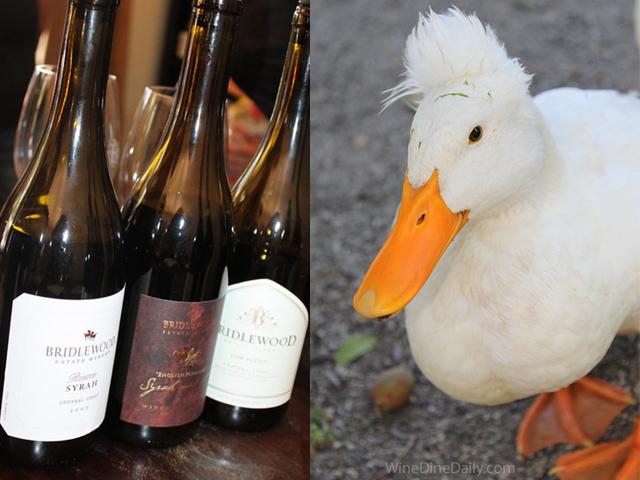 Now let's take a break and enjoy the winery.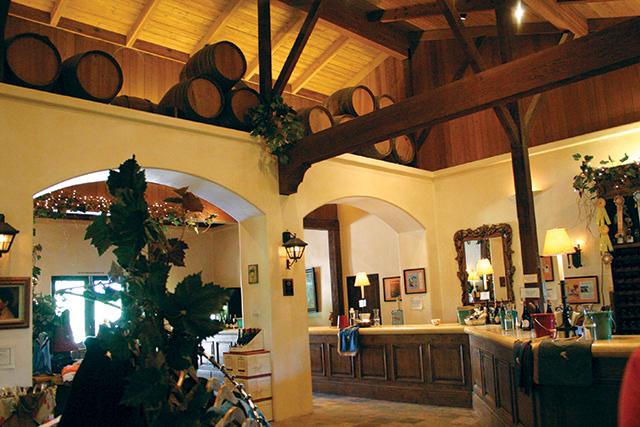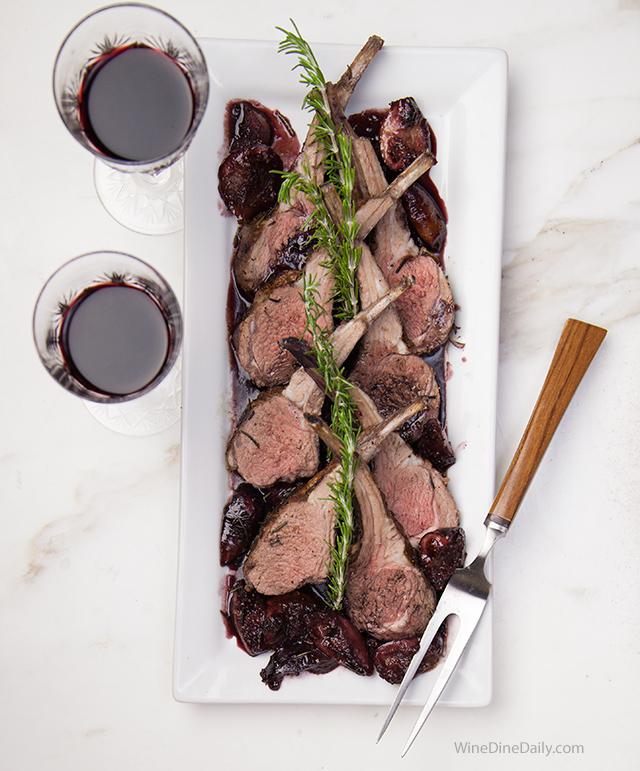 We paired it with a glorious bottle of Bridlewood Estate Syrah and mashed potatoes.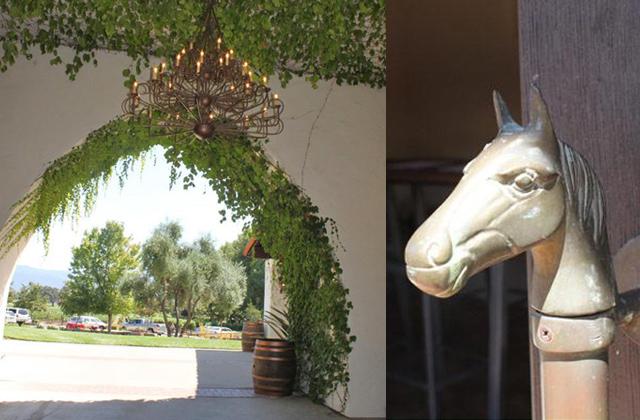 Thinking back to Bridlewood…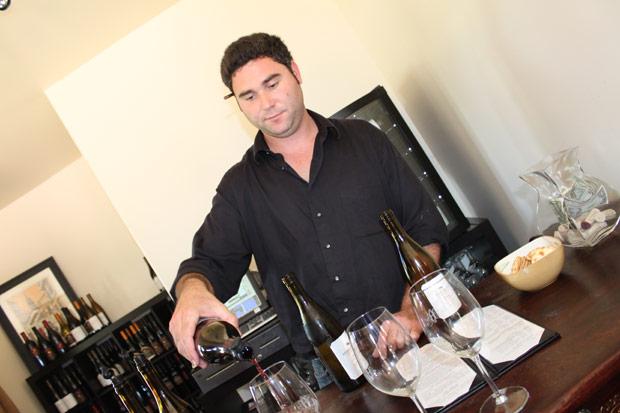 Wine in the members lounge.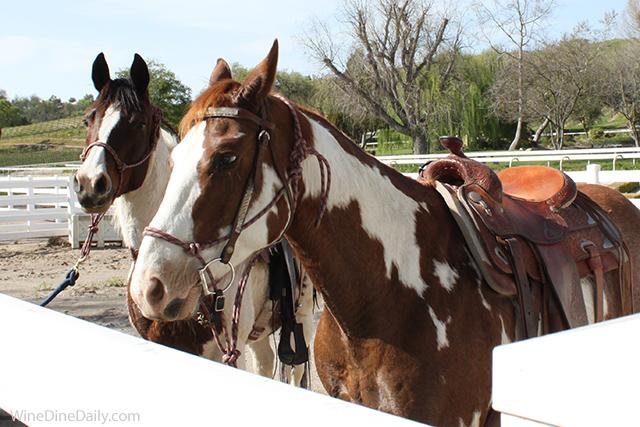 You can even visit by horse!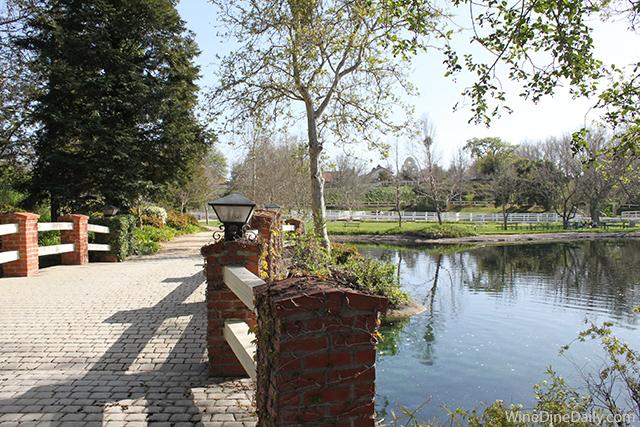 The serene lake on the estate.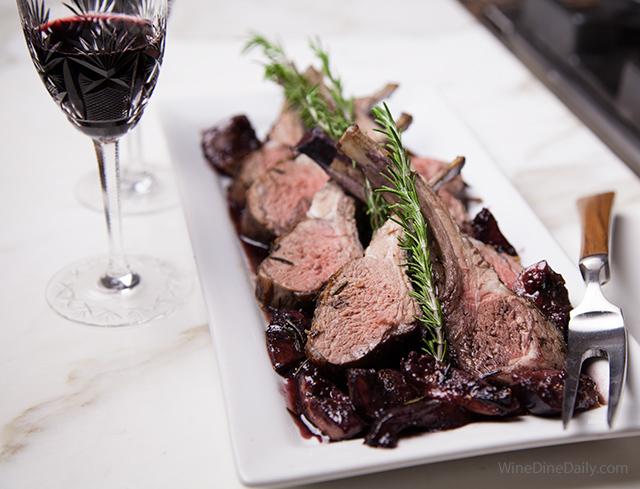 Can't wait to try this!
Herb Lamb in Fig Port Wine Sauce
Serves: 4
1 1/2 Pound Rack of Lamb – 8 pieces
2 Tbsp Olive Oil
Salt and freshly cracked Pepper
Fresh Rosemary and Thyme Sprigs
1 cup Port Wine
6 Fresh Figs – quarter
3/4 cup Chicken Broth
2 Tbsp Balsamic Vinegar
1 Tbsp Honey
1 Tbsp Butter
Preheat oven to 450 F
1  Rub lamb with half of the olive oil and season with salt and Pepper. Lay the rosemary and thyme sprigs on top and let it rest for a few minutes. Get it to room temperature.
2  Heat the remainder of the olive oil in an ovenproof saute pan over high heat. Gently place the lamb fat side down into the saute pan and sear until brown for about 5 minutes. Turn and cook the other side for about 2 minutes.
3  Gently pour around the lamb 1/2 cup of port and place the pan into the preheated oven.
4  Roast in the oven for about 15 to 18 minutes.
5  Remove from pan and transfer to a large plate and cover with aluminum foil and with a kitchen towel.
6  Add sliced figs, balsamic vinegar and honey, chicken stock and the remaining 1/2 cup Port to the saute pan and simmer vigorously over medium-high heat for about 5-8 min or until sauce thickens.
Stir in the butter and season with salt & pepper.
To serve slice the lamb at each rib into 8 slices. Spoon some mashed potatoes, rice or polenta middle of each serving plate and place to pieces of lamb on top and spoon the fig port wine sauce around it. Garnish with rosemary sprig.
Our Wine Pairing: Bridlewood Estate Syrah with sweet aromas of roses, violets and dark berries.
Wine Suggestions: The match made in heaven is typically a Pinot Noir, but an earthy Syrah or powerful Cabernet Sauvignon go well with this dish.
Enjoy the video tour of the Bridlewood Estate Winery while the lamb is in the oven,
and let us know what is your favorite lamb recipe!