Gioia Wine Review – Gioia Chardonnay
Judit and Corina taste Gioia Chardonnay from the Santa Barbara County made with love by Teri Love. The wine is made in honor of Teri's son Tyler. We were so touched by the story behind this wine that brought us to tears. Gioia Chardonnay has the color of sunshine in a glass or a golden meadow. Tropical citrus blossom and a hint of pineapple.

Crisp and clean, but also has a warm mellowness that engulfs you. A well balanced elegant exit with a little bit of caramel and a tiny bit of butter.
You can pair this Gioia Chardonnay with Crab Cakes or Rosemary Pork. Also great with Stilton cheese, pecans, walnuts, or warm apple pie and vanilla ice cream. Lean but curvaceous wine. Old world elegance with a modern twist like Scarlett Johansson.
The usual temperature for drinking white wine like Chardonnay is at 49 to 52 degrees Fahrenheit, but this one is better consumed at a slightly warmer temperature. We rate it a 4.5/4.45 out of 5.
Gioia Syrah
Judit and Corina taste Gioia Syrah. Gioia (Joy-ah) is a small boutique winery that is a collaboration between Teri Love and winemaker Jim Porter.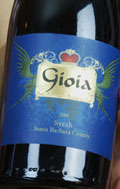 Gioia Syrah is from the Santa Ynez Valley. Ruby red color. Typical Syrah characteristics with a medley of peppers. Hints of mocha and chocolate on the nose. Flavors of plum and mocha like a plum cake or tart. Some hints of coffee on the finish. Beautiful legs and not over powering. Can be drunk on it's own or paired with a meal. Pair with a smokey cheese. We give it a 4.3/4.32 out of 5. It will just improve with age.
In Teri's words "Gioia means joy in Italian. The inspiration for Gioia was born from the joy my son Tyler brought and still brings to my life." ~ Salute! Teri Michele Love
Gioia wine is specially dedicated to Teri's son Tyler, who brought so much joy to her life and was tragically taken away too soon at age 22. The Gioia logo is very meaningful in that the wings represent Tyler's angel wings, the gold is since he was Teri's Golden Boy, and the heart is for the last name 'Love'. Tyler loved Italy and Gioia is the Italian word for joy.