A glossary of German Wine Terms that you could also call Deutsch Weinbezeichnungen.

German Wine Terms
Auslese

Auslese is the German word for Selection and refers to specially selected grapes that are hand picked and gently pressed.
Beerenauslese

Beerenauslese means 'Berry Selected' in German.
Anbaugebiet

Anbaugebiet is a German phrase for a quality wine growing region. Today there are 13 of these regions.
In 1971 the German wine Law was put into practice to ensure the proper classification and the Anbaugebiet or wine growing region has to be shown on the wine label. The German wine labels are quiet complex at first, however the information provided is very helpful and if you familiarize yourself with a few of the most known Anbaugebiet then you will be able identify the best wines for the area. The climate in Germany is fairly cold and the grapes often do not reach full ripeness. Each area has approved grape varietals just like the Appelations in the US. It is very helpful to know which area is the best for certain varietals, specially when you are choosing a bottle of wine from a certain region.
This should help you to find the best wines from the 13 Anbaugebiete:
Ahr – Pinot Noir – Blauer Portugieser and Spätburgunder it is a red wine paradise of Germany
Baden – mostly Pinot Noir or Spätburgunder and some Müller-Thurgau
Franken – white wine like Silvaner
Hessische Bergstrasse – white wines like Riesling and Müller-Thurgau
Mittelrhein – Riesling, Müller-Thurgau and a small ammount of Pinot Noir or Spätburgunder
Mosel-Saar-Ruwer – Riesling, Müller-Thurgau
Nahe – Riesling and Müller-Thurgau
Rheingau – Riesling, Spätburgunder and beautiful Late Harvest wines called Spätlese
Rheinhessen – mostly white wine like Sylvaner, eleganter Riesling – red wine Dornfelder
Pfalz – Largest Anbaugebiete wihite: Riesling, Chardonnay red: Spätburgunder, Merlot, Dornfelder
Württemberg – largest red wine region – Spätburgunder and Portugieser and Schwarzriesling
Prädikat

Qualitätswein mit Prädikat is German for the highest quality category.
Spätlese
Spätlese is a German term for late harvest.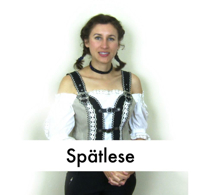 Qualitätswein Bestimmter Anbaugebiete

Qualitätswein bestimmter Anbaugebiete is German for Quality wine from a specific region.
Qualitätswein

Qualitätswein is German for 'Quality Wine'.