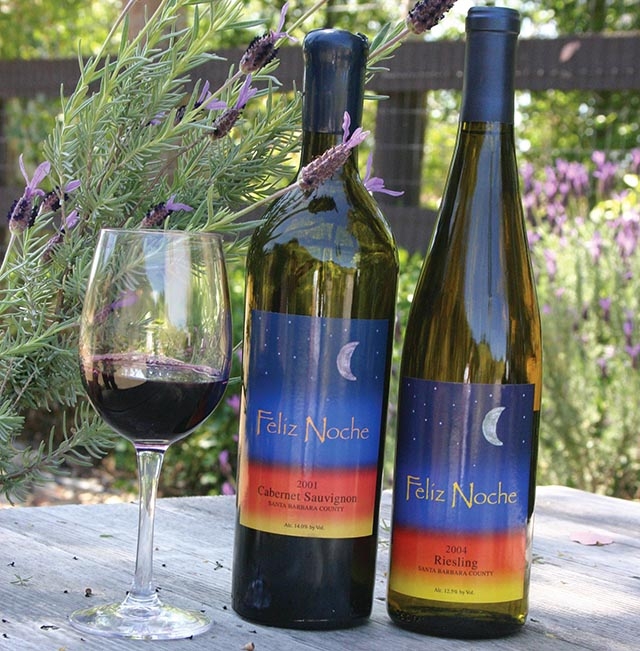 Feliz Noche Cellars
We drove up to Santa Ynez to meet Felipe again, the owner of Feliz Noche Cellars and pick up more of his easy drinking Riesling. Don Felipe as he known by many, graciously opend a bottle of his precious Cabernet Sauvignon for us to try and we sat by a picnic table under the shade of an oak tree and lwe started to chat with him about what inspired him while sipping the lush, velvety red wine. As may you know every wine and wine label has its own story, and we are always up for a good story. So here it goes, Cheers 🙂
Don Felipe works with several local vineyards, one of them being Khoeler Winery on flat land, Oak Savanah on the hill, and another hillside winery in Los Alamos. The first time we saw Felipe, he was energetically pouring wine at the Koehler tasting room. Every time that we have seen him he had a ready smile and boundless energy. The story about a man who had the perseverance and broke all the rules to create one of the best Cabernet Sauvignon's in the Valley.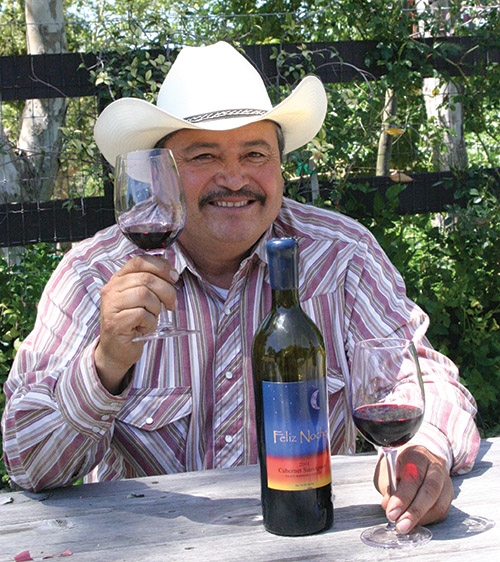 Felipe who has worked for Koehler Winery on Foxen Canyon Road in the Valley for many years, has had the strong urge to make his own label. You can see by the sparkle in his eyes that he loves the entire process of winemaking, which he learned by years of hands on experience as a winegrower. Felipe grows the grapes for Koehler and also works for Oak Savanah. His Feliz Noche Riesling is already known in the Valley, and can be found in local restaurants and wine tasting bars.
After many years of experimentation and against all odds, winegrower Felipe has created a high end Cabernet Sauvignon with the Feliz Noche label. Felipe calls it " a labor of love" since he was met with skeptisism when he began his quest for making the ultimate Cabernet Sauvignon. People told him he can't do it since the Valley is not ideal for producing Cabernets and it will cost too much to use the best grapes. Not only did Felipe make it a quest to use the best grapes, he also bought expensive French barrels. He thinks that the wine is "50% is the grapes and 50% the winemaker." Stubbornly Felipe held onto his strong belief and we could not be happier as we sip his ultra smooth Cabernet Sauvignon. The only thing that was missing was a box of dark chocolate.
The colorful labels were designed by Felipe and show a sunset and a crescent moon in a starry sky. On the back of the bottle you will find the true meaning of this wine in both Spanish, to reflect his heritage, and English "Este vino fue hecho para los buenos amigos, y disfruten esta Feliz Noche!" Which means "This wine is made for good friends, and for Happy Nights."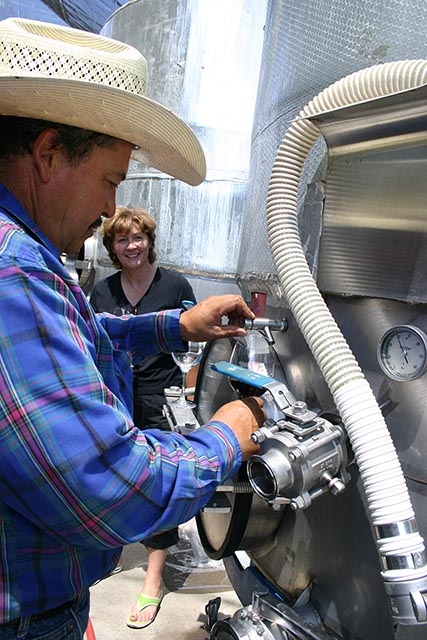 We even tried his upcoming Riesling from the tank and it really showed nice fruit and good acidity.
Here are Felipe's TASTING NOTES from his current relases along with our PAIRING SUGGESTIONS:
2007 Riesling: Refreshing, light gold in color with lemons, green apples and honeysuckle notes. Not overly sweet but a touch is sweeter than German Riesling with just 1.5% residual sugar balanced with crisp acidity and nice finish.  $15
We love to pair this crisp Riesling with Mexican or Asian cuisine and with salads, chicken and seafood dishes.
2004 Cabernet Sauvignon Aged for 3 years in barrel followed 1 year in the bottle. A deep garnet color with aromas of coffee, grilled bread with hints of cedar. Full bodied with silky soft tannins and ripe red fruit flavors and hints of roses and spice. Unfiltered, but does not have much left over sediment since it is cleaned every 4 month by Felipe. $95
We love this sexy smooth wine by itself or with roast meat, specially Judit's favorite – pepper steak.
2008 Pinot Noir A luscious, flowery nose bursts from the glass like a ripe berry, offering up hints of spice, raspberry and cherry. Sourced from Casa Cassara Vineyard, this is one of the silkiest, cleanest, most elegant Pinot Noirs to come from the Sta. Rita Hills AVA. From the first sip, the wine glides across the tongue with delightfully focused fruit, supple body and pleasing tannins that warm the palate. The finish reinforces the soft acidity of the wine with a lingering, succulent fruit.
If you are a Pinot lover you will truly appreciate the balanced flavors in this wine. One of our favorite pairing is or Pork au Vin. (pork with bacon, mushrooms and onions braised in Pinot Noir.
2006 Syrah Rich purple in color with a nose full of sage and mountain herbs, this mouthwatering wine has fruity notes of blackberry and raspberry that introduce a muscular structure with earthy notes. A highly focused wine, delectable and powerful, composed of succulent fruit, aromatic spice and marvelous piquancy. The grapes were sourced from the Koehler Estate Vineyard in Los Olivos and Black Oak Vineyard in Los Alamos, in Santa Barbara County. 91 Points, Wine Enthusiast Magazine. Released September 15, 2010
Have to admit that this wine pairs beautifully with Corina's Midnight Chocolate Mousse! You can also enjoy with lamb kebab or grilled meats as well.
In case you wish to visit Don Felipe here is his website: http://www.feliznochecellars.com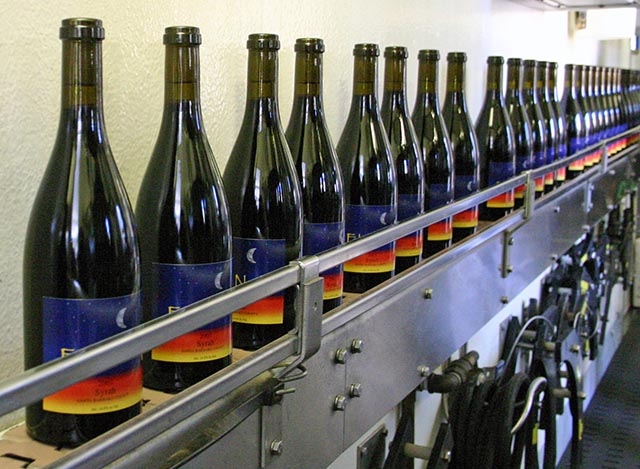 We returned on another day to watch the bottling process and all those bottles were filled with Feliz Noche Syrah. Watching so many bottles go by is making is thristy!