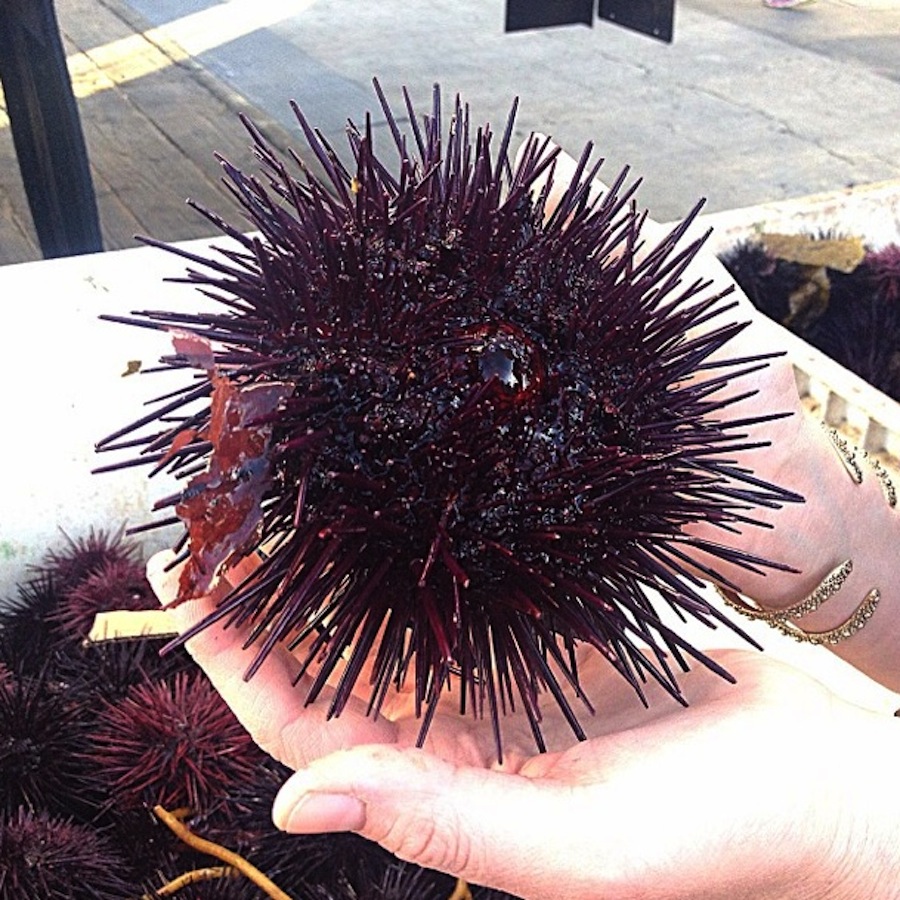 Daily Photo: Sea Urchin – fresh from the Pacific Ocean. These prickly little creatures are brought into the the Santa Barbara harbor by the hard working fishermen. They are a delicacy also known as Uni and are best served fresh. Don't try petting these sea urchins at home! Even though they look adorable, they have very sharp spines.
Here is a little info if you would like to know more about the Santa Barbara sea urchins. They are wild caught live by divers close to the Channel Islands. Whenever we are on a relaxing walk in the harbor we often see the fishermen bringing this precious cargo in and hoisting them with nets into large bins.
Each urchin cost close to $10 and has about 5 piece of roe inside. You can also purchase just the uni, or roe,  for $9 for 1.4 ounces.  This is perfect for making sushi and is quite popular in Japan.
Sea urchin can be used in many dishes and the texture makes a very creamy pasta dressing. You can enjoy them cooked or eat them simply raw with a nice crusty baguette and a crisp glass of Sauvignon Blanc.
Sea urchins, the hedgehogs of the sea, are closely related to sand dollars, which you can find scattered on the beach shores at certain times of the season. They come in colors ranging from green to black to purple and the local variety are generally a deep purple or red.