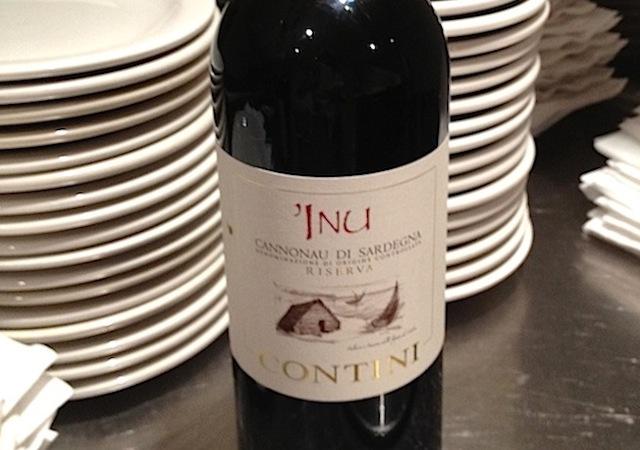 We are so glad that we can share with you another fabulous food friendly wine for your Holiday repertoire and the good news is, it's under $20. Last Thursday evening we visited our favorite restaurant Andersen's Restaurant & Bakery in Santa Barbara. The air was laced with crisp autumn chill and we were so looking forward to some hearty beef or pot roast and for some duck. We got our wish and even more, the pot roast was mouthwatering and so tender that you could have cut it with the spoon.
The Scandinavian duck as always was roasted to perfection, the way we love it: tender, juicy, lean and drunk with spices. Now you asking us why would we tell you all about these lovely dishes and not about the wine first, well so that you know that is how it came about. First we enjoyed a glass of Petite Syrah from Michael David winery, Lodi which paired nicely with our dinner, and then Mrs. Andersen brought this bottle of 2007 Contini 'Inu Cannonau di Sardegna Riserva to table to try… well the rest is one happy, delicious memory.
This full-bodied wine had smooth rich berry and spice character, similar to a Zinfandel from California and worked so harmoniously with the flavors and texture of the pot roast and duck that we both got really excited and wanted quickly tell you about. Made from 100% Cannonau grapes… also known as Grenache in France or Garnacha in Spain… which is a red-grape variety cultivated in the eastern side of Sardinia's, Cannonau di Sardegna wine DOC ("Controlled designation of origin").
Now to our wine tasting. Contini 'Inu' Cannonau di Sardegna Great Holiday Wine
Wine: 2007 Contini 'Inu Cannonau di Sardegna Riserva
Region: Sardinia/Sardegnapot
Winery: Cannonau di Sardegna
Contini Grape: Cannonau also known as Grenache in France
Color: Rich garnet color Nose: Sweet ripe black cherry and spicy aromas with a hint of oak and violets.
Taste: Let it open a little! The full bouquet of sweet black cherry, pepper, spice, chocolate and licorice are well balanced. Smooth tannins and prolonged lively finish.
Pairing suggestions: Think on Thanksgiving Turkey – Braised or Roasted meats and we can't wait to try it with some dark Chocolate Dessert
J Pairing: Scandinavian Duck
C Pairing: Pot Roast
J & C Points: 4.6 of 4.5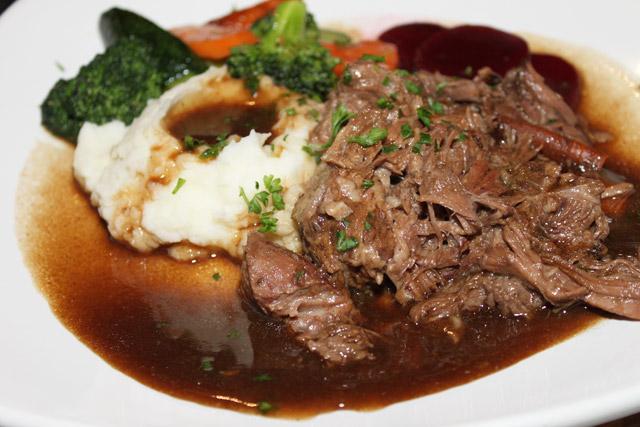 Here is a up close photo of Corinas Pot Roast.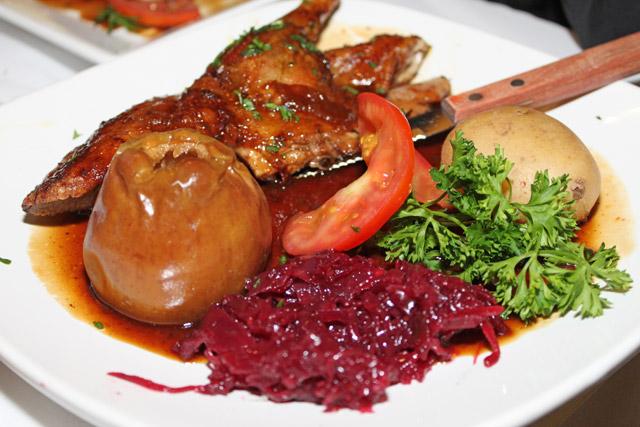 This Duck was like a holiday feast, all juicy and flavorful with the baked apple and red cabbage and oh boy the port wine reduction was absolutely divine!
You can find Contini 'Inu Cannonau di Sardegna Riserva online on KLWines.com and Amazon.com