Chocolate Silk Fudge
We got something silky smooth and delicious in the mail today. A box of fudge just arrived and we will be trying them with wine. This fudge came from the Black Hills of South Dakota from Silkfudge where you can order fudge online. Angela and her husband Scott makes 18 different fudge variations.
We will taste four decadent fudge today, the Chubby Bunny Fudge, Toffee Chip, Peanut Butter, and Dark Chocolate Fudge and pair them with white wine and red wine, a Sauvignon Blanc and a Cuvee that is a red blend of Syrah, Malbec and Petit Verdot.
We start with Chubby Bunny Fudge (don't you just love the name) with white chocolate chips, milk chocolate chunks, marshmallows and cashews, almost like a rocky road.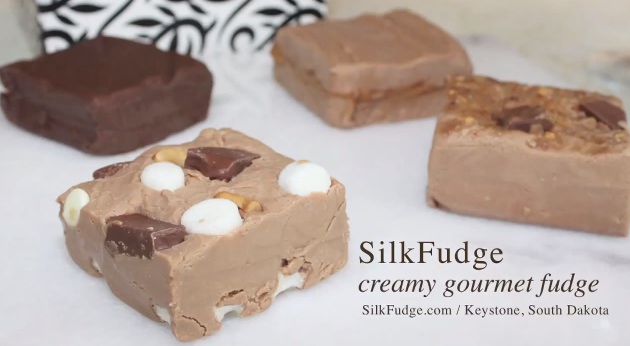 Judit: It is very buttery and silky
Corina: Like the chunks it is not too many so you can taste the fudge, very satisfying.
J: It is not too sweet
As to wine pairing we choose a sweeter Sauvignon Blanc with minerality and was a pretty good match. The marshmallows play really well with this Sauvignon Blanc.
We also paired this wine with the Toffee Fudge with chocolate chunks.
J: Like the toastiness of this fudge and I can visualize well with a creamy Chardonnay
C: Or a Sparkling wine with almond flavors
The last one to pair with Sauvignon Blanc is the Peanut Fudge with a peanut butter layer in the middle.
C: You can pair this peanut butter fudge with a Muscat wine too
J: I really like it with this Sauvignon Blanc, because all this Fudge is not too sweet
C: All three goes well even mostly you get recommended Dessert wines with chocolate
Now we will taste the Dark Chocolate Fudge with a Red Blend of Syrah, Malbec and Petit Verdot.
J: MMM it is beautiful, you can taste the cocoa and the sugar is just the right amount
C: It has a creaminess like a mousse
J: Love it, just the perfect balance. I was really worried that the fudge will be too sweet for the wine, and I was thinking maybe we should have chosen a Port. Of course Port would be wonderful with this Fudge, but the Red Blend goes beautifully too.
Thank you for joining us on this sweet sensational silky fudge tasting!