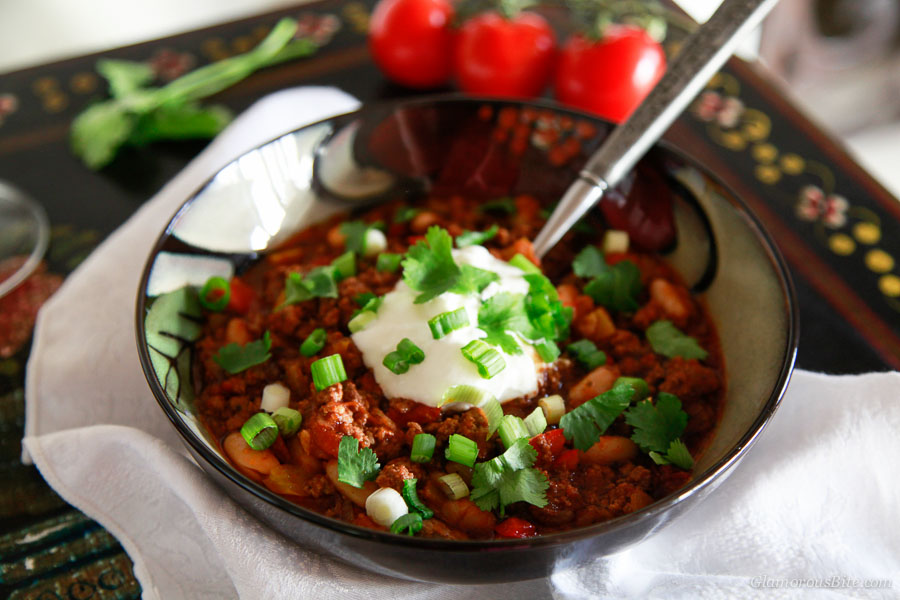 There is always a good time for big pot of of steaming chili! Today was a little cloudy and if we may say (especially for you on the East Coast) a little nippy in the morning, and by nippy we mean that it was around mid 55 degrees. For us winter can mean warmer days than even in summer and so we take any change of a slightly cooler day to cook something warm and spicy like a Chicken Chili with Beer and enjoy it with a glass of Firestone Walker 805 Beer brewed right here in Santa Barbara.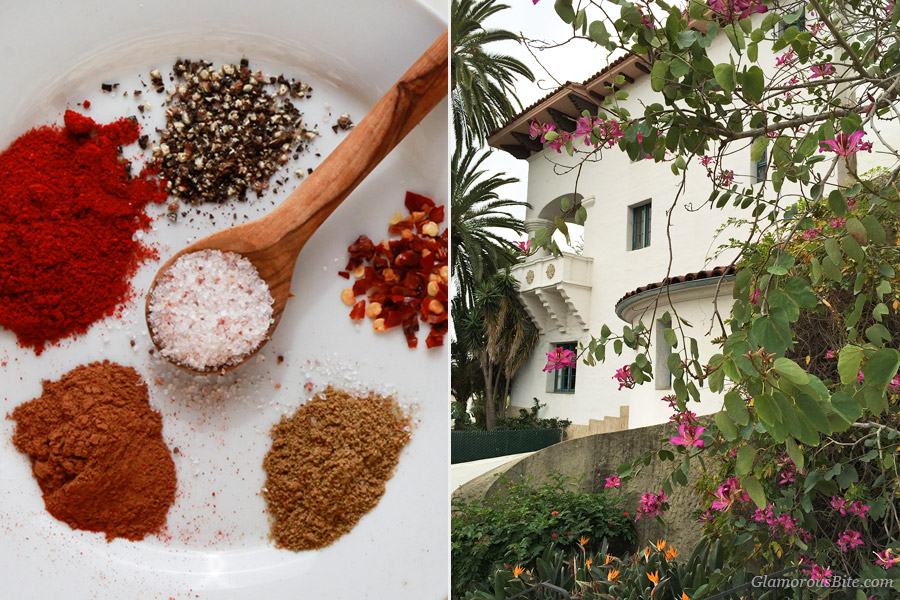 This toasty bowl of comfort is also just what you need for the Super Bowl weekend if you are watching the game or just enjoying a get together with friends. It is so easy to make this Chicken Chili with Beer recipe and you can vary the flavors according to taste. We like to add vibrant tomatoes, red and yellow bell peppers, sweet red onions, garlic, chicken, beans and a myriad of spices like paprika, cumin, chili flakes, pepper and Himalayan salt. We also add a little beer to the ground chicken and if you like to make this a vegetarian version then just omit the chicken and add more bell peppers beans. To decorate we add a dollop of Greek yogurt our sour cream and cut up a few crisp green onions and fresh cilantro to sprinkle over the top.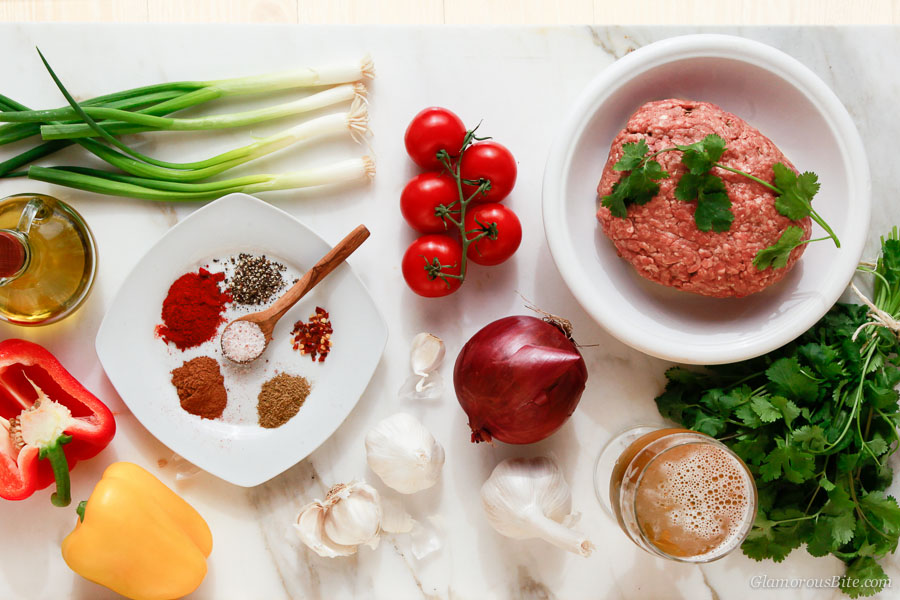 This healthy bowl of satisfying goodness has 36g of protein and only 29g of Net Carbs. The bell peppers give you a great does of Vitamin C and are rich in antioxidants. White beans are also good for you, they have a low glycemic index, which means they assist in weight loss by discouraging fat storage.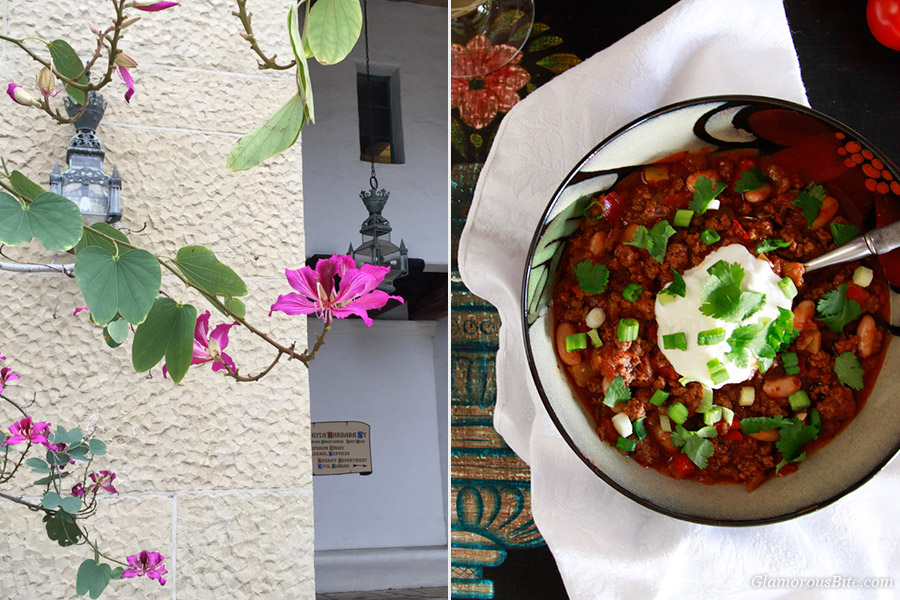 During the winter months it's all about comforting meals slowly cooked on the stove stop or braised in the oven to perfection and shared with loved once cozying up around the table. When we lived in Europe and returned home from being outdoors in the clutches of a gray cold winter afternoon, which made our cheeks and nose bright red, it was always hearth warming to have a steaming bowl of soup or chili to defrost your senses.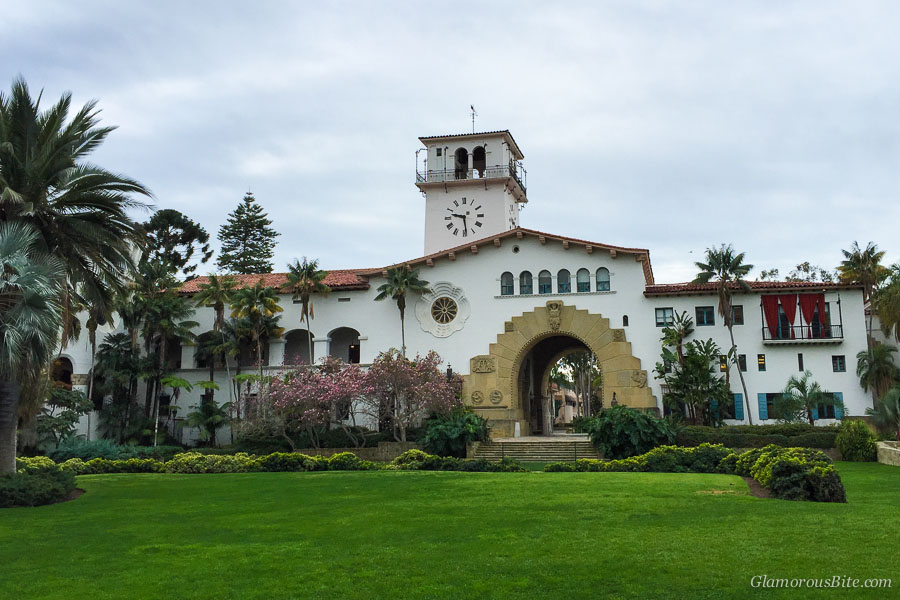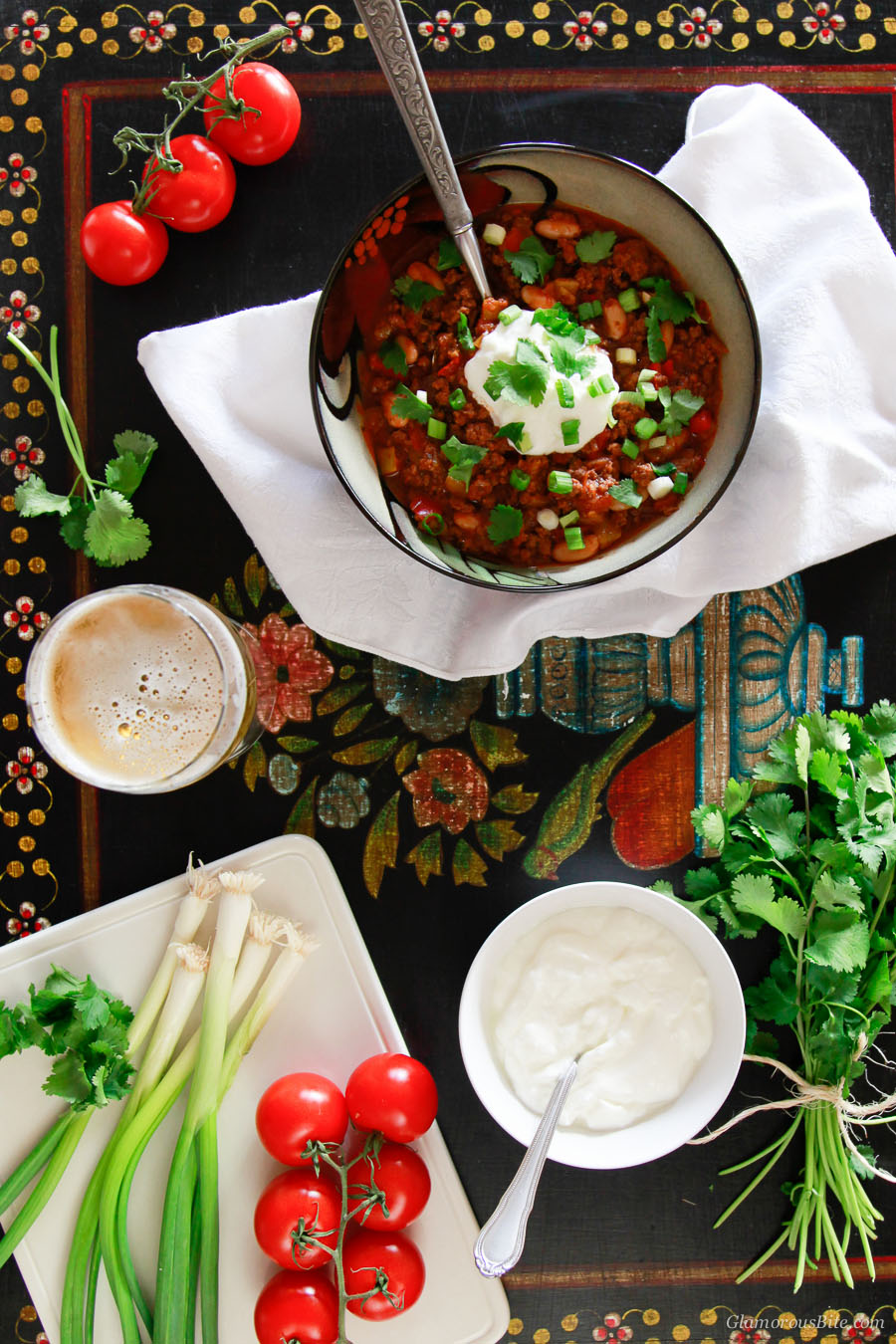 The weather in Southern California is more like an Endless Summer with a few nippy days sprinkled in. It is not uncommon to have over 80 degrees in December or January so we always keep our shorts and flip flops ready. We went for a walk yesterday around town, visiting the historic Courthouse, and could not help admiring the beautiful pink flowers that framed this landmark in abundance. Even in these extreme 'winter' temperatures we still like to make a few winter foods like this Chicken Chili with Beer with a little cooling yogurt and a glass of 805 Beer. It's the perfect one bowl meal for any type of day and you can make a large amount to share. We always think the we will have leftovers but then somehow get company whenever there is chili being cooked and it disappears rather quickly.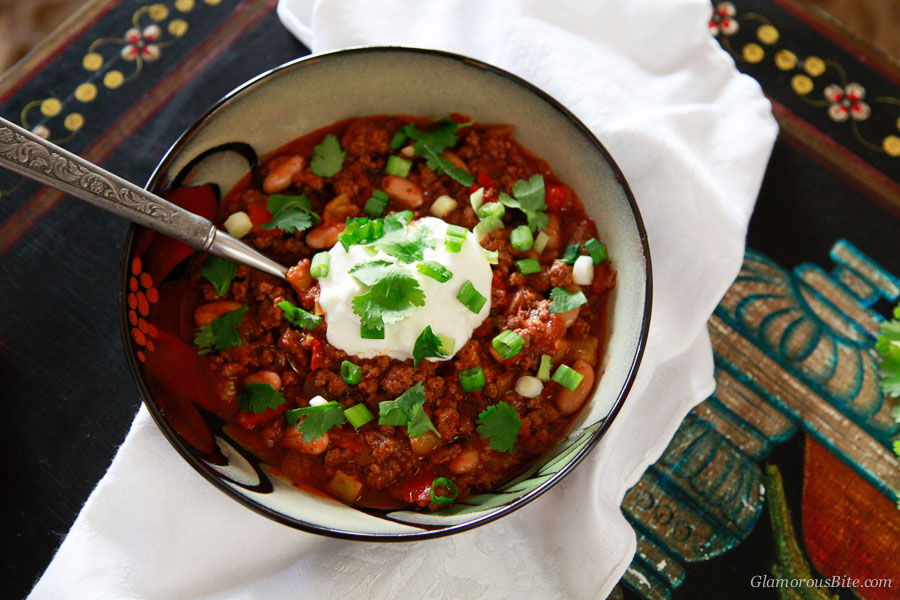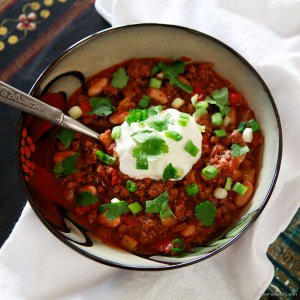 Chicken Chili with Beer
Ingredients
2

Tbsp

Olive Oil

2

Medium Red Onions - finely chopped

5

Garlic Cloves - minced

1

Red Bell Pepper - seeded and finely chopped

1

Yellow Bell Pepper - seeded and finely chopped

2

Lb

Ground Chicken Thigh Meat

1

Tsp

Himalayan Salt

1/4

Tsp

Black Pepper - freshly ground

2

Tsp

Hungarian Paprika Powder - or any other red paprika powder

2

Tsp

Cumin

2

Tsp

Chili Powder

Pepper Flakes

1

cup

805 Beer - room temperature

1 19-

ounce

can Crushed Tomato

5

Fresh Tomatoes - cut into small pieces

2 14-

ounce

can White Cannellini Beans
Topping:
6

Tbsp

Greek Yoghurt

1/2

Bunch of Fresh Cilantro - tear into pieces

4

Green Onions - finely chopped
Instructions
In a large heavy pot heat 1 Tablespoon of olive oil over medium high heat. Add the chopped onions and sauté for about 3 minutes. Add the garlic and bell peppers and continue to sauté for about 3 mote minutes.

Stir in the remainder of the olive oil and the ground chicken. With a large wooden spoon break the ground chicken into small crumbs and sauté it for about 5 minutes.

Sprinkle in the Himalayan salt, pepper, Hungarian paprika, chili powder, cumin and pepper flakes. Stir well together and gently pour in the beer.

Add the crushed and chopped tomatoes, beans cover the pot and simmer for about 20 minutes, stirring occasionally. Adjust seasoning if you like it more hot!

Serve in small bowls topped with a spoonful of Greek Yoghurt and sprinkled with cilantro and green onions.
Chicken Chili with Beer Nutrition Facts:
Calories 383 • Fat 11 g • Saturated Fat 3 g • Carbs 38 g • Fiber 9 g • Sugars 8 g
Diet: Diabetic Diet, Refined Sugar Free, Light
Glamorous Pairing: Firestone Walker 805 American Blond Ale Beer from California. Medium-light bodied with caramel flavors, nuances of wild honey, and light hop notes. It's a slightly sweeter brew that pairs perfectly with a Chicken Chili with Beer or grilled chicken, turkey, and even seafood. Any blond ale or light beer will do.