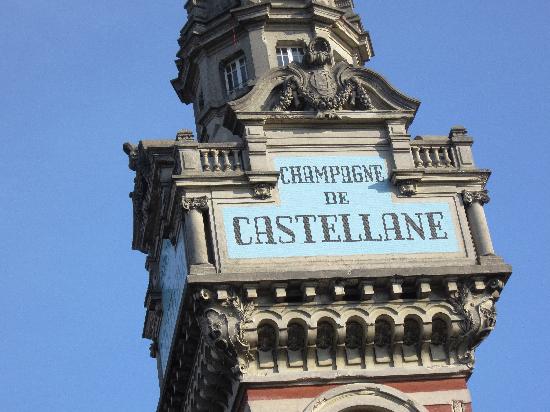 The champagne is fabulous and the museum tour is one of the best at Champagne De Castellane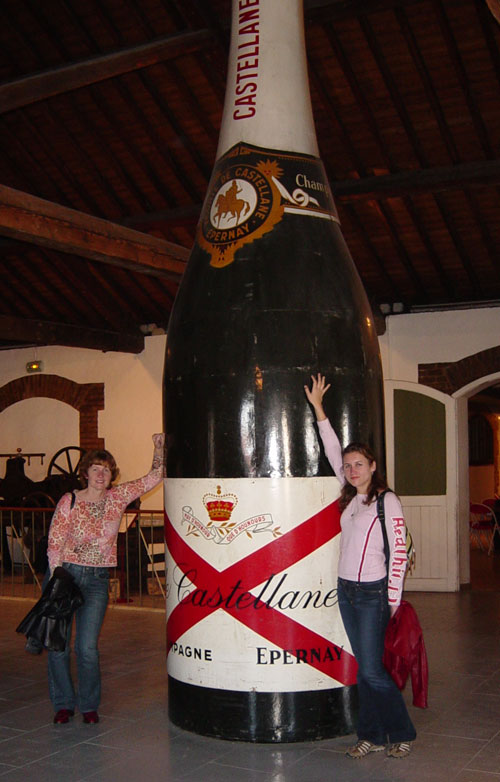 Now this is a Champagne bottle we could truly enjoy to popping it!
One of the oldest families in France, Champagne De Castellane, whose origins date back to the tenth century with the Counts of Provence and Arles.
Vicomte De Castellane Florens sets his house in Epernay In 1895. He chose as an emblem of its brand, the Cross of St. Andrew in red, in honor to the standard of the oldest regiment of Champagne.
Champagne De Castellane  was established in Epernay, capital of Champagne, in an imposing building listed as a historic monument and becomes quickly the champagne celebration of the Belle Epoque of Paris. Its house at one site all the technical facilities of the House: the hundred tanks welcoming the must of grapes, the 9 kilometers of cellars where wines are stored and the sophisticated packaging lines.
Each year, tens of thousands of visitors from France and elsewhere admire the cellars and the 66 meters high tower, after 237 steps you enjoy a unique panorama from the top over Epernay and the vineyards of the Marne Valley.
[Pin It] What to Taste
Le Brut Millésime 1998 –
Only in excellent year to produce Vintage De Castellane, and is choosen from a careful selection of the best grapes of the vintage, like in 1998.
Blend of Pinot Noir (majority) and Chardonnay from the best vintages of the Champagne, he was raised more than 4 years in the cellar.
Its elegance, its structure and its rich flavor make it a great wine for dinner, which will highlight the noblest fish or white meat finest.
The vintage Commodore is for epicureans in search of their great champagne, for pleasure or to please.
La Cuvée Commodore –
Born with the 1961 vintage, vintage Commodore exclusively. This wine is the result of a blend of fine wines from Chardonnay and Pinot Noir vinified and aged in the style of Champagne De Castellane.
Stored in our cellar for 5 to 10 years depending on the vintage, this is an exceptional champagne for an aperitif, a festive meal during which he will honor the finest dishes, or to accompany the sound values of the kitchen French such as prime rib or a tarte tatin.
The feminine curves and reflections of his dark and mysterious bottle emphasize the elegance of this unique champagne.
Cuvée Commodore is currently proposed in his 1991 vintage.
Address
Street: 63, Avenue de Champagne
City: 51200 EPERNAY
Country: France
Contact
Telephone: 03 26 51 19 19
E-Mail: visites@castellane.com
Tasting Room Hours
De Castellane Cellars:
Open daily from 10 to 12 hours and 14 to 18 hours – From April to late December,
by appointment from January to March.
Visit in French, English, German, Dutch and Italian, followed by a tasting
www.castellane.com