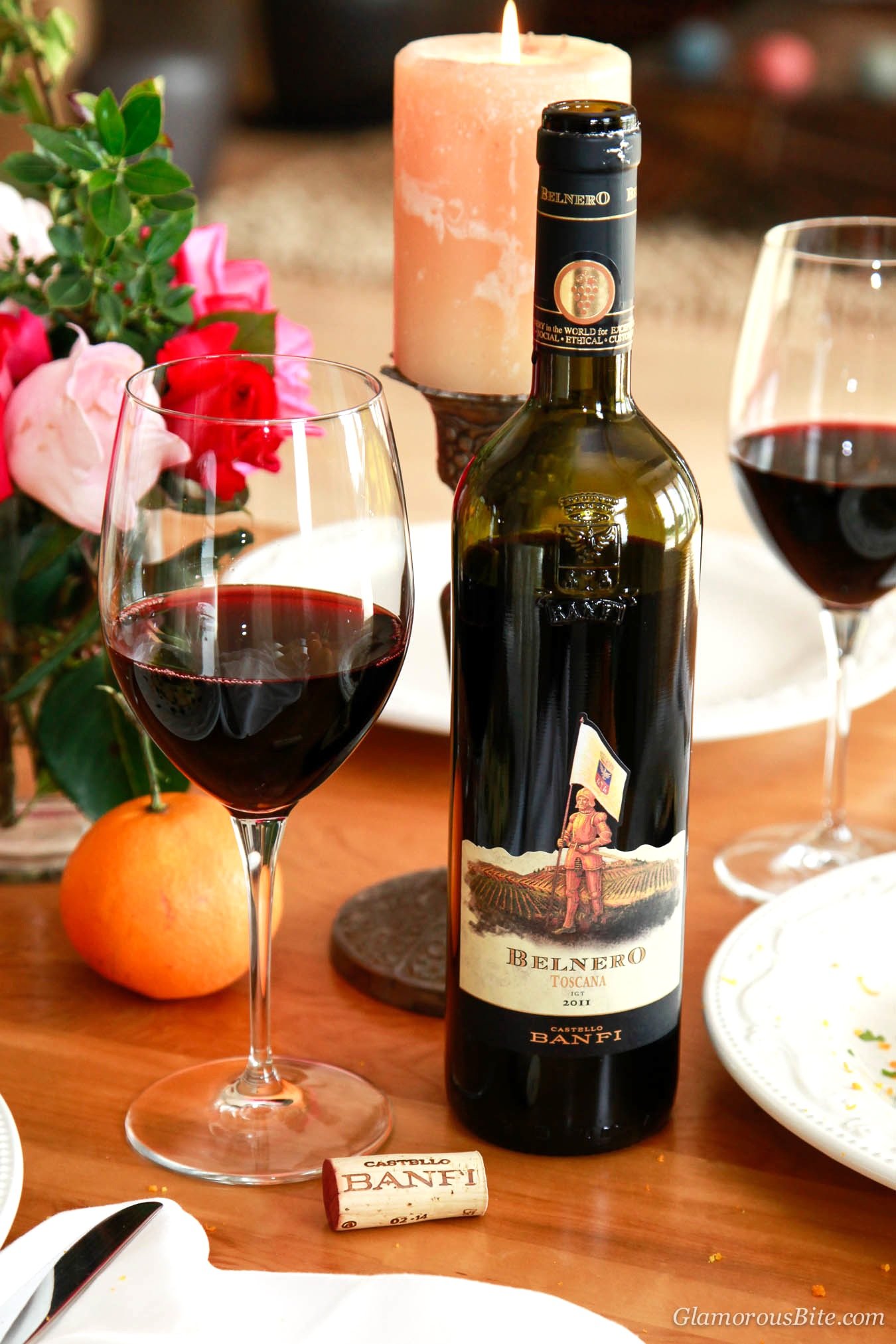 When we are looking for something comforting and a no fussy Italian red wine to pair with our slow cooked dinner, then the Castello Banfi Belnero Toscana is just right with grilled meats, aged cheeses, and even some pastas. We love the simplicity of this red blend and it's versatility for food pairings. When you open the bottle the aromas of berries and vanilla transport you to a Tuscan hillside on a sunny afternoon, yet before opening the bottle you must take some time to admire the label. It is quite unique with a knight in shinning armor raising a flag over the vineyard studded hills of Tuscany and lets you reflect on the ancient history of the region.
This Banfi Belnero red blend of Sangiovese, Cabernet Sauvignon and Merlot is a beautiful expression of Montalcino terroir with it's sophisticated flavors and develops a more robust bouquet as it opens in the glass. Aromas of vanilla, toffee and deep fruit first greet you then you get a hint of cocoa and plum. On the first sip it was a little shy, but once it opened up the flavors became more pronounced with plum, cherry, tobacco and leather.

We made a video (above) for the Banfi Belnero and we hope you enjoy it with a glass of wine.
Mellow notes of licorice, tobacco and smoke lingered on the finish. Judit also tasted orange blossom and Corina cranberry, yet we couldn't quite agree on these two flavors. We each taste something different and with wine tasting it is the fun part to be able to have your own personal experience come into play and a smell or taste may even evoke a special memory, hopefully a good one, that makes tasting wine so much more than simply drinking a beverage.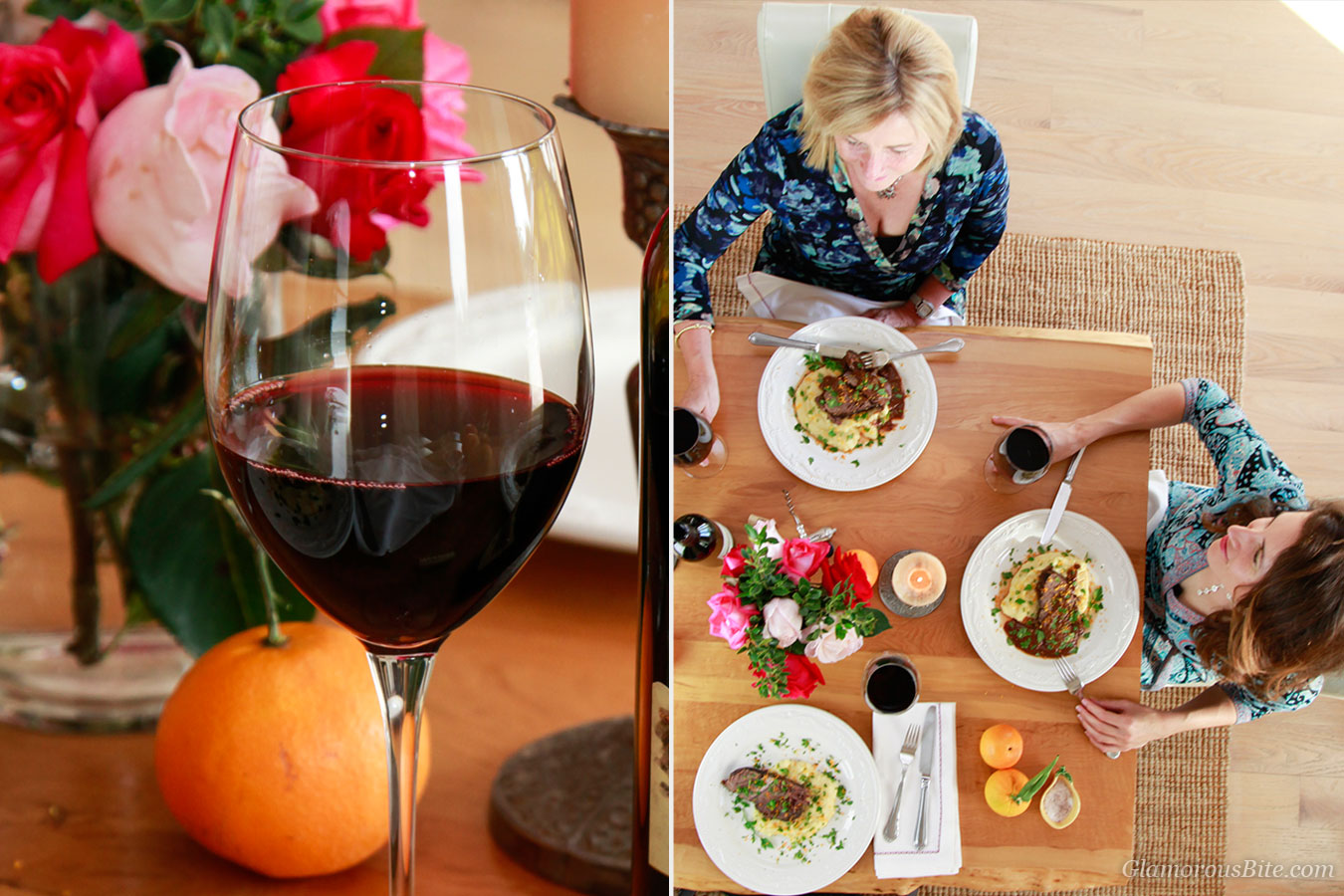 Smooth and velvety, it was a pleasure to pair the Castello Banfi Belnero Toscana 2011 with our Wine Braised Beef Shoulder with Root Vegetables. The flavors danced in your mouth from the tender succulent meat, creamy root vegetable sauce and deep fruity Banfi Belnero red wine. The orange zest sprinkled on top of the dish complimented the orange blossom flavors Judit found in the wine.
Banfi has been making wines for over 30 years and was founded in 1978 by the Italian-American brothers John and Harry Mariani. Working together with enologist Ezio Rivella, they developed a unique portfolio of wines and tradition. You can find the lovely Castello Banfi on the southern slopes of Montalcino between the Orcia and Ombrone rivers. The grapes of Montalcino languish in abundant sunshine and gently sway in the breezes while waiting for the autumnal rains. Castello Banfi Belnero Toscana wine comes form the Estate vineyards from the hillside that has an altitude of 170 to 230 meters above sea level and is rich in stone and clay content. These vineyards, which mostly consist of Sangiovese grapes, share the Castello Banfi property with vibrant olive groves, precious plum trees, truffle stands, and forest. The grapes are first fermented in Horizon hybrid stainless steel and wood tanks then in French oak barrique and finally in the bottle. Thank you Banfi for sharing your luscious Belnero with us. You can drink this wine now or keep it for several years, we think it would be even better if we had a little more patience and waited until next year to open it.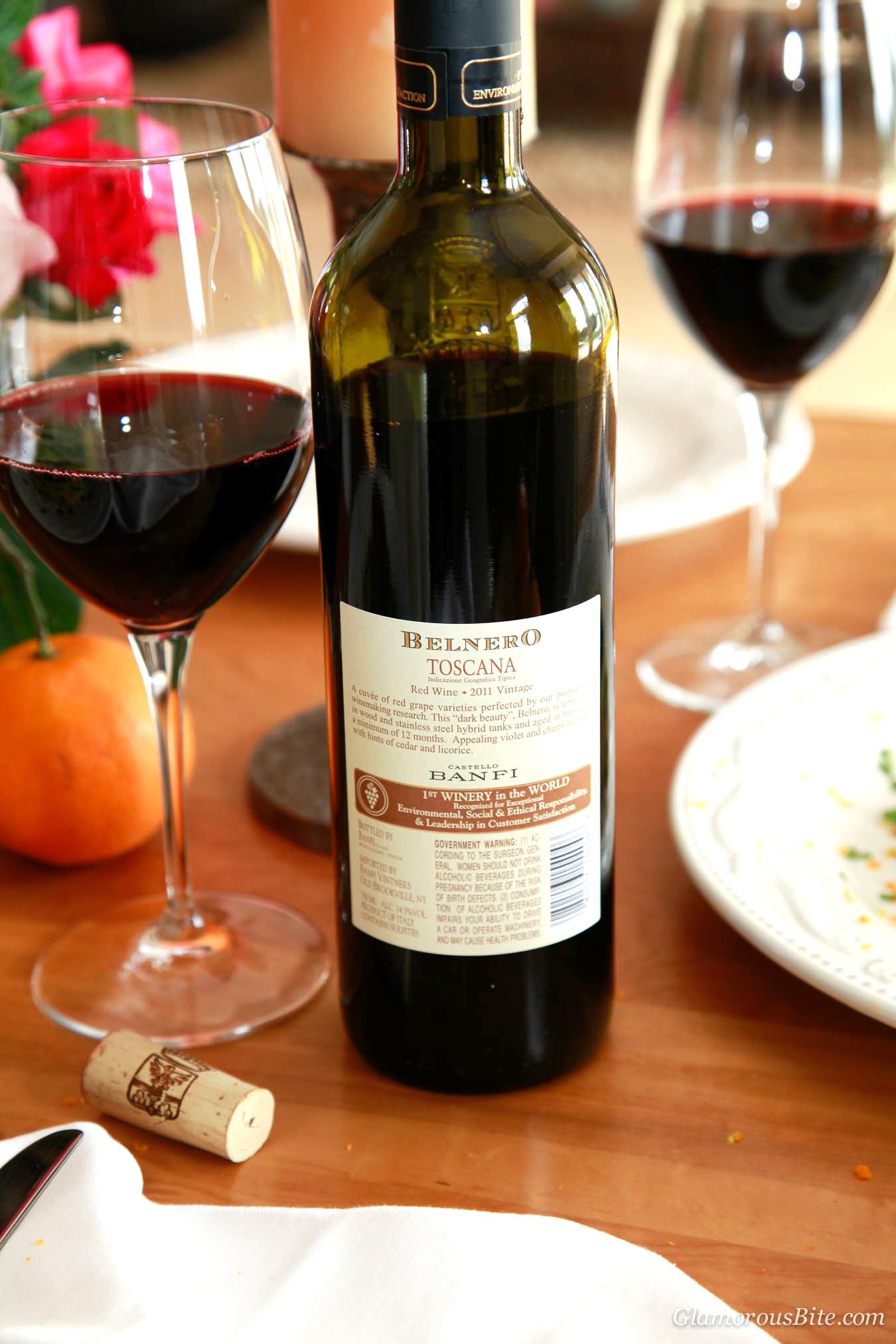 Wine: Castello Banfi Belnero Toscana IGT 2011
Region: Montalcino, Tuscany, Italy
Winery: Castello Banfi
Varietal: Sangiovese, Cabernet Sauvignon and Merlot
Color: A red-purple mauve red
Nose: Deep berries, cherry, vanilla, toffee
Taste: Plum, cherry, cranberry, vanilla, cocoa, coffee, tobacco, orange blossom, leather, well balanced, smooth and velvety. Licorice, tobacco, smoke on finish.
Body: Medium
Where to buy: www.banfiwines.com
Price: $20 to $25
J & C Points: 4.8 and 4.85 of 5
Pairing Suggestions: Grilled and braised meats, cheese, some pastas.
Stuffed Spaghetti Squash
New York Steak
Wine Braised Beef Shoulder with Root Vegetables