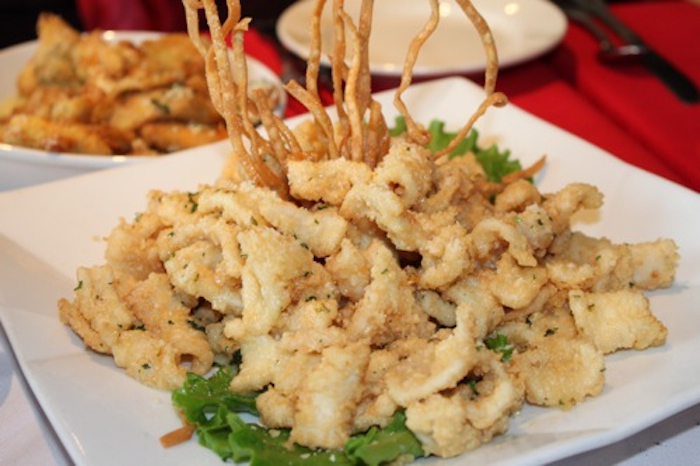 You can taste the delicious Mediterranean flavors in this simple Calamari recipe. We used Grape Seed oil instead of olive oil to enjoy even more the fresh salty seafood flavor of the calamari.  Sometimes olive oil can a little overpower the delicate taste.
We love to use Grape Seed Oil and here are some interesting facts for you:
Whether as a salad dressing, for baking, grilling, or frying, GRAPE SEED OIL retains the original flavor of foods. It imparts no after-taste, permitting the full flavor of the dish to be appreciated. As a great gourmet alternative to olive oil, GRAPE SEED OIL serves to enhance the natural flavor of foods & reveals a subtle pleasant buttery flavor.
It is one of the most stable cooking oils known. The first thing you notice when cooking with GRAPE SEED oil is that it will not smoke, burn or splatter like other cooking oils. This is due to its high smoke point, approximately 320° F. One can cook a meal and amazingly start preparing another dish in the same oil without deterioration or "off flavors". GRAPE SEED OIL is excellent for frying because of its remarkable heat stability and the desirable butter taste imparted to fried foods. Potentially hazardous breakdown products from excessive frying of foods in oil are avoided with GRAPE SEED OIL. The unique properties of GRAPE SEED OIL, based on its fatty acid composition and antioxidant content, make it an extremely stable, durable oil. Normal cooking usually requires only about one half to one third quantity of GRAPE SEED OIL to achieve the same results as with most other cooking oils. This spares the amount of oil needed in foods and makes using GRAPE SEED OIL more economical than ordinary cooking oils. Importantly, the consumption of total oil (fats) in meals is reduced. from www.grapeseedoilcorp.com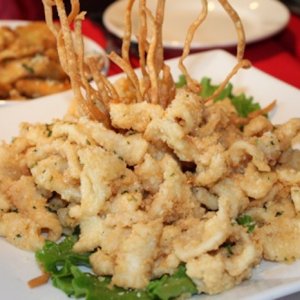 Calamari ala Tene Shake
Ingredients
3

cups

Grape Seed Oil - for deep-frying

1

LP Squid - cleaned and cut into rings

1

cup

Flour

1

tsp

Salt

1/2

tsp

White Pepper -freshly ground

2

Meyer Lemons - cut into vedges
Instructions
Pour enough Vegetable or Grape Seed oil into a heavy large saucepan to reach the depth to 3 inches. Heat over medium high heat to 350 degrees F.

In a large bowl mix the flour, salt, and white pepper. Working in small batches, toss the calamari rings into the flour mixture to coat really well.

Carefully add the calamari to the hot oil and fry until crisp and pale golden, about 1 minute per small batch. Using a slotted spoon, shake of the excess oil and transfer the fried calamari to a paper-towel lined plate to drain.

Serve immediately with lemon wedges.

PERFECT PAIRING: Brander Sauvignon Blanc from the Santa Ynez Valley Winemaker notes: In making this cuvée, we blended our estate fruit with the best Sauvignon Blanc grown in other vineyards in the Los Olivos area. Crisp and dry, with floral aromas and true varietal expression, this wine combines cold tank fermentation with a small portion of barrel fermentation. With each vintage we celebrate our commitment to making the best Sauvignon Blanc in California. Cheers:)
Notes
This recipe was inspired by Tene Shake owner of what was once the "Lattitudes" Restaurant in Monterey, California
Nutrition