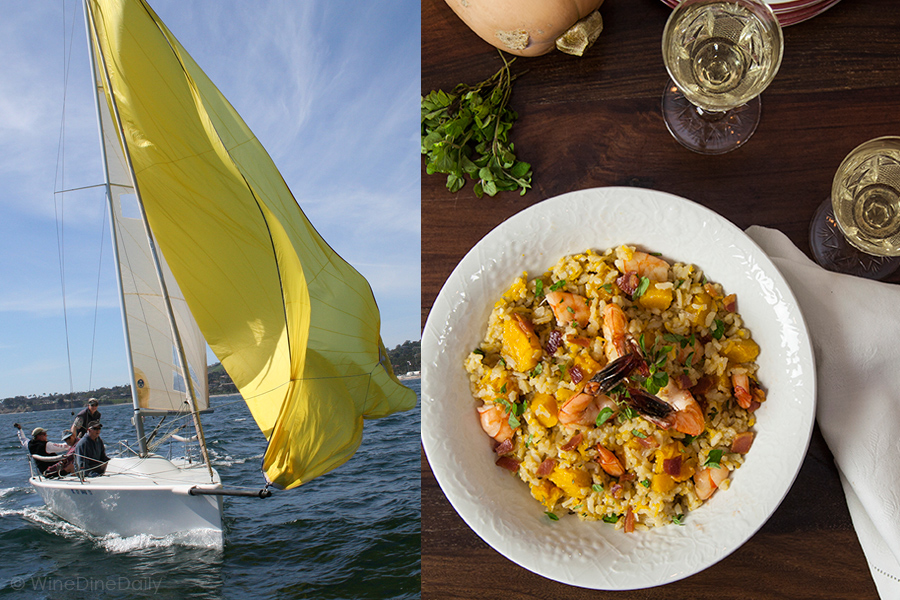 It's good to have Sundays in Santa Barbara when the sun is out and the breeze plays across the waves and you sit in your backyard and enjoy a lovely early dinner risotto with shrimp. Sundays are full of hustle and bustle with many tourists descending upon the town with cameras and bicycles, overjoyed with all the activity Santa Barbara has to offer.
Those merry days are meant for strolling at the harbor, surfing and sailing in the ocean, jogging on the beach sand, having brunch downtown, and contemplating what to make for a relaxing dinner. It truly feels like the Riviera in Italy or France on those days and that's why it is called the American Riviera. We wanted something with seafood, but a little more hearty to replenish from a day outdoors. How about a Butternut Squash Risotto with Shrimp and Pancetta ?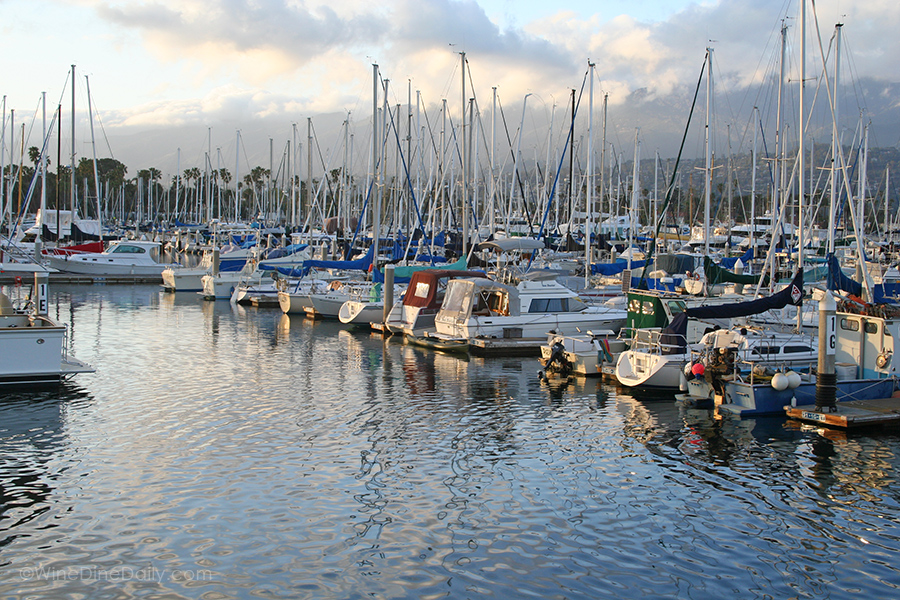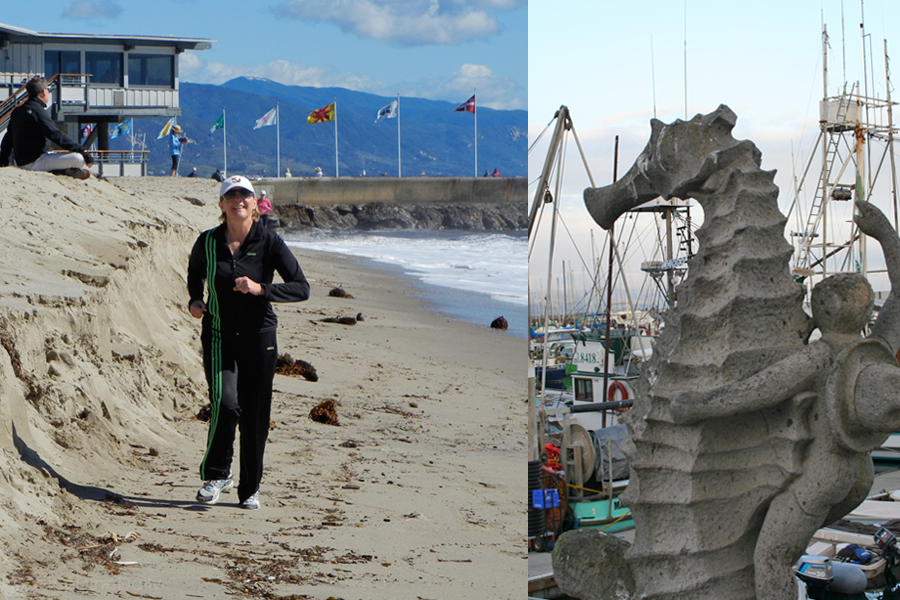 The day was just gloriously fun and we each had different plans. Judit jogged on West Beach and that made her quite hungry from the smells wafting form restaurants nearby. She picked up fresh shrimp at the local seafood store in the harbor and pancetta from Gelson's market. Corina joined a regatta and sailed along the coast of scenic Santa Barbara. After the regatta she stopped at Lazy Acres for rice and a few more ingredients. We can't forget the wine! An ample dose of Chardonnay takes the risotto to a new level of wine country goodness. We picked up a Santa Barbara Winery Reserve Chardonnay to have with this delicious rice dish.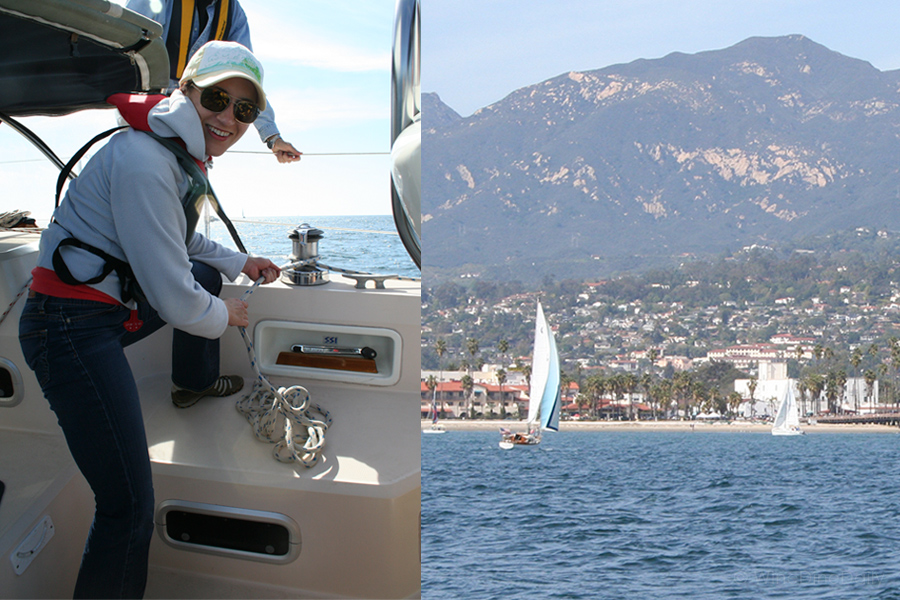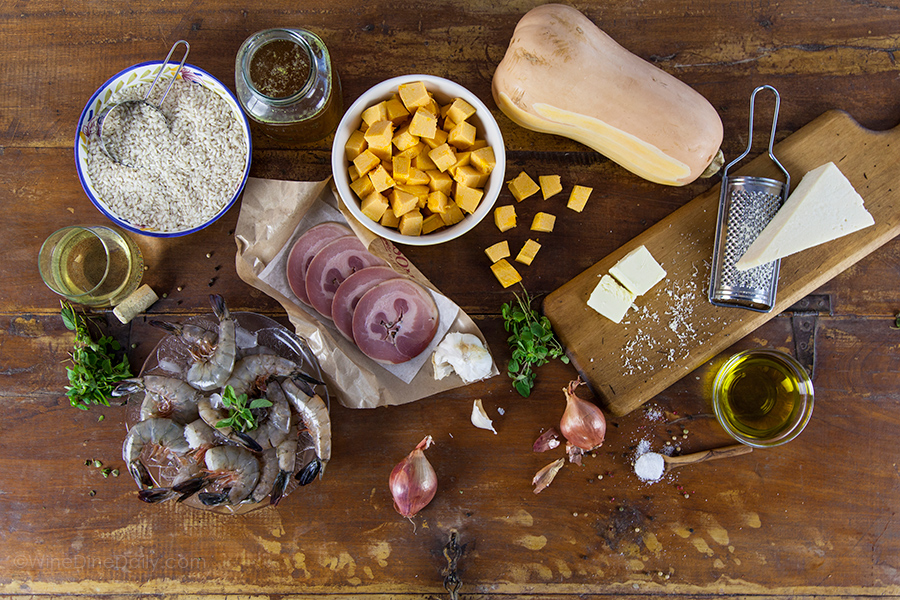 Squash is available all year around here, with the best time for it being summer and autumn and it tastiest heavily when you drizzle some butter and brown sugar on squash slices and place a few sage leaves on them. Butternut squash is actually considered a winter variety, but we can find it throughout much of the year at our local produce market.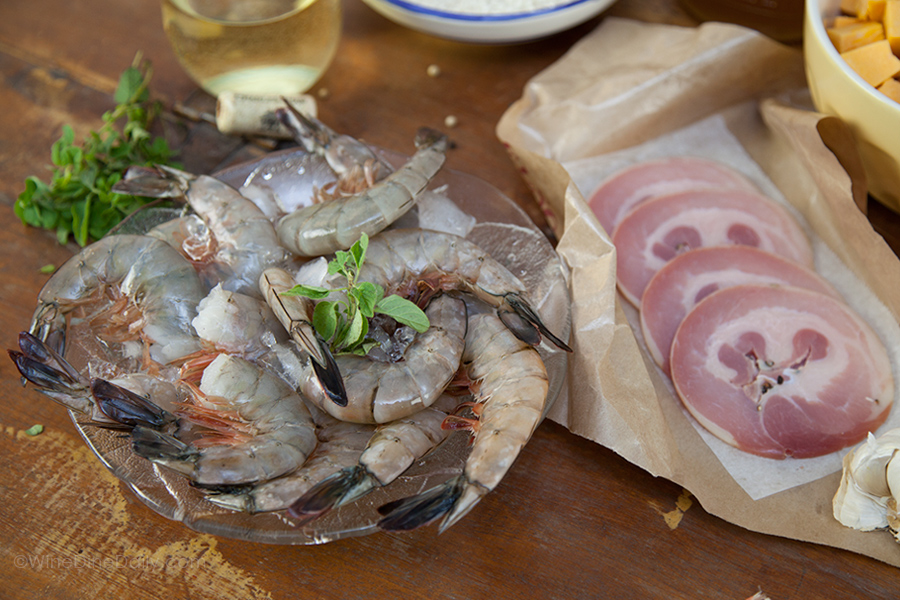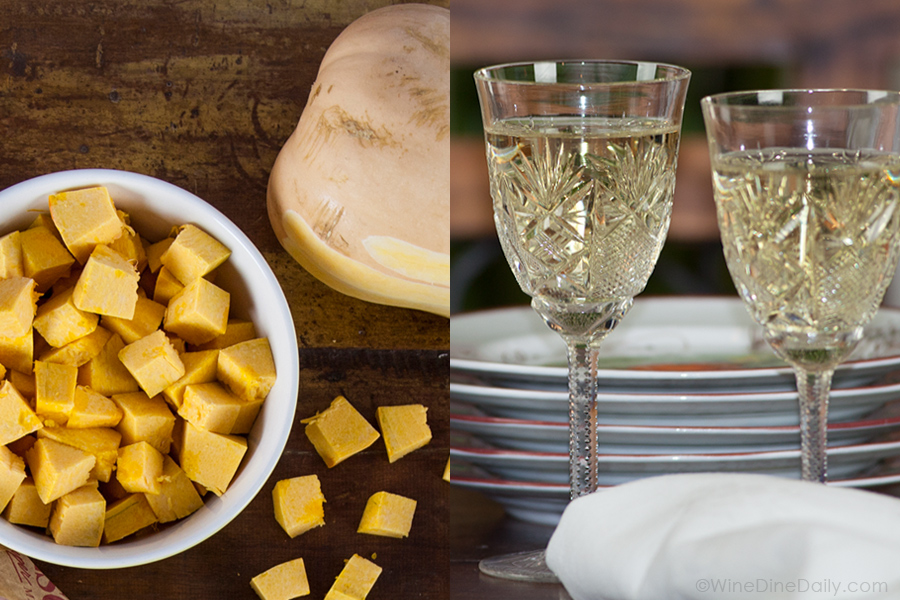 Similar in taste to pumpkins, Butternut squash has a nutty flavor and just gets sweeter as it ripens. We love add squash to the rice while cooking it since it sweetens up the risotto and makes the creamy texture even richer.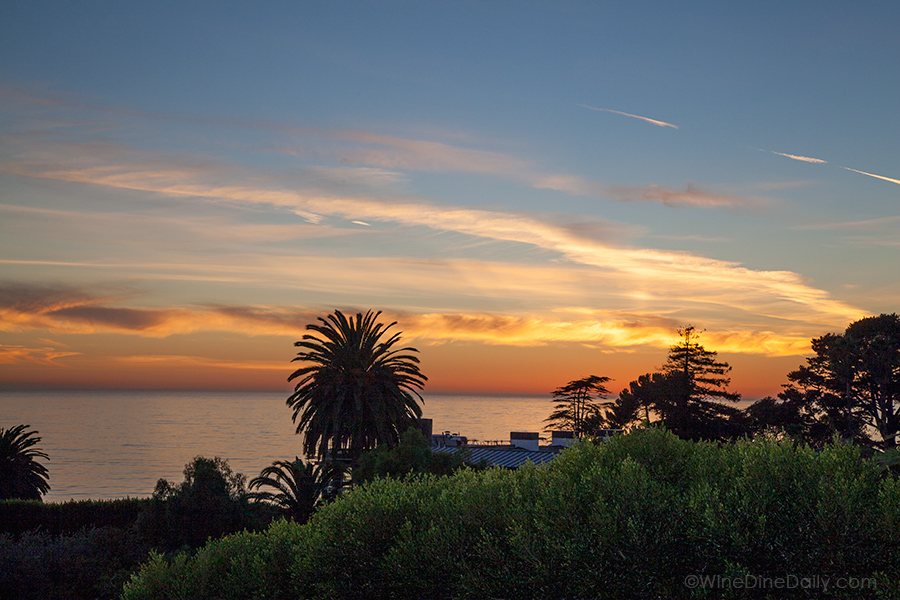 Can you believe we had to interrupt our dinner to watch the amber light dashing across the pastel blue sky. We are so thankful to experience such a view with our glass of Chardonnay and the risotto waiting patiently on the table. On days like this we want to pinch ourselves for living in paradise.
"…The sand on the bottom is whiter than chalk,
The air is heady, like wine,
And the rosy body of the pines
Is naked in the sunset hour.
And the sunset itself on such waves of ether
That I just can't comprehend
Whether it is the end of the day, the end of the world,
Or the mystery of mysteries in me again."
– from Anna Akhmatova, The Complete Poems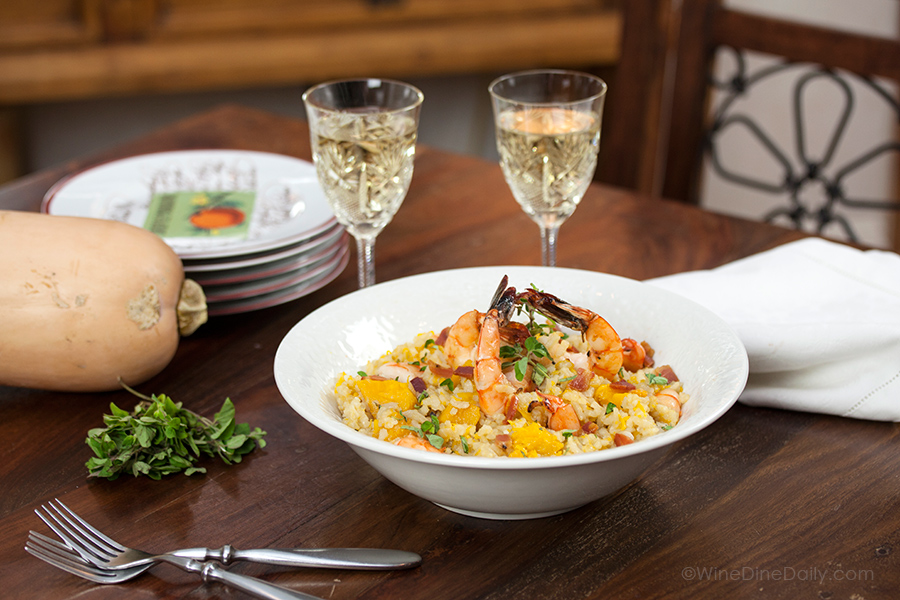 We truly enjoy cooking with local Chardonnay, lucky for us we have a lot to choose from. With buttery flavors and hints of citrus, it is like the California sun in a glass. This versatile wine pairs well with the nutty flavors of the butter nut squash and the saltiness of the pancetta and the shrimp. We chose a Santa Barbara Winery Reserve Chardonnay with it's citrus notes, crisp clean flavors, and balanced minerality to cook with and also to drink with the risotto.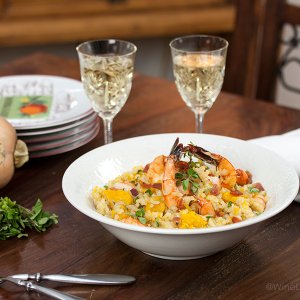 Butternut Squash Risotto
Ingredients
5

cups

Organic Chicken Broth

1

cup

Chardonnay

2

Tbsp

GrapeSeed Oil

2

Tbsp

Unsalted Butter

2

small Shallots - finely chopped

2

Garlic Cloves - minced

2

pounds

Butternut Squash - peeled

seeded and diced into 1/2 inch cubes

Season with Salt & freshly ground Pepper

1

pound

about 2 1/2 cups Arborio Rice

1/2

cup

Chardonnay or other Dry White Wine

1/2

cup

Parmesan Cheese - shredded

2

Tbsp

Fresh Oregano - chopped plus more for garnish
Instructions
In a medium saucepan bring the chicken broth and Chardonnay to a nice simmer. Reduce the heat and keep it hot.

In large heavy-bottom saucepan heat Grape seed oil and melt 1 tablespoon of the butter. Add shallots and saute for 3 minutes, then add garlic and stirring occasionally continue to cook for few minutes longer.

Stir in butternut squash and cook for about 5 minutes. Season with salt and pepper.

Stir in the rice and and cook for a few more minutes until the rice becomes translucent.

Gently pour in the wine and cook over medium heat, stirring constantly until wine almost absorbed. Add 1 cup of the chicken broth with wine and stir constantly until liquid is absorbed. Continue to add the remaining broth a ladleful at a time and stirring constantly until all the liquid is absorbed and the rice is tender and creamy.

Turn off heat and gently stir in the remaining butter and the shredded parmesan. To finish risotto, fold in the fresh oregano and decorate it with a few leaves.

You can also make a whole meal like we did, by adding crispy pancetta and shrimp.
Notes
Cooks Note: if you need more liquid add hot chicken broth or a little hot water. Adding more wine on the very end of the cooking process could overpower the mellow risotto flavors.
Nutrition
Shrimp with Pancetta
2 Tbsp Butter
4 ounces Pancetta – roughly chopped
1 pound fresh Shrimp 16 to 20 per pound – deveined, shell removed except of 3 shrimp we left the tail on for decoration
1. Melt 1 tablespoon of the butter in a medium sauté pan, add pancetta and cook over medium heat until crisp, about 5 minutes.
2. With a slotted spoon transfer to a plate. If you wish you can drain it on a paper towel.
3. Add the remaining butter to the same pan and melt over medium high heat. Add the shrimp and cook for 1 to 2 minutes on each side and remove to a plate.
Winemaker's notes:
2010 Reserve Chardonnay The Santa Rita Hills of the western Santa Ynez Valley is well suited for growing world class Chardonnay since the local geography influences the climate to create conditions extremely. Full-bodied and richly textured with complexity of flavor further enhanced by barrel fermentation followed by 100% malolactic fermentation and 9 months 'sur lie'. 'Sur lie' lets the fermented wine 'sit' over the sediment created by fermentation. The barrels are stirred frequently to better absorb the complex flavors of the 'lie' (pronounced 'lee'). A very cool growing season and abnormal heat during harvest allowed full ripeness and maintained a firm crisp structure. Vineyards: 78% Lafond and 22% Hill Top Ranch.