There are so many blog resources for creating a great website, be it a personal food blog or professional business page, and we wanted to share a few of our favorite blogger resources with you. Perhaps you wish to make some Chocolate Covered Strawberries or have a sip of a Green Smoothie before we begin.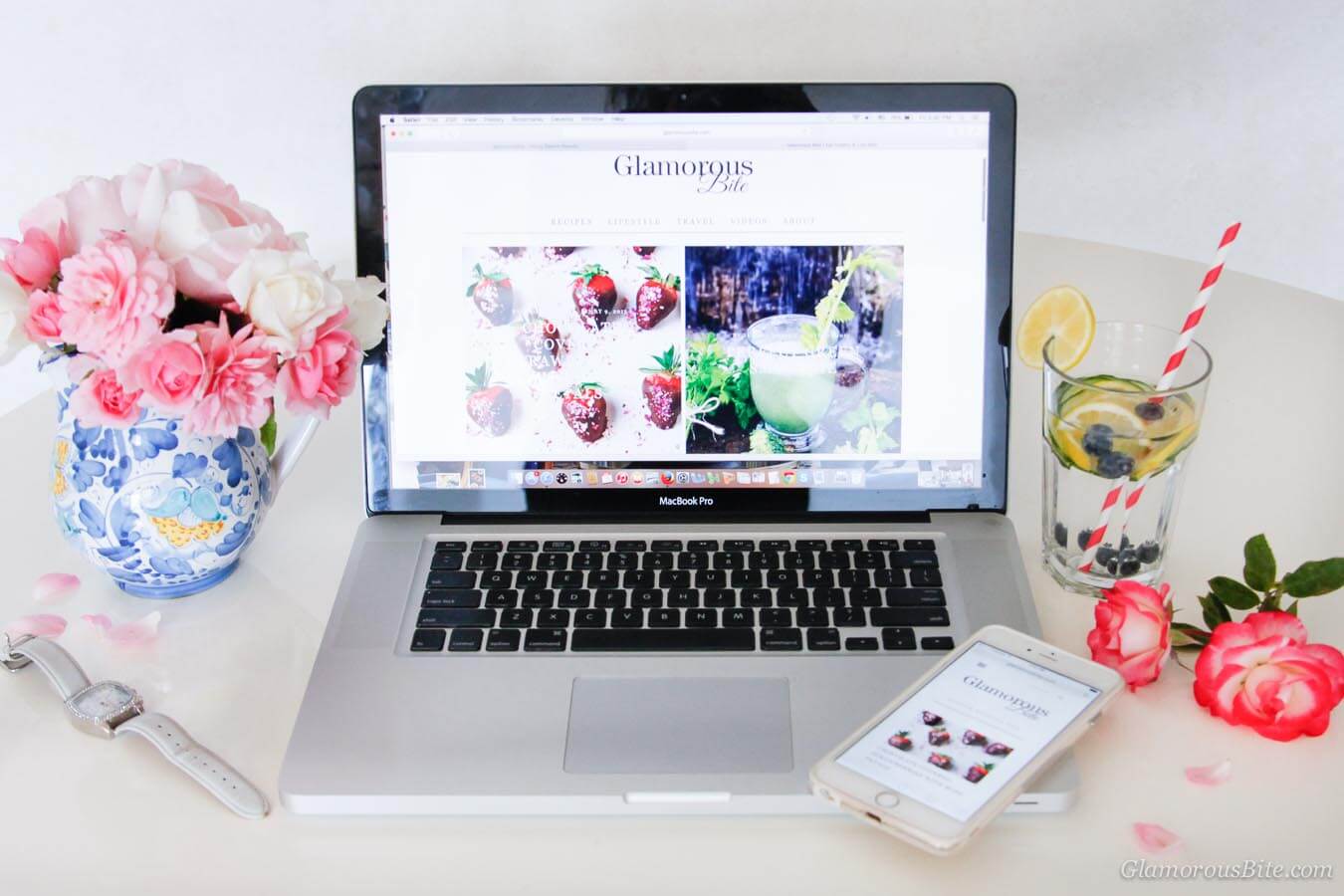 1. Web Hosting
Why should you choose a good web hosting company?
There are lots of options out there, but if you rely on speed and security then you often do get what you pay for. We have tried so many hosting options and our favorites so far are WP Engine and Site5.
WP Engine specializes in WordPress has a very knowledgeable support team that is really concerned with keeping your site happy. They do send out notices when there is a security warning from WordPress. You have a different control panel here than with other hosting companies and a little less control since you don't get cPanel functionality, but you get a managed host with a great staging area that is perfect when making changes to your site that you wish to try out without worrying about breaking the live site. The basic one site WP Engine plan starts at $29 a month and the Professional at $99 monthly. The Business plan is $249 a month and there are also custom plans beyond this with room to expand. They make daily backups so you don't have to worry about adding another plugin for that.
PRE-PAY FOR WP ENGINE HOSTING FOR 1 YEAR AND GET 2 MONTHS FREE!
We use Site5 for other website projects since they do have a great technical support team that is also knowledgeable. They can handle WordPress, Joomla, and other platforms. We appreciate the ease of use that you get with the cPanel admin environment. The shared hosting plans are really budget friendly starting at $4.95 per month with one website. We recommend at leas the hostPro for $8.95 or the hostPro+Turbo from $11.95 per month if you sign up for longer terms. The short term Turbo is $13.95 a month and we haven't had any problems so far with a site that is using the Turbo. Site5 also has Fully Managed VPS (Virtual Servers), Cloud VPS and Reseller Hosting as well. We did have the Level 4 VPS for $129 a month that worked well and loaded fast, but our site had loading issues at the Level 2 for $72. We had daily backups on Site5 that were easy to restore.
2. WordPress vs. Joomla
WordPress is one of the most popular content management systems out there at the moment. It is used for everything from simple blogs to more complex eCommerce sites or communities. You have the option to use host on WordPress or with your own preferred hosting company. If you do keep your site on the WordPress host there are some plugin and advertising restrictions and you are still responsible for the security of your site. Since WordPress is so popular there are many attempts by hackers to break in so there can be a lot of updates. We feel like we are constantly updating everything and then sometimes there are compatibility issues that come from those updates that can break the site so we do proceed carefully, but we are also glad to know that there is a concern for security and thus the updates are often necessary.
We have had a lot of experience with Joomla over the years too and even though it is not as popular as WordPress it does have some great applications for communities and eCommerce. We had a community on our past Joomla site that was almost like Facebook with it's features. The Joomla platform also had an amazing level of control with creating custom sections for the website. The SEO is not as simple out of the box, but there are components that can improve it and there are components for almost anything you might want, but often it does require a programmer to get the site to look the way you would like it to.
TheLiquidMedia.com can make your dream site come true, wether you would like a brand new WordPress website, color changes and adjusts, or unique custom graphics.
3. Email Subscriptions
Mailchimp is really simple to use and lets you choose between their themes or creating your own. We have used it for our email marketing campaigns and it is has pretty straightforward steps take take you from creating to sending out your campaigns. The service is free for a list of under 2,000 people with a send out limit and then the upgrade starts at $10 a month for more features. You can upgrade your free Mailchimp account to a paying subscription and then downgrade again to the free account as well if you have certain campaigns that need extra send outs.
Constant Contact is a little more complex and has more templates to choose from. It worked well with custom coded campaigns and the support is slightly better, but the cost is a little more overall. There is a free Constant Contact trial for a limited time where you can check out all the features and then the pricing starts at $20 monthly.
There are so many more great blogger resources besides these as well.
Disclaimer: Please note that some of the off-site links are affiliate links and we will earn a commission if you purchase through those links. The price of the products or services are the same whether or not you use the affiliate link. We have and do use the products listed and hope our reviews are helpful and that you will enjoy them!