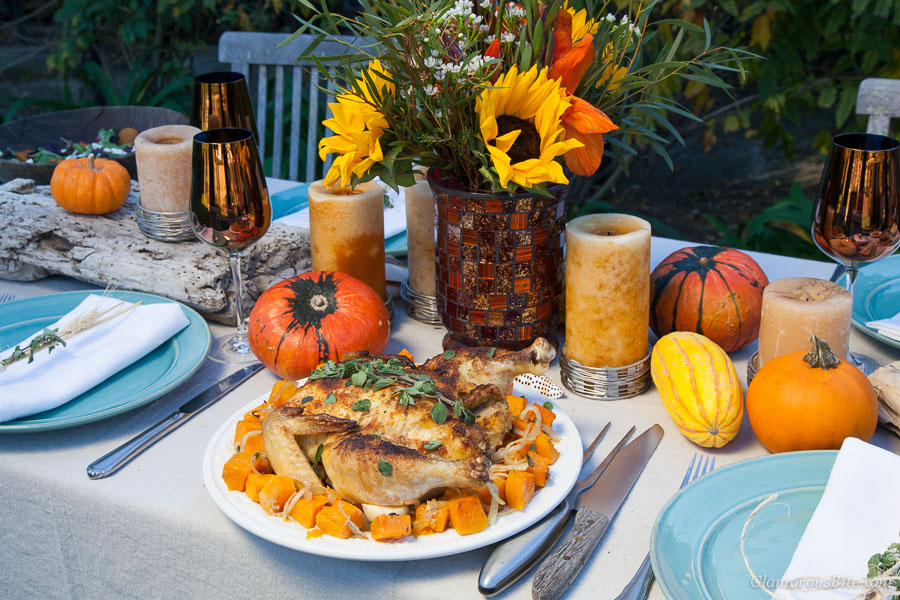 There is nothing fancy about roast chicken, but when you need a feel good dish this best Roasted Chicken with Curry and Paprika is just the thing to make you sing and dance in the garden or do really silly things!
We have a long history with Paprika and Chicken since Judit's mom (Corina's grandmother) often roasted a chicken on Sundays for that special weekend family gathering or she made this dish when someone needed a little culinary hug. To make her version of our best Roasted Chicken with Curry and Paprika recipe, she liberally massaged the entire bird with authentic Hungarian Paprika, salt and garlic, then rested it on a bed of sliced potatoes, garlic and onions. The secret ingredient was a splash of her Harslevelü Tokaji wine. In the fall, she replaced the potatoes with pumpkin pieces and like a good European mother she basted it patiently with juices until the chicken turned golden crisp.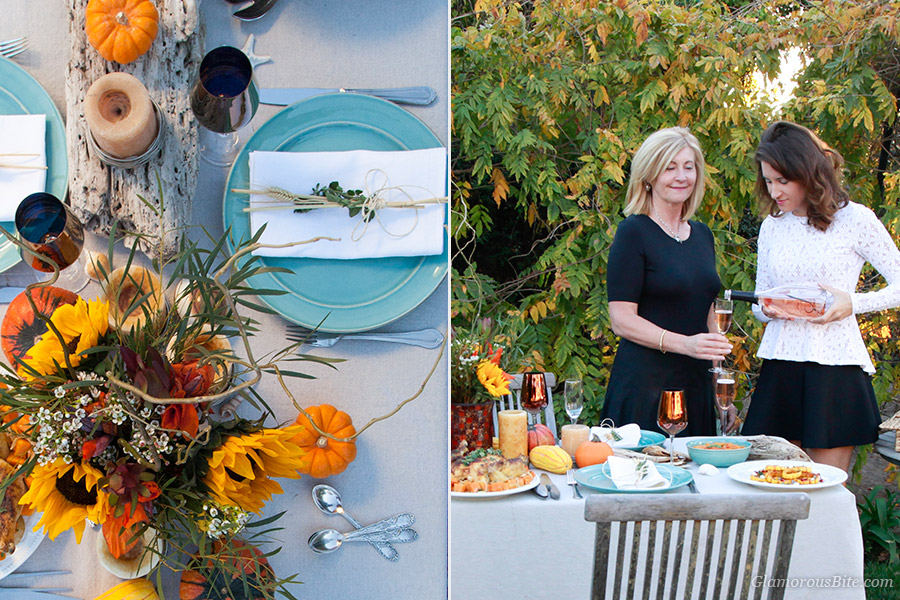 Judit: Lucky for me I grew up in an Austro-Hungarian kitchen where my mom and grandma tried to outdo each other in their culinary talents. We had to be very diplomatic because the wrong answer may lead to no dessert for you today. But my mom's roast chicken was truly the best.
Corina: The fragrance of Paprika always takes me back to grandma's kitchen. Every time we went to visit my grandmother in Hungary she made my favorite Csirke Paprikas and our roasted chicken recipe has nuances of my favorite dish.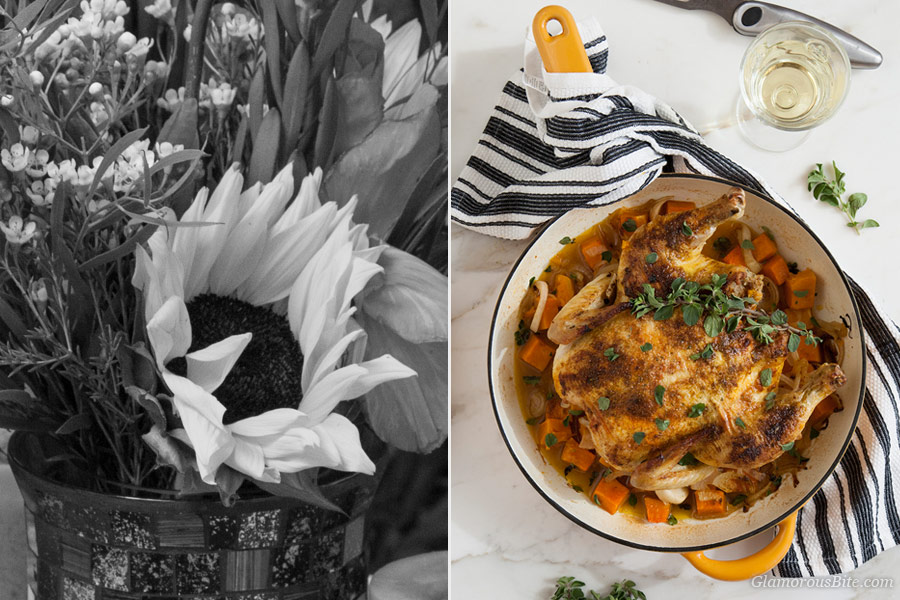 In our roasted chicken dish we replaced the potatoes with butternut squash and added a good amount of fragrant curry. If butternut squash is no longer available, then sweet potatoes really compliment the combination of the spices. We so wished that Judit's mom and grandma could have been with us and enjoyed our little feast.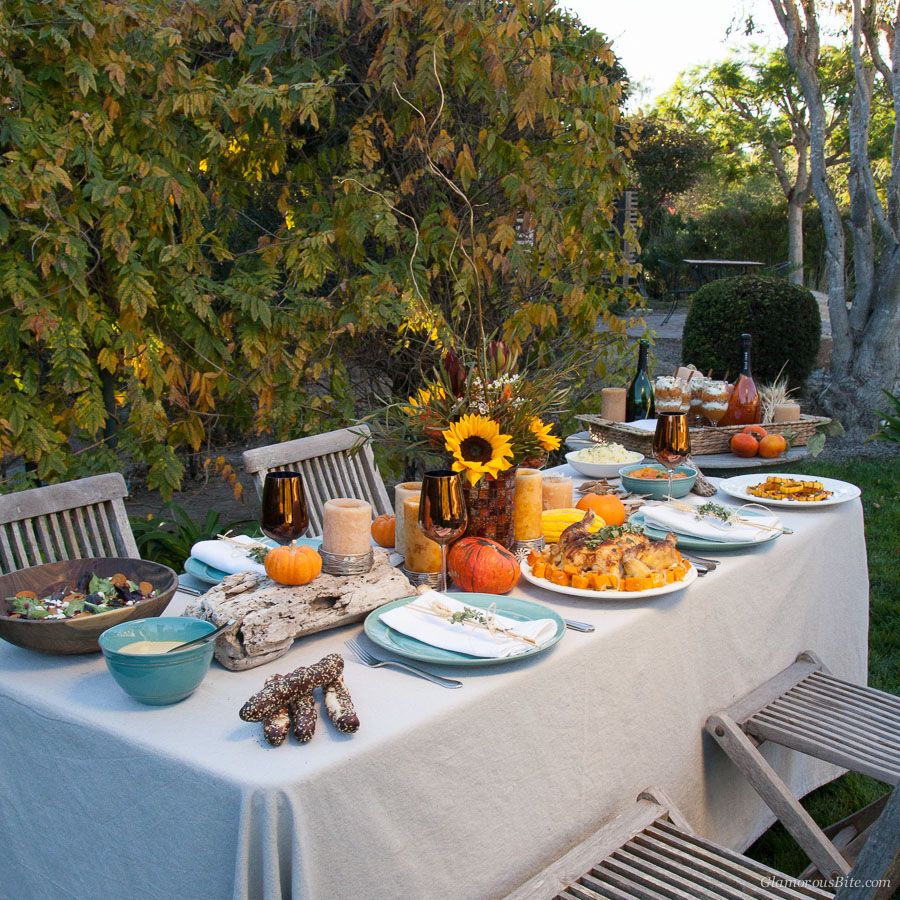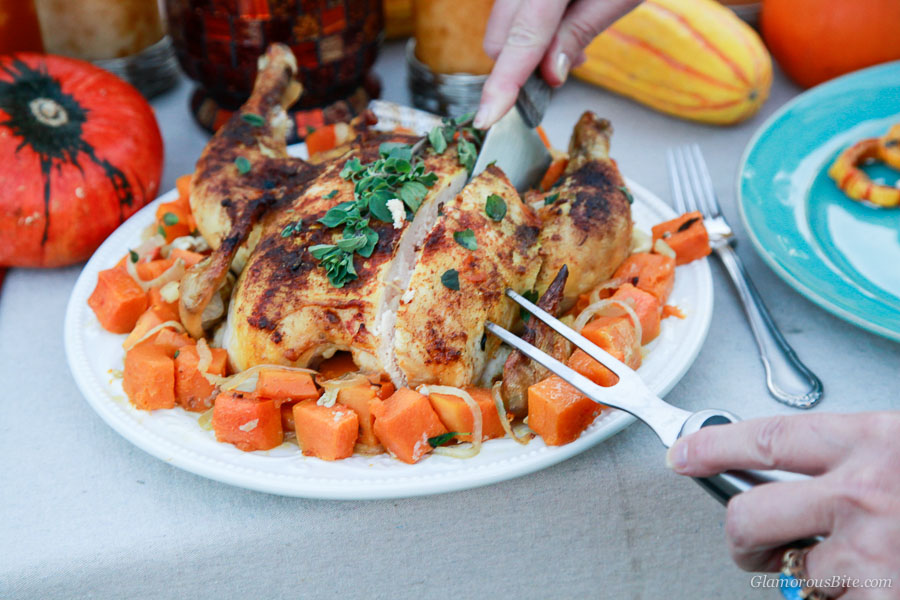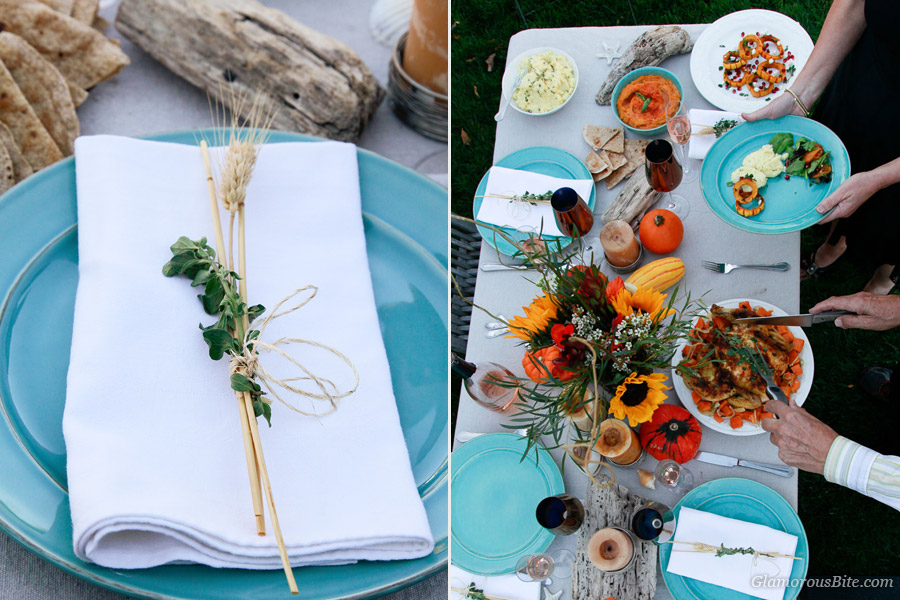 Last week the weather was warm and we were excited to be able to do a garden dinner under the California sun. After perusing several recipes this roasted chicken really won out. It is quite a low calorie meal and we usually just make a simple green salad with lemon vinaigrette alongside it. Since we are cooking much more healthy these days even Paul could join the meal, and we kept the chicken dish low-carb, diabetic friendly, and gluten-free. For our dinner in the garden, we had Delicate Squash with Goat Cheese and Pomegranate Seeds on the side and for the chicken made a nice tangy creamy gravy from the chicken juice with greek yogurt and a few pieces of butternut squash.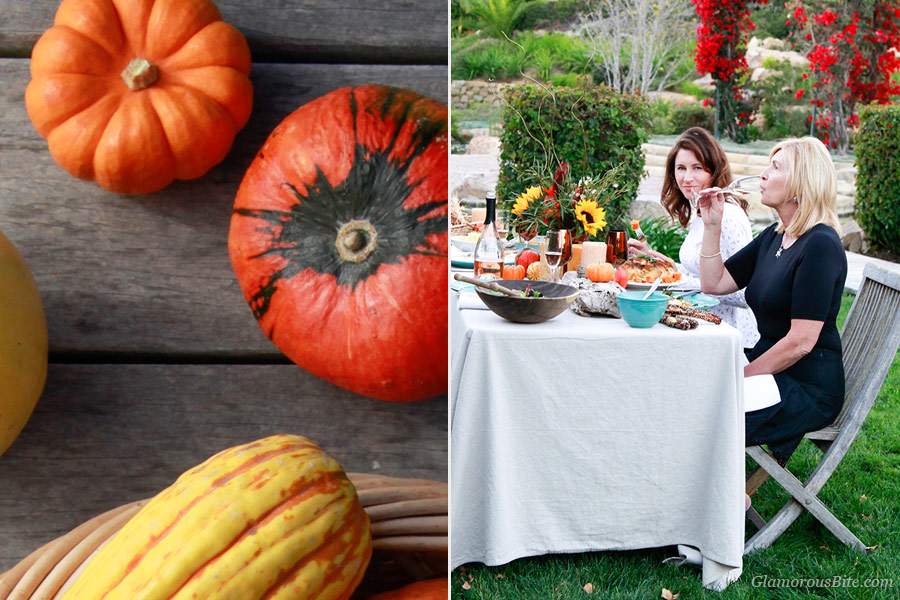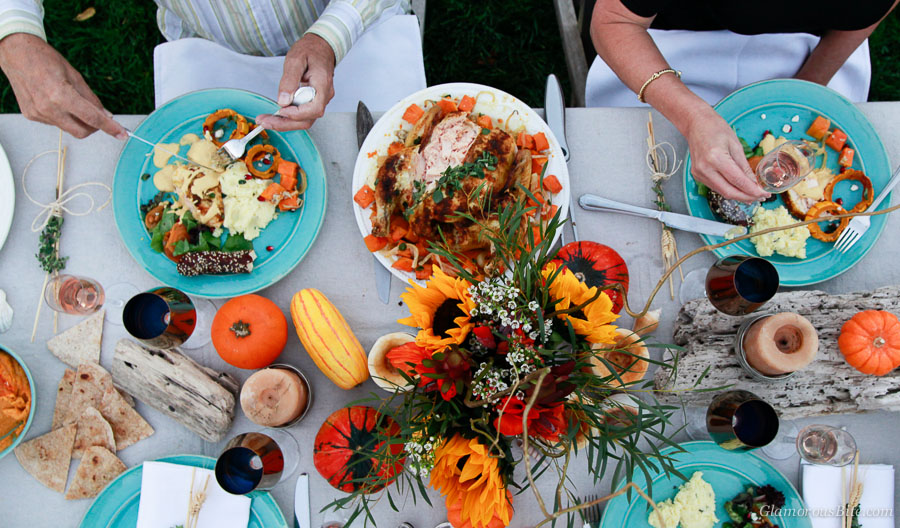 You can probably tell that we really miss our families around the holiday times. You bet we will have this best Roasted Chicken with Curry and Paprika a few more times before the year is over! It was really special to allow the familiar flavors of this succulent chicken to transport us back to those family dinner Sundays, even if just for a few hours. When you taste this best Roasted Chicken with Curry and Paprika with the crispy skin and juicy tender meat it is a truly glamorous bite!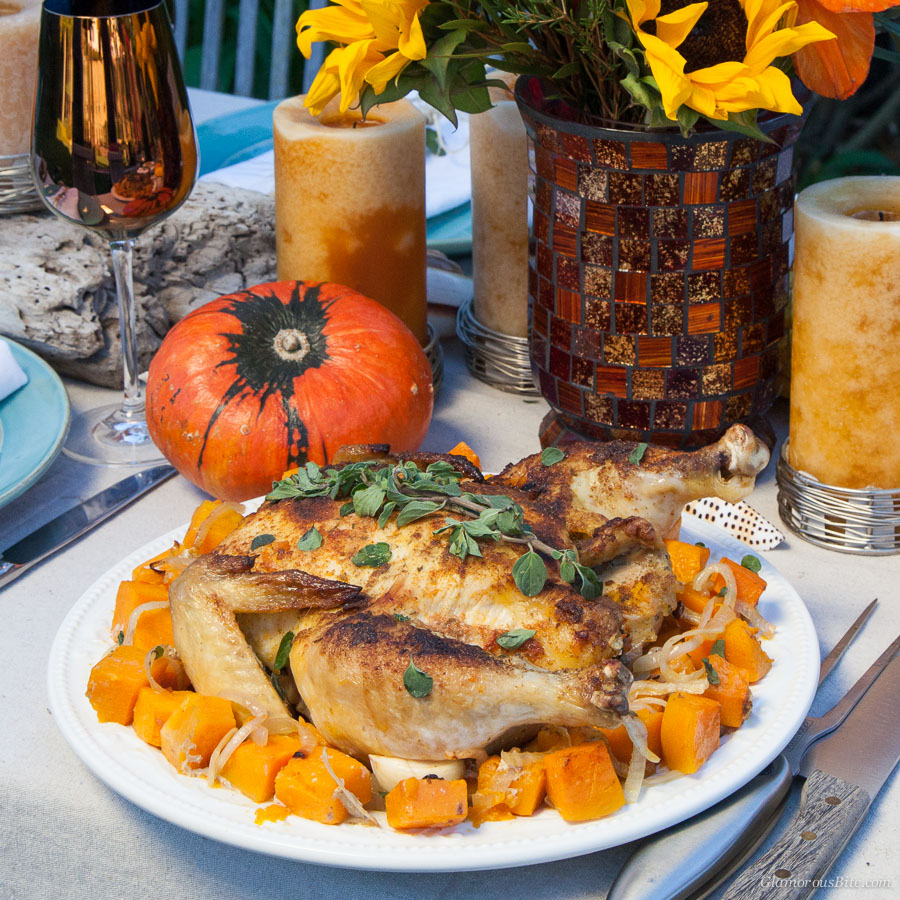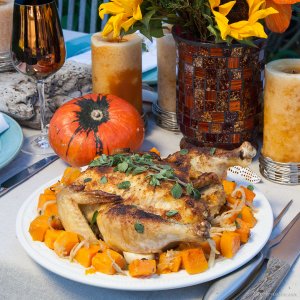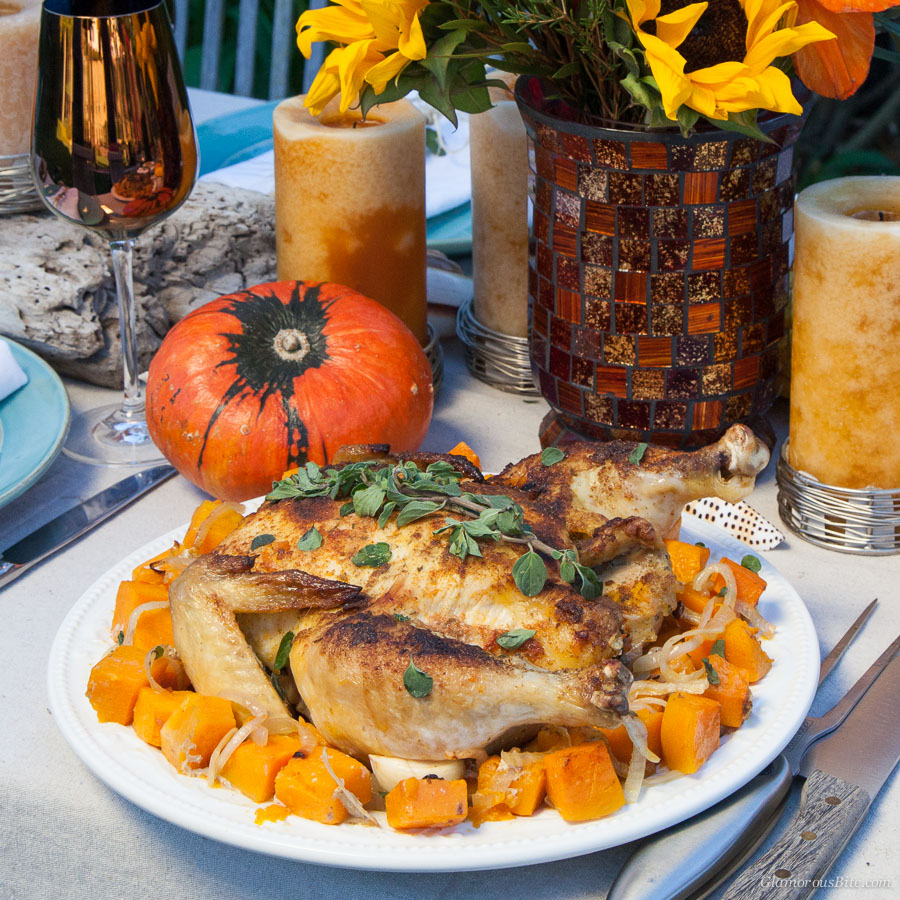 Best Roasted Chicken with Curry and Paprika
This one pot chicken dish looks really impressive and what we most love about it is how simple is to make. On second thought let us rethink that a little, actually what we love most is how the aroma can evoke beautiful memories and perfumes the whole house.
Ingredients
1

Organic free-range Chicken – cut along the backbone

2

Tbsp

Grapeseed Oil

or Olive Oil

1

Tsp

Garlic Powder

1

Tsp

Himalayan Salt

2

Tsp

Hungarian Paprika Powder Mild

1

Tsp

Curry Powder

1

Tsp

Cumin

1/2

Tsp

Cinnamon

1

medium Butternut Squash – peeled and chopped into 3/4" cubes

or Sweet Potato

1

small Red Onion – peeled

halved and thinly sliced

3

Garlic Coves – peeled and cut into slices

3

Sprigs of Fresh Oregano or 2 Tsp dried Oregano

1/4

cup

Chardonnay or Chicken Broth
Instructions
Preheat oven to 450F.

Place the room temperature chicken on a large cutting board and with a knife or scissors carefully remove the backbone. You can collect it and store it in the freezer for a nice chicken broth.

Press down on the breast with palm of your hand to loosen up the chicken.

In a small bowl blend a little grapeseed oil and the 6 dry spices together and brush the chicken cavity first. Do watch out for bone splinters along the backbone! Then lovingly massage the outer skin all over with your aromatic spice mixture.

Pour the rest of the olive oil into a broiler pan or cast-iron pan or Le Creuset pan.

Peel and cut the butternut squash or sweet potato and add to the oiled pan. Add the sliced onions and the garlic cloves. Tear up the leaves from the half of the fresh oregano and evenly distribute over the vegetables.

Transfer the chicken skin side up on the top of the vegetables.

Bake in the oven for about 35 to 40 minutes or until the thermometer reads 165F at the thickest part of the thigh meat.

Baste a few times during backing.

Remove from the oven and let it rest for 5 minutes before serving.
Diet: Low-Carb, Gluten-Free, Diabetic Friendly, Dairy Free
Wine & Food Pairing: J Vineyards & Winery J Cuvée 20 Brut NV from the Russian River Valley of Sonoma County California with stone fruit aromas and flavors of apple and a touch of bitter almonds and citrus. This wine pairs nicely with seafood, light meats can be enjoyed as an aperitif. We found it complimented the curry sauce of our Roasted Chicken with Curry and Paprika recipe.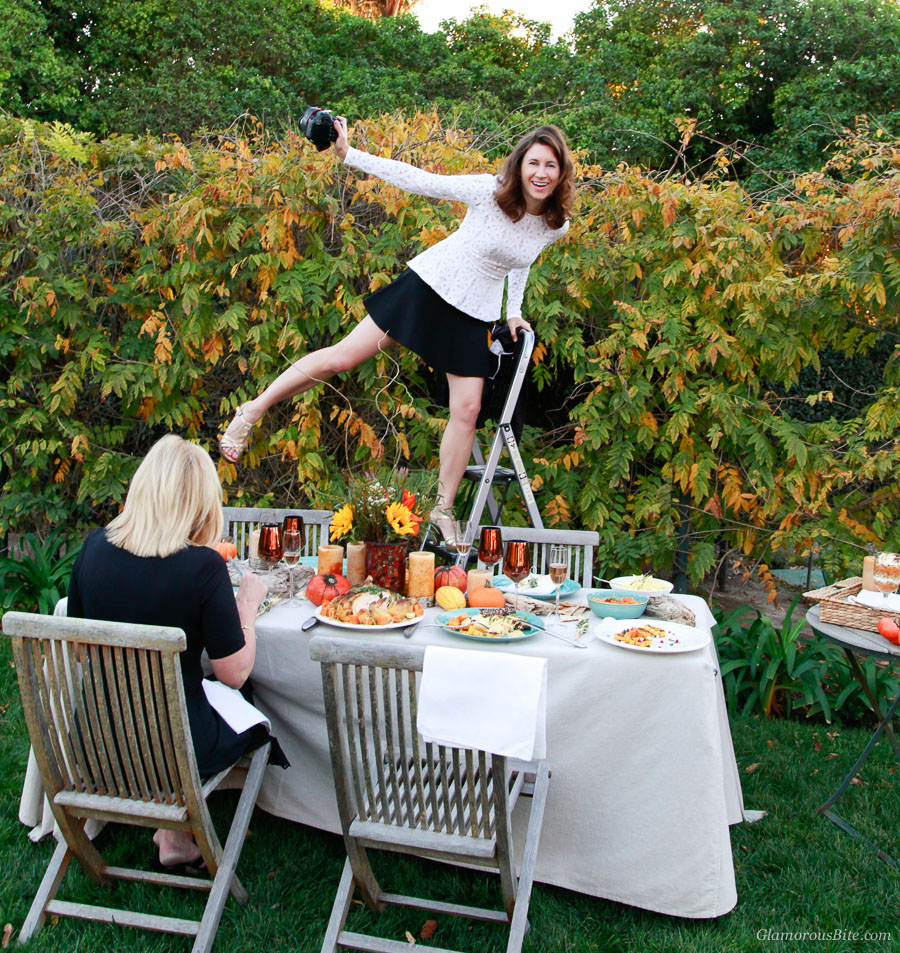 Yes, this roasted chicken does make you do some very silly things….
What is your most favorite holiday dish that gives you a culinary hug and brings back memories?