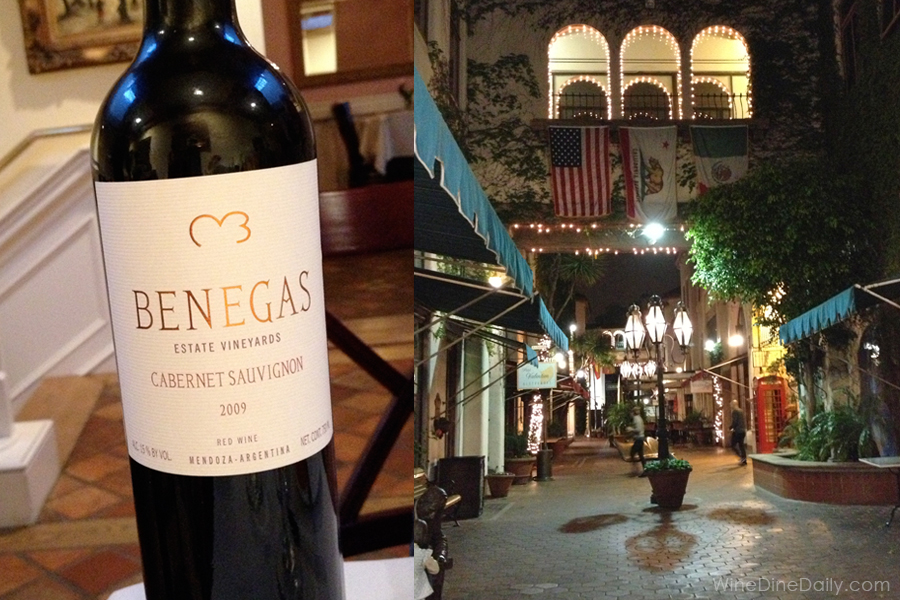 A Benegas Cabernet Sauvignon wine review to round out a pleasant evening. It was mid week afternoon while Corina was on a long beach walk she called Judit to see if she would like to join the walk. The day was incredibly warm, but now the sun started to set and a cool breeze was blowing from across the ocean. Brrr… Corina was getting a little cold in her neon pink shorts. After Judit got the whole weather report she had a better idea and said "lets stop by Andersen's for Happy Hour!" Isn't this more fun than walking in the cold?
When we were seated comfortably and perusing the menu, Birte Andersen told us of a new wine they will carry from Mendoza, Argentina called Benegas. We gave it a try and were pleasantly surprised by the flavors of this Cabernet Sauvignon. To start we had the famous Happy Hour Crostini topped with mashed potato and caramelized onions. This went nicely with the wine. To compliment the wine even more we opted for a Petit Filet Mignon.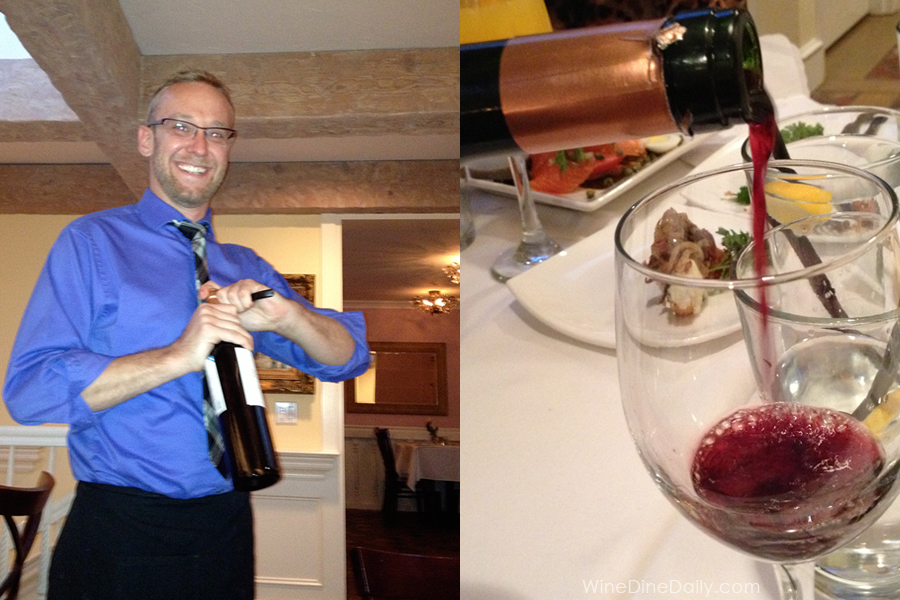 Our waiter Garrett opened the bottle with joy. The 2009 Benegas Estate Vineyards Cabernet Sauvignon had a friendly purple red hue. On the nose lots of fruit and cherry. On the tongue lost of jammy fruit, dark cherry, and hints of tar, with some Merlot notes. The finish gave black licorice and tobacco notes. The Benegas could pair well with a variety of foods and not just steak. It could go with a chèvre beet salad or even duck with wine sauce. After dinner we strolled through the Spanish style arcades of La Arcada and admired the glow of the evening lamps.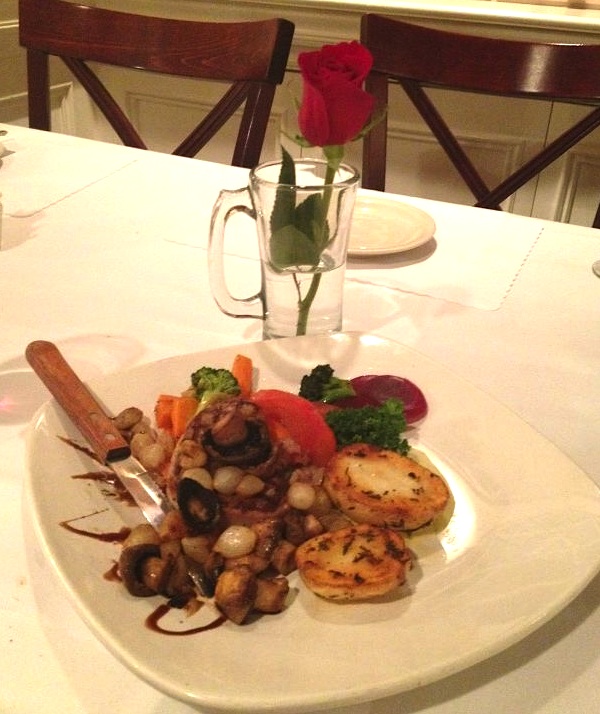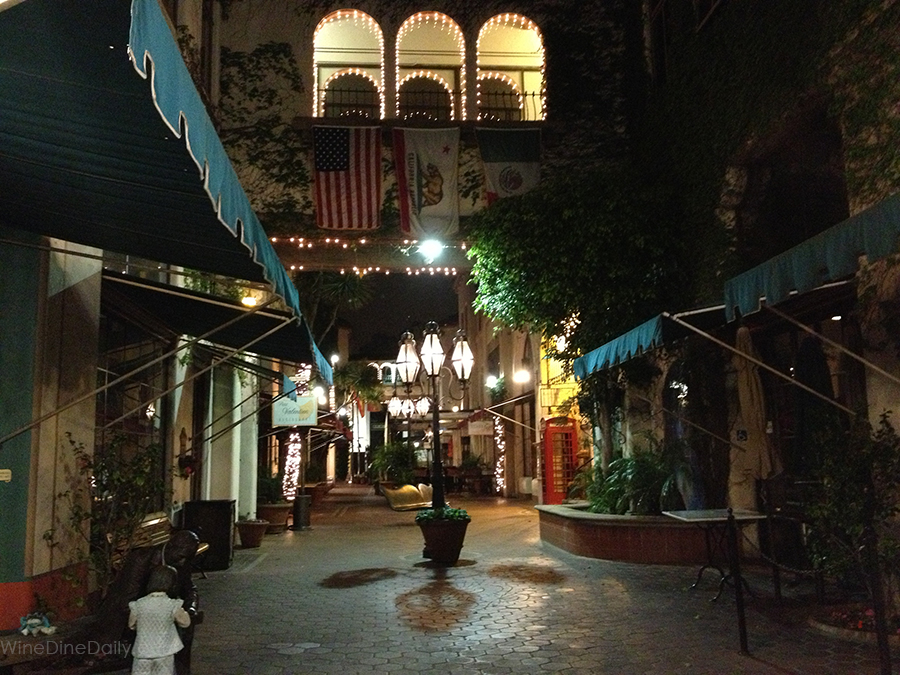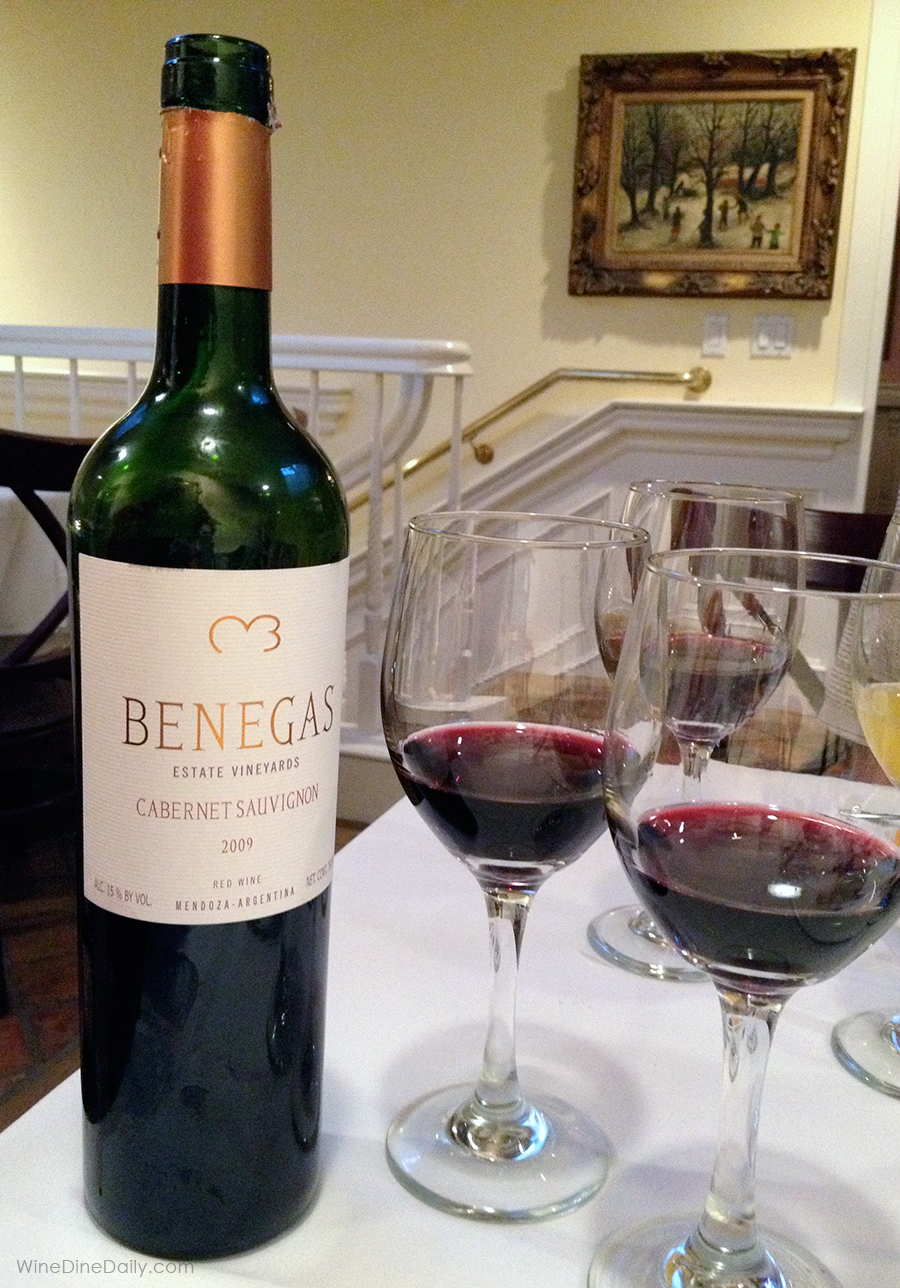 The Benegas wines come from a long history of winemaking. Today Frederico J. Benegas is the winemaker at Benegas. His ancestor Tiburcio Benegas started the family legacy of winemaking with purchasing a vineyard back in the year 1883 in Mendoza. Tiburcio had also brought the earliest French grapevines to Argentina and promoted the first irrigation system in the area. The grapes used for this wine came from ungrafted grapes planted in 1927.
Our Tasting Notes:
Wine: 2009 Benegas Estate Vineyards Cabernet Sauvignon
Region: Mendoza, Argentina
Winery: Benegas
Varietal: Cabernet Sauvignon
Color: Bright purple red
Nose: Lots of dark berry fruit
Taste: Dark cherry, jammy fruit, hints of tar, some Merlot notes, black licorice and tobacco at finish.
Pairing suggestions: Grilled meats, steak, duck with wine sauce, beef lasagna, chèvre beet salad.
J & C Points: 4.3 and 4.25 of 5