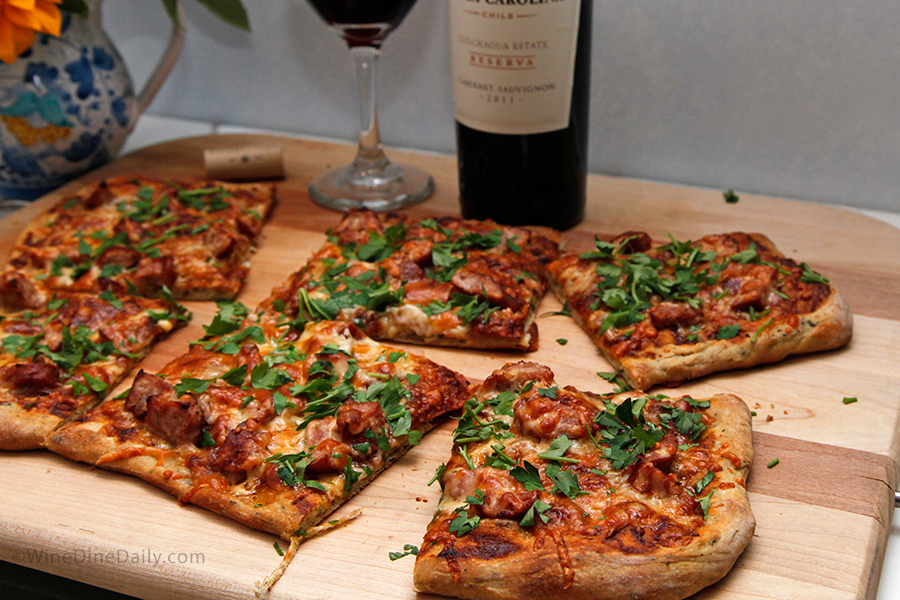 Oh lal la  la… pizza and red wine the most comforting pair you can imagine ever! When we opened this bottle of Cabernet Sauvignon from Chile and tasted the blackberry, forest berry, dark juicy cheery aromas with a touch of smoke and licorice, we immediately experienced  a strong craving for something with smoky BBQ flavors. After visiting the refrigerator to our delight we found the ingredients for this scrumptious BBQ Chicken Sausage Pizza.
If you would like to read more about the wine here are the wine tasting notes in more detail. So now back to the pizza. This pizza is so simple to make that it's perfect for a movie night. We usually top it with basil and sometimes cilantro or parsley for a little touch of healthy green.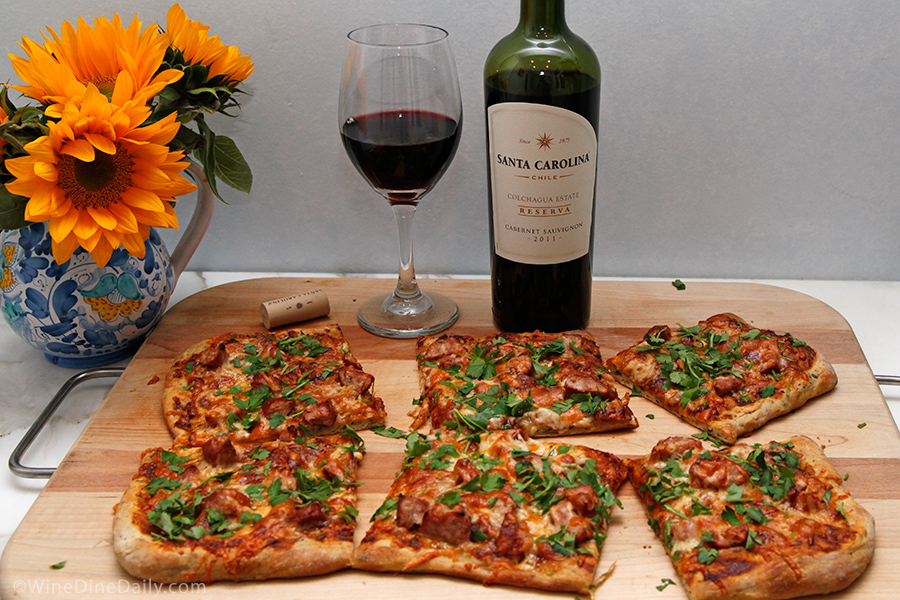 If you don't have Cabernet Sauvignon handy please don't let it stop you from your enjoyment, this pie is remarkably delicious with a lovely Zinfandel or Syrah too.  By the way, the next time we will go for a smoky Syrah from the Santa Barbara region so we can compare how the BBQ Chicken pizza plays with the different wine regions. We did like how it paired with the Santa Carolina though and the wine was able to withstand the tangy BBQ sauce without being overpowered.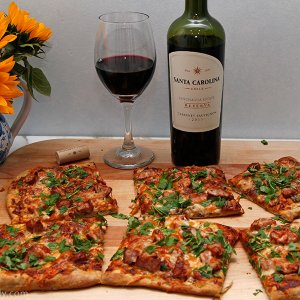 BBQ Chicken Sausage Pizza
Ingredients
1

fresh Herb Pizza Dough - store brought - room temperature

1

Tbsp

Olive Oil

1

Tbsp

Corn Flour

3

Tbsp

BBQ Sauce

2

Chicken Sausage - removed casing and sliced into 1/4" pieces

3/4

cup

Quatro Formaggio

3

Tbsp

fresh Parsley - chopped
Instructions
Preheat oven to 430 F or according to your homemade or packaged dough instructions.

Grease a baking sheet with olive oil and sprinkle with corn flour.

Roll out the pizza dough and transfer to the baking sheet and with your hand spread out the dough evenly. Brush a little olive oil on the edges if you prefer.

Spread the BBQ sauce evenly on the dough and then arrange the sausage pieces. Scatter the cheese on top.

Place into oven and bake for about 18-20 minutes. After removing from oven sprinkle the parsley on top so that it remains fresh.
Notes
WINE PAIRING: Cabernet Sauvignon
Nutrition
WINE PAIRING: Cabernet Sauvignon
Do you have a favorite pizza and wine pairing? Cheers and enjoy!