You could truly taste the Fruit of the labor in this seductive, easy drinking wine. Although Beaujolais is not as widely popular yet in the US as it is in France, after we tasted over 10 different Beaujolais they have just gained 2 more faithful fans. And it is not only because this lovely French word "Beaujolais" rolls off the tongue in a very seductive way, you will see just repeat it a few times Beaujolais (Boe-zho-lay) (Boe-zho-lay).
These delightful French wines from the Beaujolais region, located north of Lyon, gained our favoritism, simply because of the remarkably easy drinking style and the wide variety of foods you can pair it with. Most Beaujolais are drunken only young especially the widely available Beaujolais Nouveau (we will tell you more about the 'Nouveau's on a later post) but there are also the Beaujolais Crus, which will age very well.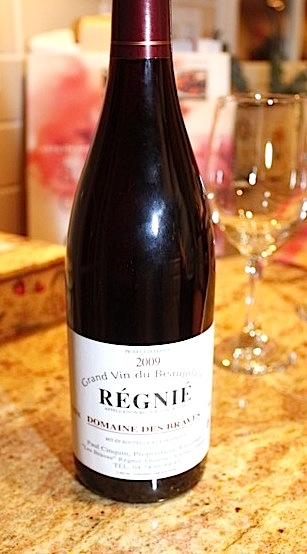 The 2009 Domaine Des Braves Régnié Grand Vin du Beaujolais – oh yes it has a very fancy label for such an easy drinking red wine – and is a Beaujolais Crus wine and made from gamay grapes.
And here is something interesting about Régnié, it is a recently recognized Cru, and the local story goes that in the region on that site was the first vineyards planted in Beaujolais by the Romans.
Winemaker: Paul Cinquin and his Braves Estate was founded in 1903 by Paul's grandfather, and he is making excellent wines on about 20+ acres of prime Régnié terroir. The soil is a fine mix of sand and clay.
The color is gorgeous vibrant, silk scarf red.  This wine is not shy at all on the  nose, and right away greets you with a seductive fresh flowers and sweet parfume notes and lovely berry aromas. This easy sipping red with medium body on the palate offers you concentrated raspberries, black cherries, touch of earth and finishes with a light smoke and more berry notes. The ever present nice acidity keeps this wine fresh and fruity. Hope you get to taste Beaujolais from this fantastic 2009 vintage, which was one of the best from this region.
PAIRING SUGGESTION: We loved it with a delicious BBQ chicken salad, and know you would enjoy it with roasted meats or even salmon, it is a versatile food friendly wine and great for Parties.
GRAPE VARIETAL: Gamay
REGION: France – Beaujolais
PRICE:  $14 – $16